LFA 124 Bunes vs Formiga: Results, Fight Card, Date, Time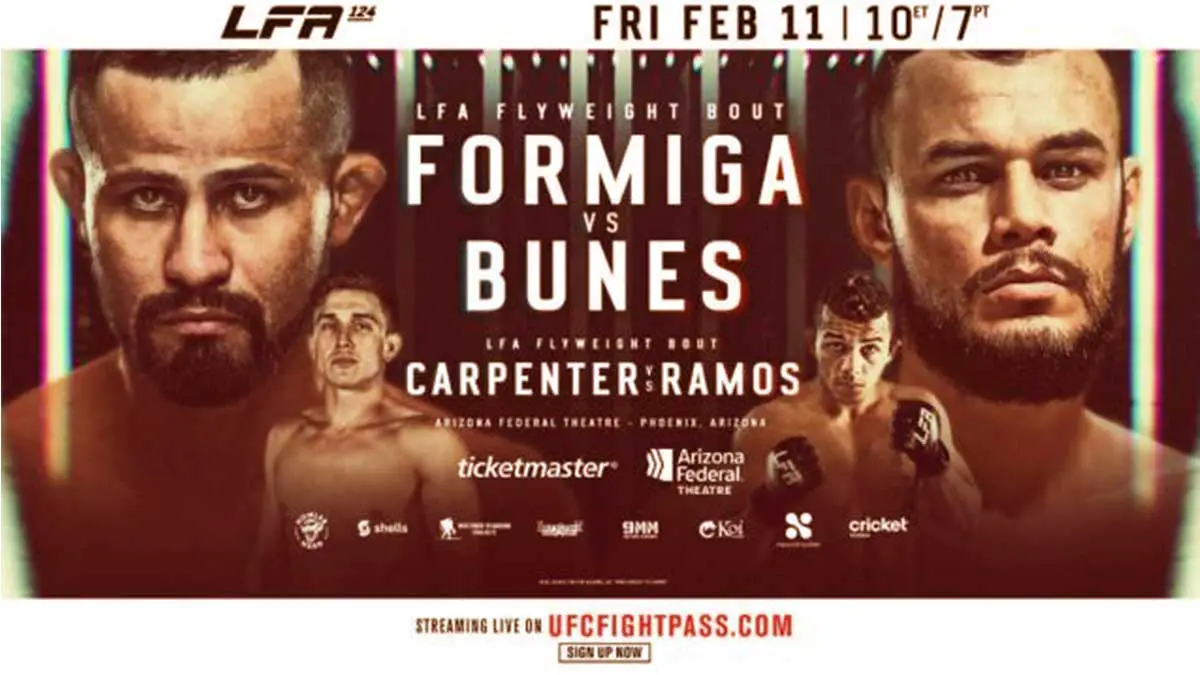 LFA 124 will be the third event from Legacy Fighting Alliance in the year 2022. The event will take place on February 11, 2022 from Arizona Federal Theatre in Phoenix, AZ. This is the second event in two weeks after LFA 123 on February 4.
A pair of flyweight bouts will headline the event. The main event will see Felipe Bunes taking on Jussier Formiga while Windson Ramos will take on Clayton Carpenter in the co-main event.
Keep on reading to check the complete details from LFA 124: Bunes vs Forgima event.
Date, Time & Location
Tickets
The tickets for LFA 124 at Arizona Federal Theatre are available at the below link starting from $64.
FIGHT CARD & RESULTS
Main Card
Jussier Formiga defeated Felipe Bunes via submission of Round 2, 1:53 – Flyweight Bout (main event)
Ahmad Hassanzada defeated James Wilson via unanimous decision – Lightweight Bout (Co-main Event)
Waldo Cortes-Acosta defeated Derrick Weaver via TKO/KO of Round 2, 0:28 – Heavyweight Bout
Austin Wourms defeated Jacobi Jones via submission of Round 1, 1:18 – Lightweight Bout
Kasey Tanner defeated Tristan Lindi via TKO/KO of Round 1, 2:16 – Bantamweight Bout
An Ho defeated Guilherme Crossi via TKO/KO of Round 1, 2:23 – Flyweight Bout
Prelims
Braden Pagaoa defeated Federico Flores via KO (Punches) of Round 2,1:05 – Flyweight Bout
Ovidio Bojorquez defeated Ben Goodwin via KO – Welterweight Bout
Alex Martinez defeated Chris Sandoval via unanimous decision
Jacob Highley defeated Luke La Vanway via unanimous decision
WEIGH-IN
MAIN CARD
Jussier Formiga (139) vs Felipe Bunes (134.6)
Ahmad Hassanzada(155.6) vs James Wilson(156)
Derrick Weaver(259.2) vs Waldo Cortes-Acosta(257.8)
Austin Wourms(161.2) vs Jacobi Jones(160)
Kasey Tanner (135.6) vs Tristan Lindi(135.4)
An Ho(125.8) vs Guilherme Crossi(125.6)
PRELIMS
Braden Pagaoa (125.8) vs Federico Flores (128.8)
Ben Goodwin(170.6) vs Ovidio Bojorquez(169.8)
Alex Martinez (155.8) vs Chris Sandoval (154)
Luke La Vanway (169.6) vs Jacob Highley (169.8)