Cage Warriors 133: Results, Fight Card, Date, Time, Location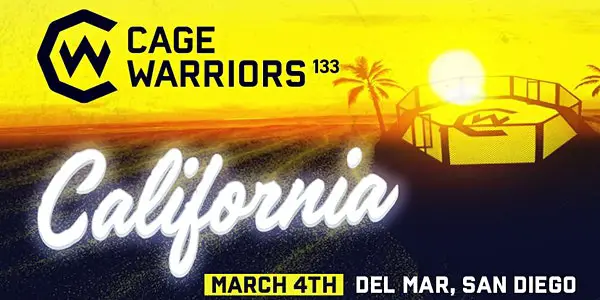 Cage Warriors 133 will air live on March 4, 2022, from Del Mar Arena in San Deigo, CA. This will be the promotion's first event in the year 2022. Kyle Driscoll vs Joshua Jones lightweight bout will headline the show while a featherweight bout between Wilson Reis and Jeremiah Labiano will be the co-main event.
A total of 9 bouts are advertised for the show on UFC Fight Pass. We will bring the result from all the bouts from Cage Warriors 133 event here.
Cage Warriors 133 Event Info
Cage Warriors 133 Results & Card
Main Card
Kyle Driscoll defeated Joshua Jones via unanimous decision (30-27, 30-27, 29-27) – Lightweight bout
Wilson Reis defeated Jeremiah Labiano via split decision (28-29, 29-28, 29-28) – Featherweight bout
Damon Wilson defeated Ryan Fillingame via KO (punches) of Round 1, 4:37 – Featherweight bout
Joseph Morales defeated Sidemar Honorio via split decision (29-28, 28-29, 29-28) – Flyweight bout
Jose Mariscal defeated Luke Faultersack via KO (punches) Round 2, 4:08 – Featherweight bout
Prelims
Justin Barry defeated Ke'ali'i Kanekoa via unanimous decision (30-26, 30-26, 30-26) – Middleweight bout
Roberto Hernandez defeated Ethyn Ewing via submission (heel hook) of Round 1, 1:44 – Featherweight bout
Eimar Hernandez defeated Enrique Marte via majority decision (28-28, 29-28, 29-28) – Flyweight bout
Blake Cooper defeated Soslan Margiev via submission (rear-naked choke) of Round 1, 1:50 – Welterweight bout
Weigh In Results
Kyle Driscoll (155.6) vs Joshua Jones (155.4)
Wilson Reis (145.6) vs Jeremiah Labiano (145.1)
Damon Wilson (145.1) vs Ryan Fillingame (145.6)
Sidemar Honorio (125.4) vs Joseph Morales (125.7)
Luke Faultersack (145.9) vs Jose Mariscal (146)
Justin Barry (184.8) vs Kealii Kanekoa (184.2)
Robert Hernandez (146) vs Ethyn Ewing (145.3)
Enrique Marte (124) vs Eimar Hernandez (125)
Blake Cooper (168.4) vs Soslan Margiev (170)