Jake Paul vs Tyron Woodley PPV Results, Live Updates Round by Round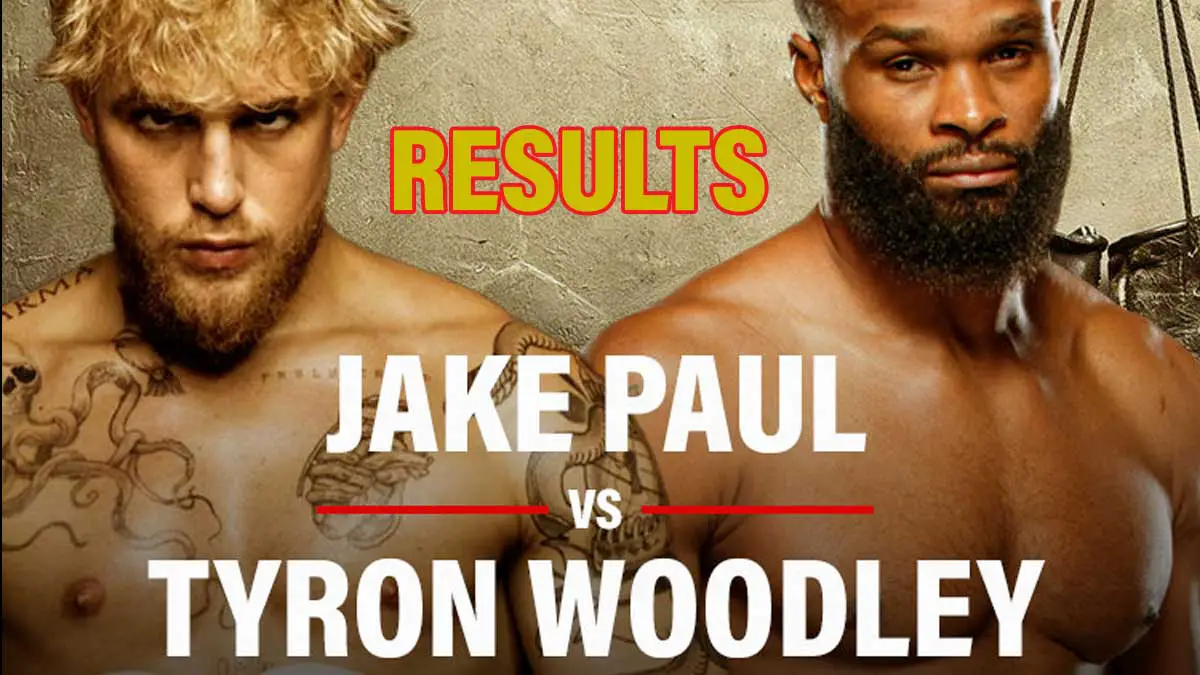 Jake Paul and Tyron Woodley will face off in a highly anticipated boxing match on August 29, 2021. We will be here to cover all the results from undercard and round-by-round live updates from the main event match.
Event – Jake Paul vs Tyron Woodley
Date – August 29, 2021
Location –   Rocket Mortgage Fieldhouse, Cleaveland, OH, US
Time – 8 PM EST(August 30, 2021 12 AM GMT/5:30 AM IST)
Undercard Results
Charles Conwell defeats Juan Carlos Rubio via TKO of Round 3 (stoppage), 2:49 – Heavyweight Bout
Tommy Fury defeats Anthony Taylor by unanimous decision (40-36, 40-36, 40-36) – Catchweight(180 lbs) Bout
Montana Love defeats Ivan Baranchyk via TKO (corner stoppage) of Round 7 at 3:00 sec – Welterweight Bout
Daniel Dubois def. Joe Cusumano via TKO – Round 1, 2:10 – Heavyweight Bout
Amanda Serrano def. Yamileth Mercado via unanimous decision (97-93, 98-92, 99-91) – to retain unified WBC, WBO, & IBO Women's Featherweight titles
Jake Paul def. Tyron Woodley via split decision(78-74, 78-74, 75-77)
Paul vs Woodley Live Updates
The undercard is done and we are waiting for the main event to start now. We are getting comments from the commentators and ringside correspondents.
Dustin Poirier, Andre Berto, and Cory Spinks are shown in the stadium. Ray Mancini is also there. Multiple Olympic medal winners from Tokyo 2020 are also here.
Logan Paul says it's just about money for Tyron and Jake will knock him out. AJ McKee advises Tyron to end the fight early and the longer the fight goes, it will be advantage for Jake. AJ and Logan jokingly agree to an MMA fight. Logan is going out for the walkout now.
We are up to the hype video now. Jake says this is the first big knockout power that he is coming up against. He wants to back up his trash talk with in-ring exploits any time. Tyron Woodley is waking out now. Jake Paul comes out shortly after that. The announcements are done by Jimmy Lennon now. The bell rings for first round.
Round 1: Woodley is getting low in the early seconds and goes for the body shots. Paul is pushed back but no real control for Woodley as both men take measured approach. Paul starting to look for double jabs. Paul lands a hook to the body. Woodley is taking his time. He lands a pair of hooks to the body. Paul dodges an overhand right.
Round 2: Paul is looking comfortable here. He works a few jabs. Woodley's shots are not landing too much. Paul keeps moving around. No real action in this round. Woodley is pushing Jake towards the ropes again, but to no avail.
Round 3: They get into a hug as the 3rd round starts. The referee separates them. Woodley has been on the defensive time and again. Paul has landed a couple of jabs. Woodley comes back a combination of his own. Paul lands a big right hand. Both go defensive again. Woodley lands a shot in the final second of the round.
Round 4: Both men fail to land punches early in fourth round. Woodley has taken the upper hand in this round and is more aggressive. Paul seems to be slowing down. Woodley lands a big hook to send Paul stumbling. No real follow though.
Round 5: Woodley on the aggressive again to start the fifth round. Paul is slowing down but Woodley has failed to take real advantage of it. Paul lands a few uppercuts before going back on defensive. Woodley fails to connect most of his punches. Paul lands another left hook. Woodley lays down his defense and waiting for a slugfest, but it never came.
Round 6: Some action to start the sixth round, but Woodley mellows down again. Paul is easily avoiding his jabs. Woodley is waiting for an attack. Paul is still moving around a lot. Woodley lands a few jabs again. He ends the round with a combination.
Round 7: Woodley's corner is asking him to do something. But 1 minute in this round, Woodley has gone for just a couple of punches. Paul lands another hook. Woodley forces the issue and lands some decent punches. Paul counters him but his punches are not affecting Woodley much.
Round 8: Woodley looks to force the issue again to start the round. Paul keeps ducking the punches easily though. And once again, Woodley slows down later in the round. He lands a big right hand. After that it was all coasting around and waiting for the bell.
Official Result: Jake Paul wins the fight with split decision – 77-75, 78-74, 75-77.