Teófimo López vs. George Kambosos Jr- Date, card, How To Watch & More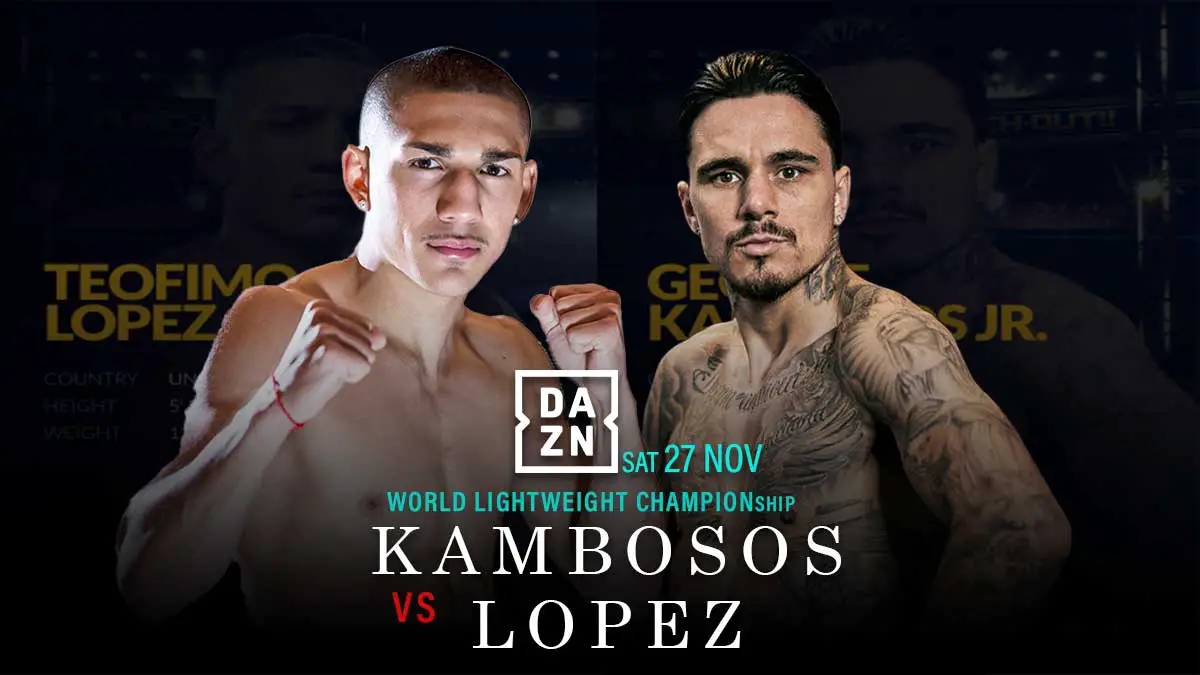 Teófimo López will get to defend his WBA (Super), IBF, WBO, and The Ring Lightweight title against George Kambosos Jr. After many postponements, the fight is now scheduled for November 27, 2021. The event will be presented by DAZN.
Read on to find the complete details for Teófimo López vs George Kambosos Jr Boxing PPV with date, start time, location, tickets, live stream details of the event, tale of the tape, news and updates, and more information.
Date, Time, Location
Show – Teófimo López vs. George Kambosos Jr. PPV
Date – November 27, 2021
Location – Hulu Theater, Madison Square Garden, New York
Time – 8 PM EST(November 28 – 12 AM GMT)
Tickets
What has Happened So Far?
Teófimo López defeated WBA (Super), WBO, and The Ring champion Vasyl Lomachenko to cause an upset and continue his unbeaten record. López was already holding IBF Lightweight Championship before that fight and hence united four titles. López denied Lomachenko's request for a rematch saying that he did not like the behavior of Lomachenko's camp.
George Kambosos became the mandatory challenger for the IBF Lightweight title by defeating Lee Shelby by a split decision. Triller won the purse bid for the fight between López and Kambosos Jr. at $6 million. The fight was first announced on June 5, 2021, but was then moved to June 19.
It was rescheduled once again when López tested positive for COVID-19 just days before the fight. August 14 was announced as the new date at Loan Depot Park. But with Miami Marlins having an MLB match on the same date, Triller started to look for another venue.
Triller tried to host the fight in Sydney, Australia(Kambosos' home country) on October 17. However, López threatened that he would rather relinquish the IBF title than undergo Australia's mandatory Quarantine of 14 days. IBF then ordered Triller to find another venue. Triller tries to stage the bout in Saudi Arabia or UAE but ultimately announced that it will take place in New York.
The fight was scheduled for October 4 at Hulu Theater but was later moved to Barclays Center on October 16. Triller was still unable to stage the fight on October 16 and finally pulled out from staging the fight. The fight then went to Matchroom to stage.
Matchroom finally announced the fight to take place at Hulu Theater itself on November 27.
Undercard
Check out: Teófimo Lopez vs George Kambosos Jr – Live Results Blog
No
Match
Weight Class
Winner
1
Teófimo López vs. George Kambosos Jr
For Lopez's IBF, WBO and WBA lightweight titles
George Kambosos Jr. by a split decision(115-111, 113-114, 115-112)
2
Azinga Fuzile vs. Kenichi Ogawa
vacant IBF super featherweight title
Kenichi Ogawa by unanimous decision(115-110, 114-111, 114-111)
3
Raymond Ford vs. Felix Caraballo
Featherweight – 10 rounds
Raymond Ford by Eight Round TKO
4
Zhilei Zhang vs. Bernardo Marquez
Heavyweight – 8 rounds
Zhilei Zhang by Second Round TKO
5
Ramla Ali vs. Isela Vera
Super bantamweight – 4 rounds
Ramla Ali by unanimous decision (40-36, 40-36, 40-36)
6
Christina Cruz vs. Maryguenn Vellinga Hinz
Flyweight – 6 rounds
Christina Cruz by unanimous decision(60-54, 60-54, 59-55)
7
Anthony Herrera

vs Jonathan Tejeda

Bantamweight – 4 Rounds
Anthony Herrera by Second Round TKO
Tale of the Tape
| Attribute | Boxer 1 | Boxer 2 |
| --- | --- | --- |
| Name | Teófimo López | George Kambosos Jr. |
| Role | Champion | Challenger |
| NickName | The TakeOver | Ferocious |
| Country | United States | Australia |
| Age | 24 | 28 |
| Height | 5′ 8″ (173 cm) | 5′ 9″ (176 cm) |
| Reach | 681/2″ (174 cm) | 68″ (173 cm) |
| Stance | Orthodox | Orthodox |
| Record | 16-0 | 19-0 |
| KOs | 12(75%) | 10(55%) |
How To Watch
The event was taken over by Match Room after Triller failed to renegotiate a new date with both fighters. The event will now air on DAZN worldwide. Lopez vs Kombosos is not a PPV event and will be available for free to DAZN subscribers.
You will need to subscribe to DAZN for $9.99 per month or $99 per year. For the prices in other countries, you can check the DAZN website.
News & Updates
November 27, 2021: George Kambosos Jr. defeated Teofimo Lopez with a split decision(115-111, 113-114, 115-112) to win the IBF, WBA, WBC and the Ring Lightweight titles.
November 25, 2021: Kombosos Jr. said that he is looking forward to defeat Lopez and then have a title unification bout with WBC Lightweight Champion David Haney. He also confirmed that Haney will be in his corner for his fight.
November 24, 2021: Kombosos said that Lopez's Dad is nervous about the match.
November 23, 2021: Lopez said during the press conference that he wants to be the People's champ.
November 23, 2021: Teofimo Lopez Sr. and George Kambosos Sr. had to be physically restrained but the security during the press conference. Both men also shouted explicits at each other. More details here.
October 16, 2021: Reports came out that Matchroom is looking to stage the fight on November 27.
October 6, 2021: IBF found Triller to be in default to stage the fight and the rights for the fight went to Matchroom. The fight will air on DAZN streaming worldwide.
September 24, 2021: Reports emerged that the event is once again moved to October 16 and will take place at Barclays Center in Brooklyn, New York. More Details Here.
August 23, 2021: The fight is announced for October 4 at Hulu Theater in New York City.
August 14, 2021: Triller announces that they are targeting the bout to take place in Middle East.
August 10, 2021: IBF orders Triller to find a new venue.
July 10, 2021: The fight is rescheduled again to October 7 to take place in Sydney, Australia.
June 16, 2021: López contracts COVID-19 and fight is delayed and rescheduled to August 14.
May 12, 2021: The fight is moved to June 19. Holyfield vs Mcbride is removed from undercard.
April 16, 2021: The date is announced as June 5, 2021. Evander Holyfield vs Kevin Mcbride match added to the undercard.
February 25, 2021: Triller won the bid for the fight with $6 million purse for Teófimo López.