Triller: Holyfield vs Belfort Live Results & Updates Blog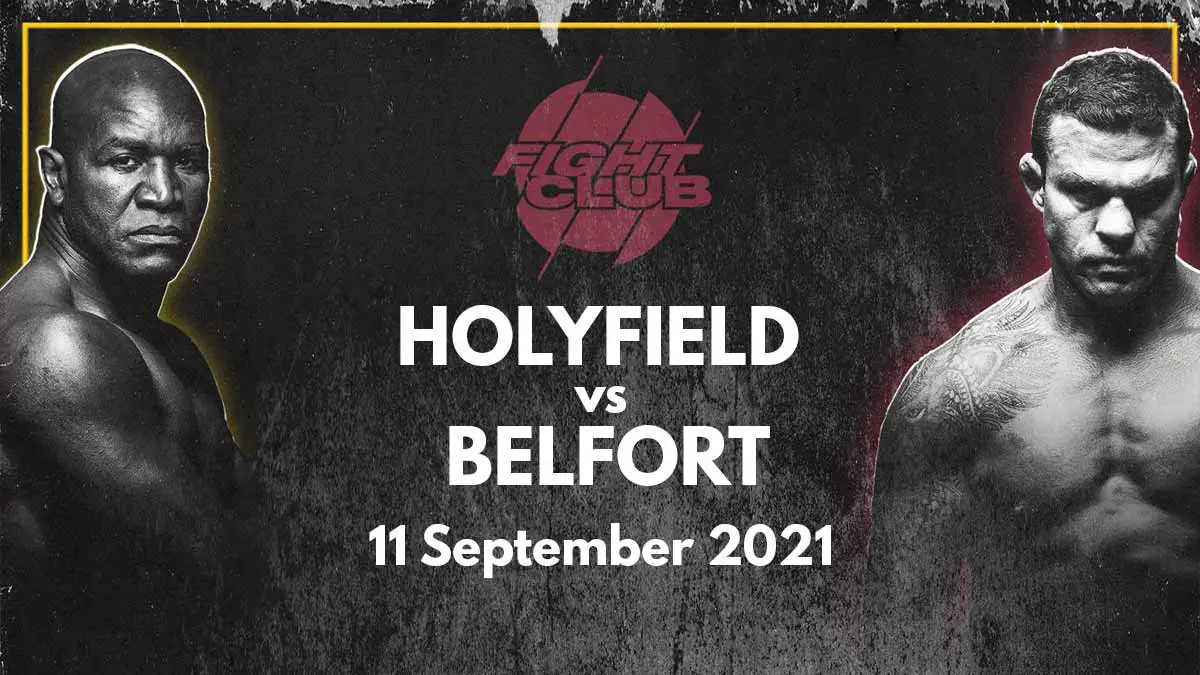 In another indifferent and bizarre Boxing PPV of this year, 58 years old Evander Holyfield will main event Triller Fight Club show against an MMA Fighter turned Boxer Vitor Belfort. The event is expected to be another extravagant affair like Triller's previous PPV with a lot of other aspects of entertainment.
For starters, Donald Trump will be on alternate commentary for the show and getting paid loads, so much so, that many in the boxing community are offended by it. Anderson Silva is also on the card and will face another MMA fighter in Tito Ortiz.
Tune in to get the live results and updates from the main event from Triller Fight Club III: Evander Holyfield vs Vitor Belfort PPV. You can also buy the PPV to watch online via this link for Fite TV.
Show – Triller Fight Club III: Evander Holyfield vs Vitor Belfort
Date – September 11, 2021
Location – Seminole Hard Rock Hotel, Hollywood, FL, US
Time – 7 PM EST/11 PM GMT
Results
David Haye defeated Joe Fournier via unanimous decision (79-72, 80-71, 79-72) – Cruiserweight Bout
Jono Carroll defeated Andy Vences via majority decision (95-95, 97-93, 97-93) – WBC International Silver Super-Featherweight Title Eliminator Bout
Anderson Silva defeated Tito Ortiz via KO of Round 1 1:21 Sec – Cruiserweight Bout
Vitor Belfort defeated Evander Holyfield via TKO in Round 1 – 1:49 sec – Heavyweight Bout
Live Updates
What has happened so far?: Just before the main event, Anderson Silva has knocked out Tito Ortiz in just the second minute of the bout. David Haye had to work for all 8 rounds but still won his fight against Joe Fournier easily with a unanimous decision. Jono Carroll and Andy Vences gave us the best match of the night where Carroll became the #1 contender for WBC International Silver Super-Featherweight Title.
There have been many musical performances also throughout the night.
Main Event time: The main event is upon us. The proceedings start with National Anthem of Brazil. After this, they remember the 9/11 attack and give a 10 bell salute before the National Anthem. "We want Trump" chants have started in the building and Trump stands up to acknowledge them.
Walk Out: Vitor Belfort is the first to walk out. It is a very short ramp, so the entrance is not that huge. The referee checks on him. Holyfield takes his time on the ramp before slowly heading to the ring. Announcements are done and we are ready to go.
Round 1: Both men are being cautious to engage. Holyfield lands a punch after 20-25 second but we can clearly see that he is very slow. Belfort has had enough of waiting and starts to fire lefts and rights. The referee separates them once.
Belfort drops Holyfield to the ropes with a jab. Belfort then lands a big uppercut. Holyfield is having a hard time coping with this attack. He starts to unload with punches one more time and the referee finally stops the fight in the first round itself.
Official decision: The winner by the referee stoppage after 1 minute 49 seconds is Vitor Belfort.
On the commentary, we are told that Holyfield is not happy with the stoppage. He is getting interviewed and once again says the same thing.