Welcome to the Live Results and Updates Blog for WWE Clash of Champions 2019 show on 15 September 2019.
Location: Spectrum Center, Charlotte, North Carolina, United States
Date: 15 September 2019
Time: Kick-off Show: 6 PM EST(10 PM GMT/ 16 September 3:30 AM IST)
Main Show: 7 PM EST (11 PM GMT/ 16 September 4:30 AM IST)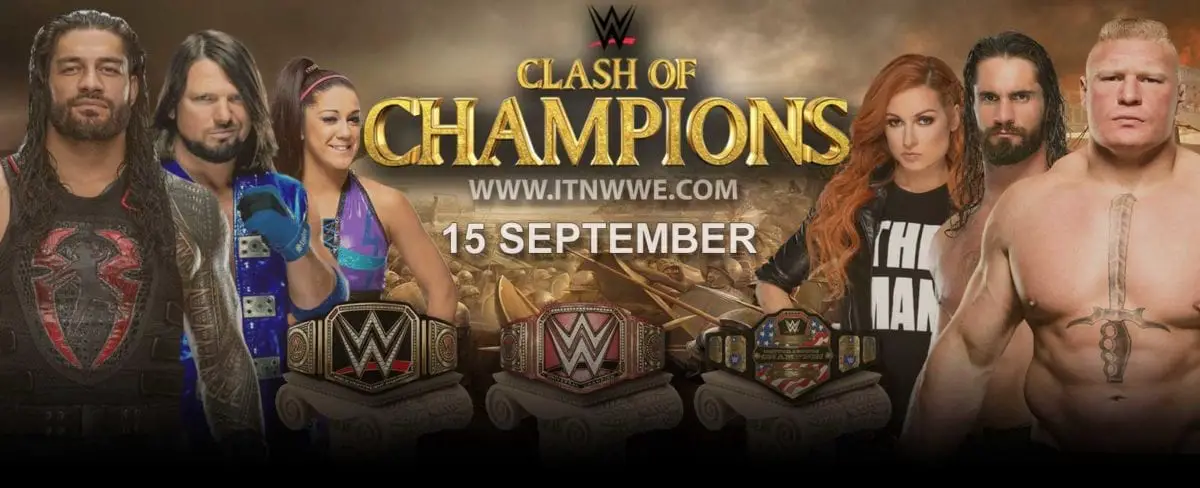 After SummerSlam 2019, a pleasant 5 weeks break has come between two WWE PPVs as Clash of Champions come around. Renewed pushes is the highlight of the card as the faces like Cedric Alexander, Robert Roode, a returning Sasha Banks, a heel Bayley, Sonya Deville and Mandy Rose get place on the card.
Another feature of the card is convoluted storylines. Seth Rollins and Braun Strowman on the RAW side of the championships, and the New Day vs Randy Orton & the Revival will be gunning for SmackDown side of championships. And lastly, 4 horsewomen- Becky Lynch vs Sasha Banks and Bayley vs Charlotte Flair, go against each other for the respective championships.
If WWE would play their cards right, this show might become the steller hit of the year. Find all the details and match card for the show below. (Quick Results on the last page)
Pre-Show Results Coverage for Clash of Champions 2019
The kick-off show starts with Jonathan Coachman welcoming us with Kayla Braxton, WWE Hall of Famer Booker T and David Otunga. The team joke around about everyone being the tag team champion before starting to run down with the card for tonight's show.
The discussion starts with Becky Lynch vs Sasha Banks match. After the short recap, David Otunga comments that Sasha was bitching when Becky was taking her chances. Booker T notices that Sasha has put on 8-10 pounds. Next up is the SummerSlam rematch between Randy Orton and Kofi Kingston and we see how vicious Orton can be. Kofi and Big E join the show and Braxton asks them about Xavier Woods. He also enters the frame. Kofi says that he feels ready for tonight as it going to be him vs Randy one on one. The trio assures us that they are going to remain our champions.
We revisit the complete Roman Reigns Saga as his match against Rowan comes up for discussion. Booker mentions that sometimes you try to get up by hogging on the spotlight from someone who is already successful and Otunga agrees but he does not agree with Rowan's way of pulling it out. The camera now shifts to the ringside where Vic Joseph welcomes us for the first match of the night.
Please continue to the next page for more results!!