IPL 2021 Schedule, Fixture, Time Table, PDF, List of Upcoming Matches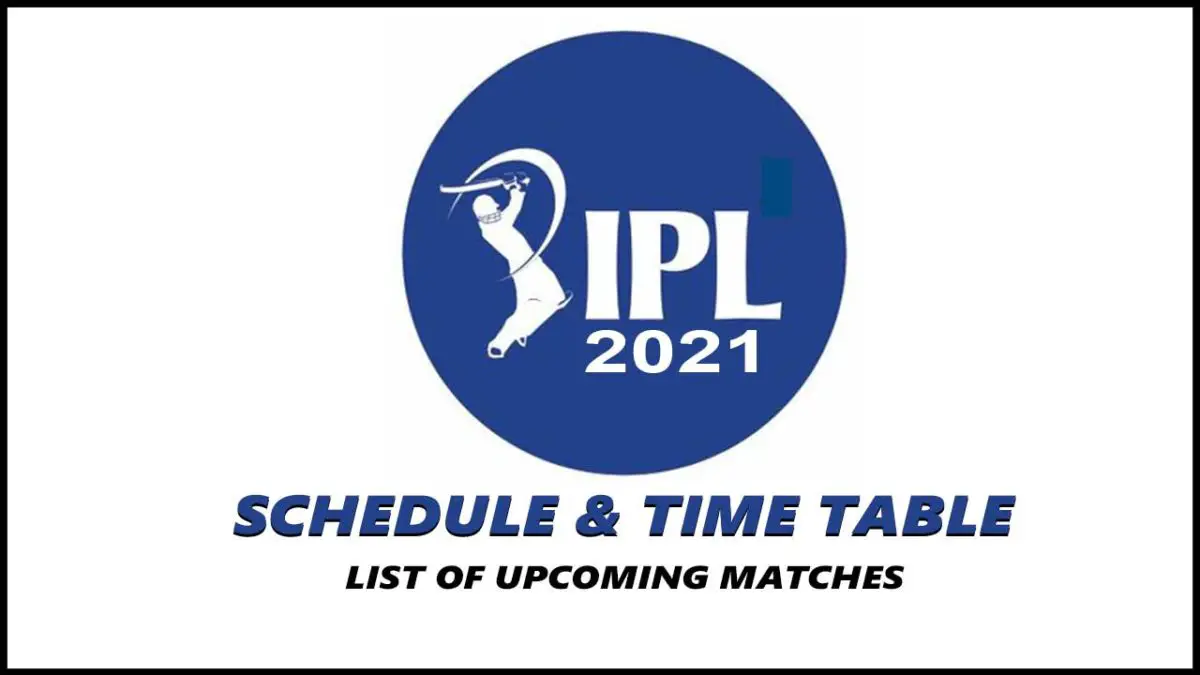 The schedule for 14th season of IPL is out now. The tournament will start from 9 April 2021 in Chennai's MA Chidambaram Stadium. IPL 2021 will last for 52 days with the final taking place on 30 May 2021 at Narendra Modi Stadium in Ahmedabad.
Six stadiums are finalized for this year's IPL. The group stage of the tournament will start in two bases- Wankhede Stadium in Mumbai & MA Chidambaram Stadium in Chennai. These two stadiums will host all the matches from 9 April to 25 April.
From there on, Narendra Modi Stadum(Motera) in Ahmedabad and Arun Jaitley Stadium(Feroz Shah Kotla) in Delhi will host matches from 26 April to 8 May. From 8 May to 23 May, Kolkata's Eden Garden & Bangaluru's Chinnaswamy Stadium will host IPL 2021 group stage matches.
The Play-off stage & Final will take place from 25 May to 30 May at Motera Stadium in Ahmedabad. The detailed schedule for IPL 2021 is as below:
IPL (Indian Premier League) 2021 Fixtures, Time Table
| No. | Date | Day | Matches | Venue | Time |
| --- | --- | --- | --- | --- | --- |
| 1 | 9 April 2021 | Fri | MI vs RCB | Chennai | 07:30 PM |
| 2 | 10 April 2021 | Sat | CSK vs DC | Mumbai | 07:30 PM |
| 3 | 11 April 2021 | Sun | SRH vs KKR | Chennai | 07:30 PM |
| 4 | 12 April 2021 | Mon | RR vs PBKS | Mumbai | 07:30 PM |
| 5 | 13 April 2021 | Tue | KKR vs MI | Chennai | 07:30 PM |
| 6 | 14 April 2021 | Wed | SRH vs RCB | Chennai | 07:30 PM |
| 7 | 15 April 2021 | Thu | RR vs DC | Mumbai | 07:30 PM |
| 8 | 16 April 2021 | Fri | PBKS vs CSK | Mumbai | 07:30 PM |
| 9 | 17 April 2021 | Sat | MI vs SRH | Chennai | 07:30 PM |
| 10 | 18 April 2021 | Sun | RCB vs KKR | Chennai | 07:30 PM |
| 11 | 18 April 2021 | Mon | DC vs PBKS | Mumbai | 07:30 PM |
| 12 | 19 April 2021 | Tue | CSK vs RR | Mumbai | 07:30 PM |
| 13 | 20 April 2021 | Wed | DC vs MI | Chennai | 07:30 PM |
| 14 | 21 April 2021 | Thu | PBKS vs SRH | Chennai | 03:30 PM |
| 15 | 21 April 2021 | Thu | KKR vs CSK | Mumbai | 07:30 PM |
| 16 | 22 April 2021 | Fri | RCB vs RR | Mumbai | 07:30 PM |
| 17 | 23 April 2021 | Sat | PBKS vs MI | Chennai | 07:30 PM |
| 18 | 24 April 2021 | Sun | RR vs KKR | Mumbai | 07:30 PM |
| 19 | 25 April 2021 | Mon | CSK vs RCB | Mumbai | 03:30 PM |
| 20 | 25 April 2021 | Mon | SRH vs DC | Chennai | 07:30 PM |
| 21 | 26 April 2021 | Tue | PBKS vs KKR | Ahemdabad | 07:30 PM |
| 22 | 27 April 2021 | Wed | DC vs RCB | Ahemdabad | 07:30 PM |
| 23 | 28 April 2021 | Thu | CSK vs SRH | Delhi | 07:30 PM |
| 24 | 29 April 2021 | Fri | MI vs RR | Delhi | 03:30 PM |
| 25 | 29 April 2021 | Fri | DC vs KKR | Ahemdabad | 07:30 PM |
| 26 | 30 April 2021 | Sat | PBKS vs RCB | Ahemdabad | 07:30 PM |
| 27 | 1 May 2021 | Sun | MI vs CSK | Delhi | 07:30 PM |
| 28 | 2 May 2021 | Mon | RR vs SRH | Delhi | 07:30 PM |
| 29 | 2 May 2021 | Mon | PBKS vs DC | Ahemdabad | 03:30 PM |
| 30 | 3 May 2021 | Tue | KKR vs RCB | Ahemdabad | 07:30 PM |
| 31 | 4 May 2021 | Wed | SRH vs MI | Delhi | 07:30 PM |
| 32 | 5 May 2021 | Thu | RR vs CSK | Delhi | 07:30 PM |
| 33 | 6 May 2021 | Fri | RCB vs PBKS | Ahemdabad | 07:30 PM |
| 34 | 7 May 2021 | Sat | SRH vs CSK | Delhi | 07:30 PM |
| 35 | 8 May 2021 | Sun | KKR vs DC | Ahemdabad | 03:30 PM |
| 36 | 8 May 2021 | Sun | RR vs MI | Delhi | 07:30 PM |
| 37 | 9 May 2021 | Mon | CSK vs PBKS | Banglore | 03:30 PM |
| 38 | 9 May 2021 | Mon | RCB vs SRH | Kolkata | 07:30 PM |
| 39 | 10 May 2021 | Tue | MI vs KKR | Banglore | 07:30 PM |
| 40 | 11 May 2021 | Wed | DC vs RR | Kolkata | 07:30 PM |
| 41 | 12 May 2021 | Thu | CSK vs KKR | Banglore | 07:30 PM |
| 42 | 13 May 2021 | Fri | MI vs PBKS | Banglore | 03:30 PM |
| 43 | 13 May 2021 | Fri | SRH vs RR | Kolkata | 07:30 PM |
| 44 | 14 May 2021 | Sat | RCB vs DC | Kolkata | 07:30 PM |
| 45 | 15 May 2021 | Sun | KKR vs PBKS | Banglore | 07:30 PM |
| 46 | 16 May 2021 | Mon | RR vs RCB | Kolkata | 03:30 PM |
| 47 | 16 May 2021 | Mon | CSK vs MI | Banglore | 07:30 PM |
| 48 | 17 May 2021 | Tue | DC vs SRH | Kolkata | 07:30 PM |
| 49 | 18 May 2021 | Wed | KKR vs RR | Banglore | 07:30 PM |
| 50 | 19 May 2021 | Thu | SRH vs PBKS | Banglore | 07:30 PM |
| 51 | 20 May 2021 | Fri | RCB vs MI | Kolkata | 07:30 PM |
| 52 | 21 May 2021 | Sun | KKR vs SRH | Banglore | 07:30 PM |
| 53 | 21 May 2021 | Sun | DC vs CSK | Kolkata | 03:30 PM |
| 54 | 22 May 2021 | Mon | PKBS vs RR | Banglore | 07:30 PM |
| 55 | 23 May 2021 | Tue | MI vs DC | Kolkata | 03:30 PM |
| 56 | 23 May 2021 | Tue | RCB vs CSK | Kolkata | 07:30 PM |
| 57 | 25 May 2021 | Thu | QUALIFIER 1 | Ahemdabad | 07:30 PM |
| 58 | 26 May 2021 | Fri | ELIMINATOR | Ahemdabad | 07:30 PM |
| 59 | 28 May 2021 | Sun | QUALIFIER 2 | Ahemdabad | 07:30 PM |
| 60 | 30 May 2021 | Tue | FINAL | Ahemdabad | 07:30 PM |
| Also Check: IPL 2021 Teams & Squad: Full Players List
IPL (Indian Premier League) 2021 Schedule PDF download
| Also Check: How to Watch IPL 2021 Live Streaming Online Free