WWE Stomping Grounds 2019 Preview, Predictions, Date, Start Time
Check out the preview and match results predictions for WWE Stomping Grounds 2019 show.
Date– 23 June 2019
Location– Tacoma Dome Arena, Tacoma, Washington, United States
Start Time– Kick-Off show: 6 PM EST(10 PM GMT/3:30 AM IST); Main show- 7 PM EST(11 PM GMT/4:30 AM IST)
Just 12 days have passed since Super Showdown 2019 and here we are writing preview for another WWE Show. Heck! Between Money in the Bank and Stomping Grounds, just 5 weeks are done and we are having third WWE PPV show. And the effects of such closed scheduling are seen in poor sales of the tickets for Stomping Grounds. AEW having a big say in the non-sale of tickets is another matter altogether. But the main reason for such lukewarm anticipation is due to all the rematches that are served. Without much delay, let's dive in.
Roman Reigns vs Drew McIntyre
Storyline- The first rematch of the night and the oldest of them all. The feud started as soon as Roman Reigns returned in February. They faced off at WrestleMania at which point the feud seemed to over. However, McIntyre became the henchman for Shane McMahon and returned in a feud with Reigns. After McIntyre helped Shane McMahon to get a win at Super ShowDown, Roman will look to get one over against him.
Prediction- For some reason, we might get another upset and Drew McIntyre would win this match.
Becky Lynch(c) vs Lacey Evans – WWE RAW Women's Championship Match
Storyline- The storyline started when Becky had just become 'Becky Two Belts' at WrestleMania. After multiple brawls, they faced off at Money in the Banks where Becky retained the RAW Women's Championship. But Lacey assisted Charlotte Flair to clinch the SmackDown title from Becky. The storyline continued but the fire seems to have died down.
Prediction– Lacey Evans' stature might be increasing slowly, but it's hard to see Becky Lynch losing the title here.
Seth Rollins(c) vs Baron Corbin- WWE Universal Championship Match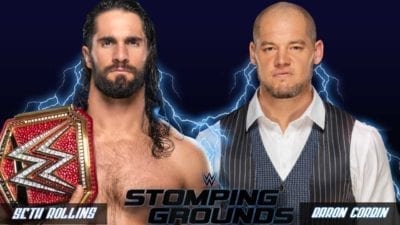 Storyline– As Brock Lesnar's Money in the Bank loomed over Seth Rollins, Baron Corbin became the no. 1 contender but lost the Universal Championship match at Super ShowDown. But Corbin was quick to blame the loss on the referee and asked for a rematch. On RAW last week, he revealed that he has got the permission to select a special referee for Stomping Grounds match. Seth Rollins, meanwhile, has got a mean streak now and attacked everyone who has tried to side with Corbin to become the referee.
Prediction– With a newfound badass attitude, it will be a real shock to see Seth Rollins losing here.
Kofi Kingston(c) vs Dolph Ziggler – Steel Cage Match, WWE Championship
Storyline– It should have been Ziggler. Yes, it should have been Ziggler all along.(For more info, check here).
Prediction– Kofi Kingston to retain the title, even if by the means of disqualification.
Bayley(c) vs Alexa Bliss – WWE SmackDown Women's Championship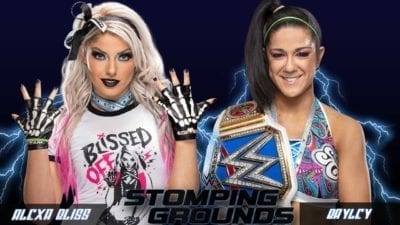 Storyline– Alexa Bliss hosted a special segment of Moment of Bliss on SmackDown and it was quickly turned into a no. 1 contender's match between her, Carmella and Charlotte Flair. Bliss won the match and has since got a partner in Nikki Cross to help her out against Bayley.
Prediction– Bayley's last World title reign was a short one. But he would win here only because Alexa Bliss is in from RAW roster. (Little does it mean in the wildcard era).
Samoa Joe(c) vs Ricochet – WWE United States Championship Match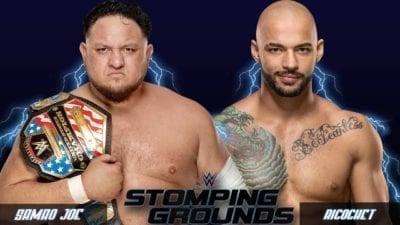 Storyline– After Rey Mysterio handed back the title to Samoa Joe, a new challenger was needed. Braun Strowman, Bobby Lashley, the Miz, Cesaro and Ricochet wanted to be the one, so they faced off in a fatal 5-way match. After Strowman was overpowered by the combination of other stars, Ricochet pinned Miz to win that match.
Prediction– Although, it is irrelevant to ask such questions to WWE, why was Samoa Joe handed the title back if he would lose it at his next defense? He will retain here, which will be unfortunate for Ricochet.
Daniel Bryan and Rowan vs Heavy Machinery(Otis and Tucker)- SmackDown Tag Team Championship Match
Storyline– Ever since Daniel Bryan and Rowan won the blue brand tag team titles, Heavy Machinery had their eyes on them. After several delays from Bryan and Rowan to grant them a title shot, the match is finally set for Stomping Grounds.
Prediction– The Planet's Champions, Daniel Bryan and Rowan, will retain the title in Bryan's home state.
Tony Nese vs Drew Gulak vs Akira Tozawa- WWE Cruiserweight Championship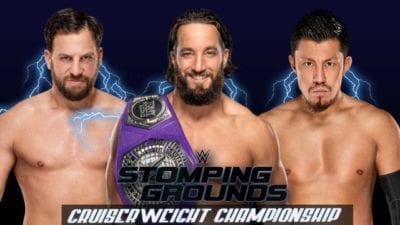 Storyline– In search of the new no. 1 contender for Cruiserweight Champion Tony Nese, 205 Live General Manager held a fatal 4-way match between Drew Gulak, Akira Tozawa, Oney Lorcan and Ariya Daivari. The match ended when both Gulak and Tozawa were in small package pinning position and both had their shoulders down. After inconsequential evidence over the winner, the Championship match was then announced as a triple threat.
Prediction– In regards to storyline, 205 Live and NXT had been much better than WWE's main shows and there might be a reason that this match is a triple threat. Gulak has been jobbing to Kushida recently. So, if Tony Nese would lose the title, then it will be Akira Tozawa who will pin Drew Gulak to take the win.
Kevin Owens and Sami Zayn vs the New Day(Xavier Woods and Big E)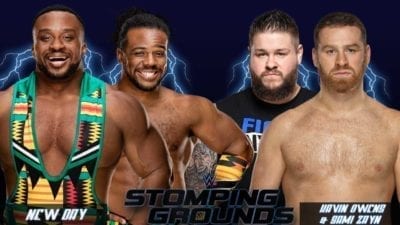 Storyline– Kevin Owens is in a feud with Kofi Kingston over WWE Championship and this match is just a by-product of it.
Prediction- Kevin Owens and Sami Zayn has been losing too much recently. If KO will return as the contender for WWE title after this show, he will need the win here.
For more information, news and updates on Stomping Grounds 2019, you can follow this space.