WWE SmackDown September 24, 2021- Live Results & Updates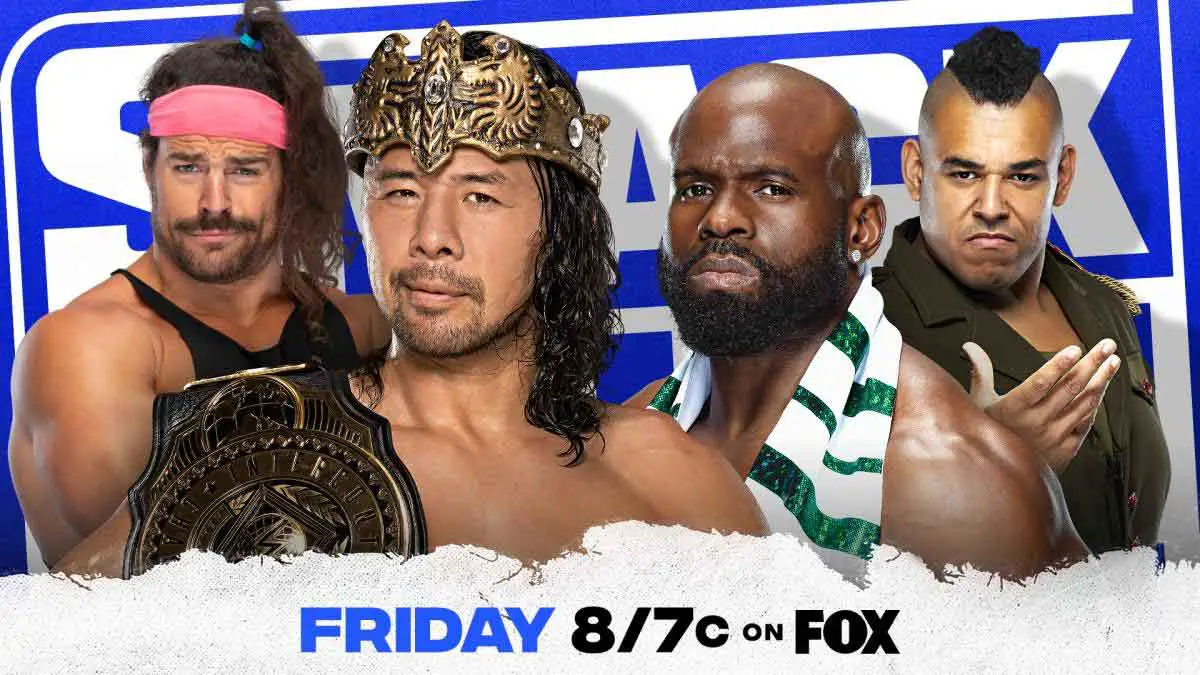 WWE SmackDown's Extreme Rules go-home episode of 24 September 2021 will air from Wells Fargo Center in Philadelphia, PA. The show has two matches announced in advance including the Intercontinental Championship match between Shinsuke Nakamura & Apollo Crews.
Read on to check the live results & updates for WWE SmackDown on September 24, 2021 with preview, match card, start time, location, tickets and how to watch.
Show – WWE Friday Night SmackDown
Date – September 24, 2021
Location – Wells Fargo Center, Philadelphia, PA, US
Time – 8 PM EST(September 25 – 12 AM GMT)
Results
Shinsuke Nakamura(c) defeated Apollo Crews via pinfall to retain WWE Intercontinental Championship.
Zelina Vega defeated Liv Morgan in a singles match via pinfall.
Nikki ASH defeated Natalya in a singles match via pinfall.
Roman Reigns defeated Montez Ford in a singles match via pinfall.
Live Results & Updates
Becky Opens The Show
Becky Lynch comes out to open the show. She says she came out to show respect to Bianca in her hometown last week, but she tried to attack her. Becky asks what choice did she have when Bianca tried to pull that against her. Bianca's music hits and she comes out.
Bianca agrees that Becky embarrassed her in front of her hometown, but that is not happening at Extreme Rules. Becky retorts that she was aware that she was having a match at SummerSlam, and she was not prepared, then how can she be the EST. The war of words continues and Bianca claims she will beat Becky at Extreme Rules.
Becky offers a handshake once again and this time, she slaps Bianca. A brawl starts as Bianca attacks Becky. Becky turns it around in the corner and goes for the manhandle slam. However, Bianca counters and hits KOD. Bianca leaves as Becky recovers in the ring.
Shinsuke Nakamura(c) vs Apollo Crews – Intercontinental Championship
Rick Boogs plays his theme as Shinsuke Nakamura makes his way to the ring. Apollo comes out with Commander Azeez. Nakamura starts with a side kick. Apollo brings him down with a takedown. Nakamura comes back with a dropkick. Apollo hits a big clothesline and throws him over the ropes to the floor. We cut to the break.
Boogs starts to play on guitar to help Nakamura hype up. Nakamura makes a comeback with big kicks. He hits his signature sliding German suplex for a two-count. Apollo catches him with a big dropkick as Nakamura comes off from the second rope. Crews stops a move with some elbows. Nakamura hits a jumping knee from the second rope.
Crews counters the Kinshasa and hits a deadlift Samoan drop for a near fall. He follows with a powerbomb but Nakamura comes back quickly with an enziguiri. Commander Azeez pulls him out of the ring. Nakamura hits Azeez with a dropkick but Azeez no-sells it. Boogs hits him with a Northern Light suplex on the floor. Nakamura puts Apollo in an armbar/inside cradle combo to get the pin.
Winner – Shinsuke Nakamura(retains IC title)
Montez Ford gets interviewed backstage and asked about Street Profits vs The Usos match at Extreme Rules. Ford claims they will win back the title. He adds that Roman is not treating The Usos like the Bloodline but like his bitches.
WWE Universal Champion Roman Reigns is with Paul Heyman in his locker room. Roman asks him what Ford just said. Paul repeats that Ford thinks the Greatest Tag Team in WWE's history is being treated like bitches. Roman says he needs a match against Ford tonight.
After the break, Paul Heyman catches WWE Officials Adam Pearce & Sonya Deville backstage. Sonya tells him that they could not tell him where Brock Lesnar will be drafted. Paul says he has a main event for the, – Roman Reigns vs Street Profits. Adam says they can do that. Paul tells him that they can talk about the draft after the match.
We see a replay of Seth Rollins' promo from last week. Rollins says the sound of Edge's silence is defeaning, and it means Edge is hurting and might not be able to work in WWE ring again. But that is not going to work, He tells Edge that he will come to SmackDown enxt week and acknowledge that he is not Edge-Lite and is a better wrestler than him. If he does not come, Seth will find his house and beat him up.
Liv Morgan vs Zelina Vega
Carmella comes out to the commentary for this match. Morgan starts with a big dropkick and an upper cut. More attack from Morgan and she gets a two-count with roll up. Vega hits a dropkick in the corner to start a back and forth sequence.
Morgan catapults Vega in to the corner. Carmella gets enraged by this and gets off the commentary to argue with Morgan. Morgan goes to slam Carmella into the apron. Vega hits him with a big boot and then hits Sunset flip to get the pin.
Winner – Zelina Vega
Happy Talks with Baron Corbin
Corbin is in the ring and welcomes us to the The Happy Talks. He says this talk show will not be like any other talk show on the show. He needed his first guest to be someone who does not dissappoint us. Corbin introduces himself as the first guest and goes on to list all the vanity he has as he sits on the guest chair.
He recalls beating up Kevin Owens and he is vey happy over this, Kevin Owens' music hits and he comes out. Owens was making his way to the ring when a hooded figure attacks him. It is Riddick Moss. Owens tries to fight back but Corbin comes for double team and sends him into the steel steps. Moss & Corbin slam Owens into the steel steps with a double chokeslam.
Ford was warming up backstage when Kayla Braxton comes and asks him whether he regrets that bitches comment about The Usos as he will take on Roman Reigns now. Ford says he does not. Ford says he will do what he does best, but he will do it against Roman Reigns.
Edge has tweeted out that he will be at SmackDown next week.
Nikki Cross vs Natalya
They trade counters to start. Nikki hits a dropkick to Natalya's knees and another dropkick to her face. Natalya drops Nikki after a referee distraction. Natalya unloads with kicks in the corner and keeps control for a while. Natalya hits a suplex next.
Nikki starts to fight back but Natalya keeps working her over in the corner. Tamina gets on the apron for a distraction now but Rhea comes over and pulls her off the apron. Natalya had Nikki rolled up for a pin but the referee missed it. Nikki reverses the roll-up for the pin.
Winner – Nikki ASH
After the match, Nikki and Rhea stand tall in the ring. Shotzi and Nox come out to the ramp riding on the tank. Shotzi fires her missile at the champs and they're not happy. The two teams taunt each other as Natalya and Tamina yell from the other side of the ringside area.
Backstage, Dominik is complaining to Rey Mysterio that he won't give him a chance and keeps nit-picking and he would have won his last two matches if Rey wasn't at ringside. Rey walks off and says he will give him his space. Sami walks in and Dominik is startled but Sami tells him to relax. Sami is here to give Dominik some advice. He says if he were Dominik, he would start listening to Rey a little less and listening to his instincts more.
Naomi is in the ring. She says Sonya has refused to put her in a match, but she will not play this game anymore. She wants a match right here tonight. She calls for someone from the locker room to take her on. Sonya comes out on the ramp and tells her that she makes the matches here. Sonya gets Naomi's mic cut off when she starts a "Make the Match" chant. Sonya cuts a scathing promo against Naomi and asks the security to take her away.
Back from the break., Becky Lynch cuts a promo against Bianca Belair.
Roman Reigns vs Montez Ford
Ford starts with a headlock and Roman turns it around into a heaclock of his own. Roman hits a shoulder tackle before Ford shows off some acrobatic skills and dropkicks Roman to the floor. We cut to a break.
Roman is in control as we return. He beats up Ford with hammer blows and punches and more shots. Roman hits his signature corner clotheslines as the crowd counts with him. Ford fires back with big chops and dropkicks him to the floor. He drives Roman into the barricades now. Ford was trying to use the announce table but it breaks as he climbs it. Ford jumps off the steel steps with double ax handles.
Back in the ring, Roman sends him flying in the air. A big clothesline from Roman follows. Ford is back on the floor as we cut to another break.
Ford hits a sidekick and follows quickly with a springboard crossbody. A dropkick and blockbuster follows. Ford goes to the top now but misses the splash. Roman hits Urinage for a two-count. He loads up the Superman punch but Ford counters with a DDT.
More back and forth action. Ford goes for the splash again but Roman gets his knees up and quickly puts on the Guilottine choke on Ford. Ford taps out.
Winner – Roman Reigns
Paul Heyman takes the mic after the match and counsels Ford to punish Ford more for his sins and show Brock Lesnar what happens when Roman Reigns goes extreme. The Usos come out and hands a steel chair to Roman. Roman smacks Ford with chairs and then puts him through a table.
Suddenly, the lights go out and when they come back, Demon Balor is on top of the ringpost. He takes out the Bloodline with a crossbody. Demon brings out a kendostick and swings at The Usos. Roman goes back to the ring and grabs the steel chair. Demon hits him with slingblade and then smacks him with chair shots. The Usos try to attack Demon but they also take chair shots. Demon takes Roman out with a suicide dive on the floor to close the show.