WWE SmackDown Results March 24, 2023, Live Updates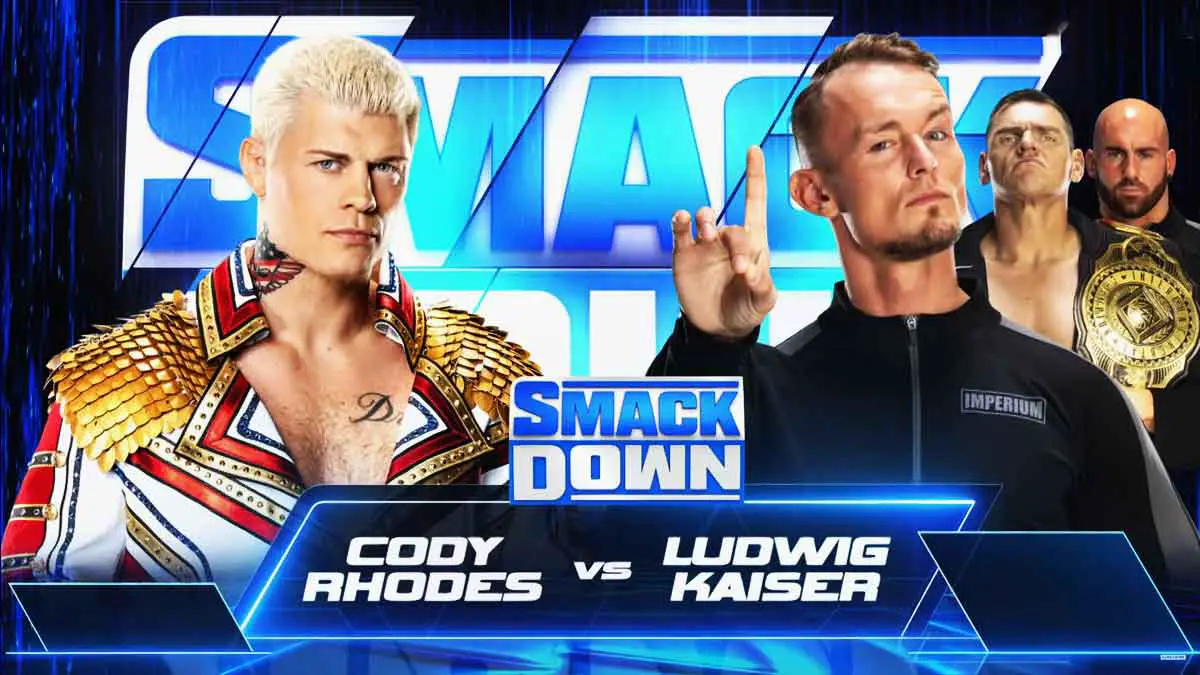 Welcome to the live results page for WWE SmackDown March 24, 2023 episode, which will be live from MGM Grand Arena in Las Vegas, NV.
Cody Rhodes will take on Lugwig Kaiser in a singles match after an argument between them last week. Cody will be taking part in a match at SmackDown after 6 years. Cody also returns to MGM Grand Arena, the same arena for Double or Nothing 2019.
Rey Mysterio faces LA Knight in a singles match. Knight asked Mysterio to give him a WrestleMania moment if he did not want to face his son, leading to Rey punching him and set up a match. Rey's son Dominik is set to confront his family to force his father into accepting his challenge for WrestleMania 39.
Sami Zayn will join the KO Show as reunited friends would prepare to take on The Usos. Expect more storylines for continue for WrestleMania 39 with just 8 days to go into the event. Tune in below as we post results from WWE Friday Night SmackDown March 24, 2023 episode with live updates, winners & highlights.
RESULTS
Cody Rhodes defeated Ludwig Kaiser in a singles match via pinfall.
LA Knight defeated Rey Mysterio in a singles match via pinfall.
Shotzi & Natalya defeated Xia Li & Lacey Evans in Women's Showcase Match Qualifier tag team match via submission.
Gunther defeated Butch in a singles match via pinfall.
LIVE UPDATES
We get the recap from last week where Sami Zayn tells Kevin Owens that they are brothers, and Owens comes to rescue Sami from the Usos. We also see them hugging in the ring along with setting up the tag title match at WrestleMania 39.
We cut to intro song. Cody Rhodes' music hits after this and he comes out.
Cody Rhodes vs Ludwig Kaiser
They lock up and Kaiser gets the first shot. Cody picks up Kaiser for a delayed vertical suplex but instead drops Kaiser face-first. Paul Heyman comes out to the stage. Cody gets a bit distracted but he hits a tackle and a running knee on Kaiser to take us to a break.
We return to see Kaiser dropping Cody face-first before going to hit some quick punches. Heyman is still watching him from the stage. Kaiser gets Cody to the corner to slam his leg into the ringpost but Cody pulls him back into the ringpost. Cody hits a suicide dive. Kaiser cuts off Cody Cutter and gets some shots going. Cody hits signature jabs but Kaiser hits back with a big punch. Giovanni Vinci takes a cheap shot at Cody as the referee was distracted with Kaiser.
Kaiser puts on a side headlock. Cody fights off it but Kaiser hits an uppercut. Cody fires some big swings before Kaiser hits back. Cody hits a back body drop to send Kaiser to the apron and hits a disaster kick. Cody gets him in pedigree position but Cody sees Solo Sikoa coming out to the stage. Kaiser takes advantage of the distraction and hits a chop block. Cody rolls to the floor. He manages to send Kaiser into the steel steps but he is also down on his knees as we cut to another break.
Cody fights back as we return from another break. They trade punches before Kaiser hits a kick to midsection. Cody hits back with a powerslam. Kaiser hits him with a clothesline to get a two-count. Kaiser hits a running uppercut, a side kick and a suplex. He goes for an uppercut from the second rope but Kaiser blocks Cross-rhodes. Cody hits Cody Cutter and hits Cross-rhodes to get the pinfall.
Winner – Cody Rhodes
After the match, Solo gets on the apron but Heyman stops him from getting into the ring. Heyman says Cody is owed an apology and goes on to announce him once again. Heyman then goes on to announce that Cody will face Solo on RAW next week. And if Cody survives Solo, his road will lead Cody towards Roman Reigns on SmackDown next week.
Cody asks Heyman if he is trying to move the goalpost for him. He adds that he should not be fighting Solo just 6 days before the biggest match of his life but then he would not have fought with half his body and still beat Seth Rollins. Cody then says Solo and Roman will find out next week that they are not ready. Cody throws the mic at Heyman and goes back.
---
The commentary team announces that John Cena will kick-off WrestleMania weekend.
---
We get a recap of last week's promo battle and the follow-up brawl between Rhea Ripley and Charlotte Flair. Flair comes out to the ring. Flair starts her promo by talking about her 14 title reigns. She says these 14 reign did not come via nepotism or backstage politics. She says this business is not built on fear but on respect. Flair tells Rhea that she does fear her but respect her. She respected The Bella Twins, Sasha Banks, Bayley and Becky Lynch. She also talks about her insecurities about being outperformed. Coming to nepotism, Flair says she is proud of her dad and would carry on the legacy.
---
We see Kevin Owens and Sami Zayn chatting backstage.
Rey Mysterio vs LA Knight
Rey Mysterio makes his entrance for the match. He hugs his wife and daughter in the front row. We cut to a break.
LA Knight makes his entrance after the break. We see the recap of segment from last week where Knight offered to fight Dominik. Knight tries to rush Rey as the bell rings. Rey avoids him in the corner. Knight hits a tackle before Rey hits a dropkick. Rey hits several punches in the corner after more back and forth. Knight slams him to the mat after throwing him up in the air. Knight stomps at him for a while. He drives Rey into the corner face-first to get a two-count.
Knight takes Rey from corner to corner as he continues to beat up Knight. Rey hits a hurricanrana to send Knight to the floor and hits a basement slide dropkick and baseball slide splash on the floor. Rey hits an enzuigiri from the apron. Dominik's music hits and Rey gets distracted. Knight trips Rey with a chop block. Dominik makes his entrance. Rey is down in the ring as we cut to a break.
Rey hits punches as he tries to fight back. Rey hits a front kick to the face. Knight hits a big boot to cut him off. He stomps on Rey before hitting a back suplex. Rey goes for a crossbody but Knight catches him and hits a body slam. Knight misses an elbow drop. Rey hits a bulldog, a seated senton and a springboard crossbody to get a two-count. Knight hits back with a slam to get a two-count.
Rey counters another slam with a DDT and drops Knight to the ropes with a dropkick. Knight blocks 619 but Rey quickly counters and drops Knight to the ropes once again. Dominik picks Rey's leg to stop him from hitting 619. Knight rolls up Mysterio as he watches Dominik on the floor and gets the pinfall.
Winner – LA Knight
After the match, Dominik gets into the ring and asks his father if he is gonna run away or finally be a man and face him at WrestleMania. Rey gets out of the ring and Dominik mocks him for walking away like always. Dominik asks his mom how it feel being married to a pathetic loser who cannot even stand up to his son.
Dominik then turns towards his mom and says she is also a dead beat mom since she just sat back while his father abondoned him night after night. Aliyah tries to get involved but Dominik shuts her up and goes to insult his mother more. Rey finally gets agitated and comes towards his family. Rey drops Dominik with a punch. Rey says Dominik has pushed him when he insulted his own mother. Rey says if Dominik wants him at WrestleMania, he got it. Dominik walks back. Rey goes to embrace and kiss his wife to end the segment.
Xia Li & Lacey Evans vs Shotzi & Natalya – Women's Showcase Match Qualifier
Shotzi and Lacey start the match. Lacey hits a back elbow when Shotzi gets on her back. Lacey slams her face in the corner and tags in Xia Li. Li hits some chops and running knee. Li hits a modified suplex before slamming Shotzi into the corner. Lacey tags back in and keeps the pressure on Shotzi. Lacey slams Shotzi's face into the mat a few times. Lacey goes on to knock off Natalya from the corner. Shotzi rolls up Lacey to get a two-count. She gets to her corner but Natalya is not there. Lacey slams her face once again to the mat.
Lacey tags in Xia but Shotzi fights off her double team and hits a jawbreaker on Lacey. Shotzi drops Li before Li picks up Shotzi. Lacey goes for a women's right on Shotzi but she ducks it and Lacey catches Xia with it. Shotzi fights Lacey off as Natalya gets a tag. Shotzi hits a suicide dive on Lacey on the floor. Natalya hits a discus clothesline on Xia before putting on the sharpshooter to get the submission.
Winner – Shotzi & Natalya
After the match, Ronda Rousey and Shayna Baszler come out to the ramp. They talk about selling out this arena multiple times but fans still do not respect them. They mock Shotzi & Natalya, and Liv Morgan and Raquel Rodriguez for injuring them a lot of times. They go on to announce that they will be part of the showcase match at WrestleMania.
Contract Signing
Drew McIntyre is sitting in the ring with Adam Pearce for the contract signing segment. Sheamus comes out with Butch and Ridge Holland. Sheamus talks about Drew backstabbing him and trying to block him from achieving his dream of winning Intercontinental Championship to become a Grand Slam Champion. Drew says Sheamus should have been with him in a bar after their match last week but he is unable to separate personal from business.
Drew says he has beaten Sheamus and knows he can beat Gunther also. Things gets heated and Adam Pearce intervenes to ask them to sign the contract. Sheamus and Drew go on and sign the contracts. Gunther marches into the ring and asks Adam Pearce to justify why this match is a triple threat where he can lose the title even if either of his opponents can pin each other to win his title.
Gunther also signs the contract. He says he will do anything to defend his title. He can beat Drew. He can beat Sheamus. He can beat Ridge Holland. He asks Butch what he is looking at. Butch attacks Gunther before Pearce and others separate them. Gunther gets in Pearce's face to book a match against Butch right away.
Butch vs Gunther
The match is ongoing as we return from a break. Butch tries to hit big shots but Gunther hits him with a big boot. Gunther hits a suplex from a Gulluitone position. Butch tries to fire big shots but Gunther drops him again and hits some chops. Butch jumps up and goes for an arm triangle with some joint manipulation. Gunther blocks it and puts on Boston Crab. He drags Butch back into the middle when he was trying to get to the ropes.
Gunther puts on a crossface briefly. Butch fires some kicks but Gunther puts him in a bow and arrow on top of the ringpost. We cut to a break.
Gunther was looking for some chest slaps as we return from the break. Butch blocks it and goes for joint manipulation. Gunther puts on a sleeper choke. Butch lands on his feet when Gunther goes for a German suplex. He kicks Gunther who then rolls to the floor. He chops Butch over the announce table. Gunther stares down Drew and Sheamus. Butch attacks Gunther on the floor before taking him back to the ring.
Drew gets on the apron to distract Butch. Sheamus pulls him back but Drew hits a headbutt. Holland comes in and Drew sends him into the ringpost. Sheamus hits Drew with Brogue kick. Gunther hits a clothesline in the ring before hitting The Last Symphony to get the pinfall.
Winner – Gunther
After the match, Sheamus gets into Gunther's face. Drew McIntyre goes to hit a Claymore kick and catches Gunther with it.
The KO Show with Sami Zayn
Kevin Owens makes his entrance before the break. He brings out Sami Zayn as we return from the break. Owens asks Sami if he is happy with how their arrivals turned out to be. Sami changes the subject and asks if Owens realizes what they are about to accomplish. Sami says they are about to win WWE Tag Team Championship together after starting all those years back in Canada. Sami says this year's WrestleMania feels different.
Owens agrees and says this year's WrestleMania really feels different. Owens then reveals a shirt with KO-Mania logo on it. Owens says Sami needed a new shirt since The Honorary Uce shirt was taken away from him. This is the backside of the shirt. Owens says this year nobody is hotter than Sami and the crowd roars for him. Owens hands Sami the shirt and Sami reveals WrestleZayn written on the front side.
Sami asks for a hug. Owens says he got one hug last week and has completed the quota for this year. The crowd asks for it and Owens has to hug Sami. The Usos attack them out of nowhere and go on to hit 1-D on Sami. The Usos leave the ring before KO can fight back. The Usos mock them from the floor as the show goes off the air.