WWE SmackDown Results March 10, 2023, Live Updates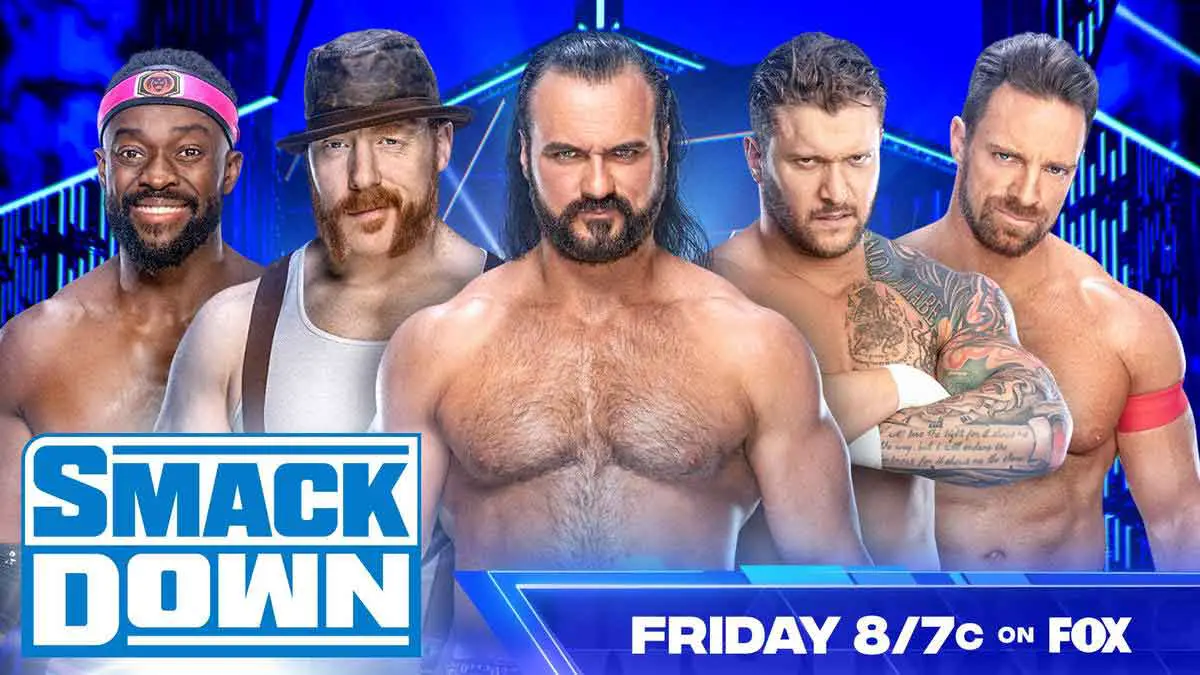 Welcome to the live results blog for WWE SmackDown March 10, 2023 episode which was live from Pittsburgh, PA, just 21 days before WrestleMania 39.
A 5-way qualifier for WWE Intercontinental Championship title shot was announced for the show. Drew McIntyre, Sheamus, Karrion Kross, LA Knight and Kofi Kingston were booked for the match. Who made his way to WrestleMania in the IC title match?
The Viking Raiders were in action as they faced Braun Strowman and Ricochet. How did the storyline between Rhea Ripley and WWE SmackDown Women's Champion Charlotte Flair progress? Rhea has two wins on SmackDown in the past two weeks. Did her streak continued on March 10, 2023 episode also?
We also saw the next chapter in The Bloodline story as Jey Uso has turned on Sami Zayn. Was he really back to the Bloodline fold, or was it a ruse? Tune in below as we post results from WWE Friday Night SmackDown March 10, 2023 episode with live updates, winners & highlights.
RESULTS
Drew McIntyre & Sheamus beat Xavier Woods, LA Knight & Karrion Kross in 5-way Qualifier for WWE Intercontinental Championship Match via pinfall.
Judgment Day(Dominik Mysterio, Damian Priest & Finn Balor) defeated Legado Del Fantasma(Santos Escobar, Joaquin Wilde & Cruz Del Toro) in a tag team match via pinfall.
The Viking Raiders(Erik & Ivar) defeated Braun Strowman & Ricochet in a tag team match via pinfall.
Charlotte Flair defated Shotzi in a singles match via pinfall.
LIVE UPDATES
The show starts with a recap of Jey Uso's turn on Sami Zayn and his recent problems with the Bloodline. Paul Heyman greets the Usos as they enter the arena. Jey tells him that he just wants to see Roman Reigns. Heyman hugs him and says the Tribal Chief is so proud of him. Jey tells him to tell Roman that he is here. Kayla Braxton interviews Jey and he says he will say everything he needs to say in the middle of the ring tonight. Jimmy interjects and tells Kayla to go and talk to Cody Rhodes and ask him why he is getting into the Bloodline's business.
Drew McIntyre vs Sheamus vs Xavier Woods vs LA Knight vs Karrion Kross – 5-way Qualifier for WWE Intercontinental Championship Match at WrestleMania 39
IC title qualifier is going first. Drew McIntyre comes out first. Woods replaces Kofi Kingston as he comes out after Karrion Kross. Knight and Sheamus complete the entrances. Everyone starts to nail Knight with shots as the bell rings. Sheamus and Drew are left in the ring after the initial scuffle. Kross and Knight attack them from behind. They fight on the floor as we cut to a break.
Knights takes Drew back to the ring. Kross & Knight hit a back body drop on Woods. Drew fights them both but is hit with a double suplex. Sheamus hits a flying clothesline from the top on Knight. Kross puts Drew in a single-leg crab. Knight puts on a figure four and Kross breaks that submission. Knight then punches Kross to end their alliance.
Woods hits quick chops to the chest. He hits a dropkick on Knight before tripping Kross also. He hits kicks on Drew and Sheamus on the floor. He hits a DDT on Kross before dropping Knight on his knees. Woods hits an elbow drop off the top on Knight, but other participants break the pin. Imperium come out at the stage as we cut to another break.
Kross puts Drew in a tree of woe. He punches Knight away and goes to the top. Knight jumps to the top and takes a superplex position. Drew gets up and hits a German suplex on Knight, also taking down Kross in a superplex. Drew gets up and nails clotheslines on Kross. He hits a belly-to-belly suplex on Knight before a neckbreaker on Kross. Knight blocks futureshock DDT. Sheamus hits him with clotheslines before a back body drop on Woods.
Sheamus hits 10 beats of Beltran on Woods. Sheamus then grabs Kross and hits him with 10 beats of Beltran followed by doing the same to Knight also. Sheamus gets ready for Brogue kick on Knight but Drew cuts him off with a Glasgow kiss on Knight. Drew and Sheamus face off for a while. Sheamus hits Brogue kick on Woods as he jumps from the top while Drew hits a Claymore on Kross and both men get the pinfall simultaneously. Different referees counted the pinfall for Sheamus and Drew and both their arms are raised. Drew and Sheamus argue in the middle of the ring.
Winners – Drew McIntyre & Sheamus
Paul Heyman gets interviewed backstage and rants against Cody Rhodes getting involved in the Bloodline business. He says Rhodes will only realize his mistake when he loses at WrestleMania.
---
Drew McIntyre and Sheamus are arguing backstage. Butch comes in and takes Sheamus away.
---
Rey Mysterio is announced for WWE Hall of Fame Class of 2023. Rey comes out to the stage to a loud ovation. Rey gets into the ring and takes the mic. "You deserve it" chants take over the arena. Rey starts to talk when Dominik and Judgment Day come out to interrupt him. Dominik says WWE is really going to induct a washed up old man into Hall of Fame. The crowd is booing Dominik.
Dominik asks Rey how many birthdays, christmas and soccer matches did Rey miss to create this Hall of Fame career. Legado Del Fantasma come in and Santos Escobar tells Dominik that they respect Rey. Santos asks for the match between to start right away.
Legado Del Fantasma(Santos Escobar, Joaquin Wilde & Cruz Del Toro) vs Judgment Day(Dominik Mysterio, Damian Priest & Finn Balor)
The match has started as we return. Balor hits a basement dropkick on Del Toro after some back and forth. Priest tags in and stomps on Del Toro in the corner. He hits a flying elbow next to get a two-count. Dominik comes in and hits a three amigos. Balor tags in to hit chops in the corner. Del Toro hits a big boot and a hurricanrana before tagging in Escobar.
Quick tags between Legado to corner Balor with attacks in the corner. Wilde hits a suplex on Balor before hitting a springboard splash. Balor counters in the other corner and nails Wilde with an uppercut. Priest his another uppercut before a big boot to get a two-count. Priest hits a back elbow in the corner before quick tags between Judgment Day keeps pressure on Wilde. They drop Legado trios off the apron and pose in the middle to take us to a break.
Escobar hits flying shoulder tackles on Balor as we return. He sends Priest off the apron before dropping Balor once again. Balor hits an inverted DDT. Dominik tags in and blocks Escobar. Escobar hits him with an enzuigiri and tags in Wilde. Del Toro hits a dropkick on Dominik before a springboard move. Escobar and Wilde hit a suicide dive on Balor and Priest on the floor.
Zelina goes for a hurricanrana on Rhea but she blocks it and throws Zelina on Escobar and Wilde. Rey starts to argue with Rhea. Dominik hits him with a basement slide. Del Toro rolls him up but the referee gets distracted by Rey trying to get into the ring. Priest gets in and nails Del Toro with a superkick. Dominik rolls up Del Toro and gets the pinfall.
Winners – Judgment Day
After the match, Dominik takes the mic and asks Judgment Day to leave the ring to him as he wants to talk to his father. Rey gets into the ring and Dominik asks him why is WWE putting him into Hall of Fame. Dominik says the only Hall of Fame Rey to be in should be for dead beat Dads. Dominik dares him to hit him again. Rey does not hit him though. Dominik tries to attack but Rey ducks it and sends him to the floor. We cut to a break.
---
Charlotte Flair is waiting for Adam Pearce and asks him for a match tonight. Pearce tells her that he will see what he can manage. Flair tells Pearce to hang in there as he looks overwhelmed.
The Viking Raiders(Erik & Ivar) vs Braun Strowman & Ricochet
Ricochet start with calf kicks. He puts on a side headlock takedown before Erik starts to fight back. Ricochet hits him with a hurricanrana before Erik nails him with knee. Ivar tags in and trade shots with Ricochet. Strowman tags in and he tackles Ivar to the floor. Erik comes in and Strowman tackles him to the floor also. Strowman then throws Ricochet on them to take us to a break.
The Viking Raiders are in control as we control. They unload on Ricochet with quick blows to the back. Ivar throws Ricochet into Erik's knee strike. Erik puts on a shoulder lock before nailing him with big forearm when Ricochet gets back to his feet. They trade shots and Erik drops Ricochet with a big forearm. Strowman is distracted as Ivar grabs his leg and Erik drops him off the apron. Ivar hits a crossbody against the barricade.
Ricochet starts to fight back against Erik. He knocks off Ivar off the apron when he tries to interfere. Erik hits a knee strike and a powerbomb on Ricochet to get a near fall. Erik invites forearm shots from Ricochet who also hits him with a crossbody. Strowman gets back to the corner and gets the tag against Ivar.
Strowman hits big boots and tackles on both opponents. Strowman goes for a running train on the floor but Valhalla pulls out Erik and Strowman crashes into the announce table. Ricochet hits a suicide dive on Erik. Valhalla scares Ricochet as he gets back to the ring. Ivar avoids a splash and hits a spinning heel kick. Ivar hits a frog splash to get the pinfall.
Winners – The Viking Raiders
Intercontinental Champion Gunther is backstage with Adam Pearce. Gunther tells Pearce that he was give a task to find his challenger.. Challenger in singular…. But, Pearce has failed in simple task and has lost his authority. Pearce tells him that Drew McIntyre and Sheamus will clash next week and the winner will the singular challenger for Gunther's title.
Charlotte Flair vs Shotzi
Shotzi is the opponent Pearce has chosen for Flair. Fist bumps to start the match. Flair starts with a shoulder tackle. Shotzi hits a hurricanrana. Flair blocks a sunset flip before hitting a waistlock takedown. Flair takes Shotzi down once again to get a two-count. Flair hits a big boot. Rhea Ripley's music hits and she comes out. Shotzi counters a figure four attempt into an inside cradle to get a two-count. Flair hits her with a boot. She stares down at Rhea to take us to a break.
Flair climbs to the top and kicks Shotzi away as we return. Shotzi takes her down into double knees to get a two-count. Flair avoids a dropkick on the ropes and hits a big boot to knock her off the apron. Flair misses a dive before Shotzi nails her with a kick. Flair catches her with a forearm.
Back to the ring, Flair hits several chops before hitting a fallaway slam. Flair hits a spear next before putting on figure four leg lock after telling Rhea to take a look at it. Flair bridges it into Figure Eight and gets a tap out.
Winner – Charlotte Flair
Rhea Ripley gets into the ring and says her performance tonight reminded her of the reason she chose Flair as the opponent after winning the Royal Rumble. Rhea claims that she will wipe off that smirk off her face when she takes the title away from her at WrestleMania.
Flair says Rhea might have improved but she herself improves every single day. Flair says she will keep the title because she takes the business seriously. She claims that Rhea can rip apart anyone but not Flair. Flair leaves the ring as the segment ends.
The Usos Reunited!
The Usos make their entrance and take the mic as we see a recap of Jey nailing Sami with a superkick to close RAW earlier this week. Jey takes the mic and acknowledges Sami chants from the crowd by putting question of why he betrayed Sami like that. Jey asks what would you do if you were in his shoes. Jey says he did it because he had to. He did not want to do it but he never had the choice because Jimmy is his brother and his twin and Sami is not.
Jey says no one can blame him and a there is no one who knows what he goes through. There is one person he blames for everything and that is Sami Zayn. Jey asks what is he supposed to do when his brother's legs were about to be clipped. He says Sami is not blood. Jey says Sami just had to fall in line but he did not.
Jimmy says as the Sami Zayn problem is now over, he now asks Cody Rhodes what is his problem. Cody's music hits and he comes out to the ramp. Cody asks The Usos to ask directly to him. Cody says he does not answer to Roman Reigns but to the fans. And it sounds like the fans do not want to see them talk but to see them fight. Jimmy says if Cody takes one more step, he would not make it to WrestleMania.
Sami Zayn runs through the crowd and attacks Jey. Jimmy stomps on Sami as Cody gets into the ring. Cody fights Jey in the crowd while Sami fights Jimmy. The brawling continue for a while in the crowd before they get back to the ring. Cody and Sami dump the Usos out of the ring. Some referees run into hold back the Usos.