WWE SmackDown Results August 26, 2022, Live Updates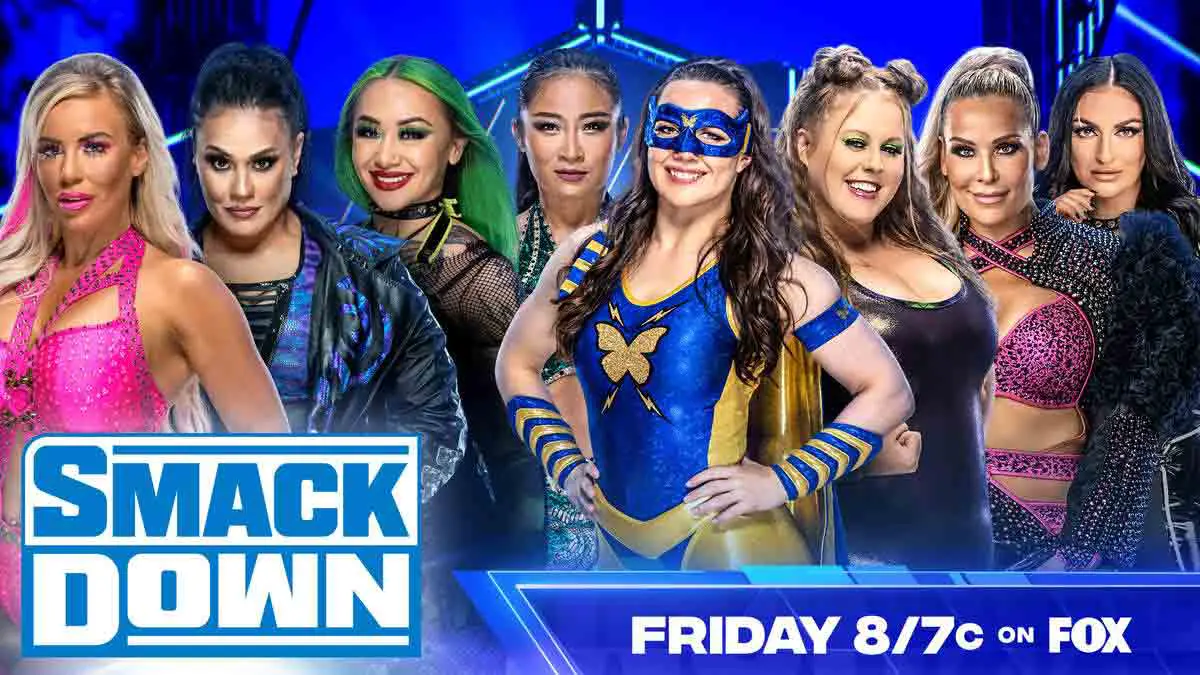 Welcome to the Live Results Blog for WWE SmackDown episode of August 26, 2022 episode from Little Ceaser's Arena in Detroit, MI.
This episode will be a key episode for WWE Women's Tag Team Championship tournament. A second chance fatal 4-way match will decide the last semifinalist to face Raquel Rodriguez and Aliyah. The four losing teams from the first round will be in action in this match. The winning team will face Raquel and Aliyah later on the same night.
Apart from this, Ricochet will take on Happy Corbin in a singles match. We can also expect to see more in Roman Reigns vs Drew McIntyre rivalry as the build-up for Clash at the Castle event. Will Karrion Kross continue to be a factor in this storyline?
Check below for the WWE Friday Night SmackDown August 26, 2022 Results with live updates, complete action, highlights, and videos.
Live Updates
Ricochet vs Happy Corbin
Corbin tries to catch Ricochet by surprise. Ricochet ducks him and sends him to the floor with a hurricanrana. Ricochet poses after a handspring. Corbin returns to the ring and gets hit with a dropkick and a standing shooting star press. Corbin decks him as he was jumping from the ropes. Corbin hits more body shots now. Corbin sends Ricochet to the floor but he avoids more attack and hits a moonsault from the second rope to take us to a break.
Ricochet is unloading with punches and kicks as we return. He stops Corbin from sliding into the ring with a basement slide. Corbin catches him and slams him to the announce table. Corbin throws Ricochet into the barricade. Back to the ring, Corbin whips Ricochet hard into the corner and then drops him on the turnbuckle face-first. Ricochet goes for a handspring but Corbin cuts him off with a clubbing forearm. Corbin throws Ricochet to the floor now.
Ricochet counters End of Days with a DDT when he returns to the ring. Ricochet hits multiple kicks and punches. Corbin catches him for a chokeslam but Ricochet avoids the slam. Corbin hits Deep six to get a near fall. Ricochet drops him off the top with a kick. Corbin avoids a senton and hits Ricochet with a boot. He slams Ricochet to the mat to get a two-count. Ricochet hits a knee, a body kick and a superkick. Ricochet hits shooting star press from the top to get the pin.
Winner – Ricochet
Pat McAfee goes berserk on commentary on Corbin for a while.
---
The Street Profits are walking backstage and meet Hit-Row. Hit-Row say they got the soke. They pose and walk off together.
---
We get a video package for Drew McIntyre for his journey to WWE and then getting released after his start fizzled out.
---
The screen turns black and white as Karrion Kross and Scarlett are on the stage now. Kross talks about Drew McIntyre's journey, and warns that he can rip off Drew anytime he wants. Tik Tok!
Nikki ASH & Doudrop vs Dana Brooke & Tamina vs Xia Li & Shotzi vs Sonya Deville & Natalya – Second Chance Fatal 4-Way Match for WWE Women's Tag Team Championship Tournament Semifinal Spot
Tamina and Sonya start for their teams. Tamina nails Natalya with a superkick on the apron. Doudrop hits Tamina with a senton and tags in. Nikki comes in and tackles Sonya. Xia Li tags in and drops Nikki to the ropes. Shotzi hits Nikki with a hip attack after Li has dropped her to the ropes. Dana tags in and knocks off Doudrop from the apron with handspring before hitting a splash on Nikki.
Everyone starts to get involved with big moves as the match breaks down. Dana is the last one standing in the ring and goes to the top. Nikki joins her on the top. Sonya tags in off Dana. Dana hits a superplex on Nikki to send her on all the other opponents on the floor. Sonya takes Nikki back to the ring quickly to get the pin.
Winner – Sonya Deville & Natalya
We get a video package for the feud between SmackDown Women's Champion Liv Morgan and Shayna Baszler.
Sheamus & Gunther Face-to-Face
The Brawling Brutes made their entrance before the break. Sheamus says he will become the Intercontinental Champion at Clash at the Castle and become the ultimate Grand Slam Champion in WWE. He gets cut off by Gunther's entrance. Ludwig Kaiser introduces Gunther after they get into the ring. Sheamus advises him that nobody is able to understand what he is saying. Sheamus starts to take shots at Gunther and says he has defeated the best of the best in WWE like John Cena, Randy Orton, Roman Reigns, Drew McIntyre and even Triple H. He adds that nobody as many banger after banger as him.
Sheamus says Gunther reminds him of himself as Gunther also wants to go to war everytime he goes out. But, Gunther has the Intercontinental Championship on him and he promises to drag his body off to win the title from him. Gunther says Sheamus is nothing like him, and he will teach Sheamus what violence really means. He will beat him down, and break the body in places people do not even know can be broken. Butch attacks Kaiser to start a brawl between Kaiser, Butch and Holland. Gunther and Sheamus are just standing in the middle in a face-off while Kaiser and Butch fight beside them. Gunther and Sheamus hold them off when they come and stand behind them.
---
Sonya Deville and Natalya are interviewed backstage and Sonya takes offense when asked about taking advantage to win the fatal 4-way match earlier. She lists off Natalya's achievements before Natalya says Sonya is one of the hardest hitters in WWE today. Nikki ASH and Doudrop are arguing behind them.
---
Sami Zayn knocks on Roman Reigns' locker room. The Usos come out. Jimmy greets him but Jey gives him a cold shoulder. Sami says he thought Roman would want to see him after their bonding last week. Reigns calls him in after hearing him. Roman tells Sami that he wants him to keep Drew occupied. Zayn says his match against Drew is tonight and he will get in his head.
Raquel Rodriguez & Aliyah vs Sonya Deville & Natalya- WWE Women's Tag Team Championship Tournament Semifinal Match
Natalya and Aliyah start the match. Aliyah takes her down in a headscissor. They trade pin attempts. Aliyah tags in Raquel who hits Natalya with a shoulder tackle. Sonya gets into the ring but gets thrown out by Aliyah. Aliyah hits Sonya with a Meteora on the floor. Natalya hits her with a Michinoku Driver. Raquel checks on Aliyah to take us to the break.
Sonya slams Raquel into the turnbuckle in their corner. Natalya comes in and Raquel hits a double suplex on her opponents. Raquel hits a fallaway slam on Sonya. Natalya occupies her as she goes to the top. Sonya takes her down and continues to work on her with kicks and punches. Raquel fires back with forearms. Sonya hits a chest kick to drop her for a two-count. Sonya puts on a chin lock on Raquel now.
Raquel gets to her feet while Sonya was still clinging to her neck. Natalya comes in and Raquel slams her to the mat. Raquel then throws Sonya off. Raquel hits big boots on both opponents before throwing them in the opposite corners. Raquel drops Sonya to the mat now. Natalya tries to put her in sharpshooter but Raquel kicks her away. Sonya hits Raquel with a running knee, but Raquel kicks out. Raquel hits Sonya with the Tahana bomb to get the pin.
Winner – Raquel Rodriguez & Aliyah
Maximum Male Models are backstage. Mansoor and Mace are posing as Max Dupri instructs them. They get disturbed by Hit-Row's music blaring out of their bus. Maxxine Dupri says she has an idea to deal with Hit-Row.
After the break, Maxxine comes in with Los Lotharios, who have a plan to take on Hit-Row.
---
New Day are in the ring now. They talk about underestimating The Viking Raiders and getting beaten up by them week in, week out for the past weeks. They talk about Vikings burning their shirts, unicorn horns and other New Day symbols. They thank the crowd for their chants and support. The Viking Raiders make their entrance to interrupt them. Erik says they gave them a proper send-off like warriors, but they are back here. Woods says why they can't give them a few minutes for a proper send off. Erik replies that Vikings despise weakness and only solution here is to put them down. The Vikings get into the ring now but Woods gets up from wheelchair which had kendo sticks hidden. Kofi and Woods unload on The Vikings with kendo sticks and force them out of the ring.
---
After the break, we see Maximum Male Models have written "Hit Row sucks" on the bus. Hit Row come in and tell them that it is not even their bus. Hit Row leave. The Street Profits come out of the bus. Maximum Male Models leave one by one in fear.
The Usos get hold of Sami Zayn as he is warming up. Sami asks them why they are coming up to him with negativity. Jey and Sami argue for a bit before Jimmy takes Jey away.
We get part 2 of the video package for Drew McIntyre's journey to the top in WWE. Drew promises to lay out Roman for 1, 2, 3.
Drew McIntyre vs Sami Zayn
Zayn rolls to the floor as a delay tactic. He tries to catch McIntyre with a stomp but Drew trips him. McIntyre slams him into the turnbuckles after unloading for a while. Drew hits chops on the ropes before Sami ducks a clothesline. Sami runs to the floor now. Sami tries to slam Drew's face into the announce table but Drew hits him with a spinebuster into the apron. Sami kicks at his leg as he was getting into the ring. Sami works on Drew on the ropes. Drew throws him away and then hits him with a tilt-a-whirl backbreaker. Drew hits a big chop after putting Sami to the top. Sami rakes his face when he gets to the top. Sami hits a sunset flip powerbomb to take us to a break.
Sami hits a tornado DDT as we return from the break to get a two-count. Sami goes for Blue Thunderbomb but Drew drops him with a Glasgow kiss. McIntyre gets angry now before dropping Sami with clotheslines. Drew throws him with a couple of belly-to-belly suplexes, hits a neckbreaker and kips up to his feet. The Usos run out to distract McIntyre. Sami hits him with Blue Thunderbomb to get a two-count. Sami nails Drew with big punches now. Drew hits back with a big shot. He knocks off The Usos from the apron. Drew runs the ropes and nails Sami with the Claymore kick to get the pin.
Winner – Drew McIntyre
Roman Reigns attacks Drew just after the match ends. Drew counters and sends Roman into the ringpost. The Usos attack Drew and he deals with them. Roman hits Drew with a spear. The Usos bring in steel chairs and beat up Drew with them. Roman tells them to set him up on the announce table. Jimmy holds Drew as Sami hits him with Helluva kick. The Usos hits Drew with the steel step now. Roman tells them to bring him back to the ring. Roman puts Drew in a Gullitone choke. The show closes with Roman standing tall.