WWE SmackDown Results 27 December 2019
Welcome to ITN's Live Result & Updates blog for the WWE Friday Night SmackDown episode of 27 December 2019 (12/27/2019).
Date- 27 December 2019
Location- Little Caesar's Arena, Detroit,
Time- 8 PM EST(28 December 2019 1 AM GMT/6:30 AM IST)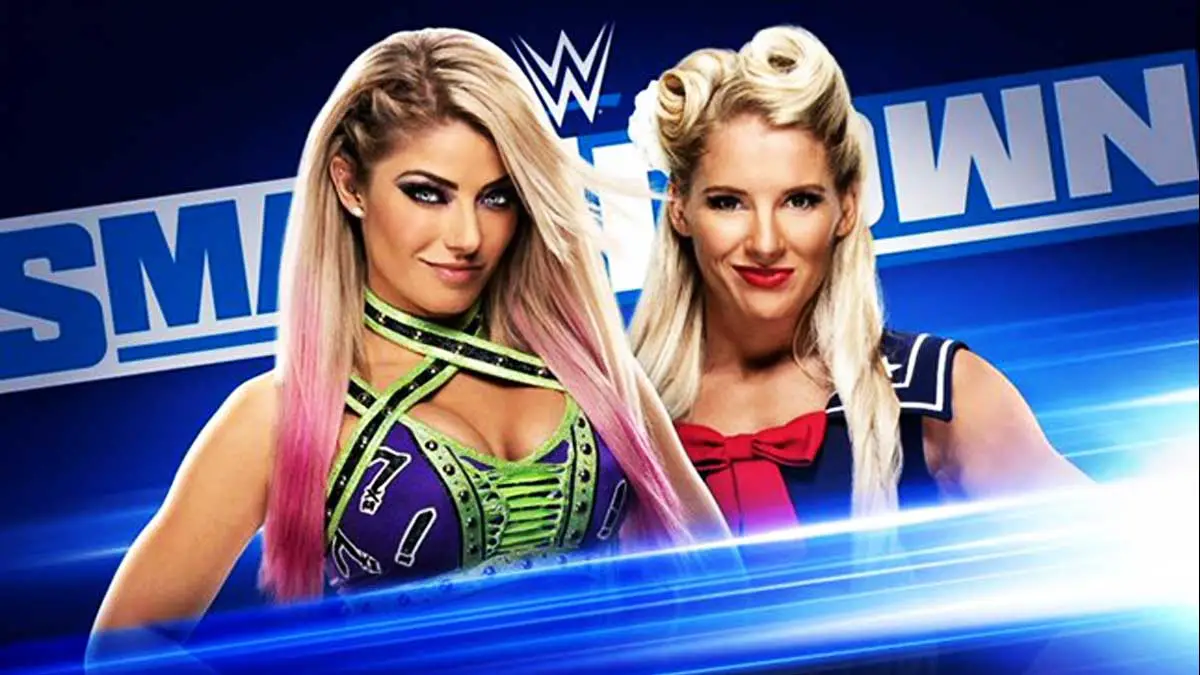 The final SmackDown of the year will build towards the first PPV of the next year with two important segments/matches. First of all, Miz, Daniel Bryan and King Corbin will battle it out for the right to face The Fiend at Royal Rumble 2020. Another segment announced is the return of "A Moment of Bliss" with Lacey Evans being the special guest.
Frantic Opening
Elias is in the ring and he performs a song, asking the audience to "We want Elias!" He also sings about tonight's matches & segments before we get the SmackDown opening video. After the song pyro goes off. Daniel Bryan makes his way to the ring for the #1 contender match. He gets a thunderous response from the crowd and they all joined him in the Yes chants.
King Baron Corbin is carried out on his caravan. He takes the mic and says he is going to do SmackDown his way. He takes shots on the fans and being jealous of him. He also says he deserves the next title shot because he has defeated Roman Reigns twice since he returned. Corbin continues with his promo until Roman Reigns' music hits.
Corbin's servants drop his caravan which sends Corbin to the floor. Roman comes from behind and starts unloading on him. He beats down Corbin around the ring as Daniel Bryan watches from inside. Roman calls for a Spear near the barricade but Corbin runs into the crowd. Some WWE officials come down to calm Roman.
After the break, King Corbin is backstage and he yelling at WWE Producers. He wants the Triple Threat #1 contender match to be postponed tonight.
New Day & Braun Strowman vs Shinsuke Nakamura, Cesaro & Sami Zayn
Cesaro and Big E start the match with some back and forth. Kofi is tagged in and forces Cesaro to tag in Nakamura. Kofi with some quick moves on Nakamura and clotheslines him out of the ring. Some classic heel distraction helps Nakamura to get a kick from behind on Kofi. Kofi is sent out and Cesaro hits him with an uppercut over the table as the referee was distracted.
The heels keep control over Kofi for a long time. Kofi drop Cesaro but Nakamura intercepts the tag. Nakamura puts him in a stretch right in front of Big E. Nakamura takes a cheap shot on Big E at the apron. Kofi hits the SOS on Nakamura and Strowman gets the hot tag. Strowman rolls over his opponents. He starts the running truck but Zayn gets him into a running knee from Nakamura.
The heels try to control Strowman in the ring now. Cesaro runs in to hit the springboard uppercut as Strowman was getting the upper hand. Big E runs in and takes care of Cesaro. Nakamura hits him with the Pele kick though. Zayn gives Nakamura New Day's pancakes plate but Kofi grabs it and hits Nakamura on his head with it. Strowman hits the running powerslam to get the pin on Nakamura.
Winner- New Day & Braun Strowman
After the match, New Day asks Strowman to show his dance moves. Braun teases anger but starts dancing after a while. The crowd is having fun tonight.
Kayla Braxton is seen discussing something with WWE Producer Adam Pearce. After the break, she announces that King Corbin could not compete tonight but the #1 contender match will go with Miz and Daniel Bryan facing off in a singles match.
Backstage, some tension is shown between Sonya Deville and Mandy Rose. After Deville leaves, Otis comes to Mandy with a fruitcake that his mama baked for Mandy and gives it to her.
Carmella vs Mandy Rose
Carmella gets an inset promo during her entrance. She reminds us of being the Women's Champion and Ms. Money in the Bank. Mandy Rose enters and starts the match. She forces Carmella into the corner. Carmella does moonwalk and Rose tackles her into the corner. Mandy keeps control with a dropkick and a running knee.
Mella comes back with some punches and forearms. She hits Rose with a headscissor and a clothesline for a two count. Mandy sends her into the middle turnbuckle. They start rolling each other before Carmella hits a superkick for the pin.
Winner- Carmella
Another return vignette for Sheamus. He says that he left 9 months ago but he is back now and ready to break down the door on a whole new SmackDown.
The Miz vs Daniel Bryan – #1 Contender for WWE Universal Championship
They start with some holds and counters. Miz takes down Bryan with a shoulder tackle. They go back and forth for a bit. Miz trips Bryan on the apron and sends him on the barricade. They take each other down with crossbody. Corbin's security guys come into the ring and attack both men to cause a double DQ. Bryan and Miz fight them off together and force them backstage.
Baron Corbin is at Gorilla Position, talking to Kayla Braxton. Corbin says if he does not compete, there will no #1 contender match. Braxton informs him that Roman is sent out of the arena. So, Corbin agrees to compete in the match again. Bryan and Miz leave the ring and attacks Corbin and his security. Corbin runs away.
A Moment of Bliss with Lacey Evans
Both Alexa Bliss and Nikki Cross acting as the host for the talk show. Cross introduces Lacey Evans. Evans talks about how she snapped last week when Sasha Banks got in her daughter's face. She also says if the officials hadn't pulled her away, Banks wouldn't have left the arena last week. Lacey says she is not gonna wait for Bayley and Banks to come and beat him up. She heads to the ring.
Bliss and Cross leaves and Dana Brooke's music hits. But Sasha and Bayley attack her at the ramp. Lacey runs down to help her tag team partner. They continue to brawl until they reach the ring.
Bayley and Sasha Banks vs Dana Brooke and Lacey Evans
Bayley and Evans start the match. Evans takes a cheap hot at Sasha on the apron but this gives Bayley the chance to take control. Evans knocks her down with a clothesline and tags in Brooke. Brooke hits a handspring elbow, snap mare and moonsault for a two-count. The heels take over control of Brooke.
Dana knocks Bayley off the apron and hits Banks with an enziguiri. Evans gets the hot tag and hits a slingshot elbow, dropkick, and a moonsault but Sasha breaks up the pin. Evans chases Banks out of the ring and Bayley gets the chance to hit Bayley to Belly. Brooke breaks the pin. Evans hits Banks with The Women's Right. Bayley takes Evans out and Sasha forces Brooke to submit with the Bank Statement.
Winner- Bayley & Sasha Banks
Dolph Ziggler is flirting with Mandy Rose and asks her to be his date on New Year. Ziggler says Otis has given fruitcake to others also and someone found a roach in it. He throws the cake to the ground and batters it with his feet.
After the break, Otis is seen walking backstage and he doesn't look happy as he sees the fruitcake on the floor. He gets angry as he keep thinking about something.
Daniel Bryan vs The Miz vs King Corbin – #1 Contender Match for WWE Universal Championship
Bryan and Miz work on and send him out. Miz catches Bryan in a roll-up. Bryan hits a suicide dive on Corbin outside before sending Miz into the ring post. Corbin sends Bryan into the timekeeper's area and Miz into the barricade. Corbin keeps battering both his opponents. Miz hits him with a backbreaker before Bryan and Miz hit kicks on him in the corner. Corbin hits Miz with Deep Six and Bryan hits him with a missile dropkick.
Corbin is forced into the corner for the It Kicks from Miz. Miz locks him in the Figure Four and Bryan hits Corbin with a flying headbutt in the same position. Bryan applies the Yes Lock on Miz tries to counter with the Figure Four. They trade strikes in the ring. Miz sends Bryan out of the ring. Corbin hits Miz with The End of Days and Bryan had to break the pin.
Ziggler runs in and hits the superkick on Bryan. Corbin was going for the pin but Roman Reigns pulls Corbin out of the ring. Roman takes on Corbin and Ziggler at ringside as we head to the break. As we return, Michael Cole tells us that Corbin and Reigns have gone out of the arena.
Miz gets the upper hand and is working on Bryan's leg. He hits a shin breaker from the middle rope. They trade It kicks and Yes Kicks until Miz hits another shin breaker. Bryan counters a springboard and goes for the Yes Lock. Miz dodges The Running Knee to hit Bryan with The Skull Crushing Finale. Miz puts him into Figure Four. Bryan counters to put Miz in Yes Lock. The Miz taps out.
Winner- Daniel Bryan