WWE SmackDown Live Results April 21, 2023, Updates, Highlights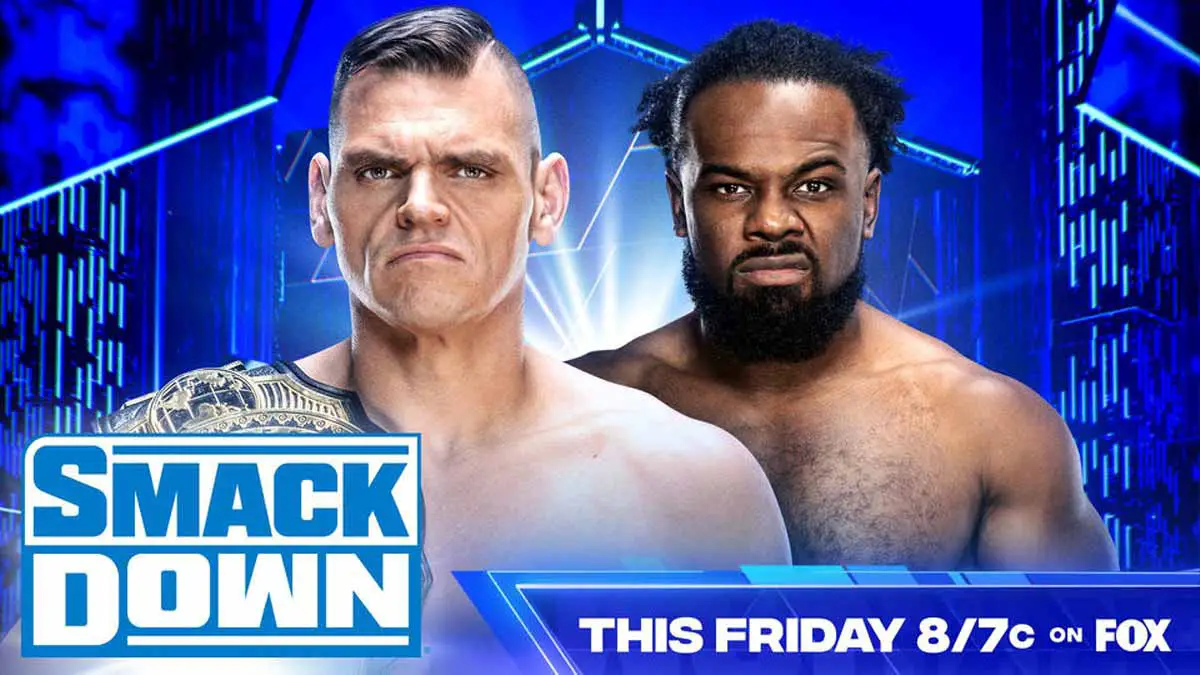 Welcome to the live results blog for WWE SmackDown April 21, 2023 episode which was be live from Schottenstein Center from Colombus, OH, on the road to Backlash 2023.
Gunther defended WWE Intercontinental Championship against Xavier Woods as he welcomed Woods on the sacred mat away from his world of video games. The second title match was Liv Morgan and Raquel Rodriguez defending WWE Women's Tag Team Championship against Chelsea Green and Sonya Deville.
Ricochet and Braun Strowman continued their rivalry against The Viking Raiders in a tag team match. The Bloodline's rivalry with Sami Zayn, Kevin Owens and Matt Riddle continued with Riddle and Solo Sikoa clashing in a No Disqualification match. Judgment Day and LWO clashed in a tag team match.
Tune in below as we post results from WWE Friday Night SmackDown April 21, 2023, with live updates, highlights, winners and complete action.
SMACKDOWN RESULTS APRIL 21, 2023
Judgment Day(Finn Balor & Damian Priest) defeated LWO(Rey Mysterio & Santos Escobar) in a tag team match via pinfall.
Ricochet & Braun Strowman defeated The Viking Raiders(Erik & Ivar) in a tag team match via pinfall.
Liv Morgan & Raquel Rodriguez(c) defeated Chelsea Green and Sonya Deville in a tag team match via pinfall to retain WWE Women's Tag Team Championship
Gunther(c) defeated Xavier Woods in a singles match via pinfall to retain WWE Intercontinental Championship.
Solo Sikoa vs Matt Riddle – No Disqualification Match
LIVE UPDATES
LWO(Rey Mysterio & Santos Escobar) vs Judgment Day(Finn Balor & Damian Priest)
Judgment Day duo make their entrance. We see a recap of Damian Priest hitting chokeslam on Bad Bunny two weeks back on RAW. LWO's Mysterio and Escobar come out after them. Rey starts with punches. He dodges Balor in the corner before hitting a hurricanrana. Balor hits a couple of punches Rey rolls through a sunset flip and hits a dropkick. Balor gets his knees up on a springboard moonsault. Priest tags in and continues to attack Rey.
Balor tags back and hits a backbreaker before Priest hits a leg drop with Rey still on Balor's knees. More quick tags between Balor and Priest. Balor hits some clubbing shots on Rey's back before putting on a chinlock. Rey gets up on his feet. Balor throws him in his corner. Rey gets his boot up. Rey goes to other corner and hits a back elbow. Balor picks him up but Rey counters with a bulldog. Escobar tags in and hits flying tackles on Balor. He knocks off Priest from the apron.
Escobar hits a tilt-a-whirl slam on Balor before hitting a flying forearm in the corner. He hits a forearm on Priest. Escobar throws Balor to the floor. Rey comes in and Escobar assists him in hitting West Coast Pop on Priest. Priest pulls Balor out of a basement slide on the floor. Balor cuts off a suicide dive with a clothesline. We cut to a break.
Priest and Escobar are trading shots as we return. Escobar hits a big chop. Priest hits a thrust kick to his face and puts on a chin lock to keep him down. Priest hits a bell clap when he gets up. Escobar hits elbows on both Priest and Balor when taken to the opponent's corner. Priest hits back with elbows. Escobar hits a dropkick on Priest. Hot tags to Rey and Balor. Rey hits a hurricanrana on Balor before being sent to the ropes. He hits a tackle on the ropes before a senton and springboard crossbody.
Balor hits a kick to midsection. Rey sets up 619 with an enzuigiri but Priest tags in. Rey and Escobar work on Priest to send him to the floor. Rey sets up Balor for 619 again with a hurricanrana. Rey hits 619 before Priest pulls Rey off the floor. Escobar hits a splash on Balor and covers him thinking he is the legal man. Priest comes in and hits a chokeslam on Escobar to get the pinfall.
Winner – Judgment Day
Priest and Balor are on the stage when Priest says he hopes this Monday's visit from Bad Bunny goes good for him than his last one.
---
We get a recap of Solo Sikoa burying Matt Riddle under the announce table.
---
Zelina Vega is backstage with Adam Pearce. She tells Adam Pearce that she wants a shot at SmackDown Women's Champion Rhea Ripley at Backlash. She says she is the only women's Puerto Rico star on the roster and she wants to prove everyone wrong who have pulled her back due to her height. Pearce says he will talk to upper management and Rhea about the match and will let her know.
---
We get a video package for Shinsuke Nakamura training. We cut to Karrion Kross who says it will take just 3 seconds to change Nakamura's identity. He adds that he did not chose him but the cards did. He says he has taken away something from everyone he has faced so far. From Drew McIntyre, he took his temper, Riddick Moss his joy, Rey Mysterio his patience and from Nakamura, they will take away his honor.
Ricochet & Braun Strowman vs The Viking Raiders(Erik & Ivar)
Ivar and Strowman start the clash. Ivar hits quick body shots after ducking Strowman's swing. He takes Strowman to the corner with quick punches and then unloads with back elbows. Strowman turns it around in the corner with his body shots. Strowman whips Ivar to the other corner and hits a big uppercut. They trade shoulder tackles before Strowman knocks off Ivar with a tackle off the ropes. Erik distracts him and allows Ivar to come back with a tackle.
Strowman hits him with a clothesline. Erik takes a blind tag and saves Ivar from a body slam. The Viking Raiders work together to get Strowman on his knees. Strowman fights back and tags in Ricochet. He throws Ricochet on the Vikings but Ricochet misses. Strowman punches Ivar to the floor. Ricochet uses a low bridge to send Erik to the floor before hitting a handspring dive on The Vikings.
We see Valhalla distracting Ricochet to allow The Viking Raiders to take control. Erik has Ricochet on the mat with a chinlock. Ricochet hits punches to his midsection but Erik keeps him away from the tag. Ricochet lands on his feet on a back body drop and tags in Strowman. Strowman knocks Ivar off the apron before a corner tackle on Erik, followed by a dropkick.
Strowman tackles Erik and Ivar on the floor with his running train. Valhalla argues with the referee which allows Erik to hit a knee strike on Strowman. Erik hits a body slam before Ivar hits a splash from the top rope to get a near fall. The Vikings go for a double team but Strowman drops them with a double shoulder tackle. Ricochet gets the hot tag and hits a dropkick and springboard back elbow on Erik. Ivar hits him with a clothesline.
Strowman tags in and assists Ricochet into taking down Ivar. Strowman keeps Erik out of the ring before Ricochet hits a splash off Strowman's shoulder to get the pinfall.
Winner – Ricochet & Braun Strowman
Liv Morgan & Raquel Rodriguez(c) vs Chelsea Green and Sonya Deville – WWE Women's Tag Team Championship
Sonya Deville and Chelsea Green take more verbal shots at the champions before the match. Raquel has to hold Liv back before the bell. Liv starts the match against Sonya with a dropkick. Raquel tags in and whips Liv into Sonya in the corner. Raquel slams Sonya to the mat. Sonya slips out and hits a chop block on Raquel's knee. Green tags in and Raquel quick hits a couple of waistlock takedowns. Green manages to trip Raquel to the floor.
Liv takes a blind tag. Green ducks her move off the top. Raquel catches Green's crossbody and Sonya hits her with a senton on the floor. Liv hits a crossbody on both opponents. Liv gets to the top when they return to the ring. Sonya and Green come back into the match with some distractions. They double-team on Liv and hit a suplex. Green takes a cheap shot at Liv while the referee was distracted. Liv counters a double suplex with a double neckbreaker. Raquel gets the tag and htis uppercuts and clotheslines on both opponents.
Raquel hits a fallaway slam and a corkscrew elbow only for Sonya to break the pin. Sonya is set up on the top before Liv gets a blind tag. Raquel hits Sonya with a superplex. Liv hits a missile drop on Green and all 4 women are down in the ring. Liv hits a backstabber on Green. Sonya hits a kick on Liv. Raquel kicks Sonya away. Green uses a low bridge to send Raquel to the floor. Liv throws some water on Green and sunset flips her into a pin. Raquel assists her from outside to get a pinfall.
Winner – Liv Morgan & Raquel Rodriguez
Matt Riddle is backstage about his match against Solo Sikoa later tonight. He says tables will turn on Solo tonight and Solo will be the one trapped under it.
Gunther(c) vs Xavier Woods – WWE Intercontinental Championship
They lock up and Gunther pushes Woods to the corner. He misses a chop and Woods kicks at his legs. Gunther quickly takes him down to the mat. Woods gets up quickly but Gunther hits a big blow to midsection. Gunther no-sells a tackle before they trade some punches. A big chop from Gunther drops Woods to the mat. We cut to a break.
Gunther is still in control as we return. He hits chops on the back to have Woods reeling with pain. Woods hits his own chops but Gunther drops him with a clothesline. Woods hits forearms but fails to pick Gunther's leg. Gunther drops Woods with a shot at the chest when Woods blocks a neckbreaker. He hits another chop before Woods fires quick shots. Gunther hits him with hammerlock suplex to get a two-count.
Gunther slaps Gunther when he was screaming at him. Woods hits quick stomps in the corern before they trade more punches. Woods ducks a swing before catching him with a big uppercut. Gunther rolls to the floor and Woods hits him with a basement slide dropkick. He follows up with a suicide dive. Gunther gets him down but Woods hits back with enzuigiri from the apron. He hits a leg drop from the top to get the pinfall.
Woods picks up Gunther but Gunther slips away and puts on a sleeper. Gunther goes for a powerbomb but Woods counters with takedown. Woods attempts a crucifix to get a two-count. Gunther counters with a sleeper choke. Woods rolls around to attempt to break it but Gunther keeps his grip to put him to sleep.
Winner – Gunther
The Usos make their entrance. They do a skit where Jimmy asks Jey some questions in a mimicing voice. He asks how The Usos are feeling. Are they sad? No. Are they mad? No. What are you planning to do? They plan to complete the mission and win the tag team titles back and then a big tag team match coming at Backlash. They continue to hype their rematch with Sami Zayn and Kevin Owens and that they will dedicate their win to The Tribal Cheif Roman Reigns. They add that KO and Sami will get bodied just like Matt Riddle gets bodied tonight. They hype Solo Sikoa before bring him out.
Solo Sikoa vs Matt Riddle – No Disqualification Match
Riddle attacks Solo from behind and the referee calls for the bell. He hits quick kicks in the corner before Solo runs him over with a clothesline. Solo keeps control with kicks and blows. Riddle gets him in an arm triangle choke. Solo picks him up and hits a powerbomb to break the pin. Solo brings out a few kendo sticks and steel chairs in the ring. He slams a stick on Riddle's back.
Solo hits more kendo stick shots on Riddle's body. Riddle ducks a swing and hits an overhead kick. Solo throws him to the floor. "We want tables" chants from the crowd. Riddle catches Solo with a kendo stick shot and unloads on him with some more. Riddle brings out a table but Solo hits him from behind. Solo pushes the table back in. Riddle hits a running knee from the apron before sending Solo into the steel steps. He hits a senton on the floor before we cut to a break.
Riddle fires more shots but Solo drops him with an uppercut. Riddle blocks an Urinage on the chairs but Solo hits him with a Samoan Drop to get a two-count. Solo traps Riddle's neck in a steel chair and sets him up in the corner. Riddle throws the chair back at Solo. He sends Solo into a chair set up in the corner. He unloads and break a kendo stick on Solo's back. He hits a ripcord knee against a steel chair on Solo's face to get a two-count.
Riddle sets up a couple of chairs and hits a Northern Lights suplex on Solo on top of them to get another two-count. Riddle buries Solo in chairs and goes to the top. Solo slips to the floor. He trips Riddle on the apron and throws him over the announce table. He tries to bury Riddle under the announce table but Riddle blocks it. Solo hits headbutts before Riddle fights back on top of the announce table with a kick. Riddle traps Solo under the table.
The Usos attack Riddle and take him to the ring. Riddle blocks 1D and uses a low bridge to send them to the floor. Riddle hits a moonsault on The Usos on the floor. Solo removes the announce table and comes out. Riddle goes for a jump off the steel steps. Solo catches him and hits an Urinage on the apron. Riddle ducks a Samoan Spike and hits flash knee. Riddle runs the ropes and Solo hits him with Samoan Spike to get the pinfall.
Winner – Solo Sikoa
The Usos come into the ring after the match and hit Riddle with 1D. The Bloodline stand tall to close the show.