WWE SmackDown June 24, 2022 Results & Live Updates(w/ Preview)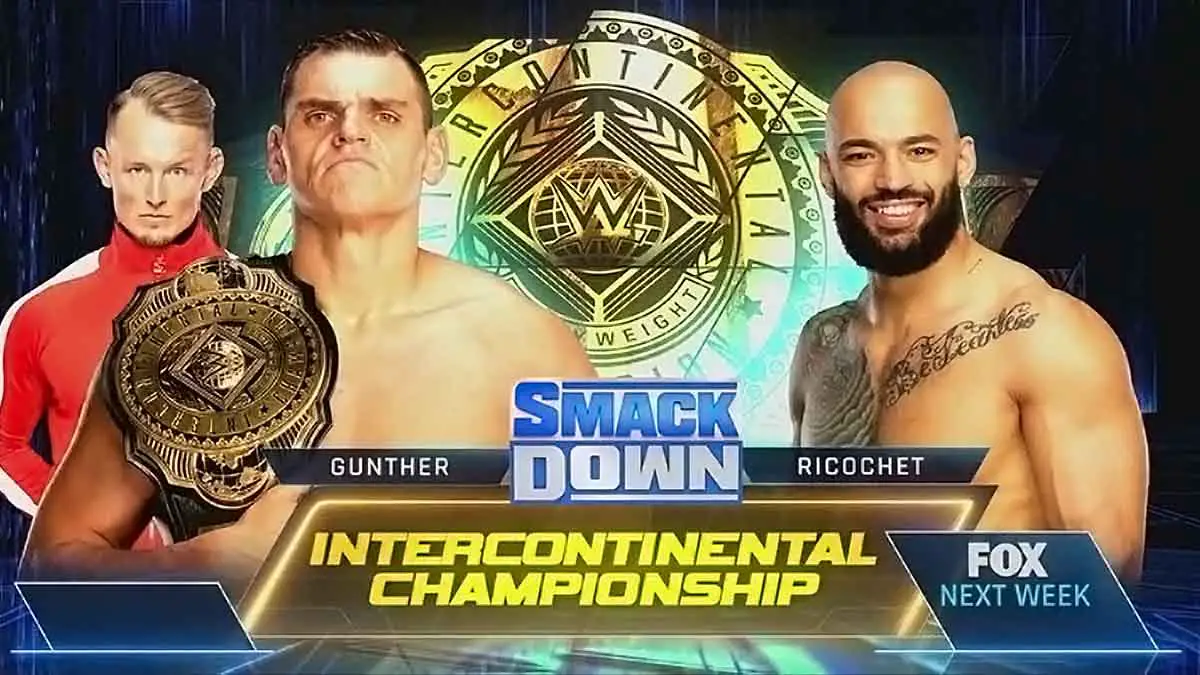 WWE SmackDown episode of June 24, 2022, will continue the buildup to the Money In the Bank event and will feature the Intercontinental title rematch. 
Aliyah will face Shotzi in the Money in the Bank qualifying match, whereas Shinsuke Nakamura will collide against Sami Zayn in the men's MITB ladder match qualifier. Ricochet will face Gunther in the Intercontinental Championship rematch, which will also be Gunther's first title defense.
Tune in as we bring the results from WWE Friday Night SmackDown June 24, 2022 episode with live updates, winners, video highlights, preview, match card and more.
Live Updates
The show opens with the recap of last week's match between Roman Reigns and Riddle and the return or Brock Lesnar.
SummerSlam Cash-In Plan!
Drew McIntyre comes out to the ring. We see how Adam Pearce announced Drew and Sheamus' qualification for Money in the Bank ladder match. Drew says when he came to SmackDown, he talked about winning matches and become a contender, but the Tribal champion has been ducking him. So, he would have to win MITB contract now. He brings up cashing in the MITB contract after Roman vs Brock's Last Man Standing match at Summerslam.
Sheamus comes out with Butch and Ridge Holland. Sheamus says Drew is not winning MITB match and he is in that match only because Adam Pearce felt sorry for him. Sheamus says Drew's only experience with MITB is losing his title to a holder. Sheamus also reminds us that it was Roman against whom he cashed in the contract.
Paul Heyman and Adam Pearce comes to the stage. Heyman says Lesnar will not win the Last Man Standing match and Roman will still be the Undisputed Universal Champion. But, Roman will be vulnerable after the Last Man Standing match. So, Heyman wants to ensure the cash-in does not happen. Pearce then announces he was hasty in announcing both of them for MITB, and WWE management has overruled his decision. Pearce says Drew and Sheamus can qualify for the MITB match if they forget about their differences and defeat the Usos in a tag team match later tonight.
Sami Zayn vs Shinsuke Nakamura – Money in the Bank Qualifier
Sami Zayn is interviewed backstage and says he wants to win the MITB contract to protect Roman Reigns and he would not cash-in against him. Sami makes his entrance for the match as Nakamura waits for him in the ring.
Nakamura takes down Sami with an armbar right away. The referee calls for a break for some reason. Nakamura nails an enziguiri and another big kick. He sets up Sami and hits a sliding German suplex to get a two-count. Sami rolls to the floor and slams Nakamura's facce into the ringpost. Sami sends him into the barricade with an exploder suplex. Sami waits in the ring for countout win but Shinsuke beats the count at nine. Nakamura gets a two-count with an inside cradle. Sami hits a lariat to drop Nakamura. Nakamura is set up on the top and Sami kicks him off to the floor to take us to a break.
As we return from the break, Nakamura catches Sami with an enzuigiri as he jumps from the top. Sami hits the Michinoku Driver to get a near fall. They both end up on the top. Sami hits back elbow and knocks off Nakamura to the mat. Nakamura also trips him to the mat. Sami avoids Kinshasa and rolls up Nakamura. He tries to use the ropes for levarage but the referee catches him.
Sami argues with the referee and Nakamura hits him with a knee strike from the top for a two-count. Sami rolls to the floor and Nakamura hits him with Kinshasa. Sami is dead weight and Nakamura has to make a lot of effort to bring him back to the ring. As Nakamura gets in, Sami catches him with Helluva Kick to get the pin.
Winner – Sami Zayn
New Dance Challenge
New Day takes the mic and says nobody wants to see this match again after they defeated Jinder & Shanky clean. They say everyone wants to see Shanky dancing. They ask the crowd if they want to see a dancing shanky. The crowd chants "Yes". Shanky starst to dance as Woods starts to play his trombone. Jinder is stopping him and Shanky just pushes him back. Jinder leaves and it looks like their tag team is finally over.
Shanky continues to dance as New Day's music hits. They are interrupted by Vikings Horn. The Viking Raider's graphic plays on the big screen. They attack New Day and Shanky from behind and take them down one by one. Ivar hits an avalanche body slam to send this segment.
---
Adam Pearce is backstage when Sonya Devile comes in and mocks him for being spineless. She asks why she is not getting a MITB qualifying match when Lacey Evans got it in her first match after coming back. She also brings up Raquel Rodriguez's title shot against Ronda. Pearce gets frustrated and puts Sonya in a handicapp match against Lacy and Raquel.
Lacey Evans & Raquel Rodriguez vs Sonya Deville – 2-on-1 Handicapp match
Raquel and Lacey are in the ring as we return from the break. Sonya comes out and Shayna Baszler and Xia Li are with her. Lacey starts against Sonya and takes her down with single leg. Sonya gets up but Lacey takes her down again. Shayna distracts Raquel and Sonya rolls up Lacey for a two-count. Lacey drops her before Sonya capitalizes again to hit a big kick. Another big kick from Sonya and Raquel has to come in and break the pin.
Raquel is waiting for the tag. Lacey and Sonya end up taking each other out with a pump kick at the same time. Evans drags on and tags in Raquel. Raquel hits a forearm, a knee, an uppercut and a shoulder tackle. She hits a body slam before dropping Sonya on the turnbuckle. Raquel goes for the Gigoda bomb but she is distracted once again. Raquel ducks Sonya and nails her with forearm. Lacey tags in and hits the Woman's Right to get the pin.
Winners – Lacey Evans & Raquel Rodriguez
Xia Li and Shayna Baszler attack the winners from behind but Raquel and Lacey are able to clear them from the ring.
---
The Street Profits are backstage and are hyped for Money in the Bank next week. They see Los Lotharios in kiss cam backstage. Next, they see Drew Gulak working out. Madcapp Moss meets them and Dawkins tells him an awful joke.
Is It Ronda?
Ronda Rousey's music hits, but it is Natalya who comes out dressed as Ronda. She also has a stroller with her. We cut to a break.
After the break, Natalya talks as Ronda and mocks Ronda not tapping out ever. She brings up the footage from two weeks back where Natalya put Ronda in the sharpshooter after her grueling match. Natalya as Ronda says Sharpshooter is far deadlier than armbar. She mocks a tapout and adds that she should hand over the title to Natalya and go away. She calls Ronda the Saddest Woman on the Planet.
Ronda makes her entrance and gets in a word of war with Natalya, taking shots at Natalya's lack of charisma. Ronda goes to take her jacket back from Natalya. Natalya throws the stroller at her. Ronda somehow manage to take her jacket back and force Natalya to run away.
---
Kayla Braxton is with Drew McIntyre and Sheamus for an interviewed backstage. They continue to argue with each other. Drew says he will just beat The Usos in a handicap match. Sheamus tells him he should bring his "A" game later tonight.
Gunther(c) vs Ricochet – WWE Intercontinental Championship Match
Ricochet for some quick shots but Gunther just hits him with a body slam. A big boot drops Ricochet again. Gunther continues to stomp on Ricochet on the mat before he hits a big uppercut. Ricochet hits some punches to the body but Gunther puts him in a half crab. Ricochet drags onto the ropes.
Ricochet avoids him in the corner and hits an enzuigiri. Another enzuigiri and a kick follow before Gunther cuts him off with a clothesline. Gunther hits big chops in the corner and then hits a shotgun dropkick. Gunther finishes off with a powerbomb to get the pin.
Winner – Gunther
Shotzi vs Tamina – Money in the Bank Qualifier
Aliyah is announced injured and Tamina is replacing her in the qualifier. Shotzi jumps on Tamina's back and Tamina throws her away. Tamina whips her to the corner and then hits a powerslam. Tamina puts Shotzi to the top and Shotzi nails her back with forearm. Shotzi puts her in a choke using the rope. She unloads on Tamina with big shot. Shotzi follows with an enzuigiri and a senton against the ropes. Tamina cuts her off with a superkick. Shotzi puts her foot on the bottom rope to break the pin. Tamina misses a tackle in the corner. Shotzi hits a modified DDT finisher to get the pin.
Winner – Shotzi
The Viking Raiders are cutting a promo from some dark room backstage. They say they have been in the shadows for too long and no one is safe now.
Max Dupri is backstage with Adam Pearce and is not happy over Pearce not being able to make arrangements. Dupri says his Maximum Male Models will debut next week adds something like "titilate the juices of your guilty pleasures."
Pat McAfee is standing on top of the announce table and starts to talk about "buma**" Happy Corbin telling him he is not doing his job properly. We get a replay of Corbin losing to Madcap Moss and then venting his frustration on McAfee. McAfee mocks Corbin for a while and says Corbin can't beat him ever. McAfee goes on to challenge Corbin for a match at Summerslam.
Drew McIntyre & Sheamus vs The Usos(Jimmy Uso & Jey Uso) – Drew & Sheamus Can Qualify for MITB if they win
Butch and Ridge Holland accompany Sheamus. The Street Profits are also out at ringside for this match. Drew and Sheamus argue who wshould start the match. Butch gets in and wants to fight. Holland pulls him out. Jimmy attacks Drew from behind as the bell rings. Drew hits him with a tackle. Sheamus tags in and hits double team hip toss with Drew. Jimmy takes Sheamus to his corner and tags in Jey.
Jey hits a tackle before Sheamus decks him and throws him on the apron to hit his signature blows to the chest. Sheamus hits a rolling senton. Jey rolls to the floor to avoid the Brogue kick. Butch charges at Jey but Drew stops him and sends him into the barricade. Sheamus comes down to argue with Drew and they start to brawl. Jey takes them out with a suicide dive. We cut to a break.
Sheamus starts to fight back against Jey as we return. Sheamus hits a backbreaker but Jimmy has taken a blind tag and nails Sheamus with a superkick for a two-count. Jimmy keeps Sheamus down with punches and stomps. Sheamus hits back with kick and punches of his own. Jimmy nails him with an enzuigiri. Jimmy hits a hip attack in the corner. They sign for "We the Ones". Sheamus nails Jimmy with the Brogue kick to cut off another hip attack.
Sheamus tags in Drew while Jimmy also jumps to tag in Jey. Drew hits clotheslines, back elbow and a belly-to-belly suplex. Jey sends him into the ringpost. Jimmy tags in and nails Sheamus with a superkick. Double superkicks from The Usos on Drew. Jimmy hits the Usos Splash and Sheamus has to break the pin. Sheamus is thrown back to the floor. Drew hits both The Usos with neckbreakers.
Jimmy pulls Jey to the floor and Drew is nailed with a superkick when he goes to follow them. Butch and Holland end up distracting the referee as they try to get involved. Sami Zayn looks to take out Drew but Dawkins tackles him. Drew takes out the Usos with a senton dive. Sheamus hits Jey with a Brogue kick. Drew takes Jey back to the ring but Jey nails him with a superkick. Drew hits back with the Claymore kick and gets the pin.
Winners – Drew McIntyre & Sheamus
Drew and Sheamus celebrate in the ring to close the show.
---
Preview
Shotzi vs Aliyah: Shotzi and Aliyah have been having a back and forth backstage for the past few weeks. Now, they will get a chance to settle their dispute in the ring as they clash in order to qualify for the women's MITB ladder match. 
Sami Zayn vs Shinsuke Nakamura: The self-proclaimed member of the Bloodline, Sami Zayn will get a chance to face Shinsuke Nakamura once again, but this time in a men's MITB ladder match qualifier.
Gunther vs Ricochet: Two weeks back, Gunther defeated Ricochet to win the Intercontinental championship. Now, Ricochet will get a chance to get his title back as he faces Gunther in an Intercontinental title rematch.