WWE SmackDown February 18, 2022- Results, Preview, Card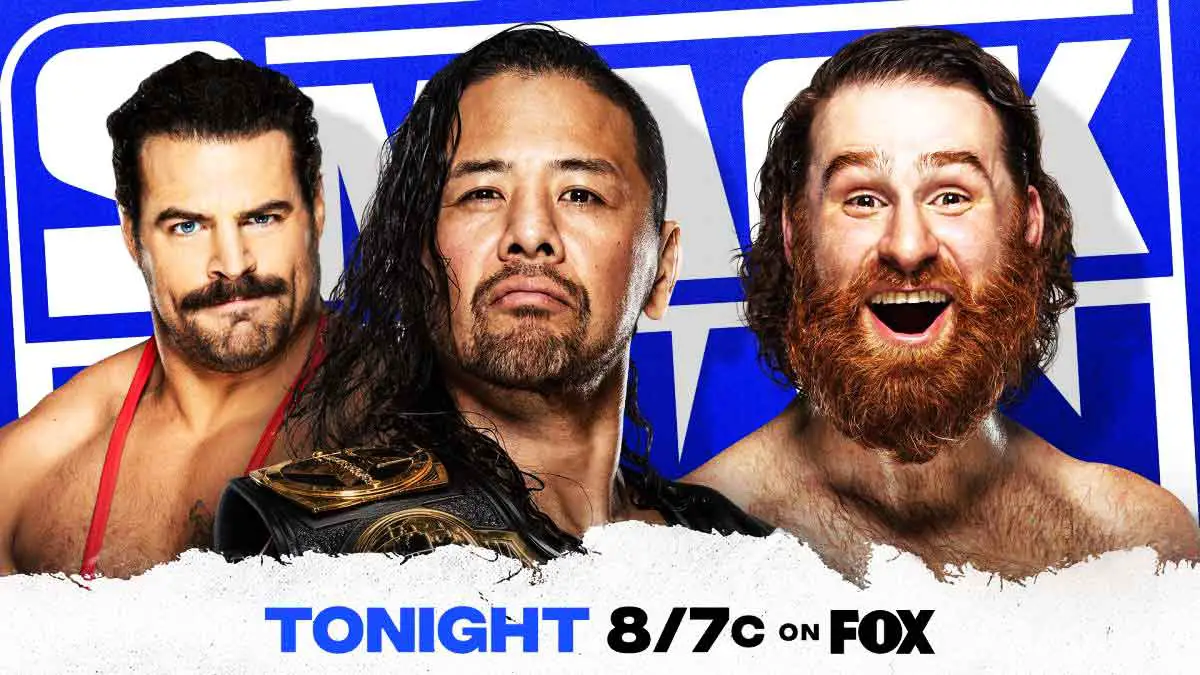 WWE SmackDown episode of February 18, 2022, will be a pre-taped episode from Smoothie King Center in New Orleans. This will also be the go-home episode for Elimination Chamber 2022 event.
Sami Zayn will challenge for Intercontinental Championship against Shinsuke Nakamura. Roman Reigns and Goldberg will come face to face. Charlotte Flair and Ronda Rousey will sign a contract.
Keep reading for the complete details from WWE SmackDown episode of February 18, 2022.
Show – WWE SmackDown
Date – February 18, 2022
Location – Smoothie King Center, New Orleans, LA, US
Start Time – 8 PM EST
Match Card & Results
Ricochet defeated Sheamus in a singles match via pinfall.
Ivar defeated Jey Uso in a singles match via disqualification.
Sami Zayn defeated Shinsuke Nakamura(c) via pinfall to win WWE Intercontinental Championship.
Live Updates
Contract Signing
The contract signing segment opens the show. Charlotte Flair and Sonya Deville come out first. Ronda Rousey and Naomi follow soon.
Sonya takes shot at Ronda saying that Pearce should tell them how this work as they don't know how to follow rules. Everyone starts chiming in as. Ronda and Naomi keep telling Sonya that she should not try to stall. Flair and Sonya sign the contract. Flair then tells her opponents that they should listen to Sonya regarding a new stipulation. Sonya recalls how Ronda bragged about being able to beat Sonya with one hand tied behind her back and has added it as a stipulation.
Sonya mocks Ronda saying that she could back out of the match if she likes. Ronda signs the contract. Flair continues with trash talk and ends up getting her face slammed into the table by Ronda. Naomi hits a roundhouse kick to Sonya's face to send her to the floor. Flair and Sonya are on the floor sulking while Ronda and Naomi get cheered by the crowd.
Sheamus vs Ricochet
Sheamus tells Ridge Holland that he is enraged by the fact that Ricochet was able to beat him last week. Both of them make their entrance to take us to a break.
Ricochet hits a couple of dropkicks to start. Sheamus picks him up but Ricochet rolls him up for a two-count. Sheamus hits a knee to the midsection to slow him down. Ricochet manages to send Sheamus out to the floor and hits a suicide dive. Sheamus hits an Irish curse backbreaker as they return to the ring.
Ricochet counters in the corner to unload. Sheamus comes back with big shots. Ricochet takes him to the floor with a crossbody on the ropes. Sheamus hits him with an overhead throw and over the announce table to take us to another commercial.
Sheamus is in control as we return. He hits his signature blows to the chest and drops Ricochet to the floor. Ricochet comes back with a satellite DDT and an elbow drop. Springboard moonsault follows to get him a two-count. Sheamus hits an elbow to the chin and then hits Alabama slam for a two-count.
Sheamus goes to the top and Ricochet brings him down with a Spanish fly. Ricochet goes to the top now but gets distracted when Ridge Holland gets to the apron. Sheamus tries to catch Ricochet with Brogue kick but Ricochet ducks it. It was Sheamus who gets distracted by Holland in fact and Ricochet hits him with a codebreaker to get the pin.
Winner – Ricochet
We get the replay of how Rick Boogs got shocked when he grabbed a mic last week during the In-Zayn segment. Sami Zayn is backstage with Kayla Braxton who asks him if he is more confident about winning the title now that Boogs is not here this week to accompany Nakamura. Zayn rants at Braxton for insinuating that he has something to do with Boogs' electric shock. He then talks about all the conspiracies that have happened against him and claims that he will get the title back tonight. He tells Braxton to go away as he wants to focus.
We get a special look at the Undertaker's career as he is announced to be inducted to WWE Hall of Fame Class of 2022.
Jey Uso vs Ivar
Jey ducks Ivar's charge and unloads on him in the corner. Ivar fires back with jabs. He hits hip splash to slam Jey to the mat. He hits a sideslam. Jey avoids a standing splash and quickly hits a superkick. Uso puts on a chinlock. Ivar slips out of a move but Jey hits him with a roundhouse kick. Ivar hits back with a clothesline. He drops on Jey with his hips and quickly follows with a splash from the top. He covers Jey but Jimmy attacks him to cause a disqualification.
Winner – Ivar(by DQ)
Drew McIntyre's Final Preparation
Drew McIntyre is in the ring and talks about his time in New Orleans and how he partied with a policeman all night long after a Superbowl. He says he is doing some reflection on his life and his career because it almost got ended because of an attack from Happy Corbin and Madcapp Moss. He plays the clip of that attack from last month. Drew says while he was on his way to the main event two years back, WWE Champion last year, but it is personal this year.
He goes on a rant on all the ways he is going to punish Madcapp Moss and wants ideas from the fans under #MadcappMauling. Happy Corbin comes out with Madcapp Moss. He says how does McIntyre plans to be an idol for little Scottish kids by all this talk. Moss advises McIntyre to carry an extra pillow. He jokes that McIntyre's neck goes snap, crackle and pop just like a breakfast cereal.
McIntyre fires back at Moss by saying that he is a piece of crap just like Corbin and warns him that he will finish Moss at Elimination Chamber.
Shinsuke Nakamura(c) vs Sami Zayn – WWE Intercontinental Championship
Kayla Braxton is with Shinsuke Nakamura to ask about his plan without Rick Boogs. Nakamura says he will kick Sami in the face since he talks too much.
Sami plays some mind games by getting under the ropes. They circle around before Nakamura hits a kick to face. Sami puts on a side headlock. He hits a big punch to the ribs and follows with more shots in the corner. Nakamura hits a dropkick, follows with another kick and an enziguiri. Nakamura puts Sami on the top turnbuckle and hits him with a running knee. He hits a running knee on the apron. Sami rolls out of a knee drop and Nakamura drops to the floor to take us to the break.
Sami is in control as we return. He puts on a chinlock for a while. Sami hits an elbow drop for a two-count. Sami hits big chops and a clothesline. He hits elbows to the face before putting on another chinlock. Nakamura counters with an armbar. Sami rolls him over for a two-count. Nakamura hits big elbow strikes and a basement dropkick. He hits a sliding German suplex to get a two-count.
Sami hits elbows to the neck. Nakamura fires back with the same. Sami hits Michinoku driver for a two-count. Sami goes for a dive through the ropes but Nakamura cuts him off with an enziguiri. Sami manages to send Nakamura into the steel steps to take us to another break.
Sami is working on Nakamura's knees. He puts Nakamura on the top ropes but Nakamura fights back to deliver a missile dropkick to get another two-count. Nakamura hits a spinning heel kick. Sami cuts off his charge and hits blue thunderbomb for a near fall. Sami gets frustarted and hits quick kicks in the corner. He mocks Nakamura by mimicking him.
Nakamura hits back at him. Sami rolls to the floor and drives Nakamura's knee to the ringpost again and again. He brings Nakamura to the center of the ring, hits a kick at his knee and holds on the damaged knee during the pin attempt to get three count.
Winner – Sami Zayn
One Final Showdown
WWE Universal Champion Roman Reigns is out in the ring with Paul Heyman. The crowd chants Goldberg at him. Roman gets irritated a bit. He asks Heyman to celebrate him. Heyman sings lores of Roman's "greatness," comparing him with some of the greats in sports. The crowd is hostile towards Roman and Heyman. Heyman warns against interuptting him.
Heyman goes on and continues to praise Roman until he gets interrupted by Goldberg's music. Goldberg makes his entrance and stands in front of Roman. He throws away the mic. Roman tells him he was planning to ask to acknowledge him, but that is clearly out of the way. Goldberg takes a step towards him. Roman also takes a step towards him. The crowd cheers. Goldberg takes the mic from Roman and tells him that he was wrong in saying that Roman was next, since, for Universal title, Goldberg is the next champion.
---
Preview
One Last Face-Off: Before they clash at Elimination Chamber, Roman Reigns and Goldberg will come face to face one last time. What can either person say to get under the other's skin and get a mental edge going into the bout?
Contract Signing: Ronda Rousey and Naomi will take on Charlotte Flair and Sonya Deville at Elimination Chamber. The two teams will sign the contract for the match at this episode of Smackdown. What will transpire during this segment?
Sami Gets Title Shot: Sami Zayn became the #1 contender for Intercontinental Championship around two months back. However, an alleged injury to Shinsuke Nakamura has delayed his title shot. Sami will finally get his match at this show.