WWE SmackDown Dec. 10, 2021: Results, Preview, Card, Tickets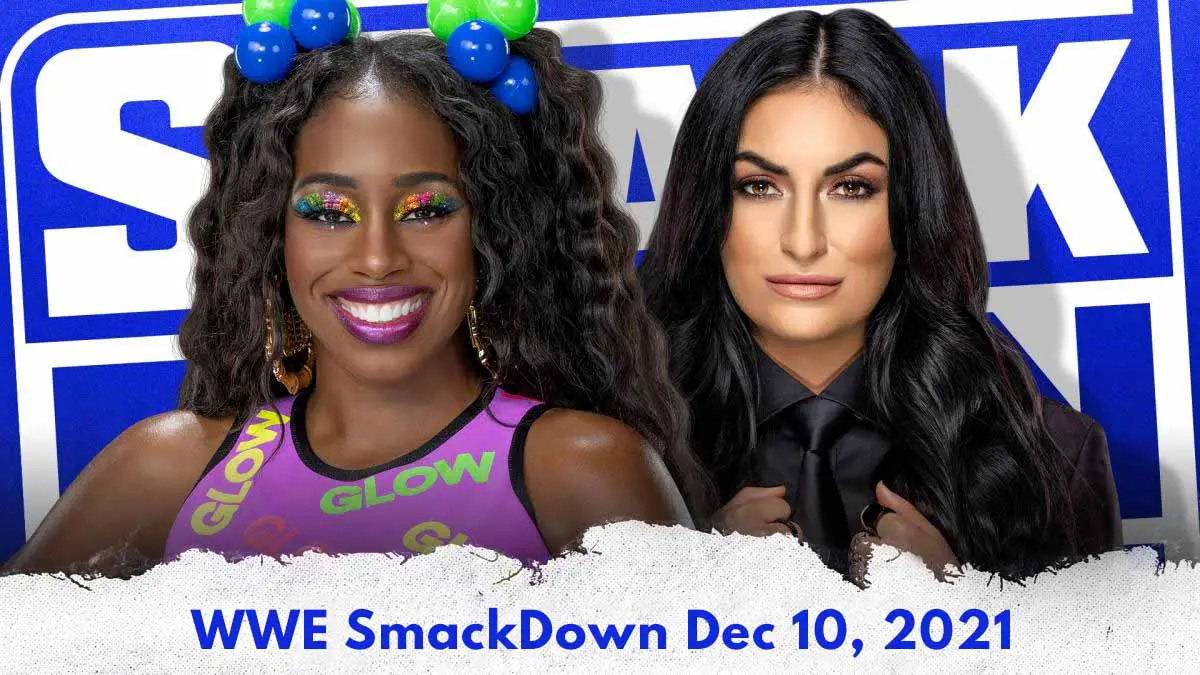 WWE SmackDown episode of December 10, 2021, will feature the in-ring return of the corporate Sonya Deville. The event will air from Staples Center Los Angeles, CA.
Sonya Deville accepted Naomi's challenge and now they will square off inside the squared circle in next week's episode. RKBro will come to SmackDown this week to face The Usos and New Day in a triple threat tag team match. Charlotte Flair will take on Toni Storm in a non-title match. Also, the feud between Roman Reigns and Brock Lesnar might get even more intense. 
Keep on reading to check the complete details on the December 10, 2021, episode of WWE SmackDown with Results, live updates, preview, match card, start time, location, tickets, and more information.
Show – WWE SmackDown
Date – December 10, 2021
Location – Staples Center Los Angeles, CA, US
Time – 8 PM EST (December 11 – 12 AM GMT)
Match Card & Results
Shinsuke Nakamura & Rick Boogs defeated Los Lotharios(Angel & Humberto) in a tag team match via pinfall.
Drew McIntyre defeated Sheamus in a singles match via pinfall.
Toni Storm defeated Charlotte Flair in Championship Contender match via Disqualification.
New Day(Kofi Kingston & Xavier Woods) defeated The Usos(Jimmy Uso & Jey Uso) and RK-Bro(Randy Orton & Riddle) in a triple threat tag team match via pinfall.
Live Updates
Sami Zayn, Brock Lesnar & Paul Heyman
Sami Zayn comes out to open the show. He is in a wheelchair and has a support on his left leg. We cut to a recap from last week where he was manhandled by Brock Lesnar and easily beaten by Roman in Universal title match. Sami is in the ring now and asks fans to judge him on what it took to put him in this position. Same asks how do two rivals came together to take care of him.
Sami says the most painful thing was Brock's betrayal. He then says he will sue everyone who was involved with the match- Adam Pearce, Sonya Deville, WWE, Referee and anyone. Paul Heyman comes out and apologizes to the crowd. Sami tells him that he was not finished talking and he is blocking camera. Heyman continues to talk and Sami stands up from wheelchair from behind.
Sami threatens Paul and says he knows Roman Reigns is not here. Sami threatens Heyman that he will rip his head off and there is no one to save him. Brock Lesnar's music hits and he comes out. Brock is in overalls and goes to pick up a chair from ringside. He gets into the ring and sets up the chair in the middle of the ring. Brock asks Heyman for the mic as the crowd chants suplex city. Brock asks Sami how he is.
Sami says he is not fine and all this has happened because of him. Brock says they got off on the wrong foot. Brock then asks him if he thinks he could single-handedly defeat Roman Reigns. Sami wonders if Brock injured him on purpose so that Roman's win does not really count. Brock says to one Canadian alpha male to another, he invites him to his home and go hunting. Sami says he is vegan. Brock asks Sami to get out of here and do something fun.
Paul Heyman has had enough and says this would have been an automatic trip to suplex city. He hypes Brock and Brock attacks Sami's nurses. He then kicks at Sami and throws his wheelchair away. He drops Sami with F5 before leaving the ring. Lesnar leaves to end the segment.
Brock is with Kayla Braxton backstage and asks Brock why he was at ringside. Brock tells her why doesn't she asks his advocate Brock Lesnar.
Shinsuke Nakamura & Rick Boogs vs Los Lotharios(Angel & Humberto)
Boogs drops Humberto with a couple of tackles. Angel tries to take a cheap shot. Boogs pulls him into the ring and then drops him to the floor with a bench press. Boogs picks up Humberto as he attacks him from behind. He swings Humberto before dropping him in the ring. Nakamura hits kinshasa and gets the pin easily.
Winner – Nakamura & Boogs
Backstage, New Day is Viking Raiders, Drew Gulak and others. There is a crown kept under wraps. Ivar was going to uncover it, but Kofi stops him. We cut to a break.
After the break, Kofi unviels Woods' new crown. Woods places the crown on his head. He says tonight they will show they are the best team in WWE.
We get the recap of how Drew McIntyre was picked up for Battle Royal two weeks back and came to know that Adam Pearce was the reason. Drew is backstage now with his sword. He tries to threaten Pearce. Pearce tells him that it was Sonya who made the list and got approved by higher authorities. He also tells him that the authorities also do not want him to take his sword to the ring. Drew pierces the sword into the table and leaves.
Sheamus vs Drew McInytre
Sheamus hits a backbreaker as we return. McIntyre rocks him with a chops and then hits a futureshock DDT. Sheamus cuts off Claymore with a knee to the face. Sheamus now goes for the Brogue kick but Drew rolls him up for a two-count. They hit headbutts to each other before Drew hits a Claymore kick to get the pin.
Winner – Drew McIntyre
Happy Corbin and Madcap Moss have stolen the desk from Adam Pearce's office which had Drew's sword stuck in it.
A tribute video for Jack Lanza.
Paul Heyman was leaving the arena when Kayla Braxton catches him. Kayla tells Heyman that Brock asked her to talk to Heyman as he is his advocate. Heyman tells her to stop doing that. Kayla asks how does he think Roman is going to react after tonight.
Naomi vs Sonya Deville
Naomi is in the ring after her entrance. She calls out Sonya Deville to remove her coat and get in the ring. Sonya makes her entrance and she is sporting a new all black ring gear. Sonya takes the mic and announces Natalya as the special ring announcer and Sonya Deville as the special timekeeper.
The bell rings and Naomi goes to attack Sonya Deville and Natalya. Sonya gets out of the ring and tells Shayna and Natalya the plan of attack. Three of them surround the ring. Before they could attack, Xia Li comes out to make her SmackDown debut. Li gets into the ring and to help out Naomi.
The heels attack and Li and Naomi take care of them. Shayna and Natalya are sent out of the ring and Sonya is left alone to deal with Li and Naomi. Li knocks her out with a roundhouse kick. Naomi was looking to hit a moonsault but Natalya and Shayna pull her out of the ring.
Riddle and Randy Orton are backstage. Riddle brings out the cast of Jackass Forever movie for some promotion. Orton is indifferent with all that is going on and leaves.
A special appearance from "Migos" is announced for WWE Day 1 PPV.
Charlotte Flair vs Toni Storm – Championship Contender match
Flair hits a big shot to drop Storm. She goes for a powerslam before Toni fights back. She attacks Flair in the corner. Flair stops a German suplex but Toni is able to drop Flair. Toni hits a big boot and Flair returns with a big boot of her own. Flair hits a moonsault from the top to get a two-count. Flair is now working on Toni's leg.
Toni rolls her up for a two-count and then hits a German suplex for another two-count. Flair drops her face on the ropes and drives Storm into the ring post. Flair continues to batter Toni as she keeps kicking at her against the ring post. The referee asks her to stop and counts to 5 before calling for a disqualification.
Winner – Toni Storm(by DQ)
After the match, Flair brings Toni back to the ring and runs her over with a big boot.
Brock Lesnar is in Adam Pearce's office. Pearce is terrified as Lesnar stares at him. Brock Lesnar says thank you to Pearce and that $1 million went to charity. Thanks to his suspension, he got some time off and went to Moose hunting. Lesnar goes on about how he scored a giant 2000 pound moose and he named it Pearce and hung it up in his cabin so he could always think of that moment. Pearce thanks Brock before Brock pats on his back aggresively.
The Usos(Jimmy Uso & Jey Uso) vs New Day(Kofi Kingston & Xavier Woods) vs RK-Bro(Randy Orton & Riddle)
The Usos take the mic in the ring and say they do not care about New Day and RK-Bro, they just care about getting a win tonight. New Day make their entrance for the match. We cut to a break.
RK-Bro enters as we return. Kofi and Riddle start. Riddle takes down Kofi with a waistlock takedown. Kofi rolls him over quickly. Kofi hits a dropkick and tags in Woods to start a series of quick double team moves. Riddle and Woods trade strikes in the middle. Woods kicks Riddle down and then slams his face to the mat.
Riddle gets to his feet and hits forearms. Woods charges at him with knees. Riddle runs him over with a big boot. The Usos take the blind tag from Woods. They drops Riddle who tags out to Orton. Orton is also dropped from the apron. The Usos hits stereo suicide dives on all four opponents to take us to the break.
Woods drops Jey as we return. Kofi hits a clothesline from the top. Riddle takes the tag from Kofi and rocks Jey with a kick to the chest. He hits a gutwrench suplex before Jimmy tags in. The Usos double team and unloads on Riddle. Orton tries to save Riddle from this but ends up distracting referee more and The Usos attack him on the floor. The Usos keep control over Riddle by keeping him in their corner.
Riddle was looking to tag out but The Usos stop him. Riddle counters in the corner against Jey. Jimmy runs in but is sent to the floor. Riddle was looking for a tag but Jey sweeps Randy from the apron. Jimmy drops Riddle again as we cut to a break.
Riddle fights back against Jey Uso and drops him. New Day stops him from tagging out this time as they come in. Woods is keeping Riddle on the ground now with a chinlock. Woods drops Riddle with a back elbow as he comes off the ropes. Woods and Riddle trade chops and slaps on the chest. Woods kicks out at his his knees. Riddle with quick moves as Kofi comes in.
Randy tags in while Jimmy comes in from the other side. Orton htis a clothesline before hitting powerslams to the Usos. Woods goes for a basement slide as Orton goes to the floor. Orton drops him on the table. He also throws Kofi over the announce table as he attacks Orton. Orton hits a draping DDT on Jey. Jey hits a superkick as Orton returns to the ring. Jey misses the splash from the top.
Woods gets the blind tag from Orton. Randy hits RKO on Jimmy. Jey sends him to the floor. Woods comes in and hits a big kick on Jey. Kofi and Woods hit their double team finisher for the win.
Winners – New Day