WWE SmackDown October 29, 2021 Live Results & Updates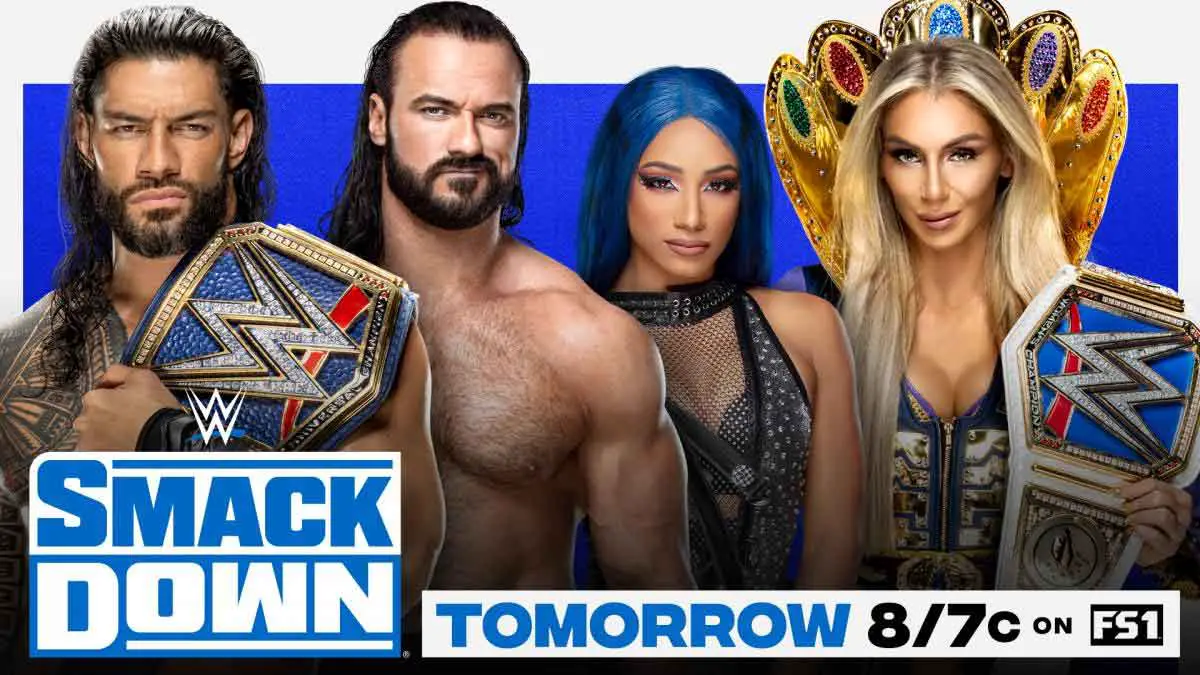 Welcome to the live blog for WWE Friday Night SmackDown episode of October 29, 2021, airing from Mohegan Sun Arena in Wilkes Barre, PA.
No matches are announced for the show as of yet. In its advertisement, WWE is asking who would be the new challenger for WWE Universal Champion Roman Reigns. Brock Lesnar, who was seen as the biggest threat to Roman yet, was suspended indefinitely last week.
Lots of new stars appeared on the brand with Draft changes going into effect. Who among them will leave a lasting effect? Sasha Banks vs Charlotte Flair feud was ignited last week and we might see them go head to head soon. Drew McIntyre made a triumphant comeback to the blue brand after a long time. Who will be his first target?
Join us as we bring you live results and updates from WWE SmackDown on October 29, 2021 with winners and highlights.
Results
Charlotte Flair defeated Shotzi via pinfall in SmackDown Women's Title Contender match
Drew McIntyre defeated Mustafa Ali in a singles match via submission.
Happy Corbin & Madcap Moss defeated Shinsuke Nakamura & Rick Boogs via pinfall in a Trick or Street Fight.
Shayna Baszler defeated Naomi in singles match via pinfall.
New Day(King Woods & Sir Kofi) defeated The Usos(Jimmy & Jey Uso) via pinfall Trial by Combat Tag Team match.
We get a new video package with the season premiere episode.
Charlotte Flair Opens
Charlotte Flair comes out. Flair takes the mic and says she is again the SmackDown Women's Champion. More things change, more they stay the same. She has won so many titles that its just another Friday when she becomes a champion. She now wants to be a guide to other women on the roster and be their leader.
Sasha Banks interrupts her as she enters. Sasha mocks Flair for saying that she will be a leader, and says Flair could only bring others down. She asks for her title shot. Flair replies to her that she has beaten her many times and she has talked to Sonya Deville to give a title shot to a new face.
Shotzi Blackheart comes out in her tank and asks for a title shot. Flair says Shotzi must be ready for a war since she is coming out in a tank.
Charlotte Flair vs Shotzi – SmackDown Women's Title Contender Match
Flair starts with a takedown and controls the first minute. Shotzi comes back with a dropkick but Flair takes the control back again.
Flair hits a knee to the gut. She catches her with a boot before Shotzi comes with a step up enziguiri and double knees. Flair moves to the floor as Shotzi goes to the top. Flair cuts off Shotzi's dive with a forearm at the apron. Sasha gets into an argument with Flair on the floor. Shotzi takes advantage of distraction to hit a suicide dive. We cut to a break.
Shotzi hits an avalanche headscissor as we return. More back and forth before Flair hits a big boot on the apron to knock down Shotzi. Shotzi catches her with a superkick as she goes to the floor. Shotzi takes her back to the ring but Flair kicks out at two-count. Flair
Shotzi hits a bridging German suplex for a near fall. Flair comes back with a backbreaker into the turnbuckle combo. Flair hits a moonsault from the top for a near fall. Sasha tries to distract Flair again but Flair moves away from Shotzi's attack and hits her with Natural Selection to get the pin.
Winner – Charlotte Flair
Sasha checks on Shotzi after the match. Shotzi losses it as she says Sasha cost her the match. Flair runs a distraction for Sasha and Shotzi runs her down with a clothesline. Shotzi unloads in the corner and unloads. The continued beatdown takes Sasha to the floor near Shotzi's tank where she gets her face slammed into the tank. Shotzi takes her back to the ring and hits a senton.
Jeff Hardy is backstage and is excited to be on the brand again. He wants to win a title that he has never held before. He gets interrupted by Happy Corbin and Madcap Moss. Corbin brings up their Street Fight later tonight. Moss tells another lame joke and laughs at it hysterically.
We cut to a replay of the destruction caused by Brock Lesnar last week.
Adam Pearce joins the show via video. He says what Brock Lesnar did last week was not acceptable. In order for this to not repeat again, he has fined Brock Lesnar for $1 million. Paul Heyman is watching at a TV screen. Kayla Braxton is lurking behind Heyman and asks him how Lesnar would respond to this. Heyman avoids answering it but, when pressed, he goes on a rant over how Lesnar will destroy everyone in the office. He realizes what he is saying and changes his tune to say that's what he thinks Lesnar will do.
Drew McIntyre Vs Mustafa Ali
Drew addresses the crowd and says he is ready for another challenge. Mustafa Ali comes out and says he has more athleticism in his pinkie finger than in Drew's entire body. Ali claims that he will beat Drew tonight.
The bell rings and McIntyre throws him to the corner but misses his attack. Ali hits him with a chop but McIntyre returns with a big slap to the chest. Ali with a big boot and a kick before McIntyre drops him with a belly to belly suplex. McIntyre with big right hands before he throws Ali with another belly to belly suplex. McIntyre misses the running tackle in the corner. Ali goes for 450 but McIntyre moves away and goes the Claymore. McIntyre also misses but stops Ali's DDT attempt and puts him in Kamura lock for the submission win.
Winner – Drew McIntyre
Ali takes the mic and tells the crowd that the only reason they have chose to root against him is that his name is Mustafa Ali.
We see the recap of King Xavier Woods' King of the Ring Coronation Ceremony last week with Kofi Kingston. The New Day is walking backstage when they see Hit Row. Woods welcomes them to his kingdom. Some friendly words between them as Hit Row bows to King Woods. Kofi asks Hit Row to drop some hits for the King. They sing "King Woods!" in the tune of their theme song to end the segment.
Kofi Gets Knighthood
King Xavier Woods and Kofi Kingston are in the ring. Kofi gets a "Hail King Woods" chant started. Woods says a king is as strong as his advisor and soilders. Kofi has been his most loyal friend and asks him to kneel in front of him. He bestows Kofi with Knighthood and the hand of the King. Woods gives him a horse-shaped badge.
The Usos interrupt them. The Usos say that this is there show. They ask New Day if they are playing dress up for Halloween. Kofi wonders if they are jealous of their fancy costumes. Woods says he does not want Bloodline on his carpet as he got it cleaned today. Woods raises his scepter as he announces New Day vs the Usos in a Trial by Combat match. The Usos wonder whether it is real gold. Kofi stops them from touching the scepter. The Usos drop Kofi before leaving.
Shinsuke Nakamura & Rick Boogs vs Happy Corbin & Madcap Moss – Trick or Street Fight
Moss takes Boogs to the floor. Nakamura hits Corbin with a dropkick. Moss comes back to the ring but gets dropped by Nakamura. Boogs picks up the guitar as Nakamura unloads on Moss on its tune. Corbin drops him from behind. 24/7 title chase is on as Reggie runs into the ring. It does not effects the match though.
Boogs sends Moss to the floor and tries to slam his face into a tub full of apples. Nakamura comes and hits him with a kendo stick. Boogs dips his face into the tub. Moss hands the commentators some apples as we but to a break.
Corbin and Moss are unloading on Boogs with kendo sticks. Corbin slams Nakamura into the barricade. Nakamura kicks at a candy bowl that was in Corbin's hand. He misses a kick against the ringpost. Corbin breaks a pumpkin against Nakamura. Boogs then starts to strike both opponents with pumpkin, skelton and anything that he could get his hands on.
Back to the ring, Boogs drops both opponents with clotheslines. Nakamura comes with kendo stick shots. Boogs hits a gutwrench suplex on Moss. Corbin hits Boogs with deep six. Corbin and Nakamura continue to brawl and crash over the barricade. Boogs was looking to finish off Moss in the ring when two hooded men attacks him with kendo stick. Moss hits a neckbreaker for the win.
Winner – Madcap Moss & Happy Corbin
After the match, Moss and Corbin quickly run away to the ramp. The hooded men turn out to be Angel Garza and Humberto Carrillo.
Alyse Ashton is backstage with Sonya Deville and asks her about Naomi vs Shayna Baszler match tonight. Deville says there is no bias against Naomi because she is a WWE official. Sami Zayn interrupts and says it is a mistake that he is not on the show tonight. Sami says Deville will need him around, especially as we get closer to the Survivor Series. The segment is abruptly cut as we go back to the ring.
Naomi vs Shayna Baszler
Both women enter for the match, but there is no referee. Sonya tells Naomi that the referee that was supposed to be there for this match was injured last week in Brock Lesnar's devastation. Since she needs someone competent and fair to be the referee, she herself will be the one to officiate. Sonya gets into the ring and asks if there is a referee shirt nearby. She removes her blazer and puts on the referee shirt.
Baszler starts with a takedown and takes Naomi in a kneebar. Naomi fights back with kicks to the face and a headscissor takedown. Baszler is sent into the corner. Naomi slips from the ropes but comes back with an enziguiri. Naomi covers but Sonya does not count. Shayna reverses the pin attempt and Sonya ends the match with the quick count.
Winner – Shayna Baszler
After the match, Naomi confronts Sonya before Baszler puts her in the kirifuda clutch to put her to sleep.
The Usos(Jimmy & Jey Uso) vs New Day(King Woods & Sir Kofi) – Trial by Combat match
The match starts with some back and forth action. Kofi comes back with a dropkick and clothesline to send Jimmy to the floor. Jey tags in to eat a dropkick from Woods. Jimmy comes in for double team against Woods. They drop Kofi into the timekeepers area as we go to the break.
Kofi tries to fight back but The Usos double team him. They drops Kofi into the corner. Jey unloads in the corner. Kofi explodes out of the corner with a big knee. Hot tags to Woods and Jimmy. Woods with a clotheslines, side Russian leg sweep and a dropkick. Woods keeps the control with a flurry of chops. Jimmy comes back with a big slap. Woods hits a big knee to his chest for a near fall. Jimmy hits a step up enziguiri. Jey tags in to hits a neckbreaker for a two-count.
Woods fires back with a big forearm strike. They trade strikes before tagging out. Jimmy hits a Samoan drop before tagging in Jey for sandwich superkicks. Woods rusn a distraction for Jey and Jimmy gets rolled up by Kofi for a two-count. Woods tags in and hits an elbow drop to get the pin.
Winner – New Day