WWE Royal Rumble 2023 Results Live, Reigns vs Owens, Bray Wyatt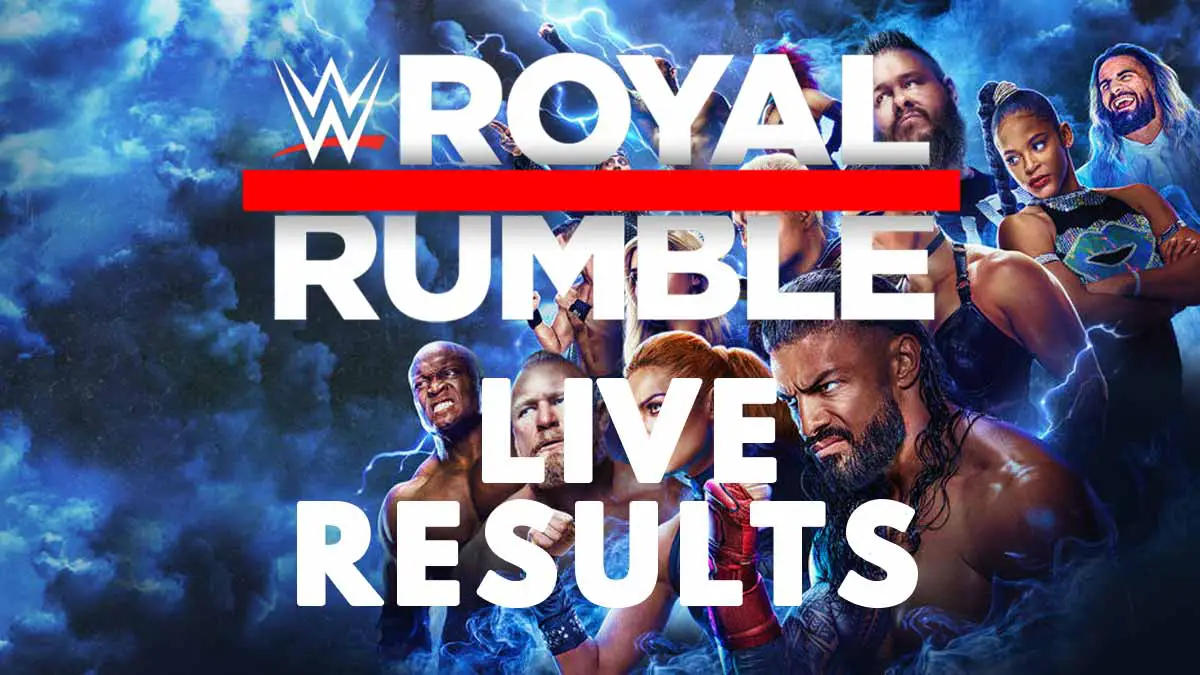 WWE welcomed us with Royal Rumble 2023 and we were here with all the live results and updates from the show on January 28, 2023 from Alamodome in San Antonia, TX.
Men and Women Royal Rumble matches were always going to be the mainstay of this show as it had been the tradition since 1988. Bayley, Liv Morgan, Raquel Rodriguez, and Rhea Ripley were the big names in the women's Rumble match. Cody Rhodes, Brock Lesnar, Seth Rollins, WWE Intercontinental Champion Gunther, WWE United States Champion Austin Theory were some of the big names announced for the men's Royal Rumble match.
Undisputed WWE Universal Champion Roman Reigns defended the title against Kevin Owens. This was the fourth time that Owen challenged The Tribal Chief in this title run. Roman Reigns had already said that he has some special tasks for Sami Zayn at Royal Rumble. What was it?
Alexa Bliss challenged Bianca Belair for WWE RAW Women's Championship with her storyline Bray Wyatt and Uncle Howdy in the backdrop. Bray Wyatt himself faced LA Knight in a Pitch Black match – a new and unknown format so far. Did Wyatt have something special for us in this match?
Tune in below for results live from WWE Royal Rumble 2023 event with updates, highlights, and winners, along with complete action from both the Rumble matches.
RESULTS
Cody Rhodes won 30 Men Royal Rumble Match to earn a World Title Shot at WrestleMania 39.
Bray Wyatt defeated LA Knight in a Pitch Black Match via pinfall.
Bianca Belair(c) defeated Alexa Bliss in a singles match via pinfall to retain WWE RAW Women's Championship.
Rhea Ripley won 30 Women Royal Rumble Match to earn a World Title Shot at WrestleMania 39.
Roman Reigns(c) defeated Kevin Owens in a singles match via pinfall to retain Undisputed WWE Universal Championship.
LIVE UPDATES
The kick-off pre-show has started with Kayla Braxton hosting the show with Jerry Lawler, Booker T, Kevin Patrick and Peter Rosenberg. We see Lacey Evans and Zelina Vega drawing their numbers.
We see a recap of Roman Reigns' visit to the Jimmy Fallon show last night. We cut to Roman Reigns' locker room where we find everyone from The Bloodline is there. All of them are sitting silently there. Roman breaks the silence and asks Sami Zayn why has he defied his direct order to not appear on SmackDown.
Jey Uso intervened and replies to Roman that he brought in Sami after they were kicked out of the arena. He says Roman was at the Tonight Show with Jimmy Fallon and he could not get hold of him. So, he called Sami to come in and Sami stood up for the family. Roman suddenly changes tune and says why are they talking about last night when it is Fight Night tonight. Roman says Sami will be there with him all night and will also be in his corner.
Gabriel "Fluffy" Iglesias joins the kick-off and he says he has always been a big supporter of Rey Mysterio and picks him to win the match. They joke about Dominik Mysterio for a bit.
---
We are live with the main show now. It opens with the cold open embedded above featuring Hardy. Michal Cole and Corey Graves are on the commentary now. Pat McAfee is making his comeback to the commentary table. Michael Cole is over the moon while Corey Graves would rather get a root canal.
30 Men Royal Rumble Match
#1 in the match is Gunther. He leaves Lugwig Kaiser and Giovanni Vinci behind. #2 is Sheamus. Butch and Ridge Holland come out to the stage with Sheamus. They start to trade forearm shorts. They no-sell each other's tackle before Gunther hits a big chop and tries to eliminate Sheamus. Sheamus hits back with a backbreaker.
#3 in the match is The Miz. Miz avoids getting in as Sheamus was waiting for him. Gunther tries to eliminate Sheamus when he was distracted. Miz tries to pull Sheamus out but Sheamus survives. Sheamus comes out to chase Miz. Miz has to get into the ring and runs into a chop from Gunther. Sheamus also nails him with a big chop.
#4 in the match is Kofi Kingston. Kofi hits a crossbody on Miz & Gunther before a dropkick to Sheamus. He keeps up with the pace with a boom drop on Gunther and Miz. Sheamus throws him to the apron, but he slides back in. Kofi tries to eliminate Miz while Gunther and Sheamus are back to fighting.
#5 is Johnny Gargano. Lukewarm response to Gargano's entry. He hits a slingshot spear on Kofi, an enzuigiri to Gunther. Miz goes to eliminate him but Gargano hits a DDT on him. Gargano throws him to the apron but Sheamus takes over and hits 10 Beats of Beltran on Miz. Poor Miz! Gargano hits a superkick on Miz before Sheamus eliminates him with a Brogue kick.
#6 is Xavier Woods. Woods and Kofi work on Gunther and hit him with bulldog. They hit a double dropkick on Sheamus and a splashes on lariat on Gargano. Kofi and Woods go wheelbarrow buttslaps before Gunther and Sheamus start beating him up.
#7 entry is Karrion Kross. Scarlett accompanies her to the stage. He gets into the ring and runs over Woods with clotheslines before hitting a Saito suplex on Kofi. Gunther nails him with a big chop. They trade big boots before Gunther drops him with a clothesline. Kross hits Gunther with a Saito Suplex. Sheamus and Kross trade forearm shots.
#8 entry is Chad Gable. Gable jabs at Garano and Kofi before doing his Shooosh. Gable hits German suplex on Kofi. Woods shooshes him back. Woods and Gable start an amateur wrestling match. Gable hits a German suplex on Woods.
#9 entry is Drew McIntyre. He starts with a clothesline on Gable, suplexes on New Day and slingshots Gargano on Gable. Drew hits a headbutt on Kross and hits him with Claymore kick to eliminate him. Drew and Gunther face off before they trade big chops. Gunther is dropped with a futureshock DDT.
#10 entry is Santos Escobar. Escobar starts with frankestiener on Woods. Gable sends him on the apron. Escobar fights off Sheamus and hits him with a crossbody. Gargano and Escobar start to fight in the corner and get to the top rope. Gable chops Sheamus but Drew picks his arms for Sheamus hit back with a big chop. Escobar hits Phantom Driver on Gargano.
#11 is Angelo Dawkins. He hits corkscrew punch on Escobar, Drew and then on Gable. Woods survive an elimination attempt. Gunther throws him back to the apron and then also throws Kofi. Gunther kicks Woods to eliminate him. Escobar and Kofi fight now. Kofi stomps him to the mat. Gunther throws Kofi over and he lands on a chair outside before getting dumped to the floor.
#12 is Brock Lesnar. Drew and Sheamus wait for him in the ring. Lesnar is picking his spot to get in. He tackles Sheamus before staring suplex city on Drew, Sheamus and Gable. Lesnar eliminates Escobar with a suplex, Dawkins with a clothesline and Gable with a throw. He hits German suplexes on Sheamus and Drew. Gunther have a face-off with Lesnar.
#13 is Bobby Lashley. Gunther is hit with a suplex by Lesnar. Lashley hits a spear on Lesnar. He hits another one on Drew. Lesnar picks up Lashley but he slips out and clotheslines Lesnar to eliminate him. Lesnar throws the top of announce table into the ring in anger.
#14 is Baron Corbin. Lesnar is breaking up things ringside. Lesnar tackles Corbin before he could enter the ring and then hits him with an F5. Adam Pearce is out with some crew members to bring Lesnar under control. Lesnar leaves through the crowd.
#15 is Seth Rollins. Rollins throws Corbin to the ring and hits him with a superkick. Rollins clotheslines Corbin to eliminate him. Sheamus and Rollins face-off.
#16 entry is Otis. Otis chops Gargano before slamming Drew with a bodyslam. He hits a splash in the corner. Lashley and Rollins are fighting in the corner.
#17 entry is Rey Mysterio. Rey's music hits but he does not come out. It seems Rey is taken out backstage. Rollins slips out when Lashley goes for a bodyslam and eliminates Lashley. Otis hits a caterpillar on Gunther. He goes for Vader Bomb but Sheamus and Drew stop him.
#18 is Dominik Mysterio who has stolen Rey's mask. Dominik rips Rey's mask. Drew and Sheamus have eliminated Otis. Gargano and Rollins are fighting in the middle. Rollins hits a buckle bomb on Gargano. Sheamus waits for Dominik to get in and Dominik waits outside due to this reason. Gunther has dumped Rollins to the apron. Rollins hits him with an overhead kick. Sheamus gets busy with other men when Dominik comes in and tries to attack him.
#19 entry is Elias. Elias kicks everyone around before breaking his guitar on Gunther. Drew drops him and hits him with Claymore while Sheamus hits Brogue kick at the same time. Drew & Sheamus eliminate Elias. Gargano is stomping at Dominik in the corner.
#20 entry is Finn Balor. Sheamus and Gargano is working on Rollins on the apron. Balor runs in and hits a slingblade on Drew. Balor hits a slingblade on Sheamus before unloading on others. Gargano dumps Balor to the apron but Dominik cuts off Gargano. Dominik throws Gargano to the apron. Gargano fights back but Balor cuts off his DDT with a dropkick. Balor eliminates Gargano.
#21 entry is Booker T. Booker hits his signature kicks on Balor and Dominik. He hits Book-End on Balor next. Booker does his spinarroni. Gunther throws out Booker T to eliminate him.
#22 is Damian Priest. Priest nails Drew, Gunther and Sheamus with big right hands. Judgment Day corner Rollins next before doing the same with Gunther, Drew and Sheamus in order.
#23 is Montez Ford. Ford hits an enzuigiri on Dominik and dumps him to the apron. Ford hits an enzuigiri and a dropkick on Priest. He survives an elimination when Balor throws him over the ropes. Priest picks him and dumps Montez Ford to the floor to eliminate.
#24 is Edge. Judgment Day is baffled at the legend's entry. Edge hits a spear on Priest and then on Balor. Dominik drops him on the ropes but Edge hits him with a spear again. Edge eliminates Balor and Priest. Rollins and Edge face-off. Dominik tries to eliminate Edge and Priest and Balor pulls Edge out to eliminate him. Rollins beats up Dominik now.
#25 is Austin Theory. Edge is fighting Balor and Priest in the entranceway. He throws them into the LED board. Rhea Ripley runs Edge over from behind. Beth Pheonix comes out now and spears Rhea.C Crew members comes out to take away Edge and Beth. Theory is in the ring and hits an uppercut and a brainbuster on Rollins. Drew and Sheamus start beating him up.
#26 is Omos. Drew and Sheamus welcome Omos with punches but he punches at them. Omos takes care of Garagno, Rollins and others. Gunther hits him with a chop. Omos hits a chokeslam on Gunther.
#27 is Braun Strowman. Omos hits a headbutt on Drew. Omos waits for Strowman now. Strowman gets the crowd going as he faces off with Omos. They start to trade punches. Strowman hits a big right but Omos is still standing. Strowman ducks a clothesline from Omos and hits a clothesline on the ropes to eliminate Omos. Strowman hits a big uppercut on Rollins as things go back to normal. Strowman tosses Theory across the ring.
#28 is Ricochet. Strowman sends Ricochet into Dominik before giving a high five. Strowman nails Theory with an uppercut. Drew and Sheamus send Strowman to the apron to hit him with double Beats of Beltran. Gunther and Theory save Strowman by engaging Drew and Sheamus. Gunther has Sheamus on the apron and is hitting chops. Drew tries to save Sheamus but Gunther eliminates both of them.
#29 is Logan Paul. So, that means #30 is going to be Cody Rhodes. Logan gets into the ring and stands in the middle. Everyone gang up on Logan and stomp on him. Ricochet sends him to the apron but Logan hits him with a Buckshot lariat. Gunther dumps Logan on the apron but Logan kicks him and gets back again. Logan and Strowman trade punches before Strowman hits him with a running powerslam. Ricochet hits a running shooting star press on Logan. Strowman dumps Logan to the apron.
#30 is Cody Rhodes indeed. Pyro goes off as Cody gets in the middle. Cody hits punches on Strowman. He hits Cody cutter on Theory. Dominik goes for 3 amigos on Cody but he blocks the third suplex. Cody hits him with a cutter and eliminates Dominik.
Strowman hits Cody with a powerbomb. Gunther hits Strowman with powerslam. Ricochet hits Gunther with a standing sliced bread. Ricochet and Logan face off from the opposite side of the aprons. They springboard and clash in the middle of the ring, in the air, with crossbody. Cody eliminates Strowman. Theory eliminates Ricochet. Theory and Cody fight for a while. Rollins hits a stomp on Theory before Cody throws him out.
Cody, Rollins and Gunther are the last three in the ring. Rollins and Cody face off now. Gunther attacks Rollins. Cody and Rollins work on Gunther now. Rollins hits a pedigree on Gunther. Cody hits a pedigree on Gunther. Cody and Rollins trade punches now. They continue to fight until Logan Paul comes in and throws Seth Rollins out of the ring.
Heavy boos for Logan as he shows off. Cody hits Logan with a crossrhodes and dumps Logan out of the ring. #1 Gunther and #30 Gunther are the ones left in the ring now. Gunther hits a chop in the corner. Cody hits back with punches. Gunther hits another big chop. Cody lands on his feet from a suplex. Gunther hits more big chops. Gunther goes for a big boot but Cody ducks and sends him to the apron. Cody goes for the disaster kick but Gunther cuts him off.
Gunther hits more chops and puts Cody on the top turnbuckle. He boots Cody down to the apron now. Cody hangs onto the ropes. He fights back and gets to the top. Gunther hits a superplex now. Cody starts to hulk up and fires shots. He hits a dropdown punch and Cody cutter. Cody hits a clothesline to dump Gunther to the ropes. Gunther tries to boot him but Cody hits him with a dragon screw on the ropes. Cody sets up Gunther on the second turnbuckle and hits him with a kick to the groin.
Gunther hits a shotgun dropkick and a powerbomb before dumping Cody over the ropes. Cody hangs on. Cody hits back but Gunther puts him in a sleeper on the apron. Cody tries to hang onto the ropes. Cody rallies back as he return to the ring before hitting a clothesline to eliminate Gunther and win the match. Gunther now holds the record for the time in a Royal Rumble match.
Winner – Cody Rhodes
Cody celebrates and points to WrestleMania sign as the pyro goes off.
LA Knight vs Bray Wyatt – Pitch Black Match
LA Knight makes his entrance for the match. We cut to a video package for this match. Bray Wyatt makes his entrance with his lantern in his hand as the arena goes dark. Wyatt has his eyes circled in with black mascara. Wyatt blows off the Lantern as he gets into the ring. The lights come on now before they go back down once again. We see the ring lit up in neon.
Wyatt tackles Knight and unloads on him as the bell rings. Wyatt hits a suplex before unloading in the corner. Wyatt puts Knight on the top turnbuckle before throwing him over by his neck. Knight slips to the floor. He whips Wyatt into the steel steps. Knight sets up the steps near the announce table. Wyatt clotheslines Knight over the barricade. Wyatt goes for a suplex on the steel steps but Knight blocks it. Knight jumps on Wyatt and puts him through the announce table.
They are back to the ring. A toolbox is also out. Knight goes for a cutter but Wyatt throws him to the floor. Knight has a kendo stick and he hits it on Wyatt. Knight jumps from the top with a kendo stick shot. Wyatt recovers quickly and hits Sister Abigail to get the pinfall.
Winner – Bray Wyatt
Wyatt is in the corner and puts on a modified mask of "The Fiend". Wyatt stalks Knight as he runs out of the ring. Knight gets a kendo stick and hits Wyatt or the Fiend with it. The Fiend is no selling it. They get into the crowd and Knight runs off while trying to hit back with kendo stick. They reach a platform in the middle of the crowd. Fiend/Wyatt chokes out Knight with a Mandible Claw to put him to sleep. Uncle Howdy appears on the top platform and jumps on Knight to put him through the lower platform. An explosion takes place as Howdy goes through. Wyatt stands tall.
Bianca Belair(c) vs Alexa Bliss – WWE RAW Women's Championship
No shenanigans in the entrances. Bliss charges at Bianca with punches. Bianca throws her around a couple of times. Bliss fights back from the corner and hits a double dropkick on Bianca against the turnbuckle. Bliss puts on a bow and arrow stretch. Bliss pulls Bianca's braid for more pressure.
Bliss hits double knees in the corner. She puts on a chin lock now. Bianca comes out of it and blocks a schoolgirl roll-up. Bliss kicks at her calves to trip her. Bliss puts on another chin lock now. Bianca hypes up and slams Bliss to the corner to break free. Bliss puts on the choke again. Bianca turns it into a suplex to flatten up Bliss.
Bianca hits knees into midsection before throwing Alexa across the ring and hitting a dropkick. Bianca unloads in the corner with at least 15-16 punches. Bliss avoids a charge in the corner before Bianca chokes her in the corner. Bianca boots her face into the mat. Bliss gets her knees up on a springboard moonsault. Bianca drops her to the mat again and hits springboard moonsault now for a two-count.
Bliss blocks KOD before Bianca also blocks a basement dropkick. Bliss hits a DDT to get a two-count. Bliss kicks at Bianca as she is on the mat. Bliss hits double knees before hitting a senton for another two-count. Bianca swings her braid but Bliss avoids it. Bliss goes for sister abigail but Bianca counters and hits KOD for the pin and the win.
Winner – Bianca Belair
Bianca exits and some footage starts to play on the screen. We see some footage of Lilly or Evil Bliss Character. Uncle Howdy asks her, "Do you feel in charge?"
30 Women Royal Rumble Match
#1 entry is Rhea Ripley. #2 entry is Liv Morgan. They start with rapid-fire punches. Rhea throws Liv into the corner. Liv fires back with more punches before Rhea hits a big boot. Liv counters a suplex with double knees. She hits jumping knee in the corner.
#3 entry is Dana Brooke. Dana hits a double dropkcik on Rhea and Liv. She hits a handspring elbow on Liv but Rhea blocks it. Dana sends her into the turnbuckle. Liv attacks her from behind as they start some back and forth. Dana hits a superplex on Liv.
#4 entry is Emma. Emma runs out as Dana hits a bulldog on Rhea. Emma drops Rhea on the ropes before hitting a Russian Leg Sweep on her in the ring. Emma sends Liv into Rhea for a jumping knee. All 3 try to eliminate Rhea but she fights off.
#5 entry is Shayna Baszler. Basler drops Dana before trying to eliminate Rhea. Liv saves Rhea before Shayna kicks her. Baszler hits an inverted DDT on Dana before stomping on her arm.
#6 entry is Bayley. Liv hits Oblivion on Bayley and throws her over the ropes. Bayley hangs on but Liv stomps on her. Bayley fights back and kicks at her.
#7 is B-Fab. She nails Emma with a right followed by a right on Shayna. She hits a spinning slam on Dana and then drops Bayley. Rhea counters her and sends her over the ring. Rhea has split open B-Fab and gets blood all over her face.
#8 is Roxanne Perez(NXT Women's Champion). Roxanne starts with a crossbody. She sends Shayna and Emma into the corner for splash. Roxanne hits Rhea with headscissors. Everyone tries to eliminate Bayley but she hangs on.
#9 is Dakota Kai. Dakota saves Bayley before going after everyone. She hits a Scorpion kick on Emma and checks on Bayley. Everyone gang up on Damange CTRL. Liv kiccks at Bayley's knee.
#10 entry is Iyo Sky. Damage CTRL trio is in the ring now. Sky hits a missile dropkick on Dana and Liv as she comes in. Shayna goes after her but she also eats a dropkick. Emma tries to handg on as Damage CTRL try to eliminate her. Damage CTRL eliminate Dana Brooke. They eliminate Emma next. Roxanne tries to eliminate Bayley but Damage CTRL trio fight her off and eliminate her.
#11 entry is Natalya. Natalya nails some clotheslines before Shayna tackles her to the corner. Liv and Shayna work on Natalya. Damage CTRL work on Rhea.
#12 entry is Candice Le Rae. CLR hits a back elbow on Dakota. She send Kai and Sky to the apron before taking down Bayley. Shayna drops her from behind and beats her up in the corner. Natalya hits a release German on Shayna. Shayna dumps her on the apron but Natalya comes back to send her on the apron. Shayna pulls out Natalya and Damage CTRL eliinate both of them.
#13 entry is Zoey Stark. Zoey hits suplexes on Kai and Sky. She hits a sidekick to Rhea's face. Damage CTRL work on Liv and others in the corner.
#14 entry is Xia Li. The referee stops her from taking a stick int othe ring. Li hits roundhouse kicks to several women. She unloads on Rhea before Damage CTRL gang up on her. Candice counters Sky and Kai with a double DDT. Damage CTRL put Candice on the top turnbuckle and eliminate her.
#15 entry is Becky Lynch. Kai and Sky meet her on the ramp. Becky drops them and got to unload on Bayley. Bayley takes her to the floor under the ropes. Damage CTRL trio work on Becky now and send her into the barricade and then over the announce table.
#16 entry is Tegan Nox. Nox hits a senton on Rhea before hitting running uppercuts on Li and Kai. She drops Li face first with a suplex. Liv nails Zoey with a forearm before Liv jumps off Nox's back to hits codebreaker on her. Tegan hits shiniest wizard on Zoey.
#17 entry is Asuka who comes out in a Tiger Mask. She is on an all black dress. She removes her mask and reveals the evil version Kana. Asuka hits a shoulder tackle on Kai and a DDT on Sky. She hits a roundhouse kick on Zoey. Kana and Bayley ley face off before starting to brawl. Kana sends Bayley to the apron. Kana/Asuka eliminates Tegan Nox.
#18 is Piper Niven(Doudrop). Piper gets into the ring, She whips zoey to the corner. Piper drops everyone one by one. She hits senton on Liv before dropping Bayley and hit her with a senton.
#19 is Tamina. Tamina and Piper face off before they drop others intervening. They start to trade shots and Tamina kicks at Piper. Others gang up on Tamina. Becky returns and unloads on Bayley. She hits a double inverted DDT on Kai and Sky.
#20 entry is Chelsea Green. Green gets thrown out by Rhea Ripley. Green breaks the record of fastest elimination. Becky throws out Dakota Kai and Iyo Sky. Bayley throws out Becky Lynch. Liv eliminates Bayley. Becky start to fight Damage CTRL on the floor.
#21 entry is Zelina Vega. Zelina comes out in a street fighter costume. Zelina hits Code Red on Rhea. Piper dumps her on the apron but Zelina hits back with a gamergiri. Zelina and Li face off on the apron and start to fight in Street Fighter style. Zelina kicks Li to the floor to eliminate her. Zelina hits a codebreaker on Piper.
#22 entry is Raquel Rodrigeuz. Raquel picks up Zelina to drop her before she kicks Liv and Piper. Raquel hits a clothesline on Rhea. Raquel hits a fallaway slam on Zoey before hitting a powerslam on Asuka. Raquel picks up Zelina and puts her up on the turnbuckle. Zelina hits her with a hurrincanrana.
#23 entry is Michin Mia Yim. Mia fires kicks on everyone coming at her. She hits a tornado DDT on Rhea. Piper runs her over with a clothesline. Raquel takes Zoey to the apron. Zoey comes back in and slams Raquel's face into the turnbuckle.
#24 entry is Lacey Evans. She insults some fans on her way into the ring. Evans hits a pump kick on Piper before throwing Liv into Tamina in the corner. Lacey hits hip attack on Liv in the corner. Tamina sends her to the apron but Lacey fights back against her and Zoey.
#25 entry is Mitchell McCool. She was in the front row and enters right away. She decks Tamina on the floor. McCool fights Piper in the ring and others before Tamina comes back to fight her. McCool dumps Tamina to the apron and kicks her to eliminate her.
#26 entry is Indi Hartwell. Indi runs in and clotheslines Zoey and Candice before hitting boots on Rhea and Liv. Indi hits a spinebuster on Zoey. Lacey hits her with elbows in the corner. Raquel fights Rhea while McCool fights Piper.
#27 entry is Sonya Deville. Sonya eliminates Zoey Stark. Sonya fights Asuka now. They knockout each other with a roundhouse kick at the same time. Zelina sends Lacey to the corner but Lacey kicks at her right away. Lacey puts on a cobra clutch on Zelina and eliminates her.
#28 entry is Shotzi. She comes out on his tank. Shotzi hits a crossbody on Piper and Raquel. Shotzi sends Raquel on the ropes with a wheelbarrow. Sonya uses a low bridge to send Indi to the apron and pushes her to eliminate her.
#29 entry is Nikki Cross. Nikki unloads with her crazy punches. She kicks at Shotzi before engaging with Lacey.
#30 entry is Nia Jax. Everyone is waiting for Nia to get in. They all surround her as she gets in. Nia dares them to take her on. They all jump on Nia but Nia pushes them off. Raquel and Nia face-off now. Raquel nails her with punches but she could not get her up. Nia kicks her away before dropping Liv. Candice, Liv and Asuka hit her with elbows and codebreakers. Rhea hits her with Riptide. Rhea asks everyone to dump Nia out of the ring and they do the same. Nia is eliminated.
McCool and Nikki are fighting in one corner. Raquel sends Lacey to the apron and eliminates her with a clothesline. Asuka kicks at Raquel and avoids Tihana bomb. Asuka puts on an armbar. Raquel overpowers and dumps her on the apron. Raquel throws Sonya to the apron. Asuka and Sonya fight each other and Asuka hits a roundhouse kick to eliminate Sonya.
Rhea Ripley dumps Mitchel McCool to eliminate her. Mia sends Shotzi to the apron and hits Eat Defeat to eliminate her. Piper throws out Mia Yim to eliminate her. Raquel eliminates Piper Niven after some back and forth. Raquel tries to send Rhea to the floor but Rhea fights off the apron to eliminate Raquel. Nikki is fighting Asuka when Liv Morgan tackles her off the apron to eliminate her.
Rhea, Asuka and Liv are the last three. All three fight off each other. Liv and Rhea are sent to the apron and fight each other. Asuka comes to the apron and spits Green Mist on Rhea, who ducks it and Liv gets the green mist in her eyes. Rhea kicks Asuka to the floor to eliminate her. Liv hits Codebreaker/Oblivion on Rhea but Rhea hangs onto the ropes. Liv goes to punch her arms but Rhea hits her with hurricanrana using the ropes to get eliminate her. Rhea wins.
Winner – Rhea Ripley
Rhea Ripley stands tall in the corner and points at the WrestleMania sign as the pyro goes off.
---
We are getting a special performance from Hardy now.
Roman Reigns(c) vs Kevin Owens – WWE Universal Championship
Kevin Owens comes out first. He is hyped and screams his lungs out. Roman Reigns makes his grand entrance, but only has Sami Zayn and Paul Heyman with him. As they reach ringside, Roman tells Sami that they got to take care of the KO problem now. Roman enters to the ring to complete his entrance.
Sami Uso chants as Roman and Owens circle in the ring. They lock up and Roman hits a shoulder tackle after a chinlock. They circle again before another lockup. Roman puts on a chinlock again before hitting a bigger tackle this time. Owens gets up quickly though. More circling around before another lockup and chinlock. Owens hits a back elbow and a senton on Roman this time.
Owens stomps on Roman after "S##k It" sign to get the crowd going. Owens hits a cannonball and Roman has to leave to the floor for a breather. Owens nails him with punches. Owens whips Roman into the steel steps and hits a senton on the floor. They return to the ring and unloads on Roman. Roman counters a whip to send KO hard into the corner. Roman drops him with an Urinage for a two-count.
Roman chokes KO on the ropes to set up and hit a drive by dropkick to get another two-count. Roman nails KO with punches before putting on a choke. Owens hits punches to midsection before Roman hits a big uppercut to drop him to the corner. KO hits a chop whip draws corner clotheslines from Roman. They trade punches in the middle of the ring now. Roman hits a big boot before KO hits a clothesline. KO nails elbows before Roman kicks at him.
KO hits a clothesline to send Roman to the floor and hits a frog splash on the floor. Back to the ring, KO hits a frog splash from the top rope for a two-count. Roman counters a superkick with a sit-out powerbomb for a quick two-count. Sami is concerned when Owens was about to be put off. Roman signals and goes for a Superman punch. KO ducks it and hits a German suplex. Roman get sup and hits a Superman punch but KO kicks out again.
Sami jumped in anticipation of a pin there and seems conflicted now. Owens avoids a spear and sends him into the ring post. Owens hits a superkick and senton, but Roman kicks out. Owens gets to the top now. Roman decks him with punches. Roman gets to the top now and they trade more punches. KO hits headbutts and an elbow to drop Roman off. Owens slips from the top rope. Owens recovers but misses a moonsault. Roman hits a spear on Roman but Owens kicks out again.
KO blocks a spear before Roman blocks a stunner. Roman sends KO into the referee to put him down. Owens manages to hit a pop-up powerbomb, but the referee is not there to count the pin. Roman hits Owens with a low blow. Roman tells Sami to get a chair now. Sami brings it out but is a bit conflicted when he hands it to Roman. Owens hits Roman with a stunner but Roman kicks out.
Sami is breathing heavy on the ringside. Heyman is on him. Roman blocks a po-up powerbomb and hits a spear but Owens kicks out. Sami is pacing at the ringside. He screams at Owens to stay down. Roman comes out to the floor and hits a spear to take Owens through the barricade. Roman takes Owens back to the ring. Owens comes out from the other side. Roman slams Owens on the steel steps. Sami could not watch it.
Roman blocks a pop-up powerbomb and hits a spear but Owens kicks out. Sami is pacing at the ringside. He screams at Owens to stay down. Roman comes out to the floor and hits a spear to take Owens through the barricade. Roman takes Owens back to the ring.
Winner – Roman Reigns
The Usos and Solo Sikoa comes and have garlands in their neck. Jey goes to put one garland on Sami but Roman stops him. Roman tells The Usos to beat up Owens. They unload on him with punches before hitting him with 1-D. Roman tells them to put KO in the corner while he stands putting his hands over Sami's shoulders. Solo hits KO with a hip attack with a chair around his neck. Sami is getting more and more conflicted now. He has his hands on his head. Roman gets some handcuffs to get KO up on the second ropes. The Usos batter KO with superkicks. Atleast more than 10 superkicks.
Roman now gets a steel chair. He tells KO that Sami is family now and if he disrespects Sami, he disrespects Roman. Roman was about to swing the chair on Owens when Sami finally gets in between them. Sami tells Roman that this is beneath Roman as he is the Tribal Cheif. Roman hands the chair to Sami. Sami says he does not want that.
Sami says he doesn't want that. Roman tells him to hit KO with it. Roman tells Sami that he loves him, cares about and gives him everything while Owens just dragged him down. Sami is still very conflicted.
Sami starts crying. Roman asks him why is he crying and if he thinks this is just a game. Roman says this is his life. Sami hits Roman with the steel chair. The crowd goes berserk. Jey asks Sami what has he done. Jimmy nails Sami with a superkick. Solo hits Sami with the Samoan Spike. Roman also gets up and tells everyone to beat Sami up. Jey does not join the attack. Roman asks him to beat up Sami but Jey just leaves the ring.
Jey is in tears as he walks back. Roman starts unloading on Sami with steel chair after steel chair. This is the most brutal version of Roman so far. Jey reaches the stage now and continues to walk back. "F##k You, Roman" chants start from the crowd.
Roman peels off some petals off a garland and throw them on Sami. Roman leaves the ring with Jimmy, Solo and Heyman. He looks back at Sami Zayn and Kevin Owens laid out in the ring. The show goes off the air.