WWE Royal Rumble 2020 Match Card, Storylines & Tickets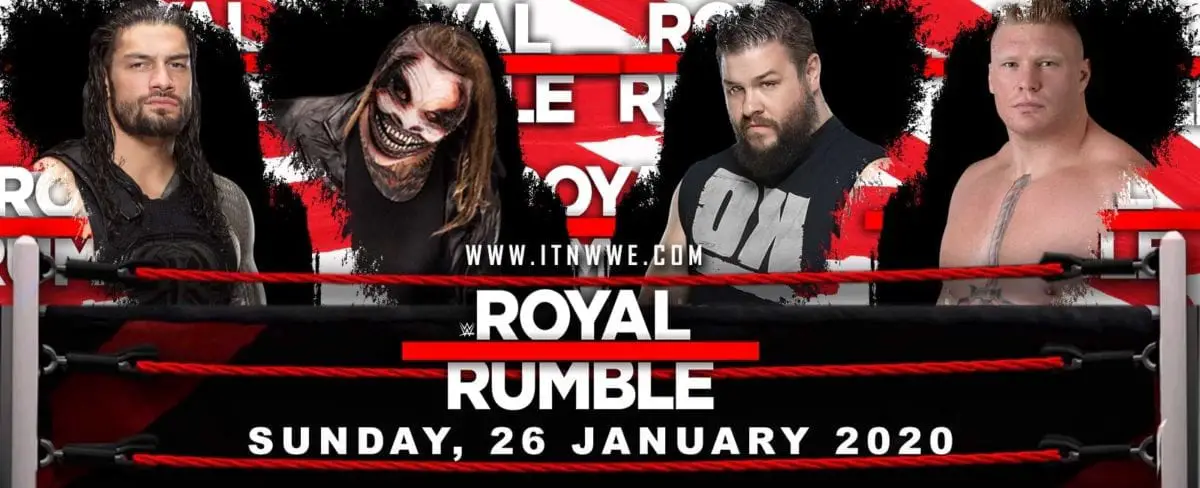 Check out the WWE Royal Rumble 2020 match card, storylines, date, location, tickets, start time and more details below.
Date- 26 January 2020
Location- Minute Maid Park, Houston, Texas, United States
Time- 7 PM EST(27 January 2020 12 AM GMT/4:30 AM IST)
Pre-Show- 5 PM EST(10 PM GMT/27 January 2020 2:30 AM IST)
WWE Royal Rumble 2020 will once again air from a stadium with the Minute Maid Park in Houston, the home for Houston Astros of Major League Baseball. This will be the first big event from WWE for the 2020s.
WWE Royal Rumble 2020 Match Card & Storylines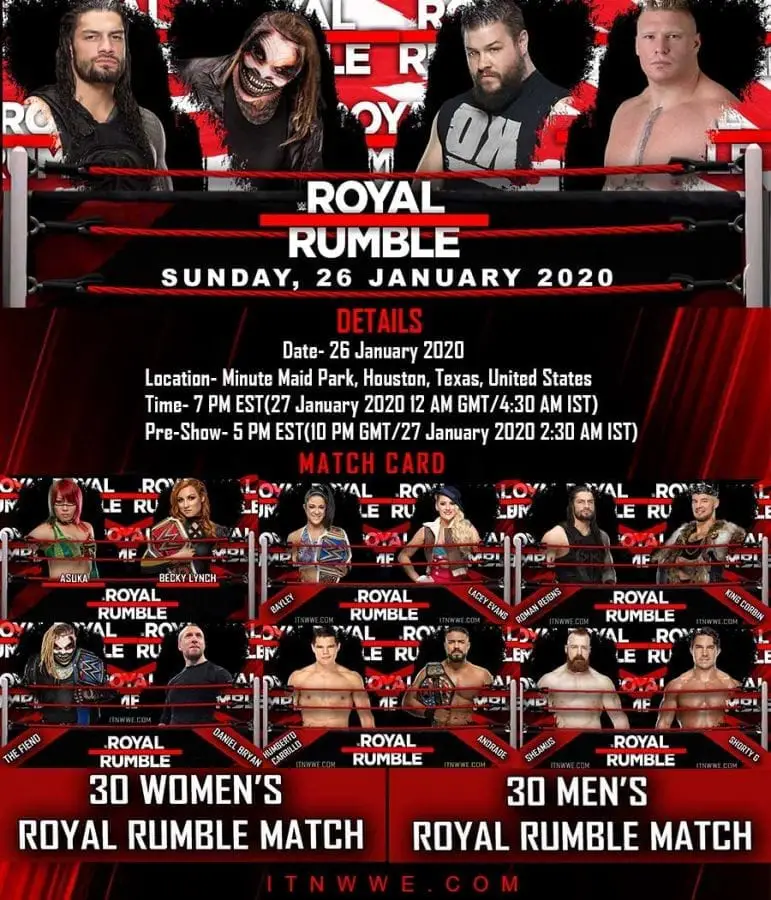 The Fiend Bray Wyatt(c) vs Daniel Bryan- WWE Universal Championship Match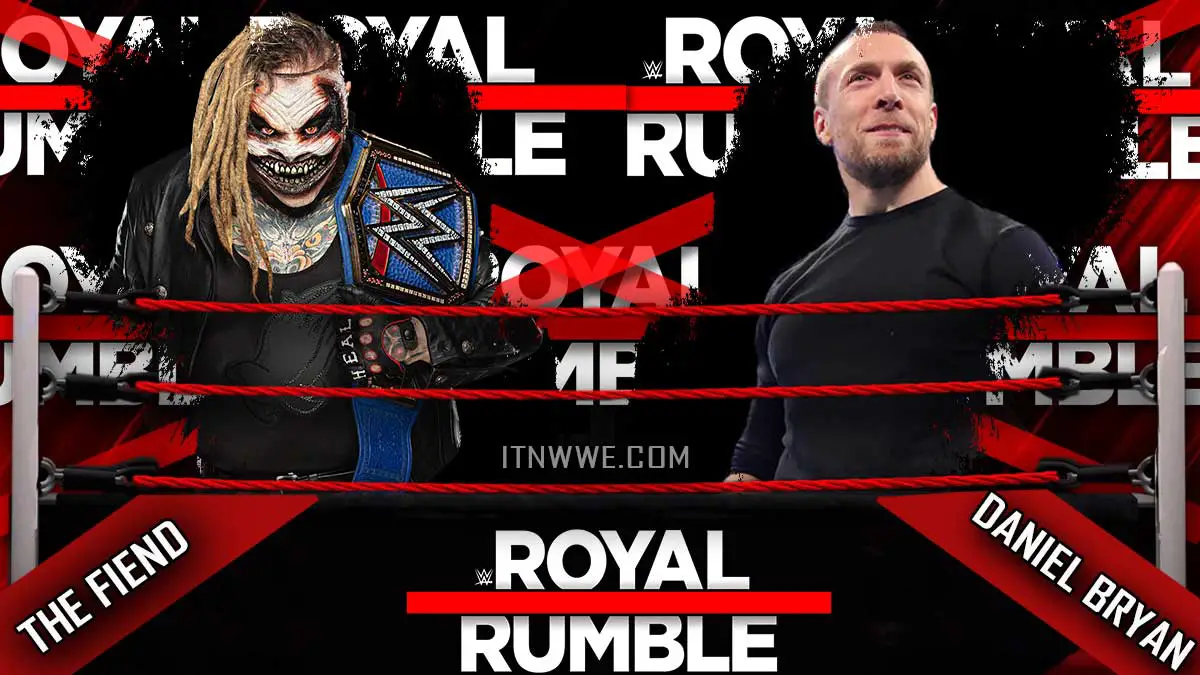 Storyline- After moving to SmackDown, The Fiend started a feud with Daniel Bryan. Daniel Bryan agreed to a match against the Fiend at Survivor Series, only if the title is on the line. The Fiend successfully retained the title at Survivor Series.
On the next SmackDown episode, Daniel Bryan cut a promo, saying that his match against the Fiend had made him realize that fans are still behind him and announced the return of Yes Movement. The Fiend attacked him just after this and ripped off his hair.
Bryan then went missing for the next two weeks, returning only at WWE TLC to attack Bray Wyatt after his match against the Miz. Bryan later won the triple threat #1 contender match for the right to face The Fiend at WWE Royal Rumble.
On 17 January SmackDown, Kane returned to WWE after six months. The Fiend attacked Kane but Daniel Bryan made the save. But before Bryan could hurt the Fiend, he disappeared. Frustrated by this, Bryan asked for the strap match stipulation for the match so that the Fiend could not escape during the match.
Becky Lynch(c) vs Asuka- WWE RAW Women's Championship Match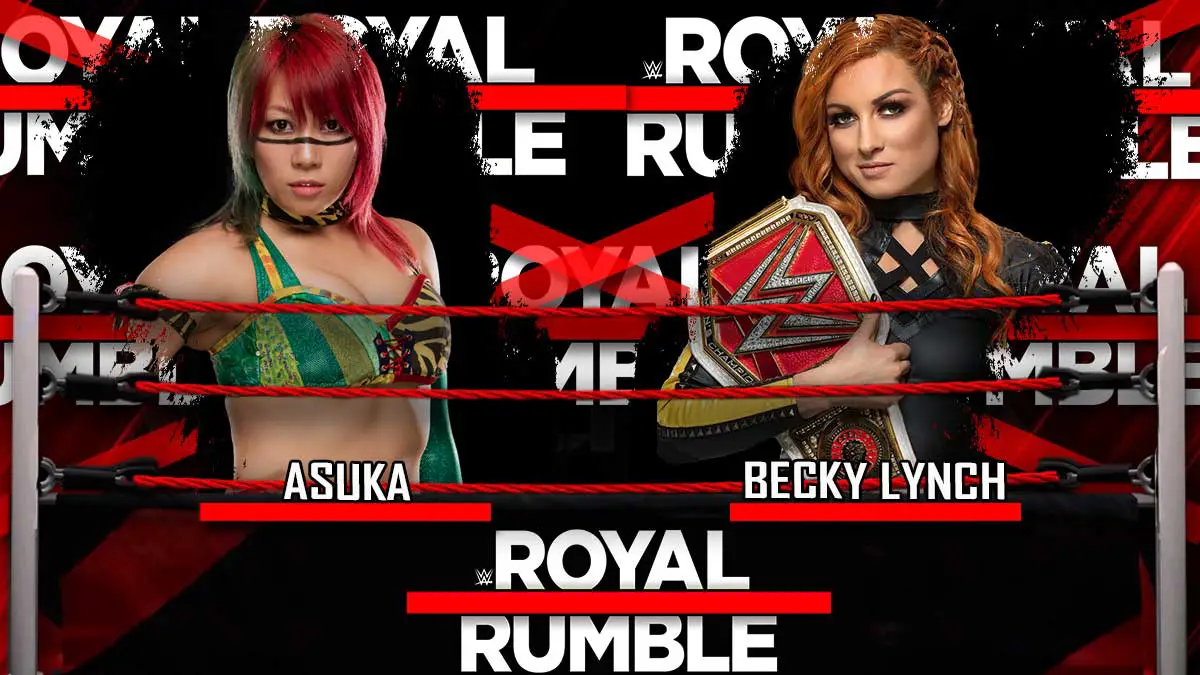 Storyline- The storyline between Asuka and Becky actually started before at WWE TLC 2018. Ronda Rousey's interference meant that Asuka was able to take away the WWE SmackDown Women's Championship from Becky. Later, Asuka successfully defended the same title against Becky at Royal Rumble 2019.
Fast forward to 8 months later, the rivalry was reignited in a tag team match where Asuka, now a heel and WWE Women's Tag Team Champion, used green mist on Becky to pin him. This was the first time in 5 months that Becky got pinned. A few more tag team and handicapped matches followed this and every time Becky fell short.
At WWE TLC 2019, the scene repeated itself with Asuka standing on top of the ladder and retaining her tag team title. After this, Becky pushed for the singles match against Asuka, even if meant that she had to put her title on the line. Asuka agreed to the match as she would very much like to become Asuka Two Belts!
Becky forced WWE to book her against Asuka by refusing to sign a new contract unless she gets her match. On 6 January episode of RAW, Becky punched Asuka in the face when Asuka came out to mock her.
On the go-home edition of RAW, Becky defeated Kairi Sane(Asuka's tag team partner). Just as the match finished, Asuka hit Becky with the shining wizard and went on to put her in Asuka Lock, going into the Royal Rumble with an advantage.
Bayley(c) vs Lacey Evans – WWE SmackDown Women's Championship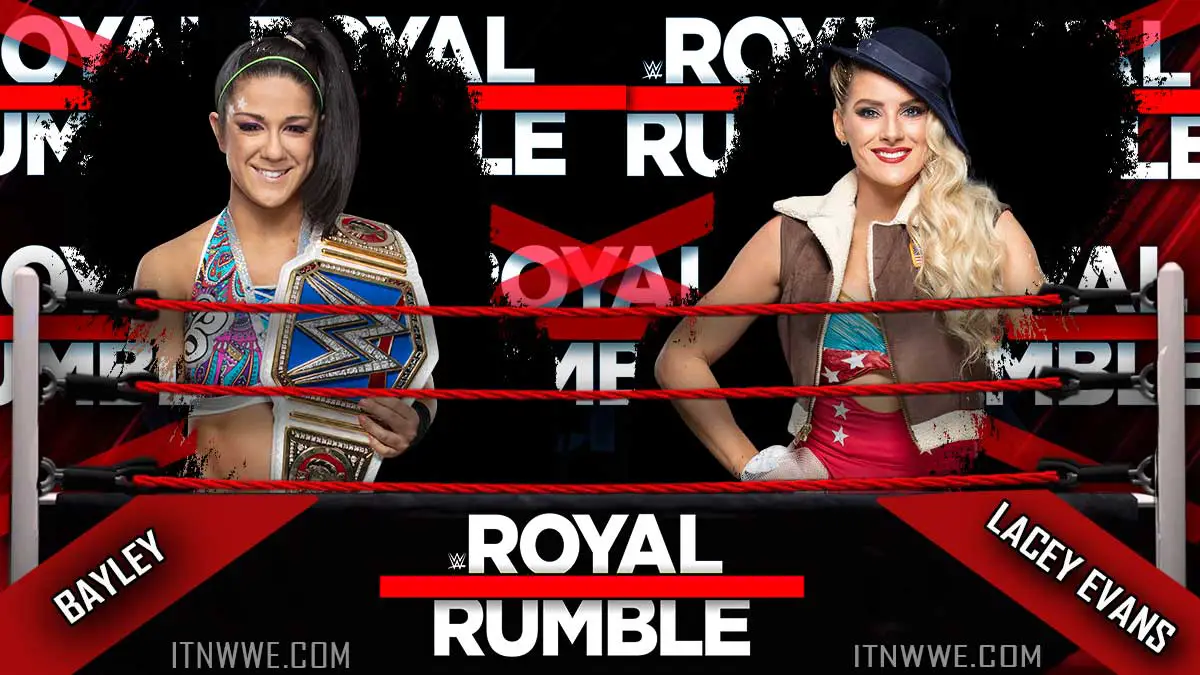 On the SmackDown episode of 29 November 2019, SmackDown Women's Champion Bayley and Sasha Banks criticized SmackDown's women's division for its poor performance. Lacey Evans confronted them and ended up hitting Banks with the Women's Right and turned a babyface in the process. Next week, Bayley ambushed Evans after her match.
After Bayley defeated Dana Brooke on 20 December episode, she and Banks ganged up on Brooke. Evans came out to make the save and challenged Sasha to a match. That match ended in a double count-out after Sasha tried to argue with Evans' daughter who was in the front row of the crowd.
After a couple of tag team battles, Evans was announced to face Sasha on 10 January 2020 episode of SmackDown. But their match kept getting postponed for the next two weeks, first due to a no-show from Banks and then due to an injury. Next week, Bayley taunted Evans from the Titantron, leading to a brawl between them. Evans defeated Bayley in a non-title match and earned the title shot for Royal Rumble.
On the go-home edition of SmackDown, Lacey Evans and Bayley were involved in a brawl that lasted for several minutes and over several segments.
Andrade(c) vs Humberto Carrillo – WWE United States Championship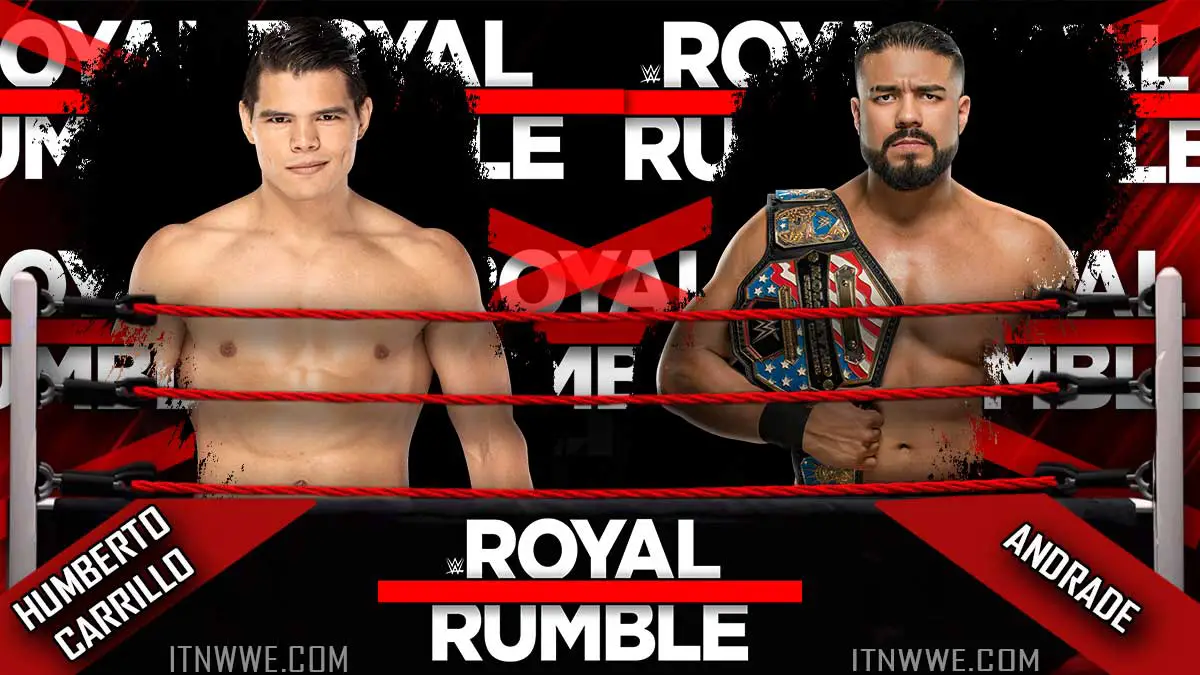 Andrade won the WWE United States Championship from Rey Mysterio at a WWE Live Event at Maddison Square Garden in New York on 26 December 2019. After this, he successfully defended the title against Mysterio on two occasions at RAW.
After his second defense in a Ladder match, Andrade continued to beatdown Mysterio. A man, who was wearing Mysterio's mask, came out to save him from the attack. It turned out to Carrillo who forced Andrade to retreat.
After this, Carrillo put out a challenge for Andrade to put his title on the line against him in a match at WWE Royal Rumble 2020. WWE later confirmed that Andrade had accepted the challenge and made the match official.
Roman Reigns vs King Baron Corbin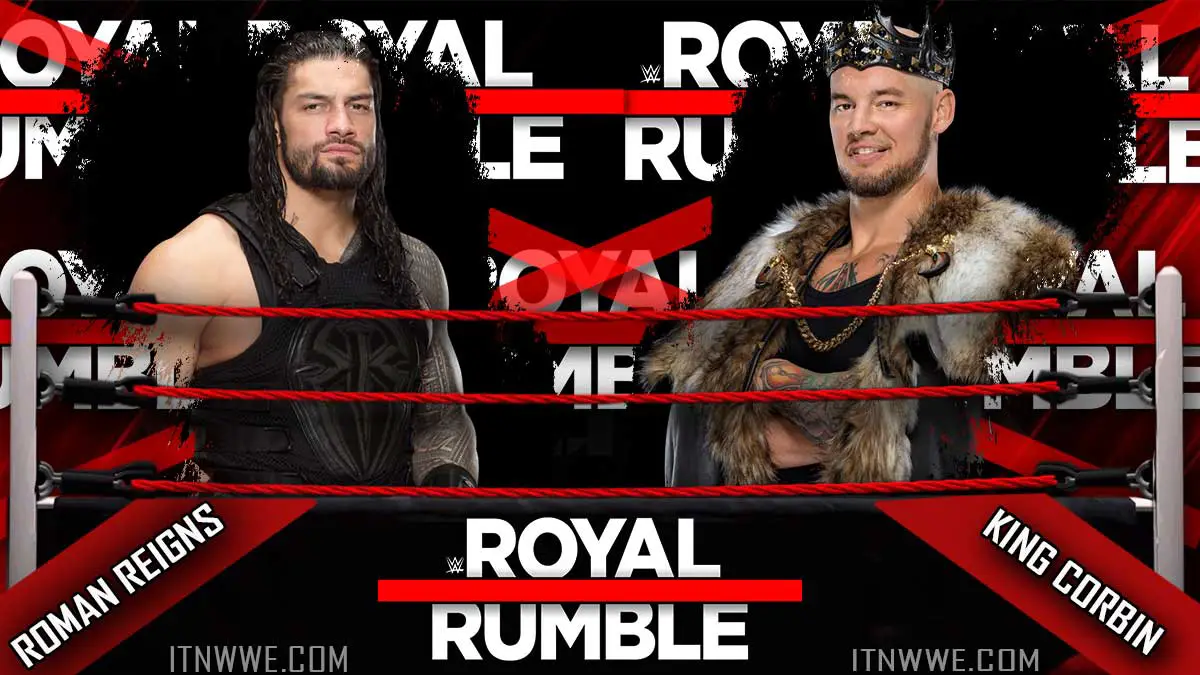 Roman Reigns and King Corbin's rivalry started before Survivor Series when Roman Reigns was made the captain of SmackDown's Survivor Series. Corbin defeated Roman in a singles match in November after some interference from Dolph Ziggler and Robert Roode. At Survivor Series, Baron Corbin interfered with his SmackDown team members, which led to Roman Reigns hitting him with a spear and getting Corbin eliminated from the match.
Their back and forth would continue further until their match at WWE TLC. In between Roman had matches against Robert Roode and Dolph Ziggler. After his match against Ziggler, Corbin's security, Corbin and Ziggler overpowered Roman and went to throw dog food on him.
Corbin once again managed to get a win against Roman in the TLC match with interference from Dolph Ziggler and the Revival. After their match at TLC, Roman and Corbin started a big brawl that closed the TLC PPV.
The storyline continued further when Roman attacked Corbin before his #1 contender match on SmackDown episode of 27 December 2019. Roman Reigns announced his entry to the Royal Rumble next week before the tag team match between the teams of Roman Reigns & Daniel Bryan vs Corbin and Ziggler. The Fiend attacked during the match, leading to Corbin and Ziggler handcuffing Roman again. But before they could force him to eat more dog food, The Usos returned to make the save.
Next week, Corbin claimed that Roman was afraid to face him and that's why he has entered the Royal Rumble to avoid a match with him. In reply, Roman challenged him for a singles match at Royal Rumble. Later in the night, a match between Corbin & Ziggler and the Usos took place. A brawl started near the end of the match and the return of Robert Roode turned the tide in Corbin's team's favor.
On 17 January SmackDown, Roman Reigns defeated Robert Roode in a tables match with the stipulation that the winner will get to choose the stipulation for the Royal Rumble match. After the win, Roman choose the Falls Count Anywhere stipulation for the match.
Sheamus vs Shorty G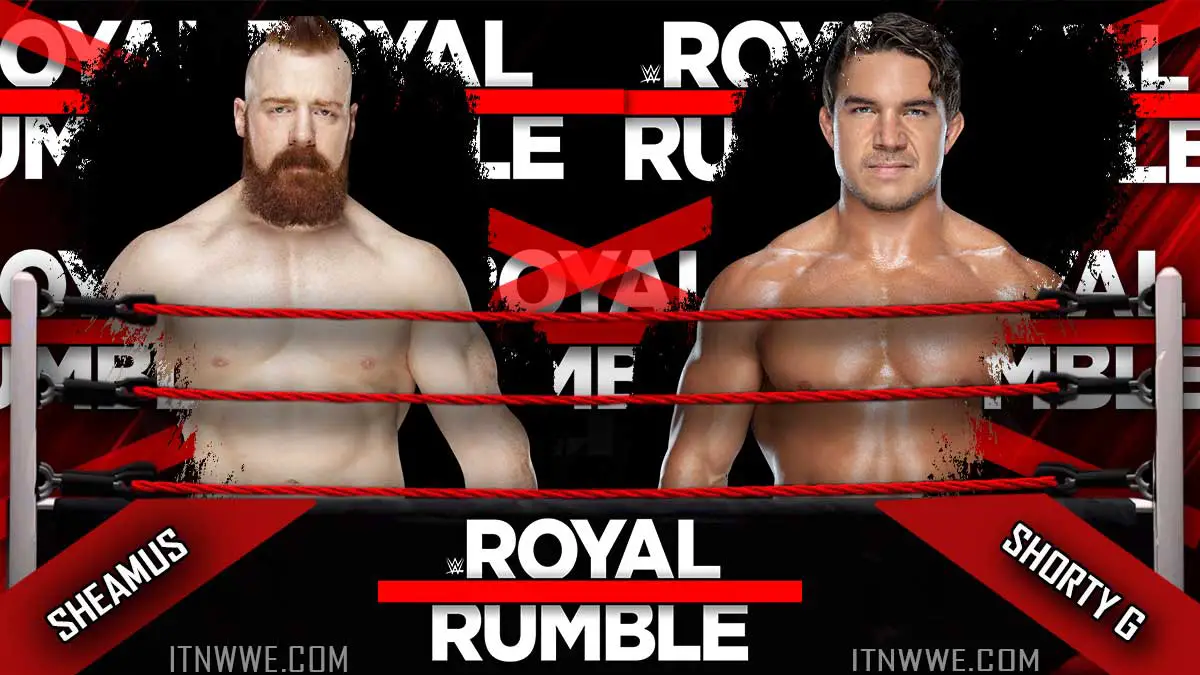 WWE Universe got the first glimpse of Sheamus on 29 November 2019 episode of SmackDown in a recorded vignette. In the video, Sheamus told that SmackDown stars have become soft and he will return to rule over it. Over the next several weeks, similar vignettes were aired with Sheamus continuing to tease the SmackDown roster.
On the January 3 episode, Shorty G was attacked by The Revival and Sheamus returned to force them to run away. After this, Sheamus delivered a Brogue Kick to Shorty G out of nowhere to confirm that he was still a heel. Next week, Sheamus claimed that Shorty G embodied everything wrong with SmackDown and continued to target him leading to a match getting fixed for the Royal Rumble.
30 Men Royal Rumble Match
The traditional 30 men Royal Rumble match will be taking place at the show. Below is the list of participants.
Roman Reigns

Brock Lesnar(entrant at #1 slot)

AJ Styles
Randy Orton
Ricochet
Rey Mysterio
Drew McIntyre
Erick Rowan
Elias
King Baron Corbin
Dolph Ziggler
Otis
Tucker
Rusev
Bobby Lashley
Aleister Black
Buddy Murphy
Braun Strowman
Shinsuke Nakamura
Seth Rollins
Kevin Owens
Samoa Joe
John Morrison
The Miz
30 Women Royal Rumble Match
This will be the third year that women's Royal Rumble match will also be taking place. Below is the list of participants.
Charlotte Flair
Alexa Bliss
Nikki Cross
Sarah Logan
Natalya
Carmella
Dana Brooke
Additionally, there were plans for the WWE Intercontinental Championship match between Braun Strowman and the champion Shinsuke Nakamura also. A couple of matches are expected for pre-show also.
Official Website – WWE Royal Rumble