WWE RAW Results & Live Updates January 9, 2022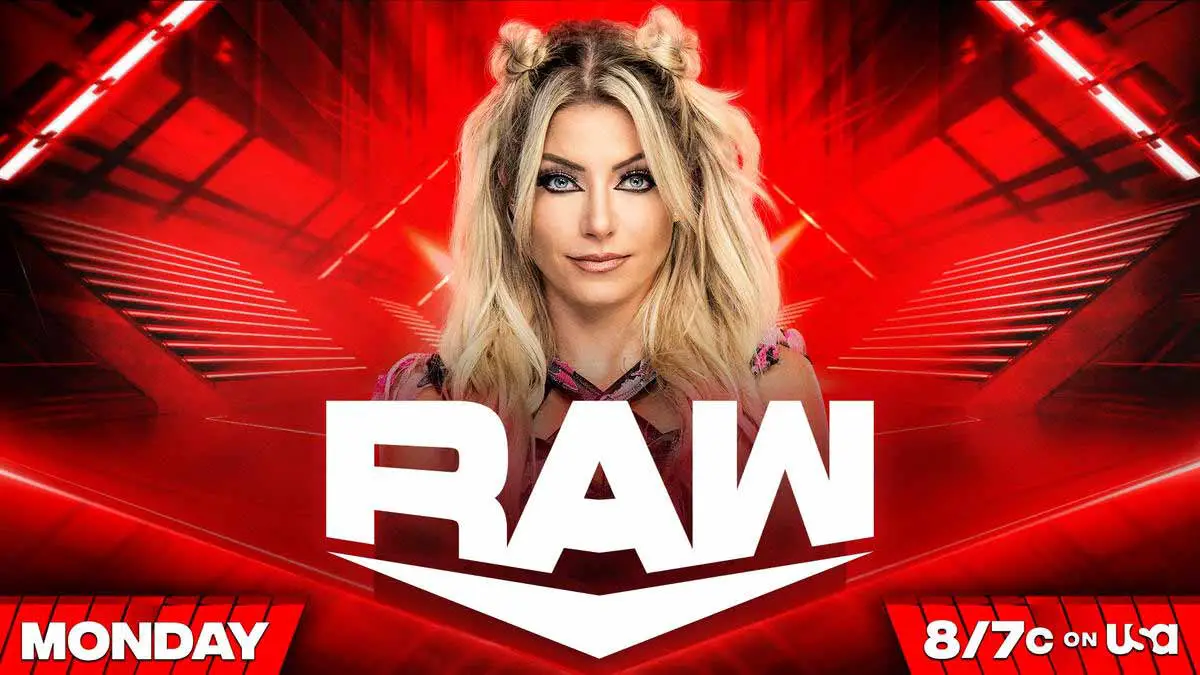 WWE presented the second WWE RAW episode of 2023 on January 9, which was also episode #1546 in the overall RAW series. The show continued the build-up for Royal Rumble 2023 event.
WWE had only advertised Alexa Bliss' segment where she would explain her action from last week where she brutally attacked Bianca Belair after seeing Uncle Howdy mask and Firefly Fun House logo. Will she finally turn back to her "Lilly" character?
For January 9 episode, WWE also teasing about the next storyline for United States Champion Austin Theory after he defeated Seth Rollins last week. We can expect more names to be announced for men and women Royal Rumble matches.
Bayley face Mia Yim in a singles match. Kevin Owens appeared and faced Baron Corbin. The Bloodline also made an appearance as Solo Sikoa faced Dolph Ziggler.
Check below for the results from WWE Monday Night RAW January 9, 2023 episode with winners, live updates, highlights and complete action.
RESULTS
Kevin Owens defeated Baron Corbin in a singles match via pinfall.
Bayley defeated "Michin" Mia Yim in a singles match via pinfall.
Rhea Ripley defeated Candice Le Rae in a singles match via pinfall.
Solo Sikoa defeated Dolph Ziggler in a singles match via pinfall.
Judgment Day(Finn Balor, Damian Priest & Dominik Mysterio) won the Tag Team Turmoil Gauntlet Match to get a shot at WWE RAW Tag Team Championship

Judgment Day(Finn Balor & Damian Priest) eliminated The Good Brothers(Luke Gallows & Karl Anderson) via pinfall.
Judgment Day(Finn Balor & Damian Priest) eliminated The Hurt Business via pinfall
Judgment Day(Finn Balor & Damian Priest) eliminated Alpha Academy via pinfall.
Judgment Day(Dominik Mysterio & Damian Priest) eliminated The Street Profits via pinfall.
LIVE UPDATES
Last Man to Pin Roman!
Kevin Owens opens the show and is in his ring gear. He acknowledges huge cheers for him before starting to talk about his match against Roman Reigns at Royal Rumble. JBL interrupts him as he comes out to the stage. JBL takes the shot at the crowd first before saying that nobody believes that Owens will beat Roman. So, he wants to introduce the last man to pin Roman, Baron Corbin.
Corbin comes out and calls Owens a loser. Owens has dug his head into the turnbuckle after getting frustrated with all. Corbin announces himself for Royal Rumble and says he will win that match and beat Roman Reigns once again, but this time it is in the main event of WrestleMania. JBL and Corbin ask Owens to pay attention. Owens says they have not said anything of interest. He says he was dressed to fight because he expected The Bloodline to interrupt him, but a match against Corbin will also do. More back and forth and the match is official.
Kevin Owens vs Baron Corbin
Corbin rushes Owens when JBL distracts him. Corbin throws his punches before sending Owens to the corner. He whips Owens from corner to corner before more shots. Owens walks away from a corner running tackle in the corner. Owens hits a couple of clotheslines before a spinebuster and a senton. Corbin rolls out of the ring to avoid a cannonball. Corbin ends up hitting a chokeslam on the apron on Owens. We cut to a break.
Owens hits a cannonball in the corner as we return. Owens goes to the top. Corbin hits some punches and joins him on the top. Owens hits a headbutt to drop him back. Owens hits a Swanton bomb to get a two-count. Corbin blocks a stunner but Owens hits a superkick. Corbin avoids a pop-up powerbomb before hitting a DDT. Owens connects with a couple of elbow. Corbin hits Deep Six to get a near fall.
Corbin hits punches and kicks before getting Owens off the mat. Corbin hits a big punch but Owens hits a kick to midsection and hits a Stunner to get the pinfall.
Winner – Kevin Owens
Owens sees Jey Uso and goes to attack him near the barricade. Jimmy Uso and Solo Sikoa also come in and start beating up Owens. Owens tries to fight back but Solo hits a big punch to bring him under control. Owens throws chairs at them. He hits Solo with a chair and forces them back away. Adam Pearce brings out security to get things under control.
After the break, Adam Pearce cuts off The Usos and Solo Sikoa as they were leaving the arena. Pearce informs them about a tag team turmoil tonight with the winner getting a shot at Tag Team titles on SmackDown. Pearce tells Solo that he will face Dolph Ziggler. Pearce gets The Usos escorted out of the building.
Uncle Howdy Comes to RAW!
We get a recap of how Alexa Bliss lost control last week. We are told that Bianca had stitches on her mouth. Alexa Bliss suddenly appears and stands on the announce table. Bliss says Bianca has run and hide because she is not afraid of Uncle Howdy or anyone else, she is afraid of her. Alexa says she feels like herself after a long time. She feels like she is in charge again.
The screen starts flickering before Uncle Howdy appears on the screen and asks her if she feels in charge. Uncle Howdy comes out to the stage as we cut to a break.
Bayley vs "Michin" Mia Yim
Bayley comes out with Dakota Kai and Iyo Sky. Mia also makes her entrance. Before the bell, Bayley asks for a mic and says she has a message for Becky Lynch. Bayley says Becky is not here tonight because she could not stand what she has with Kai and Sky or because Becky could stand that she lost to her.
Bayley starts with takedown and unloads. Mia counters in the corner before a takedown of herself and unloads with punches. Mia posses on the ropes after Bayley whips her. Mia tackles Bayley and she rolls to the floor. We cut to a break.
Bayley is in control with a chinlock as we return. Mia gets to her feet and hits punches to the gut. Bayley drops her on the ropes. Mia is on the floor and Bayley hits a suplex on her on the floor. Back to the ring, Bayley gets a two-count. Mia hits punches to mid section. She sends Bayley to the apron but blocks Bayley's cutter. Mia hits a suicide dive to the floor. Mia hits quick kicks to the leg before a Pele kick to the face.
Bayley hits a kick from the apron but Mia hits a DDT to get a two-count. She misses a cannonball in the corner. Mia avoids a suplex and hits a roundhouse kick. Bayley counters a charge to the corner and puts on a backslide pin. She puts her legs to the ropes and gets the pinfall.
Winner – Bayley
The commentary team tells us that Johnny Gargano has suffered an ankle sprain. Candice Le Rae is getting interviewed and says she is looking forward to Royal Rumble match. Rhea Ripley comes in and calls her delusional to think that she could win Royal Rumble. Candice challenges her for a match and Rhea accepts.
---
After the break, the commentary team announces the line-up for Tag Team Turmoil match and it includes Alpha Academy, The Judgment Day, The Hurt Business, The Street Profits & The Good Brothers.
Theory, Rollins & Lashley
United States Champion Austin Theory comes out to the ring. He says "The Champ is Here!" Theory then asks where Seth Rollins is, who was gonna destroy him. The crowd chants "We want Rollins". Theory says he defeated Rollins last week and destroyed him because he is Austin Freakin' Theory.
Seth Rollins' music hits and he comes out on crutches. Rollins throws away one crutch and gets into the ring with one crutch. The crowd sings his theme song. Theory says Rollins is acting like he is 100% when he is not actually. Theory says Rollins is great, but he has surpassed Rollins. Theory announces himself for Royal Rumble.
Rollins cuts him off and says he wants to give an update on his knee. Rollins says his knee is not 100% but it will be 100% in time for Royal Rumble and certainly in time for him to main-event WrestleMania. He just came out to hear the fans in Birmingham, Alabama to sing his song. Rollins says, "See You at Royal Rumble" and leaves the ring.
Rollins leaves the ring and Bobby Lashley's music hits. Lashley gets past Rollins as Theory screams not for him to get into the ring. Lashley ducks a crutch shot and hits a spear on Theory and throws him to the floor. Lashley announces for Royal Rumble.
Rhea Ripley vs Candice Le Rae
Rhea talks smack and Candice fires with punches on her. Candice avoids a charge and rolls up Rhea for a two-count. Rhea misses a charge to the corner. Rhea blocks a tornado DDT and slams Candice face-first into the mat. Rhea whips Candice from corner to corner before a blow to the back. She hits corner tackles before throwing Candice across the ring a couple of times.
Rhea goes for a superplex but Candice slips out and hits an avalanche German suplex. Candices side-steps and Rhea falls to the floor. Candice goes for a dive but Rhea catches her and throws her into the barricade. Rhea puts on the cloverleaf on the floor and throws Candice into the barricade a few more times. Rhea throws her back to the ring and hits Riptide to get the pinfall.
Winner – Rhea Ripley
Bobby Lashley is backstage when MVP comes in and asks him whether he is ready to say thanks to get him re-instated. MVP says Lashley made a mistake and he amended it. He proposes getting back with Hurt Business. Lashley says he has not forgotten what has happened between them. Lashley was cordial in communicating this to MVP. MVP says he is ready for business if he changes his mind.
---
We get a video package on Cody Rhodes' injury and the match against Seth Rollins. Cody talks about going injury free for so long and this being his first major injury.
---
Dolph Ziggler is backstage talking about his match against Solo Sikoa. Mustafa Ali comes in and says how Ziggler declined an opportunity to team up and be a part of the tag team turmoil match. Ali says Ziggler interferred in his title match last month and now he has declined another title opportunity. Ziggler says it is not personal with Ali and tonight is not about title opportunity but getting even with Solo.
---
We get a video package for Bronson Reed. Reed is backstage for an interview and is asked why he chose to help The Miz. The Miz appears and says it was because Reed felt that he is outnumbered. Reed shrugs off Miz and says he will have to pay him if he needs his services.
Dolph Ziggler vs Solo Sikoa
Ziggler unloads with quick punches. Solo pushes him away and hits a running tackle. Ziggler rolls to the floor. Ziggler drops his face on the ropes and gets on his back for a chinlock. Solo slams him to the back before more tackles. Solo keeps working on Ziggler and beats him all around.
Ziggler fights out of a vice grip and stomps on his foot. Ziggler hits a headbutt before unloading in the corner. Ziggler hits a dropkick but Solo does not go down. Ziggler goes for a DDT but Solo blocks it and throws Ziggler to the floor. We cut to a break.
We see Solo hitting a hip attack in the corner as we return from the break. Solo hits headbuts on Ziggler before putting on a chin lock. Ziggler hits elbows to the midsection to break free but Solo hits a Samoan Drop. Ziggler hits back with elbows to cut off Solo's charge to the corner. Solo crashes into the post as he goes for a corner tackle. Ziggler hits a DDT for a two-count.
Ziggler hits a few punches before Solo hits back with a headbutt. Solo goes for Samoan drop again but Ziggler slip out and hits Zig-Zag. Ziggler takes a bit of time to cover and Solo is able to kick out. Ziggler sets up for superkick but Solo catches his leg. Ziggler sets up fameasser but Solo picks him up, throws him up in the air and hits Samoan spike to get the pin.
Winner – Solo Sikoa
The Usos come to ringside through the crowd to celebrate with Solo.
---
We get a recap of how Dominik Mysterio was arrested on Christmas eve and his promo from last week. Dominik is backstage with Judgment Day as he walks out for his appearance on the Miz TV.
---
Bayley is leaving the arena when she is asked for an interview. She gets interrupted by Mia Yim who accuses Bayley of cheating. This leads to Damage CTRL attacking Mia.
Miz TV with Dominik Mysterio
The Miz is in the ring for Miz TV segment. Dominik makes his entrance with Judgment Day. Dominik says one thing he learnt in the prison is that you always roll with your crew. Miz asks him about his experience in jail and Dominik says snitches get stitches. Rhea and others give him the confidence to speak freely.
Dominik talks about horrific stories from the jail where "you push back or get pushed". Dominik talks about how his bunkmate was saying that he will dig a hole in his face. So, Dominik got down and slapped him awake if he got a problem. Miz says he heard that he was only in the county for a few hours. Judgment Day intimidate The Miz and he has to take his words back.
They change the subject to tag team turmoil match and that Balor and Priest will it for shot at RAW Tag Team Championship. The Good Brothers walk out for the match.
Tag Team Turmoil Gauntlet Match – Winner gets a shot at WWE RAW Tag Team Championship
Judgment Day vs The Good Brothers
Anderson starts against Balor. Some back and forth before Anderson hits a tackle to drop Balor. Gallows tags in and hits elbows to Balor's collarbone. Quick tags between The Good Brothers to keep Balor under control. Gallows hits punches to his midsection. Balor slips out of a powerslam and kicks at Gallows' leg.
Priest tags in and Gallows throws him to the corner. Gallows misses a corner splash and Priest hits punches and kicks to take over control. Balor tags in and starts working on Gallows' leg. Gallows hits back with a forearm but Balor tags to Priest. Priest keeps up with the attack to keep control. Priest whips him from corner to corner and hits a back elbow. Gallows counters with a suplex.
Anderson tags in and hits quick moves on Priest. Balor is knocked off the apron. Gallows sends Priest to the corner and hits a sidekick. Balor comes back to distract Anderson. Priest pulls Anderson out and sends him into the steel steps to take us to a break.
Anderson hits a neckbreaker as we return on Priest. He knocks off Balor from the apron and tags in Gallows. Gallows hits quick moves on Balor. They go for Magic Killer on Balor but Rhea Ripley interrupts to allow Priest to cut off. Gallows takes Priest to the floor. Balor rolls up Anderson to get the pinfall. The Good Brothers are eliminated.
Judgment Day vs Hurt Business
Cedric Alexander and Shelton Benjamin come out and quickly go after Balor. Cedric hits a suicide dive on Balor on the floor while Shelton beats up Priest. Cedric brings Balor back to the ring and hits some quick moves. Priest gets into the ring and so does Shelton for some quick action.
Shelton hits German suplexes on both Balor and Priest. Cedric tags in and Benjamin drops Priest with a powerbomb into double knees from Cedric. Benjamin stops Balor from interferring. Cedric puts on a waistlock on Priest. Priest gets to his feet but Cedric hits handspring elbow but Priest kicks out. Priest nails him a big right. Balor tags as Priest hits a powerbomb on Cedric. Balor hits Coupe de Grace and gets the pin while Priest keeps Shelton away. Hurt Business are eliminated.
Judgment Day vs Alpha Academy
Balor hits a slingblade on Gable as we return. Priest hits a Broken Arrow to get a two-count. Priest puts on a chin lock. Gable gets to his feet to fight back but Priest throws him to his corner. Balor and Priest keep control on Gable for a while. Priest hits a backbreaker before throwing him to the floor. Balor unloads on Gable on the floor and brings him back for an elbow drop.
Gable hits a back body drop on Balor. Otis and Priest get the tags. Otis hits a clothesline and a back elbow on Priest. Balor comes in and Otis sends him to the corner. Priest is thrown on Balor before Otis hits a corner splash. Otis hits the caterpillar elbow drop on Priest. Otis goes for Vader bomb but Balor pulls Gable on top of him. Priest hits a superkick and a lariat on Otis to get the pin. Alpha Academy are eliminated.
---
Balor is selling his rib injury after the Vader bomb from Otis. Adam Pearce comes out as everyone check on Balor. Pearce says Balor is medically disqualified and the match will be over. However, if Dominik replaces Balor, the match can continue.
Judgment Day vs Street Profits
Ford is in control against Dominik. Ford unloads on him before hits a dropkick. Dominik is thrown to the opposite corner as The Street Profits cut the ring in half. Rhea is screaming mad on seeing Dominik being beaten up. Dawkins hits chops and punches. Quick tags from The Proffits. Dominik fires some punches and elbows. Dawkins throws him across the ring.
Priest tags in and Ford also asks him to tag in. Priest drops Ford with a headbutt to take control. He beats up Ford in the corner as Rhea also helps him while the referee gets busy in keep Dawkins away from the ring. Priest whips Ford hard into the corner. Ford avoids a back body drop and hits some quick moves. Priest's mouth has some blood coming. He gets mad but Ford uses a low bridge to send him to the floor. Priest tackles Ford onto the announce table before Dawkins hits a suicide dive on both his opponents. We cut to a break.
Priest unloads on Dawkins as we return. Dominik comes in and puts on a side headlock. Dawkins gets back to his feet. Dawkins breaks free and hits a sunset flip. Dominik decks him and tags in Priest. Priest hits a body slam for a two-count. Ford gets frustrated with Rhea running her mouth. Dominik tags in and Dawkins starts to fight back. Dawkins hits a back elbow.
Ford gets a tag and hits enzuigiri on both Domink and Priest. He hits a crossbody on both before he hits a dropkick to send him to the floor. Ford hits a back body drop and a spinebuster. Dawkins and Ford hit an assisted slam on Dominik but he kicks out of the pin. Priest gets a tag and hits an overhead kick to Dawkins. He kicks Ford to the floor. Priest hits a lariat on Dawkins but he kicks out of the pin.
Dawkins tags to Ford who is dropped by Priest to his corner. Ford sends Priest to the floor as Dominik tags in. Dawkins hits a dive on Priest. Ford also hits a top con hilo on Priest. He hits 450 splash on Dominik but Priest breaks the pin. Dominik rolls up Ford and puts his feet on the ropes. Rhea helps Dominik in keeping the pressure and getting the pinfall.
Winners – Judgment Day
All four member of the Judgment Day celebrate as they go to the ramp. The Usos come out to have a face-off at the stage as the show goes off the air.