WWE RAW Results & Live Updates February 20, 2023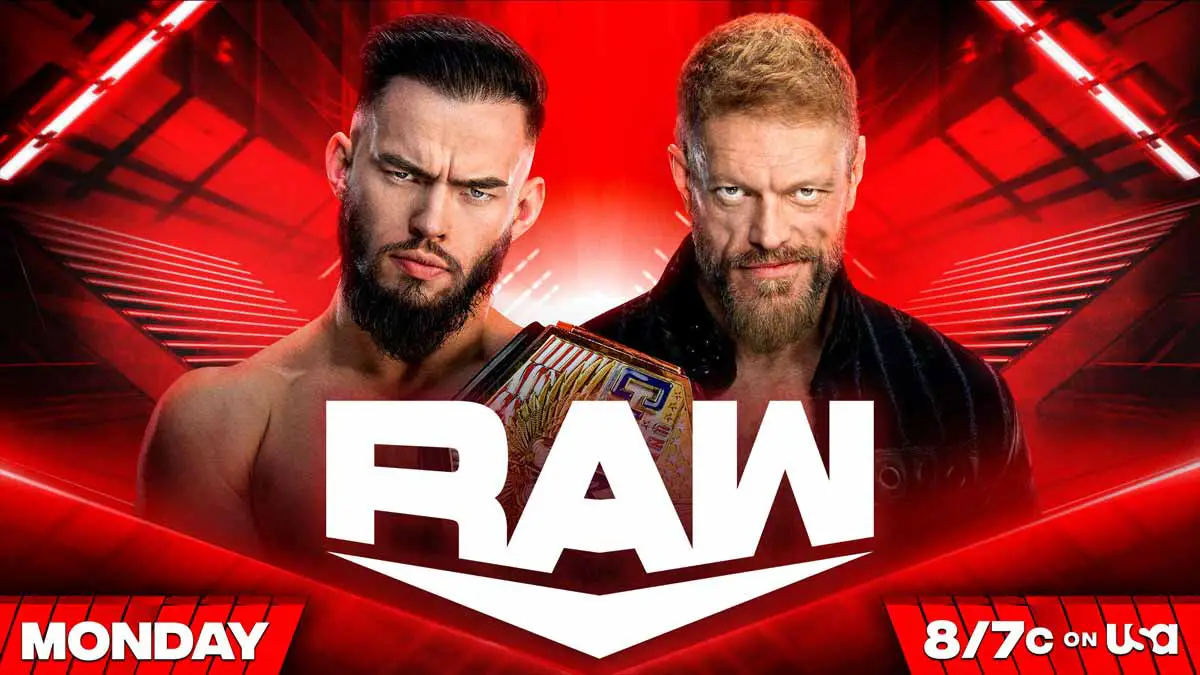 Welcome to the live results blog for WWE RAW February 20, 2023 episode which dealt with the fall out from Elimination Chamber 2023 and continued the build-up for WrestleMania 39.
Edge contested for United States Championship as he has answered Austin Theory's open challenge. Did Judgment Day leave him alone finally, or did we see them taking revenge for the loss as Elimination Chamber?
Mustafa Ali took on Dolph Ziggler in a grudge match. Seth Rollins addressed Logan Paul after he cost him Elimination Chamber match on Saturday as well as faced The Miz in a singles match. We also got a reaction from Bobby Lashley on Brock Lesnar choosing to cause a DQ and then destroying him with F5 through the announce table.
WWE RAW Women's Champion Bianca Belair is set to face Asuka at WrestleMania 39. How did she react to her new challenger? Cody Rhodes had a promo segment with Paul Heyman as his storyline with Roman Reigns continued.
Tune in below as we bring results and live updates from WWE Monday Night RAW February 20, 2023 episode with complete action, highlights and more.
WWE RAW Results February 20, 2023
Sami Zayn defeated Baron Corbin in a singles match via pinfall.
Mustafa Ali defeated Dolph Ziggler in a singles match via pinfall.
Asuka defeated Nikki Cross in a singles match via submission.
Seth Rollins defeated The Miz in a singles match via referee stoppage.
Bronson Reed defeated Chad Gable in a singles match via pinfall.
Austin Theory(c) defeated Edge in a singles match via pinfall to retain WWE United States Championship.
Live Updates
Sami & KO
The show opens with a recap of the main event of Elimination Chamber where Roman Reigns retained the title despite Sami Zayn's spirited performance in his hometown. We also see how Jimmy Uso interfered in the match while Jey blocked Roman's chair attack on Sami, and Kevin Owens made the save in the end.
Sami Zayn makes his entrance after the video package. Huge crowd support behind Sami. Sami gets emotional once again as he soaks in all the chants. He takes the mic and says the feeling that has come out in last couple of days is gratitude. "You Deserve It" chants from the crowd. He talks about falling short of beating Roman infront of his own and says he is feeling guilty. He realized now more than ever that the story is never over. But, we are entering the final chapter and he needs to talk to one person now.
Sami asks Kevin Owens to come out. Owens' music hits and he comes out. Huge cheers for Owens also as he takes the mic. Sami says there is a lot that he wanted to say to Owens but he has forgotten everything. He wants to says thank you and sorry. There are a lot of things he has said that there is no coming back. But, there is one thing that Owens has said always is to end the Bloodline. Sami says Owens could not do it alone and niether could Sami do it alone. There is only one way to it and to do it.
Owens says he does not need Sami's apology because his family was in front row in Montreal. He was beaten up by the Bloodline at Royal Rumble while Sami stood by it. But, Owens could not do so at Elimination Chamber when Sami was getting beaten up. Owens says he has been trying to take down The Bloodline alone and will continue to do so. But if Sami needs any help, he should ask his best friend Jey. Owens leaves to the backstage.
The commentary takes over and go through tonight's line-up. We come back to see Sami on the stage now. Baron Corbin attacks Sami from behind and sends him into the barricade as we cut to a break.
After the break, we see Corbin cutting a promo in the ring. He boasts about being the last one beat Roman Reigns. He continues to talk trash about Sami as he recovers on the stage. Several crew members along with Adam Pearce are on the stage with Sami. Pearce lets Sami go after Corbin.
Sami charges to the ring and takes down Corbin with double leg as a referee also gets into the ring. Sami clotheslines Corbin to the floor. Corbin recovers on the floor. He returns to the ring and the referee calls for the bell to start the match.
Baron Corbin vs Sami Zayn
The bell rings and Corbin manages to deck Sami. Corbin takes him down and unloads with some ground and pound. He nails some big blows to Sami's back. Sami fires back with wild swings himself. Corbin hits a chokeslam backbreaker to get a two-count and takes us to a break.
Corbin hits a backbreaker as we return. Sami hits a big boot from the corner. He jumps on Corbin with an elbow strike. Sami hits a spiked DDT next to get a two-count. Corbin hits a punch before Sami throws him to the floor to hit a suicide dive. Sami lines up the Helluva kick but Corbin counters with a lariat. Corbin hits blows to Sami's back.
Corbin hits Deep Six for a near fall. He hits a corner splash. Sami counters with Helluva kick in the other corner and gets the pinfall.
Winner – Sami Zayn
Sami gets a big cheer as he celebrates his win.
---
We cut to a recap of Edge and Beth Pheonix beating Finn Balor and Rhea Ripley at Elimination Chamber. Rhea and Dominik Mysterio are getting miced up for an interview after the break.
Byron Saxton interviews Dominik and Rhea. Rhea is asked about her loss to Edge and Beth. Rhea says Beth agreed that she is a real deal but they still have unfinished business. She says she is not thinking about Elimination Chamber anymore as it is in past. Dominik cuts off Byron for any more questions on Elimination Chamber, otherwise he would show Byron what he learnt to do in prison. He adds that Edge and Beth are just like his dead beat Dad.
Byron asks Rhea about Charlotte's comments on her 2020 win over Rhea. Rhea talks about it for a while. Dominik says he will accompany Rhea to SmackDown as his dad also has a match that night.
---
We get a recap of US title Elimination Chamber match where Logan Paul attacked Seth Rollins, and Austin Theory capitalized on it. We also see Theory's comments in the post show conference, his open challenge and Edge answering it.
Austin Thoery is backstage with Cathy Kelley for an interview. Theory says the headlines should have been about him, but they talk about John Cena now who will be returning to RAW in two weeks. Theory asks where is the respect for the work that he puts in week in, week out.
Dolph Ziggler vs Mustafa Ali
We see Ziggler's comments from last week where he told Ali that someone has to beat up Ali. Ali does a handshake and Ziggler hits him with a quick back body drop. Ziggler runs him over with a clothesline before hitting a jumping elbow in the corner. Ali slips to the floor. He drops Ziggler's arms on the ropes.
Back to the ring, Ali gets some shots going before he hits a gamengiri in the corner. Ali rolls into the ring and Ziggler hits him with a DDT. Ziggler goes for a fameasser but Ali stays on his feet and counters it with a backslide to get the pinfall.
Winner – Mustafa Ali
Ali sarcastically celebrates his win at the ringside.
---
The Miz is with Maryse backstage as Cathy Kelley comes in to interview him. Maryse hands him an envelope. Miz checks it and says this news is even bigger than his basket from halfway line in the NBA All Star Game. Kelley reminds him that it actually did not count. Miz says he will reveal this news next week. Kelley asks him about his losses to Rick Boogs as Miz and Maryse get cosy. Miz says those wins are fluke. Miz gets annoyed as Kelley continues to interrupt Miz and Maryse. Miz then comments how he has molded his protege Logan Paul into superstardom.
Cody & Heyman 2
Cody Rhodes makes his grand entrance to the ring. He takes the mic but before he can say anything, Paul Heyman interrupts him from the big screen. Cody asks Mr. Heyman where he is. Heyman says he is backstage. Cody asks him to come out. Heyman recounts how he was hit with a stunner and a weekend that should have been a trimphant one has turned into a nightmare.
Heyman then starts to talk about Cody's match against Roman at WrestleMania. Heyman says Cody can not beat Roman. The crowd boos but Heyman says the boos won't matter. Heyman then asks Cody what his life would be like if he wins the titles from Roman. Heyman says Cody will not have someone like Heyman with him. He asks how would Cody manage all the compulsions that comes with being a champion.
Cody keeps getting frustrated by Heyman counting down different assignments that a champion has to commit to. Heyman recalls Dustin Rhodes' comments about Dusty being on the road throughout and even when he was at home, he actually was not. Heyman asks if Cody is ready to make that sacrifice. Heyman says Cody's WrestleMania dream will become his personal nightmare. Heyman does a mic drop.
Cody acts frustrated before getting on the mic. He says he has not come face to face with Roman yet, but when they will come face to face, he will tell Roman that he is the greatest Undisputed WWE Universal Champion in WWE ever, but he is here to finish his story and he will finish it at WrestleMania.
---
We see a recap of Asuka winning the women's Elimination Chamber match. Asuka makes her entrance.
---
We see Seth Rollins and Becky Lynch's Joker and Batman skit for WrestleMania Goes Hollywood.
Asuka vs Nikki Cross
The match was about to start when Bianca Belair's music hits and she comes out. Asuka and Nikki pause and watch Bianca come down the ramp and take his place at the commentary table. Nikki ducks a roundhouse kick and takes down Asuka to hit punches. Asuka hits back with quick strikes and hits Muay Thai knee strikes. Nikki goes for a suplex but has to contend by putting Asuka on the ropes.
Asuka hits back with kicks on the apron. Nikki ducks a kick from Asauka and it lands into the ringpost. Nikki hits an inverted DDT on the apron. Asuka is down in the apron as we cut to a break.
Asuka is firing kicks as we return. She drops Nikki with a roundhouse kick. She hits a missile dropkick before hitting a trio of German suplexes to get a two-count. Nikki traps Asuka into the apron cloth and hits her with punches. Back to the ring, Nikki goes to the top and Asuka meets her there. Asuka hits a DDT from the top rope to get a near fall.
Asuka lands more punches and side kicks. Nikki hypes up and asks for more. She ducks a roundhouse kick but Asuka lands another one shortly after. Nikki counters with a Death Valley driver to get a two-count. Asuka counters with a takedown and puts on Rings of Saturn to get the submission.
Winner – Asuka
After the match, Bianca Belair gets into the ring and have a face-off with Asuka.
---
Cathy Kelley is with Carmella backstage. Carmella is miffed with Asuka for her loss at Elimination Chamber. She says she will make Bianca Belair's job easy by taking down Asuka.
Kelley sees Seth Rollins and catches up with him. Rollins says twice now Logan Paul has cost him something. Rollins says everyone knows what he does to people getting in his ways, but since Logan is not here tonight, he will vent his anger on the person who is taking credit for creating Logan.
---
We see how Brock Lesnar choosing to hit Bobby Lashley with a low blow and cause a DQ. We also see Brock Lesnar hitting the referee and Lashley with F5. We cut to backstage where MVP is there to call Lesnar a coward. Omos walks into the ring fran and MVP says Omos has challenged Lesnar for WrestleMania. He asks Lesnar to be in person at RAW to accept Omos' challenge.
Seth Rollins vs The Miz
Rollins starts with a running forearm. He stomps on Miz in the corner. Miz rolls to the floor. Rollins slams his face into the announce table and then into the barricade. Back to the ring, Rollins takes Miz's face until the referee's counts. Rollins clotheslines Miz to the floor and hits him with a dropkick through the ropes to send him over the announce table. Miz runs away from Rollins as he chases him down. Miz manages to catch Rollins with a DDT as we cut to a break.
Rollins is fighting back with punches as chops as we return. Rollins rolls up Miz to counter a clothesline. Miz whips him hard into the corner and hits a clothesline. He counters with a clothesline. Rollins hits knife edge chops and more quick shots. Rollins goes for the stomp but Miz counters with a roll-up. Rollins counters with sunset flip to get a two-count.
Miz trips Rollins off the second rope and hits a DDT. Rollins blocks the Skull Crushing finale but Miz ends up hitting a running knee to get a near fall. Miz hits his signature side kicks. Rollins catches his leg and nails him with a rolling elbow. He follows up with forearms to set up and hit the stomp. Rollins does not go for the cove though. He hits another stomp on Miz.
The crowd gets behind Rollins to hit one more stomp. Miz is not even moving. The referee tells Rollins to stop but he ignores and hits another stomp on Miz. The referee calls for the bell. Rollins gets the win via the referee's stoppage.
Winner – Seth Rollins
Carmella is backstage as Adam Pearce makes her match against Asuka official. Pearce gets a call from Chelsea Green who was sent to Ottawa in US instead of Canada. Pearce replies she can return to RAW next week in Michigan. Green continues to rant but Pearce cuts the call.
Pearce sees Chad Gable and Otis watching themselves in the mirror. Gable wonders why Maximum Male Models have not picked him up. Bronson Reed comes in and taunts them. Otis and Reed stare down briefly.
Ding Dong Hello!
Bayley welcomes us to Ding Dong Hello with Iyo Sky and Dakota Kai. She says she decided to sped this day with her family. She gugs Kai and Sky and says she loves them so much but this audience does not like them. Bayley asks Kai how does it feel to be the greatest women's tag team champions.
Kai replies that it was not possible without Bayley's guidance. Becky Lynch's music hits and she comes out. Becky takes offense on Kai and Sky being called the greatest champions when they have not defended these titles in a long time. Becky says she has plans to take away the tag team titles. Bayley mocks her for not having friends, and asks if Becky would bring Ruth with her as tag team partner. Becky says the world is not ready for that much awesomeness but she has a friend who is ready to be her tag team partner.
Lita's music hits and she comes out. Becky and Lita get into the ring and walk through the Ding Dong door. Becky and Lita go on to challenge Kai and Sky for a tag team title match. Bayley argues that they do not deserve a title match. Becky says Lita is a Hall of Famer and 4-time champion while she is the first woman to win in the main event of WrestleMania and 6-time champion, and this should be enough to warrant a title match.
Becky asks why Kai and Sky are unwilling to accept the challenge when they are the greatest ever. Lita insinuates that they might be afraid. This prompts Bayley to accept the challenge. Kai and Sky argue with Bayley. Becky and Lita take away their titles and poses with them. The face-off between the two teams ends the segment.
---
Byron Saxton interviews Candice LeRae. Candice says Johnny Gargano is banged up after Elimination Chamber. She runs after Nikki Cross when she sees her. Candice asks Nikki why she is following her around. Nikki looks distraught as she says something in low voice which we are unable to hear. Nikki runs away. Saxton asks Candice what Nikki told her. Candice is also looks sad as she says Nikki has told her that all of her friends are gone.
Chad Gable vs Bronson Reed
Gable goes for a side headlock but Reed throws him to the ropes and tackles him. Gable slips to the floor and Reed hits him with a shoulder tackle off the apron. Reed has a face-off with Otis on the floor. Back to the ring, Reed whips Gable hard to the corner. Gable ducks a press from the second rope and puts on an ankle lock. Reed breaks free before some back and forth. Gable fails to hits German suplex due to Reed's size.
Gable manages to drop Reed with a running forearm. Gable hits a diving headbutt to get one-count. Reed hits a clothesline to drop Gable again. Otis is distracted by Maxxine Dupri. Gable blocks a powerbomb before hitting a bridging German suplex. Gable sees Otis talking to Maxxine. Reed hits Gable with a powerslam. He hits Tsunami splash to get the pinfall.
Winner – Bronson Reed
Maxxine leaves and Otis realizes that Gable has lost the match.
Lashley Wants to Walk With Elias
Elias is in the ring and he hopes that Rick Boogs is taking notes when he says this is the time stars are made. Boogs is in fact taking notes backstage. Elias asks who is ready to walk with Elias. He says there must be someone who is ready to take on him. Bobby Lashley's music hits and he walks out to the ring. Lashley hits Elias with a spinebuster.
Elias moves to the floor and Lashley sends him into the barricade and ring post. Lashley hits a spear in the ring before putting Elias out with a Hurt Lock. Lashley takes the mic and says everyone has a plan until The Hurt Lock is locked in. Lashley says Lesnar chose to hit a low blow and it proves that nobody is able to handle Hurt Lock. Not Brock Lesnar and not even Bray Wyatt.
---
Matches are announced for next week- Carmella vs Asuka, Candice LeRae vs Piper Niven, Lita & Becky challenge for Women's tag titles.
---
Edge gets interviewed backstage and says his window to win United States title is closing down. He recalls how his second match for WWE came in this city, but he has not wrestled here for 18 years now.
Austin Theory(c) vs Edge – WWE United States Championship
Edge starts with a takedown after quickly switching from a side headlock. Quick counters before Edge pulls Theory off the apron to drop him face first on the floor. He puts on a side headlock as they return to the ring. He drops Theory once again with a Russian Leg Sweep to take us to a break.
Edge has Theory in a hammerlock. Theory breaks free and kicks at Edge in the corner. Edge slips to the floor as Theory whips him. Edge plays games and lures Theory into hitting a back body drop on the floor. Edge hits an elbow drop on the floor. Back to the ring, Edge puts on another side headlock. Theory fires some punches to drop Edge.
Theory whips Edge hard into the corner, hits a corner clothesline and then hits an exploder suplex to get a two-count. Theory puts on a chin lock now. The crowd gets behind Edge as he gets up to his feet. Theory trips him back to the mat and puts on the chinlock again. Edge gets up again and fires some punches this time. Theory drops him to the turnbuckle with drop toe hold. Theory rolls in and hits a DDT to get a two-count. We cut to another break.
Theory is stomping on Edge as we return from a break. Edge blocks a suplex and fires some body shots. Theory hits back and puts Edge on the top rope. Edge blocks a superplex and drops Theory back to the mat. Edge hits a crossbody to follow up quickly.
Edge hits clotheslines, a back body drop and inverted bull dog to get a two-count. Theory fights out of a suplex and they trade some shots. Theory whiplashes Edge on the ropes after being put to the apron. Edge counters with a pop-up powerbomb for a near fall. Edge misses a spear and crashes into turnbuckle. Edge lands on his feet as Theory hits a suplex.
Edge puts on crossface but Theory gets his leg to the ropes to break. Theory rolls up Edge and tries to use the ropes for the pinfall, but the referee catches him. Edge rolls him up but Theory kicks him into the turnbuckle. Edge counters A-Town-Down to hit Edgecution for a near fall.
Edge gets ready for the spear but Finn Balor runs out to distract him. Edge rolls up Theory after punching Balor off the apron. Theory sends him away to the ropes with a kick out where Balor hits Edge with an enzuigiri. Theory hits A-Town-Down to get the pinfall.
Winner – Austin Theory
Balor attacks Edge after the match and hits him with Coupe de Grace. He hits another Coupe de Grace before the referee intervenes. Balor hits another Coupe de Grace before the show goes off the air.