WWE RAW Results & Live Updates December 12, 2022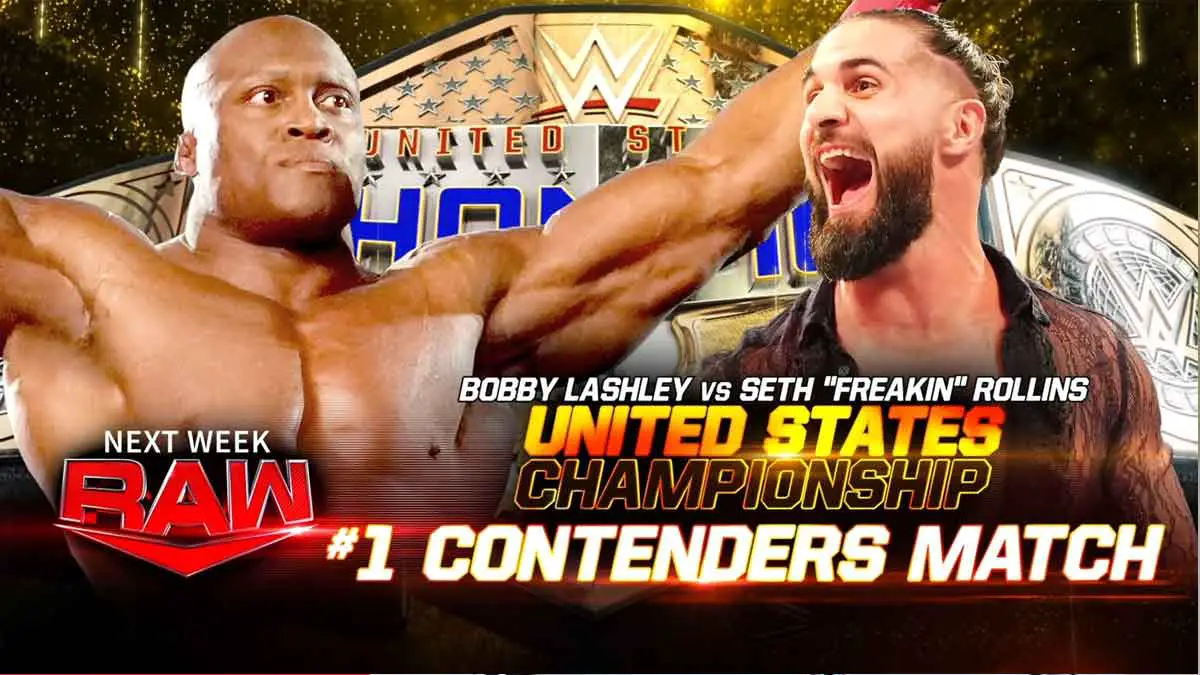 Welcome to the live blog for WWE RAW episode of December 12, 2022, which will be airing from Fiserv Forum in Milwaukee, WI.
Two #1 contenders matches are set for the show. The likely main event of the night will be between Seth Rollins vs Bobby Lashley for a shot at United States Championship. The other #1 contender match will be between Bayley and Alexa Bliss for a shot at RAW Women's Championship.
Candice Le Rae will face off against Iyo Sky as her rivalry with Damage CTRL continues. We can expect from Dolph Ziggler and Mustafa Ali who are after US Champ Austin Theory. It will also be interesting to see what Kevin Owens does next in his rivalry with The Bloodline.
Tune in below as we post results from an exciting episode of WWE RAW December 12, 2022, with complete action, winners, live updates and highlights.
RESULTS
Alexa Bliss defeated Bayley in a singles match via pinfall to become #1 Contender for WWE RAW Women's Championship.
AJ Styles defeated Chad Gable in a singles match via pinfall.
The Judgment Day(Dominik Mysterio, Finn Balor & Damian Priest) defeated Akira Tozawa & The Street Profits(Montez Ford & Angelo Dawkins) in a tag team match via pinfall.
Iyo Sky defeated Candice Le Rae in a singles match via pinfall.
Solo Sikoa defeated Elias in a singles match via pinfall.
Rhea Ripley defeated Asuka in a singles match via pinfall.
Seth Rollins defeated Bobby Lashley in a singles match via pinfall to become #1 Contender for United States Championship.
LIVE UPDATES
Bayley makes her entrance with Dakota Kai and Iyo Sky to open the show. Becky Lynch attacks Sky and Kai at the ringside. She forces Sky and Kai to run into the crowd and chases them down. Alexa Bliss makes her entrance next. WWE RAW Women's Champion Bianca Belair also comes out to watch the match. Bayley is livid.
Alexa Bliss vs Bayley – #1 Contenders Match for WWE RAW Women's Championship
Bayley starts with a kick to midsection and gets a two-count. Bayley sends her to the corner before she reverses a whip to the corner. Bliss hits a sunset flip powerbomb for a close two-count. Bayley rolls to the floor for a breather. Bayley catches Bliss with an attack from the apron. Bayley works on Bliss for a while before Bliss goes berserk with some ground and pound. Bliss hits double knees and a senton to get a two-count. Bayley stomps on Bliss' legs. Bliss ducks a shot and hits a crossbody. Bayley moves to the floor. She cleverly slams Bliss' face into the ringpost to take control as we cut to a break.
Bayley is in control as we return and hits a snapmare. They trade forearms for a while. Bayley takes Bliss to the top. Bliss hits a Frankensteiner from the second rope and gets a two-count with an inside cradle. Bayley gets a roll-up for a two-count. Bayley hits a lariat but Bliss gets back up quickly. They fight to the floor. Bliss hits some quick kicks before hitting a cannonball senton from the apron. Bliss takes Bayley to the top where Bayley slips out and slams Bliss into the turnbuckle with a spinebuster. She hits a sunset flip powerbomb into the turnbuckles for a close two-count.
Bayley ends up hitting Bayley-to-Belly but Bliss kicks out again. Bianca Belair comes down to ringside and complains to the referee a removed turnbuckle. Bayley gets kicked to the floor. She hits a cutter over the middle rope. Bayley tries to punch Belair but Belair ducks. Bliss hits a dropkick in the corner. Bliss goes to the top and hits a Twisted Bliss to get the pin.
Winner – Alexa Bliss
Bianca gets into the ring after the match. Bliss goes to hug her but suddenly Firefly Fun House logo flickers on the screen and Bliss quickly takes position for Sister Abigail. However, she comes to senses before she could hit the move. Bliss and Belair could not make of what happened. Bliss
---
We catch the recap of the segment between Kurt Angle, Gable Steveson and Alpha Academy. Bryon Saxton catches Chad Gable and Otis getting into the arena. Gable goes to talk trash for Angle. The OC were also entering to the arena and were laughing at something over their phone. Gable asks Styles why is he laughing. Styles replies how their video has gone viral everywhere. Gable calls AJ a fossil like Kurt Angle and challenges him for a match. Styles accepts.
AJ Styles vs Chad Gable
Gable starts with some wrestling followed by "shooosh" shenanigans. AJ comes back with quick strikes and hits a backbreaker. He "shooshes" Gable to mock him. AJ sends Gable to the floor with a back body drop but Otis catches him. Gable drops AJ face-first on the apron to take us to a break.
Gable punches AJ as he was on the top rope. AJ slips out and hits some punches. AJ recovers and hits a series of clotheslines before hitting a backbreaker. He hits a short flurry of strikes to get a two-count. Gable goes for a trio of German suplexes but AJ blocks the third suplex. AJ hits a Pele kick before Gable hits another German suplex. AJ goes for a Calf Crusher but Gable turns it into an Ankle Lock. Styles counters with Calf Crusher before Gable counters once again with Ankle Lock. AJ breaks free. Gable hits a Northern Lights suplex and bridges it to get a two-count. AJ avoids a moonsault from the top and hits Styles Clash to get the pin.
Winner – AJ Styles
Johnny Gargano and Dexter Lumis are trying to figure out what to do with all the money Lumis got from The Miz and won in Poker. Candice LeRae comes in and tells them that it is holiday season and they should try giving it to the needy.
---
The Street Profits and Akira Tozawa are interviewed at the Gorilla position. The Street Profits are asked why they came to Tozawa's aid last week. They answer ecstatically and says Judgment Day think they run the show when they do not in reality. Tozawa gets hyped and says he wants the smoke. The trio make their entrance.
The Judgment Day(Dominik Mysterio, Finn Balor & Damian Priest) vs Akira Tozawa & The Street Profits(Montez Ford & Angelo Dawkins)
Dawkins starts against Priest with a shot. They run the ropes and Dawkins hits a dropkick. Priest catches him off the rope with a forearm. Quick tags by Judgment Day to keep Dawkins in the corner. Balor showboats and gets caught with a dropkick. Ford tags in and hits another dropkick to Balor for a two-count. Tozawa tags in for an ax handle. Balor hits a kick before Tozawa rolls through a sunset flip.
Balor takes Tozawa to the corner to work on him. Tozawa counters a charge with a knee. Tozawa sends Balor to the floor. He goes to chop Priest, who no-sells the chop. The distraction allows Balor to come back and drop Tozawa. Judgment Day is in control as we cut to a break.
Tozawa tags out to Ford as we return from the break. Ford hits some shots but Priest no-sells them. Ford hits a running blockbuster. He then drops Balor on the apron and Dominik on the floor. Priest tackles Ford into the announce table. Ford barely manages to beat the countdown. Priest nails him with a big punch to welcome him back to the ring. Dominik and Balor get quick tags. Balor puts Ford in a front headlock. Ford manages to tag Dawkins but the referee was distracted and could not see it. He stops Dawkins from coming in.
Balor drops Tozawa on the apron. Ford gets hit with quick moves from Judgment Day trio. Balor hits a backbreaker to get a two-count. Ford counters a suplex and hits a step-up enzuigiri. Dawkins gets a hot tag to drop every opponent with punches. Dawkins hits flying back elbow, a spinning forearm and a suplex to get a two-count. Balor hits a spinning back elbow drop. Tozawa and Dominik get the tags. Tozawa unloads with a flurry of punches. He hits a spinning kick before Dominik ducks an enzuigiri. Tozawa hits a dropkick. Ford gets in before Priest comes in and drops Ford and Dawkins. Priest hits a chokeslam on Ford and throws Dawkins to the floor.
Tozawa pushes Priest over the ropes. Tozawa sends Dominik to the floor and hits a suicide dive. Balor comes in and hits a DDT. Balor and Rhea distract the referee and Priest hits Razor's Edge on Tozawa. Dominik covers Tozawa to get the pin.
Winner – Judgment Day
Gargano & Lumis' Holiday Chear
Johnny Gargano and Dexter Lumis reach a stall where WWE merchandise is on sale. Gargano buys everything from the shop and will now head to the ring to spread some holiday cheers.
After the break, Gargano and Lumis come down the ramp. They start throwing some shirts into the crowd. They come to the ringside as they continue to give away shirts. Gargano hands one shirt to Kevin Patrick on the commentary but Corey Graves refuses to take it. Gargano stands on the top of the announce table to throw some shirts using a shirt gun. Miz pushes Lumis into the announce table, takes away the money purse and runs away. Adam Pearce stops Miz on the stage and tells him to turn around and hand that bag back to Lumis.
Gargano, Lumis, Pearce and Miz are in the ring now. Miz asks Pearce what he has to do to keep the money as he is desperate. Gargano proposes a ladder match if Miz is willing to put the same amount of money on the line as Lumis holds. Miz repeats he does not have any money as Maryse controls all his accounts. Gargano continues to mock Miz over this. Gargano also says that Miz will need to help them spread holiday cheers dressed as an elf.
Candice Le Rae vs Iyo Sky
Bayley is on the commentary table and Kai is ringside. Candice goes for a quick pin before hitting a senton to get a two-count. Iyo lands on her feet as Candice throws her across. Sky hits an enzuigiri to take over control. Sky puts on a headlock and keeps Candice on the mat. She throws Candice to the apron. Candice hits a cutter on the ropes to take us to a break.
Candice is trying to make a comeback as we return. Some back-and-forth action from both women. Candice hits a tornado DDT to get a two-count. Iyo hits a dropkick when Candice was on the top rope. Candice falls to the floor. Candice counters on the floor to hit a Canadian Destroyer. Back to the ring, Iyo hits a slap before dropping Candice. She goes to the top. Candice follows her up but Iyo avoids a cutter. Candice falls to the floor. Sky hits a Over the Moonsault to get the pin.
Winner – Iyo Sky
We see a recap of how Elias was attacked by the Bloodline last week and later, Riddle was injured by an attack from Solo Sikoa.
Kevin Owens is backstage for an interview and says Solo Sikoa is a dangerous man. Elias comes in and asks Owens to be in his corner as The Bloodline has taken Sami Zayn from him and Riddle from him. Owens gets mad over their rivalry earlier this year over the whole Elias and Ezekiel thing. Elias asks him to let bygones be bygones and that he needs Owens now. Owens screams, "You need me" in anger and leaves. Owens comes back, and stares down Elias for a while before going away once again.
After the break, Elias is in the ring with his guitar. He has Riddle's poster behind him and tells us he is going to sing a song Riddle himself wrote. Elias goes to sing, "Elias, you are my bro" and stresses once again that Riddle wrote those lyrics. Solo makes his entrance with Sami Zayn.
Solo Sikoa vs Elias
Elias rushes Solo in the corner as the bell rings. He hits an elbow to counter a charge. Solo hits a punch and a headbutt. Solo hits a back elbow and some chops. Elias hits a mule kick. Solo returns with a big slap. Elias manages to send him to the apron and then knocks him off. Elias hits a dropkick and Solo gets so mad that he picks up a chair. Sami Zayn calms him down as we cut to a break.
Solo whips Elias to the corner and hits a Samoan Drop to get a two-count. Solo misses a diving headbutt from the second rope. Solo misses a corner splash before Elias starts to hit him with punches and forearms. Elias hits a couple of corner splashes before hitting a spinebuster. Elias hits a sympho-knee to get a two-count. Elias gets irritated by Sami and goes to argue with him. Solo drops him on the ropes, hits a spinning heel kick and Spinning Solo to get the pin.
Winner – Solo Sikoa
After the match, Sami gets into the ring and instructs Solo to continue the beatdown on Elias. Solo hits Samoan Spike to his throat. He brings in a chair and sets it up in the corner. Kevin Owens runs out and hits Solo with a stunner. Sami runs away from the ring. KO gets the chair and Sami has to hold Solo back. Sami takes Solo backstage. Elias recovers and stands behind KO. KO hits him with a stunner. KO walks back with the steel chair in his hands.
Asuka vs Rhea Ripley
Asuka goes not have her face paint on and she has a more serious demeanour. Dominik is ringside. Asuka starts with quick punches and hits a dropkick. Rhea nails her with a big shot. Asuka slams her face into the turnbuckle before Rhea returns the favor. Rhea blocks armbar and slams Asuka to the mat. Rhea throws Asuka around a couple of times before Asuka counters with takedown. Asuka sends Rhea to the apron and kicks her into the ring post before hitting a DDT on the apron. We cut to a break.
Rhea misses a senton as we return. Asuka hits a kick before Rhea slams her to the mat once again. Rhea puts on a waistlock. Asuka tries to go for sunset flip but Rhea blocks it and hits a kick. Asuka turns a suplex into an inside cradle. Asuka hits a roundhouse kick. Rhea answers with a big kick to the head. Asuka lands a flurry of strikes and drops Rhea with another kick. Rhea gets mad and no-sells some punches. Asuka drops her with another kick. She hits a hip attack on the apron to knock Rhea off the apron.
Dominik blocks Asuka from attacking Rhea on the floor. Asuka goes for a kick on Dominik but he ducks it. Rhea drives Asuka into the apron. Asuka counters Riptide with an sleeper choke. Rhea struggles but Dominik puts her leg on the ropes. Dominik gets up on the apron to tell the referee about the foot. Asuka spits Green mist on Dominik's face. Rhea tackles Asuka into Dominik and hits Riptide to get the pin.
Winner – Rhea Ripley
Rhea takes Dominik to backstage to get him treated.
---
We cut to a video package for Seth Rollins vs Bobby Lashley match including the recap from last week.
---
We return from a break to see Dominik being treated in the locker room. The rest of Judgment Day is with him as Dominik throws tantrums.
---
We get a recap of rivalry between Dolph Ziggler and United States Champion Austin Theory. We get a promo from Dolph Ziggler where he lists reason why Theory is not a deserving champion.
Bobby Lashley vs Seth Rollins – #1 Contenders Match for United States Championship
Lashley catches Rollins with a big forearm while Rollins was still playing to the crowd. Lashley unloads in the corner. Rollins tries to fire back with his shots but Lashley tackles him. Rollins is now sent to the floor and Lashley drives him into the barricade. Rollins counters and manages to slam Lashley into the ring post. Rollins hits a knee dive from the apron. Back to the ring, Lashley hits a back body drop. He drives Rollins into the steel steps. Lashley tries to use the steel steps but the referee warns him. Lashley then tackles Rollins into the barricade and into the crowd. We cut to a break.
Lashley hits shoulder blocks in the corner as we return from the commercials. Lashley hits a neckbreaker before hitting a super-delayed vertical suplex. Lashley puts Rollins on the top rope now. Rollins drops Lashley back to the mat and hits a crossbody. He hits an enzuigiri next. Rollins sends Lashley to the floor with a low bridge and hits back-to-back suicide dives. Back to the ring, Rollins hits a superkick. Lashley tries to counter a suplex but Rollins hits a Falcon arrow to get a two-count.
Lashley rolls to the floor. He scoops Rollins on the floor to drive him into the ring post. Back to the ring, Rollins avoids a spear and rolls him up for a two-count. Another two-count for Rollins after a superkick. He hits a frog splash for a close two-count. Rollins goes for the stomp but Lashley blocks it and hits a powerslam. Lashley puts on the Hurt Lock. Rollins tries to back him into the corner. This leads to the referee getting knocked down to the floor.
Lashley hits a spear but the referee is slow to return to the ring and Rollins kicks out of the pin. Rollins then counters a spear into Pedigree to get the pin.
Winner – Seth Rollins
Lashley argues with the referee after the match and ends up knocking out another referee. Adam Pearce comes out and reminds him what he warned him about getting his hands on the officials. Pearce announces that Lashley is now fired.