WWE RAW Results August 15, 2022, Live Updates – Lashley v Styles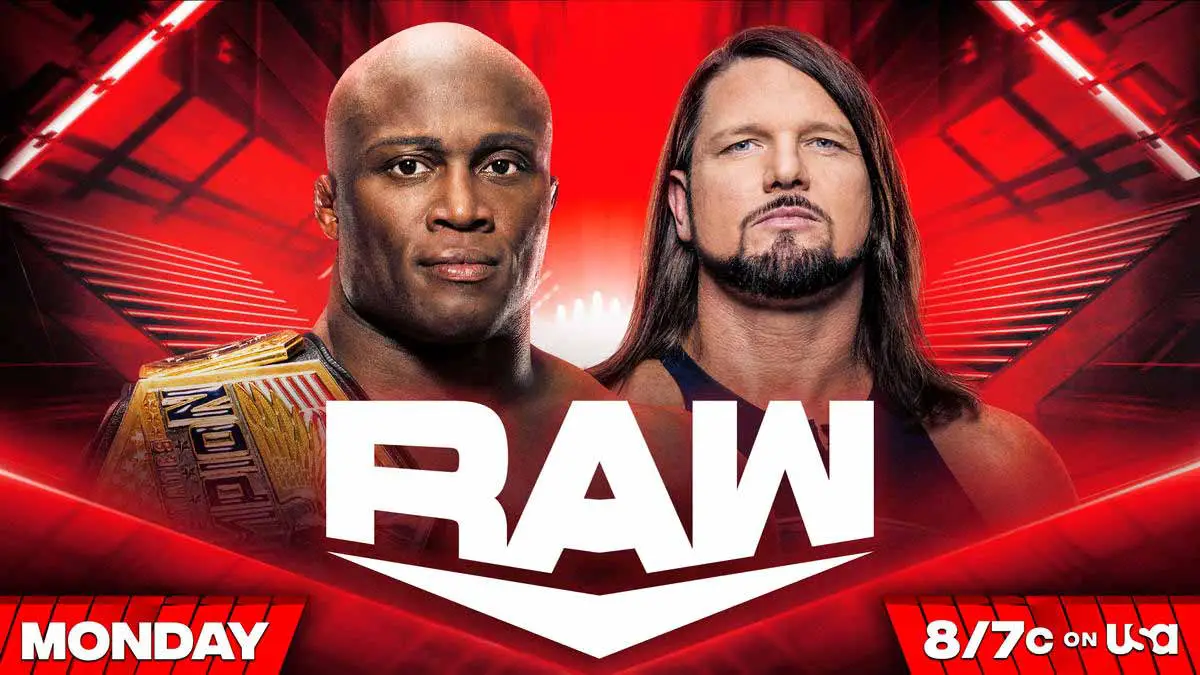 Welcome to the WWE RAW Results blog for August 15, 2022 episode which will air from Capitol One Arena in Washington D.C., as WWE continues to build up towards the Clash at the Castle event.
Bobby Lashley and AJ Styles will clash for the first time ever in a singles match as Lashley defends his United States Championship. Women's Tag Team Championship tournament will continue with Nikki ASH & Doudrop vs Alexa Bliss & Asuka match. Riddle will return for an exclusive interview.
Apart from this, we can expect from Bayley, Dakota Kai and Iyo Sky in their rivalry with Bianca Belair. Also, expect more from the likes of Kevin Owens, Omos, and others. But, the most anticipated segment is related to the return of Dexter Lumis.
Tune in below as we post results from WWE Monday Night RAW August 15, 2022 episode with all the live action, updates, highlights and videos.
Live Updates
Judgment Day Stand Tall!
Finn Balor, Damian Priest and Rhea Ripley of Judgment Day come out to open the show. We get a replay of Rhea bringing out a beaten up Dominik to distract Rey Mysterio during his match against Balor. Rhea says they run Monday Night RAW and that has been the harsh reality for Mysterios every week. She also proved to Dominik that she is his Papi. Balor wonders why everyone loves Mysterios. He has sad news for everyone loving Mysterios- they are not here this week as they were destroyed last week.
Priest then start to talk about what he will do to Edge next week. He asks the crowd if they want Edge to confront Judgment Day tonight. He then informs that Edge is also not here tonight as he is promoting next week's show in Toronto. He also says there will be no Finn Balor or Rhea Ripley in his corner during their match and he will send Edge back into retirement. He then says this time retirement will be wheeling around, feeding through the tube.
Rey Mysterio drops Priest with a dropkick from behind. He also sends Balor to the floor. Rhea faces off with him. Balor tries to attack Rey with a chair but Rey hits a dropkick on the chair. He slams Balor and then Priest with the chair. Rhea comes back in and Rey stops in his tracks to not hit a woman. Rhea takes the chair away and Judgment Day take control over. Balor hits Coupe de Grace on Rey with a steel chair over Rey's body. Judgment Day stand tall in the middle as some referees run out to check on Rey.
Alexa Bliss & Asuka vs Nikki ASH & Doudrop – WWE Women's Tag Team Championship Tournament Round 1 Match
Bianca Belair comes out to be at ringside for this match. Nikki ducks a clothesline from Asuka, takes her to the mat and unloads. Asuka drops her on her knees. Alexa comes in for some double team. Doudrop also comes in and is quickly dropped to the floor with double team work. We cut to a break.
Nikki is in control over Alexa as we return. Doudrop has splashed Bliss on the ring post during the break to take control over. Alexa hits a jawbreaker on Nikki but Doudrop tags to stop the tag. Alexa kicks her away to send her into Nikki in the corner. Asuka hits a missile dropkick on Doudrop and then hits series of strikes on Nikki. A bridging German suplex gets a close two-count. Asuka hits more kicks on Nikki. She gets distracted as she hits Doudrop with a kick on the floor. Nikki drops her Asuka with a flatliner to get a two-count.
Doudrop comes in and whips Nikki into Asuka. Nikki comes down from the top rope and Alexa breaks the pin with a dropkick. Doudrop hits her with a crossbody. Doudrop tags in and Asuka hits a punch to her throat. Doudrop hits a Michinoku Driver to get a near fall. Doudrop misses the Vader bomb. Asuka hits a roundhouse kick and a dropkick. Alexa tags in and hits a DDT. Asuka comes back in to hit Doudrop with a jawbreaker and puts her in Asuka lock. Alexa stops Nikki from interfereing. Doudrop taps out to Asuka lock.
Winners – Asuka & Alexa Bliss
Bianca joins Alexa and Asuka in their celebration. They reach the stage where Bayley, Iyo Sky and Dakota Kai come out to start an argument.
---
Theory is interviewed backstage and takes offense it being called an unsuccessful MITB cash-in attempt as he still holds the briefcase. Dolph Ziggler comes in and tells him that he was crushed by Roman Reigns and Brock Lesnar at SummerSlam. Ziggler reminds him how he was also a MITB winner and a World Champion. Theory takes shots at Ziggler for not having a title and screwing up his career. Ziggler ends up hitting him with a headbutt. They start to brawl and we cut to a break.
---
We see a replay of Bobby Lashley defeating Ciampa last week. The Miz and Ciampa are interviewed backstage. Ciampa is asked about his next move. He answers that he came close to becoming a champion and he will become a champion on next opportunity. Miz says AJ Styles is the reason Ciampa lost last week. He gives Ciampa a token on appreciation which is a framed photo of him and Ciampa. They make their entrance for a tag team match. Their opponents Cedric Alexander and Mustafa Ali walk out next.
Miz & Ciampa vs Cedric Alexander & Mustafa Ali
Ciampa goes for a quick pin but Cedric comes out of the corner. Ciampa puts on a chinlock. Cedric counters from the bulldog and puts on a hammerlock. Ciampa nails him with a back elbow. He drops Cedric with a shoulder tackle. They run the ropes and Cedric hits a dropkick. Ali tags in as Cedric drips Ciampa. Ali hits a senton and Cedric comes back for a senton of his own. Miz pulls Cedric's hair and gets dropped from the apron. Ciampa cuts off Cedric's handspring with a low dropkick. Ciampa and Miz pose on the apron as we cut to a break.
Ciampa and Miz drop Cedric with some tandem offense as we return. Ciampa puts on bulldog choke. Cedric gets up on his feet. Ciampa nails him with an elbow. Cedric hits him with a suplex. Miz and Ali get the tag. Ali comes in hot with chops. He drops Ciampa with a dropkick. Miz is dropped with an inverted bulldog. Cedric tags in which blocks Skull Crushing Finale and hits Michinoku Driver. Ciampa puts Miz's leg on the ropes to break the pin.
Ali hits Ciampa with a suicide dive to send him over the announce table. Miz tries to use the ropes for a pin but Ali kicks him over to help Cedric counter with a roll-up for a near fall. Cedric tries to drop Ciampa but he counters on the apron. Ciampa gets a blind tag. Ali drops Miz with a superkick. Ali goes for 450-splash but Ciampa cuts it off with a dropkick. Ciampa hits Fairytale Ending to get the pin.
Winners – Miz & Ciampa
We see the replay of Kevin Owens taking out Ezekiel last week. Ezekiel is announced to be out for a long time. We see Ezekiel's family with him at hospital which is Elias in all the different avatars. His dad, Ernie Sr. says Kevin Owens will hear a piece of his mind. We see Drew McIntyre walking backstage as we cut to a break.
Drew McIntyre & Kevin Owens
Drew McIntyre makes his entrance. He says it might be a surprise to see him on RAW. He wants to complete his thoughts from Friday. He wants to beat the hell out of Roman Reigns at Clash at the Castle, beat him for the title, and defend it on Monday, Fridays, and everywhere. He confirms that there is a back injury for him, but says it is due to him carrying a load of 20 wrestlers from the last three years. He then starts asking fans if they want to see him fight the likes of AJ Styles, Lashley, Rollins, Karrion Kross.
Kevin Owens comes out to the stage. Drew says he will be happy to take on this on also. Owens starts his promo by asking why Drew tries to be someone he is not despite being so strong, taking offense at his shenanigans with the sword. Owens says this is his real self and he does not need other things to prove himself. Owens says he realized something earlier about how at this arena, he and Sami Zayn fought to save their place at Battleground a few years back, and the fans talk about that match until now. Owens says he wants to be the prizefighter again and he will be coming after every title in WWE and whether it is Drew or Roman coming out of Clash at the Castle as the champion, Owens is coming after them.
Drew McIntyre tells him that Owens is nobody to tell him who he is. He was fired by WWE, but fought his way back and became a WWE Champion. Drew's face is red in anger as he tells Owens that he will become the champion again and challenges Owens for a match right away. Owens accepts the challenge. We cut to a break as they circle the ring.
Drew McIntyre vs Kevin Owens
The match starts as we return. They lock up and Drew pushes Owens to the corner for a break. Owens then pushes Drew to the corner. Drew no-sells a shoulder tackle. They collide in the middle of the ring again. Drew knocks off KO with a shoulder tackle. Owens sends Drew into the ringpost and then hits him with a cannonball. Owens hits a senton and a moonsault to get a two-count. Owens keeps control for a while. Drew hits a suplex. Owens cuts off more attack with a punch. Drew does the same when Owens goes for a suicide dive. Drew tries to suplex Owens from the apron. Owens fights back and sends Drew into the ring post. Owens hits a splash on the floor to take us to a break.
Owens has Drew in a chinlock as we return. Drew gets to his feet. Owens hits big blows to his back. Drew hits clotheslines, a couple of belly-to-belly suplexes, a neckbreaker, kips up, and gets ready. Owens blocks futureshock DDT to hit a DDT of his own to get a two-count. Drew hits a big boot. Owens comes back with big boot in the corner. Drew gets his knees up on a senton from the top. Drew hits Michinoku driver to get a two-count. Drew puts Owens to the top rope but Owens blocks the superplex with punches. Drew is down in a Tree of Woe and Owens hits him with a cannonball. Owens goes to the top to hit a frog splash for a near fall. Owens then hits Swanton bomb but Drew kicks out once again.
"This is Awesome" chants from the crowd as Owens is frustrated now. Drew gets up as Owens goes to the top again. Drew nails a couple of punches and hits an avalanche Air Raid crash to get a near fall for himself. Drew gets ready for Claymore now. Owens nails him with a superkick. Drew blocks a stunner and hits Glasgow kiss. Owens hits a superkick and Drew drops him with a clothesline. They start to trade shots in the middle of the ring for a while. Owens hits a knee to midsection. Drew counters a pop-up powerbomb with a futureshock DDT. The Usos attack Drew to cause a disqualification.
Winner – Drew McIntyre
The Usos continue to attack Drew after the bell. Jimmy nails Drew with a superkick. Drew still fights back and sends both of them to the floor. Kevin Owens hits McIntyre with a stunner. He tells Usos that The Tribal Cheif owes him one. Owens goes away. The Usos get back into the ring but McIntyre fights back again and drops Jey with a Glasgow kiss and Jimmy with a Claymore. Drew tells them that he will see Roman at SmackDown.
Riddle's Big News
Seth Rollins comes out before the break. He is in the ring with a mic. He says he is a visionary, revolutionary, Seth "Freaking" Rollins. He is excited as time has finally come for Riddle's big news and he wanted a front-row seat as Riddle does the smart thing and says he is retiring. Rollins says Riddle will have time to do other things as joining Middle school, and grow things on farms.
Riddle cuts him off and is ready to give his news. Riddle says he is medically cleared and the next time he sees Seth it's on. Rollins asks if it is going to be on like last time they were at MSG or like at SummerSlam. Rollins says the result has been the same every time with him stomping Riddle to the ground. Rollins says he likes nothing more than stomping last few brain cells from his brain. Riddle gets up and reveals that he is in the arena itself.
He runs out to the ring. Rollins tries to catch him at the ropes but Riddle pulls him out of the ring for some ground and pound. Rollins gets back to the ring and Riddle hits him with a Northern Light Suplex. Riddle goes to the apron and Seth trips him there. Rollins sets up for a stomp on the announce table but Riddle hits him with a knee. Rollins runs into the crowd. Riddle chases him but Rollins gets away. Riddle poses in the crowd to end the segment.
---
We get a video package for the match between Lashley and Styles narrated by Corey Graves. AJ is seen getting ready for the match backstage.
---
Riddle is backstage as Kevin Patrick catches him for an interview. Riddle says he wants to get his hands on Rollins again. He challenges Rollins for a Clash at the Castle.
Veer Mahaan vs Beaux Keller
Veer Mahaan comes out for his match. He is facing an enhancement talent, Beaux Keller. The bell rings and Keller ducks Veer a couple of times. He runs out of the ring to frustrate Veer. Veer goes to the floor and Keller gets back to the ring. Keller nails Veer with a dropkick. Veer throws him to the floor. Veer goes and throws him back to the ring now. Veer hits a corner splash and a Thesz Press. He drops Keller with a Million Dollar Lariat. Veer puts on the cervical clutch to get an instant tap-out.
Winner – Veer Mahaan
Sarah Schrieber is backstage to interview Dakota Kai with Bayley and Iyo Sky. She asks Dakota what to expect from her in her first singles match on RAW. They ridicule Sarah on not noticing what they are upto. Kai says she is here to win and that is what they will do in the women's tag team semifinal and final and at Clash at the Castle. Kai then goes to talk to Dana Brooke and asks her if she is ready. Dana replies that she is ready 24/7. Dakota says fear is a powerful tool and Dana should be a bit intimidated by them.
Bobby Lashley(c) vs AJ Styles – WWE United States Championship
Styles starts with a calf kick and punches. Lashley drops him with a shoulder tackle. Lashley hits back elbow in the corner and a neckbreaker to get a quick two-count. AJ hits forearm strikes, Lashley runs the ropes and AJ nails him with a dropkick. AJ hits elbows on knee. The crowd does dual chants. Lashley hits a body slam and throws Styles out of the ring. Styles gets back in and hits a basement slide. Lashley goes to drive AJ into the ring post but AJ slips out. AJ hits a sliding knee from the apron and then nails Lashley with a diving forearm on the floor. We cut to a break.
Lashley whips AJ into the ring post as we return. AJ drops to the floor. Lashley drives him into the barricade a few times. Back to the ring, Lashley hits back elbows and kicks in the corner. AJ hits a jawbreaker and an enzuigiri. AJ kicks at his face a couple of times and then hits a knee drop. Lashley hits back with some shots. AJ hits a calf kick, punches and chops. Lashley hits him with a spinebuster before whipping him hard into the corner.
The Miz and Ciampa come down the ramp. Lashley whips AJ into the corner again. Styles blocks a suplex. Lashley kicks him in the gut and drops him on the ropes. Lashley drops AJ to the floor with a tackle. Ciampa distracts Lashley and the referee. Miz goes to attack AJ but Dexter Lumis jumps into the ringside area. Security jumps on Lumis and takes him under control as we cut to another break.
Lashley catches a sidekick and drops AJ flat on the mat. Ciampa and Miz were booted from the ringside during the break. AJ dodges Lashley's charge, kicks him off the apron and hits him with a diving forearm. Back to the ring, AJ hits a flurry of strikes and a couple of clotheslines. Lashley pushes him to the corner. AJ fights back from the apron and hits another diving forearm to get a two-count. Lashley puts AJ to the corner. He counters a charge with a running powerslam to get a close two-count.
Lashley puts AJ on the top rope. AJ slips through and hits a rack bomb to get a two-count. Lashley hits a back body drop and Dominator, but AJ kicks out of the pin. Lashley then drives AJ into the ring post. Back to the ring, AJ stops a spear and puts on the calf crusher. Lashley counters and puts on the Hurt lock on the mat. Styles rolls over to change it into a pin attempt for a two-count. Lashley ducks the Phenomenal Forearm and hits a spear to get the pin.
Winner – Bobby Lashley
Dakota Kai vs Dana Brooke
Kai nails Dana with a Pele kick to counter a waistlock. She gets an early two-count. Kai whips Dana to the corner and hits a running knee to her face for another two-count. She hits several kicks to Dana's face. Dana counters with a big boot and a back elbow. She hits short clotheslines and a handspring elbow. Kai sends her to the corner and hits a running boot to the face to get the pin.
Winner – Dakota Kai
We get a package for Edge vs Damian Priest match for next week in Toronto.
Theory vs Dolph Ziggler
They unload on each other on the mat. Ziggler puts on a chin lock. They continue to scramble on the mat until Theory nails him with a big punch. Theory sends him into the ringpost a few times to get a two-count. Theory talks trash and Ziggler comes back with a kick to the midsection and a DDT to get a two-count. Ziggler now sends Theory into the ring post. Theory falls to the floor and Ziggler slams his face into the apron.
Ziggler hits bodyshots and sets up Theory on the top rope. Theory blocks a superplex and drops Ziggler to the mat with punches. Ziggler jumps back up and hits a bulldog from the top. Ziggler has hurt his knee in that move and is late in covering. We cut to a break.
Theory has Ziggler in a chin lock. Ziggler hits back elbows and punches. Theory trips him on the turnbuckle. He rolls in to hit a dropkick to get a two-count. Ziggler is sent into the ring post now. Ziggler hits a boot and avoids a corner splash. He hits a clothesline and unloads with quick punches. Ziggler hits an elbow drop to get a two-count. Theory hits a shot at Ziggler's back before hitting a spin-out powerbomb to get a quick two-count. Ziggler catches him with famouser to get a near fall.
They trade shots in the middle of the ring now. Ziggler hits a headbutt. Theory blocks Zig-Zag and hits a big clothesline. Theory goes for ATL, but Ziggler counters with a sunset flip. He hits Zig-Zag to get a near fall. Ziggler gets ready for a superkick now. Theory catches it and tries to use the ropes for the pin. The referee catches him. Ziggler goes for Zig-Zag again but Theory counters with ATL to get the pin.
Winner – Theory
Theory takes a selfie with a downed Ziggler to close the show.