WWE RAW Live Results & Updates – 10 May 2021: Lashley vs McIntyre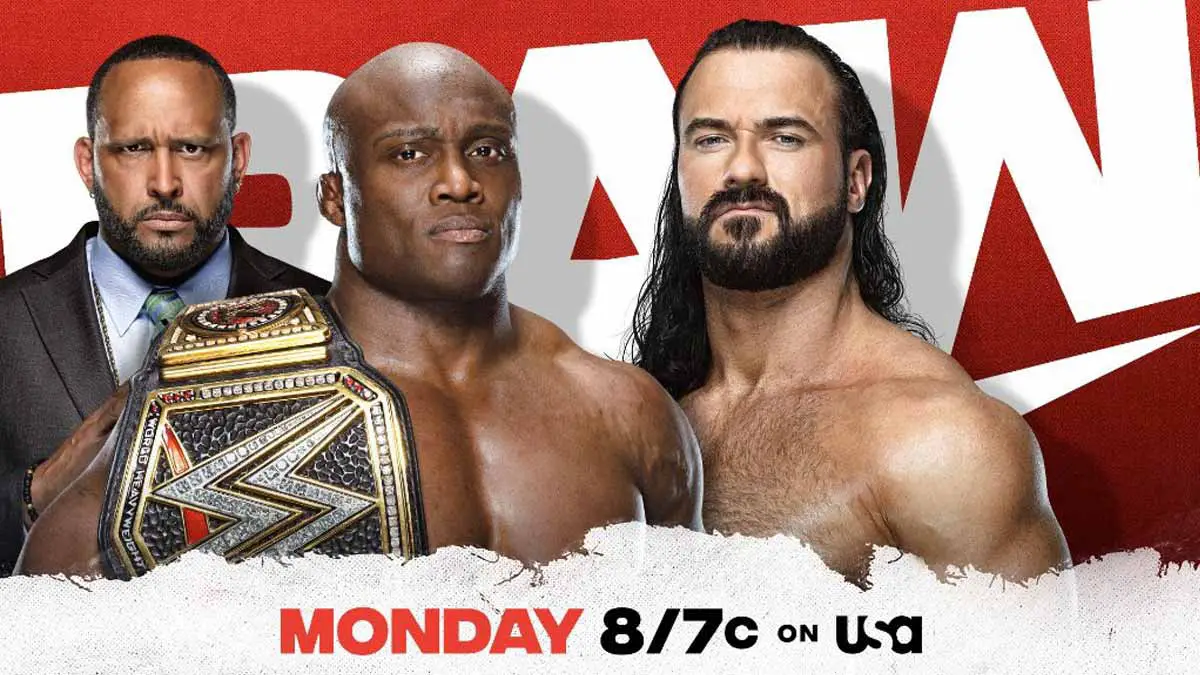 WWE RAW will air WrestleMania Backlash go-home episode on 10 May 2021 with Bobby Lashley vs Drew McIntyre in the main event. Two more tag team matches are announced for the show. You can find the complete details in our preview here.
Join us as we bring you complete results, updates, winners and video highlights from WWE RAW 10 May 2021 episode.
Event Name – WWE Monday Night RAW
Date – 10 May 2021
Location – Yuengling Center, Tampa, FL, US
Time – 8 PM EST(11 May 2021 12 AM GMT/5:30 AM IST)
WWE RAW 10 May 2021 Quick Results
Asuka, Lana & Naomi defeated Charlotte Flair, Nia Jax & Shayna Baszler via pinfall in a 6 women tag team match
Jinder Mahal defeated Jeff Hardy via pinfall in a singles match
Kofi Kingston, Xavier Woods, Randy Orton & Riddle defeated AJ Styles, Omos, Elias & Jaxson Ryker via pinfall in a 8 men tag team match.
Shaemus defeated Humberto Carrillo via referee stoppage(injury) to retain United States Championship in a singles match
Shelton Benjamin defeated Cedric Alexander via pinfall in a singles match
Rhea Ripley defeated Asuka via pinfall in a singles match
Damian Priest defeated John Morrison via pinfall in a singles match and will choose the stipulation for his match against Miz at WrestleMania Backlash.

Drew McIntyre

defeated Bobby Lashley in a singles match via Disqualification.
Charlotte Flair, Nia Jax & Shayna Baszler vs Asuka, Lana & Naomi
The show is starting with the tag team match. Charlotte Flair is out first followed byt next of the women in the match. Rose and Jax start. Jax misses a splash in the corner. Rose fails to drop Flair off the apron. Jax takes advantage to drop Rose in the corner. Baszler comes in and keep the control as she workds on Rose's arm.
Rose takes Baszler to her corner and Asuka tags in. Asuka with some quick kicks. Baszler blocks a German suplex. Baszler goes for a submission move but Asuka nails a dropkick. Rose and Brooke hits dropkicks Nia and Charlotte at the apron. Reginald does a back flip off the apron as Jax and Baszler rush back in. The two teams face off in the middle of the ring now with all 6 Superstars arguing. The dark Firefly Fun House music interrupts and Alexa Bliss is on the stage now, swinging on her swing with Lilly is next to her. Everyone in the ring are distracted now. Bliss says Lilly and she want to keep an eye on someone. We go to the commercials.
Back from the break and Flair is stomping away on Rose in the corner. Bliss and Lilly watch from the swing on the stage. Flair rag-dolls Rose on the mat, slamming her face-first using her knees. Baszler tags in and kicks Rose while Flair has her trapped. Baszler winds Rose's arm up again and slams her by it for another 2 count. Jax tags in and slams Rose. Jax grounds Rose now as fans try to rally for her.
Rose fights up and out but Jax goes for a Samoan Drop. Rose slides out and in comes Brooke. Jinder Mahal vs. Jeff Hardy is confirmed for later. Baszler tags in but Brooke clotheslines her. Flair also gets knocked off the apron. Brooke with more offense and a Bulldog to Baszler for a close 2 count. Baszler counters Brooke and slams her into a backbreaker over the knee. Baszler sells a leg injury now. Her knee goes out as she goes to tag. Asuka tags in, knocks Jax off the apron and immediately nails a Shining Wizard to Baszler for the pin to win.
Winners – Asuka, Dana Brooke and Mandy Rose
After the match, Flair runs in and drops Asuka from behind. Flair stands tall as her music plays. Bliss and Lilly are laughing from the stage as others look at her.
Riddle is with New Day and they talk about Elias & Ryker throwing tomatoes at Randy Orton. Riddle thinks its hilarious. Orton appears behind Riddle. Riddle does some more comedy. Orton snaps at him and tells him that ending careers, killing Legends, kicking people in the head, and setting things on fire are funny.
We get a vignette for WWE Champion Bobby Lashley vs Drew McIntyre match later tonight. MVP goes to Braun Strowman backstage. Strowman tells MVP to get out. MVP tells him that Lashley didn't beat Strowman last week but Drew did. Lashley believes it would have been close if Drew didn't interfere. MVP brings up how it would be Strowman vs Lashley in a singles match if Drew were to suffer an injury tonight. Strowman fumes and says he really doesn't like MVP. MVP tells him it's personal, it's just business. MVP leaves.
A replay of Damian Priest defeating John Morrison last week. Priest will face The Miz at WrestleMania Backlash as per his request. Adam Pearce is with Miz, Morrison and Priest backstage. Morrison asks for a rematch with Priest. Priest says whoever wins will get to pick the stipulation for his match against Miz at WrestleMania Backlash. Miz refuses but Morrison interrupts and says they accept. Miz is miffed but Morrison says he can beat Priest. Miz and Morrison walk off.
Jinder Mahal is at Gorilla Position and says he is excited and happy to be back on RAW. He introduces Veer(former Rinku Singh),and Shanky(Dilsher Shanky). Jinder goes on and says he will be reminding everyone why he was once WWE Champion.
Jinder Mahal vs Jeff Hardy
Hardy starts by unloading on Mahal in the corner and hits a dropkick. Mahal comes back with a big kick to get a two-count. Mahal with some blows and knee strikes at Hardy's back. He hits a vertical suplex before hitting some more knees into Hardy's back. Hardy tries to fight back but Mahal brings him back down into a headlock. Hardy with some elbows now and hits a forearm coming off the ropes. A double ax handle sets up Twist Fate but Mahal counters with pump knee to the face. Mahal hits Khallas to get the pin and the win.
Winner – Jinder Mahal
AJ Styles, Omos, Elias & Jaxson Ryker vs Kofi Kingston, Xavier Woods, Randy Orton & Riddle
Riddle and Elias start. Riddle quickly takes Elias down in the armbar. Ryker tags in and brings down Riddle. Riddle hits a big strike to his chest. Omos now tags in and drop Riddle a couple of times. New Day run in and gets dropped by Omos. Orton wisely stay outside. Riddle gets slammed to the mat now. Orton tries to run in but Omos was alert. We cut to the break.
Riddle is getting beat up by the heel team as we return. AJ Styles tags in and Orton coaches Riddle to tag in Woods. Woods & Kofi run in to turn the tables. Woods with some quick back and forth with AJ and tags in Kofi. Kofi takes him down with a crossbidy. Woods tags back in and AJ ends up hitting him with a bodyslam. Ryker tags in and unloads on Woods in the corner. Elias comes in and whips Ryker into Woods before hitting a spinebuster.
Elias keeps control and hits another big spinebuster. Ryker comes in and puts on the Camel clutch. Woods gets to his feet and hits a headbutt. Ryker tries to tag out but Ryker hits a spinebuster now. Elias gets back in to hit a vertical suplex. Woods tags in and hits a pump knee on Elias. He drops AJ & Ryker from the apron. Elias tries to counter but gets hit by bro-kick. Omos breaks the pin now. Orton gets the tag but waits until Omos beat up New Day. Woods goes to dropkick AJ at the floor. New Day spin AJ on the floor now. Omos goes out to take them down. Orton hits Elias with RKO to get the pin.
Winners – Kofi Kingston, Xavier Woods, Randy Orton & Riddle
After the match, Omos checks on AJ. Woods & Kofi come into the ring to celebrate with Orton and Riddle. Orton hits RKO to both Kofi and Woods. Riddle asks him what is this and Orton just stares at him before heading to the ramp.
Sheamus vs Humberto Carrillo – United States Championship
Sheamus starts with a headlock takedown. Carrillo gets back to his feet but runs into a shoulder tackle. Sheamus with big blows on his back. Carrillo hits a kick and then an armdrag from sprinboard. Sheamus is sent out and Carrillo hits a suicide dive to send us to the break.
After the break, we see Sheamus in control. Carrillo tries to fight back with punches and chops but runs into a shoulder tackle again. Sheamus puts him on the apron and hits an elbow to his back to setup big blows to the chest. Sheamus spreads his jaw as he keeps him on the floor. Carrillo gets back to his feet but gets rocked again. Sheamus drops him with an Alabama slam. Sheamus takes Carrillo to the top and tries to hit the White Noise. Carrillo comes back with some punches and takes down Sheamus with headscissors.
Carrillo goes to pick Sheamus at the apron. Sheamus hits an elbow and some blows to the chest. Humberto goes and takes him down from the apron with a sunset flip. The move is botched though and Carrillo ends up huring back or his knee. Carrillo immediately signals that he is out. The referee was counting to 10 but stops in between and comes out to check on Carrillo. The referee then calls the match and declares Sheamus as the winner.
Winner – Sheamus
After the break, we get a vignette for Eva Marie – the same one that we got last week.
Cedric Alexander vs Shelton Benjamin
Cedric gets the first blood with a dropkick. A few kicks to the face to Shelton. Shelton goes for a move but Cedric was alert. Cedric ends up hitting the dragonscrew at the ropes and goes to work on Shelton's knees. Shelton fights back with punches but Cedric takes him down again and puts on a lock on the knees. Shelton powers out of it and turns it into a sharpshooter. Cedric grabs the ropes quickly.
Cedric counters a whip and dropkicks at Shelton's knees. Shelton goes to the floor for a breather but Cedric hits a suicide dive. Shelton catches him with a big knee on the second attempt. Back in the ring, Cedric takes the control back. Cedric runs his mouth for a while. Cedric with some kicks before Shelton hits a titl-a-whirl suplex to get the win out of nowhere.
Winner – Shelton Benjamin
Backstage, Drew Gulak confronts Angel Garza. Garza put a rose in his butt last week after defeating him. Gulak tells him that he is bring disrespect to our industry and to him. Garza asks him if he wants the repeat of last week.
Asuka vs Rhea Ripley
Asuka rakes her face. Asuka gets a big boot before dropping Rhea with a toehold on the turnbuckle. Asuka goes for the arm bar and Rhea slips out to the floor. They go back and forth on the apron for a while. Charlotte Flair makes her way out. Rhea gets distracted and Asuka hits a big spinning back elbow. We cut to the break.
More details to be added shortly.
Winner – Rhea Ripley
Damian Priest vs John Morrison
Priest is rocked by a forearm as we return. Miz takes a cheap shot on the floor as Morrison distracted the referee. Morrison with some sidekicks on the floor. Back to the ring, Priest fights back with elbow strikes. Morrison hits a neckbreaker to keep control. Morrison with a lock on the neck. Priest fights out and hits the bell clap. A kick takes down Morrison. Priest with quick strikes now. A flying elbow in the corner is followed by a broker arrow to get a two-count. Priest goes to the top now. Morrison just rocks him with a punch. He goes for the spanish fly but Priest hits a few elbows and drops Morrison to the floor. Priest hits a spinning heel kick from the top to get a near fall.
Morrison counters to take down Priest in a cradle for a two-count. Miz distracts the referee as Morrison counters the Lights Out and transitions it into a crucifix pin. By the time the referee goes back, Priest was able to kick out. Priest hits the Lights Out to get the pin.
Winner – Damian Priest
After the bell, Miz hits the ring and unloads on Priest. Priest fights back from the Skull Crushing Finale but Miz avoids a heel kick and runs away. Priest hits another Lights Out on Priest to send a message to Miz. Miz is in despair at the stage as the segment comes to an end.
After the break, we get another vignette for Eva Marie. Marie once again says she want to be an influencer for others to achieve their dreams as she has always done.
Damian Priest goes to Adam Pearce backstage. He tells him that he choose a Lumberjack match stipulation against Miz at WrestleMania Backlash. Pearce asks him why does he want that stipulation. Priest says how Miz always runs away and he does not want that. He asks Pearce to have all RAW and SmackDown stars, and if required, have zombies at the ringside to stop Miz from running away.
Bobby Lashley vs Drew McIntyre
Lashley tries to go for the Hurt Lock right away. Drew manages to stop that but Lashley puts on a headlock. Drew struggles to come out of it but eventually drops him to the apron. Lashley hits a headbutt and then a shoulder tackle in the corner. A neckbreaker gets him a two-count. Strowman watches the match from backstage. Lashley still in control and rains in back elbows in the corner. McIntyre slams him in the corner and unloads. Lashley comes back with a big kick. Lashley goes for a big punch but McIntyre gets his boot up. They get to the floor and McIntyre hits a German suplex as we cut to the break.
McIntyre hits a few chops as we return. Lashley counters the whip and drops McIntyre on his back. Lashley with big right hands before putting on a chinlock. McIntyregets to his feet as the Thunderdome crowd cheers him. Lashley goes for the suplex but Drew counters to hit the suplex. Both men get back to their feet. McIntyre charges in the corner but runs into big boots. Lashley beat up McIntyre in the corner. Lashley drops McIntyre from the apron with a big punch. Lashley slams McIntyre's face to the apron before sending him into the ringpost.
MVP asks Lashley to finish him. Lashley takes McIntyre back to the ring and waits for him to stand up. Lashley charges for the spear but McIntyre sends him into the turnbuckle. They trade strikes as they get back to their feet. McIntyre hits back-to-back German suplexes. Lashley counters the Futureshock DDT but eats Glasgow kiss. McIntyre hits a spinebuster to get a two-count. Lashley counters Claymore with a crossbody. McIntyre stops Lashley from putting on the Hurt lock. Lashley hits a snap suplex but McIntyre hits him with the Claymore. Strowman's music hits and he comes into the ring to attack McIntyre.
Winner – Drew McIntyre(by Disqualification)
Strowman hits McIntyre with a running powerslam. He goes and shakes hands with Lashley as MVP smiles from the floor. Strowman then hits Lashley with running powerslam in the ring. He picks up Drew and hits him with the second powerslam. Lashley has slipped to the floor. Strowman goes to the floor and MVP tries to hit him with his cane. Strowman throws away the cane and drops Lashley with a powerslam into the barricades. He gets back to the ring and hits McIntyre with one more powerslam to close the show.