WWE RAW 18 November 2019- Matches & Preview
Check out the preview and matches announced for the WWE Monday Night RAW episode of 18 November 2019 (11/18/2019).
Date- 18 November 2019
Location- TD Garden Arena, Boston, MA, US
Time- 8 PM EST(19 November 2019 1 AM GMT/6:30 AM IST)
This week's RAW is going to be the go-home show for WWE Survivor Series and there are still some loose ends left to be tied. The Women's RAW team for Survivor Series is yet to be announced and there is hardly any idea who is going to be in that match. Brock Lesnar might also make one of his rare presence to hype his match against Rey Mysterio. But, let's look at what WWE is advertising for now.
Seth Rollins vs Andrade(w/ Zelina Vega) – Winner to Get in RAW's Survivor Series Team
Seth Rollins is the captain of RAW Men's team for Survivor Series 2019. But Andrade and Zelina Vega are apparently not happy that the self-proclaimed best performer of this generation, Andrade, is not even in the team. Andrade even went on to call Rollins the spoiled child of WWE.
Rollins has a reply ready after his main event performance in Germany. He demonstrated that he gives it all every time, and that's why he got to the main event position. He then asked Andrade to be ready for a match at RAW and even went on to put his place in the Survivor Series team on the line.
Rey Mysterio To Hype His Survivor Series Match
Rey Mysterio was supposed to be in a Universal Championship match when he was attacked by Brock Lesnar on the 30 September episode of RAW. That attack started a storyline which is now leading to a WWE Championship match between them. So, on the go-home show for Survivor Series, Rey Mysterio will appear to add some more fuel to this rivalry. Lesnar also generally appears at the go-home shows if he is in the PPV.
The Viking Raiders vs Zack Ryder & Curt Hawkins – WWE RAW Tag Team Championship Match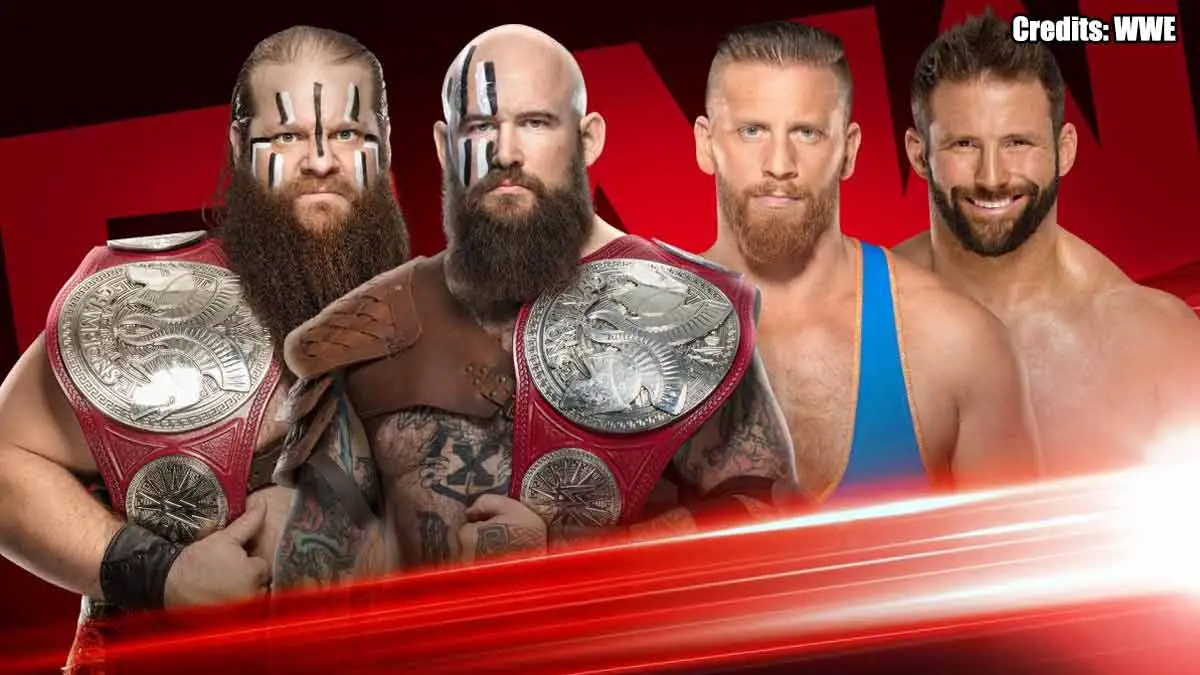 WWE has started giving out more championship matches on their weekly shows in the last one month or so. But those matches do not live up to the expectations when they finish in disqualification. Also, there are only two incidents where these matches have resulted in the title change in the last one month.
Another such match this week will be the RAW Tag Team Title match between the undefeated champions in The Viking Raiders, vs Zack Ryder & Curt Hawkins. If you remember, these two teams faced off 4 weeks back in a non-title match. Why does the result be any different this time around?
Becky Lynch & Charlotte Flair in a Tag Team Match
For some reason, RAW Women's Champion Becky Lynch and her arch-nemesis Charlotte Flair are sorts of a tag team now. Although Becky was pinned last week by Asuka, the duo will be in another tag team match this week. Their opponents are not announced yet. Becky and Charlotte have partnered twice in the last three weeks and Becky was pinned by Asuka in both of those matches. Will the outcome change this time? They have previously defeated Bayley and Sasha Banks in tag team action twice before.
Asuka vs Natalya
Right off hot after her win at WWE Crown Jewel 2019 in the first-ever Women's match in Saudi Arabia, Natalya pinned Asuka in the tag team match two weeks back. The Empress of Tomorrow is not taking that defeat lying down. She has pinned Becky Lynch last week and is ready to take on Natalya this week in singles action.