WWE RAW October 11, 2021- Live Results & Updates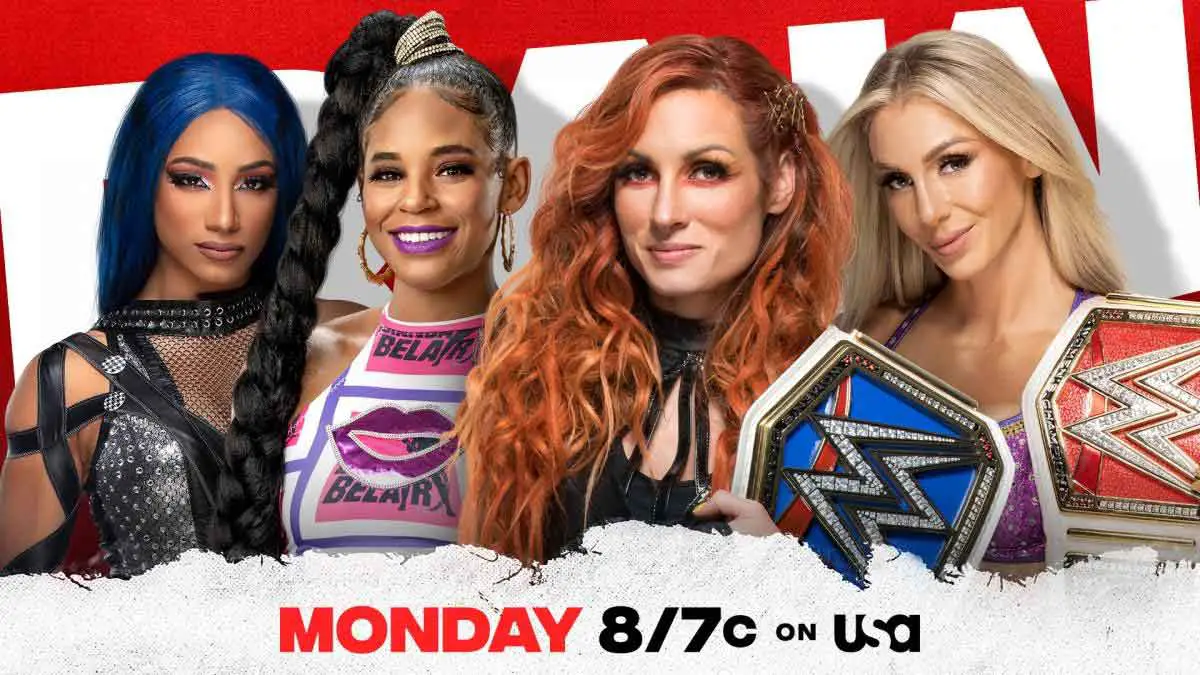 WWE RAW episode of October 11, 2021 will feature the first round matches for the King of the Ring and Queen's Crown Tournament. The show, airing from Chase Center in San Francisco, will also continue to build up towards Crown Jewel 2021 PPV.
Two first-round matches are announced each for King of the ring and Queen's Crown Tournament. Charlotte Flair and Becky Lynch will team up to take on Bianca Belair and Sasha Banks. Big E and Drew McIntyre will come face to face before their clash at Crown Jewel.
Check the live results for WWE Monday Night RAW October 11, 2021 episode with live updates, preview, match card, and more information.
Show – WWE Monday Night RAW
Date – October 11, 2021
Location – Chase Center, San Francisco, CA US
Time – 8 PM EST(October 12 – 12 AM GMT)
Results
Xavier Woods defeated Ricochet in King of the Ring Tournament Round 1 Match via pinfall.
Cedric Alexander & Shelton Benjamin defeated Mansoor & Mustafa Ali in a tag team match via pinfall.
Shayna Baszler defeated Dana Brooke in Queen's Crown Tournament Round 1 Match via pinfall.
Omos defeated Omos in a singles match.
Austin Theory defeated Jeff Hardy in a singles match via pinfall.
Jinder Mahal defeated Kofi Kingston in King of the Ring Tournament Round 1 Match via pinfall.
Becky Lynch & Charlotte Flair vs Bianca Belair & Sasha Banks ended in a No Contest.
Doudrop defeated Natalya in Queen's Crown Tournament Round 1 Match via pinfall.
The Usos(Jimmy Uso & Jey Uso) defeated

Drew McIntye & Big E in a tag team match via countout.
Live Updates
Big E & Drew McIntyre
Drew McIntyre comes out to open the show and hypes his match against WWE Champion Big E ast Crown Jewel. Drew says this is his last chance for the title before going to SmackDown. Big E comes out to the ring. Big E says Drew is so accomplished but will never take the title from him.
Drew fires back before The Usos interrupt them. The Usos say that they are pumped for Big E vs Drew. Roman Reigns will remain the Universal Champion, but they are not sure who will be WWE Champion after Crown Jewel. They warn Big E and say that they have plans to attack Kofi Kingston and Xavier Woods when they come to SmackDown.
The Usos go to leave but Big E stops them. Big E goes to speak for Drew but Drew stops him. The Usos then propose a tag team match – The Usos vs Drew & Big E. Drew agrees and Big E starts to argue with him. The Usos superkick both of them and leave.
Xavier Woods vs Ricochet – King of the Ring Round 1 Match
Xavier Woods hits flying elbow drop to finish off a good back and forth match. More details to be added.
Winner – Xavier Woods(advances to round 2)
Shayna Baszler vs Dana Brooke – Queen's Crown Tournament Round 1 Match
Dana starts on the offence and takes Shayna to the corner. Shayna catches him with a kirifuda clutch but Dana counters with rolls-ups and inside cradle to get two-counts. Shayna slams her face to the mat and follows with a big knee to the face. Shayna gets the pin with a lateral press.
Winner – Shayna Baszler(advances to round 2)
Mansoor & Mustafa Ali vs Cedric Alexander & Shelton Benjamin
Ali hits a dropkick to Shelton. Shelton fights back and unloads on Ali in the corner. Cedric tags in and Mansoor does the same from the other side. Mansoor hits Cedric with an inverted Atomic Drop and more big strikes. Ali tags in for a double team stomp. Ali dropkicks Shelton off the apron. Mansoor also attacks Shelton on the floor. Ali misses a move from the top. Cedric hits him with a Michinoku Driver for the pin.
Winners- Shelton Benjamin and Cedric Alexander
Riddle vs Omos
Riddle takes the mic before the match and says he is pretty good at thinking. Riddle says that Omos is looking way more swell than AJ. He forgets what he is talking about. Then, he gives the que to Randy Orton to attack Omos. But Orton is not here. Riddle tries different things to bring out Orton, but he does not come out. AJ Styles puts a stop to this by asking the referee to ring the bell.
Riddle dodges a clothesline and slips to the floor to attack AJ. Omos picks him up and brings him back to the ring. Riddle is thrown across the ring and then eats a corner splash. Omos hits a chokeslam and goes to pin Riddle, but AJ stops him before the three counts.
AJ asks Omos for more beat down. Omos hits a big roundhouse kick and AJ gets it played out in slow motion. AJ then asks Omos to hit double-handed Chokeslam. Omos follows and gets the pin.
Winner – Omos
After the match, AJ comes into the ring and says he is not done with Riddle yet. Orton's music hits but Orton does not come out again. AJ and Omos go looking for him. Omos goes to the floor and AJ watching the other side. Orton comes behind AJ and hits him with RKO. Orton runs away before Omos could come back to the ring.
Lashley Warns Goldberg
Bobby Lashley is out in the ring and says Goldberg's behavior is not worthy of that of a father and a family man. He also asks the crown whether they want someone like him dressed in a suit and here all year round or someone like Goldberg in cut-off sleeves and a part-timer.
Lashley says he picked the "No Holds Barred" stipulation since it gives him the license to rip him apart. Goldberg will not be able to come to RAW rip off someone and ride back to the sunset. He fires more warning to Goldberg saying that he can't beat the Almighty, he can kill the Almighty.
Jeff Hardy vs Austin Theory
Hardy dodges a clothesline and unloads on Theory in the corner. Theory comes back with a big left befpre Hardy hits him with a double ax handle. Theory hits a big dropkick to take control. Theory puts on a shoulder lock.
24/7 Champion Reggie comes into the ring and he is chased by the usual crowd. Theory gets distracted by R-Truth and let go off Hardy. Hardy hits him with an inverted atomic drop and a bulldog. Haryd hits Twist of Fate but Theory moves away from Swanton Bomb. Theory uses the tights as he rolls up Hardy for the pin and the win.
Winner- Austin Theory
Kofi Kingston vs Jinder Mahal – King of the Ring Tournament Round 1 Match
Jinder Mahal enters with Veer and Shanky before the break. We see the replay of how Xavier Woods defeated Ricochet to advance to the second round. Kevin Patrick asks New Day at the Gorilla who will win if Kofi and Woods meet in the second round of the tournament. They dodge answering it and make their entrance.
Mahal starts with a big side slam. He puts on a headlock before Kofi fights back. Mahal cuts him off with a tackle. Mahal unloads in the corner. Kofi catches him with a dropkick and a hurricanrana sends Mahal to the floor. Kofi hits a penalty kick from the apron and then took out Mahal on the floor with the coffin drop. We cut to a break.
Mahal is in control as we return. We see that Mahal dropped Kofi on the ropes during the break. Kofi goes for leg sweep but Mahal turns it into a DDT. They get to their feet and Kofi hits Mahal with a crossbody. Mahal comes back with a gutbuster.
Kofi fights back from the top rope and hits a splash for a near fall. Kofi hits the boom drop next. Veer and Shanky run an interference. Woods clotheslines Shanky but Veer takes him out. Kofi hits Veer with a basement slide. Kofi avoids a crucifix and goes for another move from the top. Mahal catches him the Khallas to get the pin.
Winner- Jinder Mahal(advance to round 2)
Becky Lynch & Charlotte Flair vs Bianca Belair & Sasha Banks
Sasha and Bianca fight among themselves over who will start the match. Bianca sends Sasha into the corner. Becky attacks Bianca. Bianca tackles Becky into Charlotte who lands on the floor. Flair comes back to more brawling between all four women. Becky sends Sasha to the floor while Flair kicks Bianca to the mat. Flair then hits a big boot to Becky.
More brawling and Bianca throws Sasha on Becky and Charlotte on the floor. WWE crew run out to stop the brawl. Adam Pearce and Sonya Deville come out to the stage and order them to get in the ring for the match. But the brawling continue as Flair slams Becky into the barricade and Bianca and Sasha brawl in the ring.
Back from the break, Charlotte and Sasha start the match. Sasha hits a hurricanrana and sunset flip for a two-count. Flair hits back with a backbreaker. Flair beats up Sasha before Becky takes a blind tag. Becky misses a leg drop and Sasha hits her with a hip attack. Sasha tags in Bianca who twists Sasha's arm.
Back and forth tags between them before Becky fights back against them. Becky sends Sasha to the floor but Bianca hits her with a suplex and a delayed vertical suplex. Bianca goes to the top but Sasha tags in and pushes Bianca to the floor.
Sasha goes for the bank statement. Becky counters it with an disarmer attempt. Flair tags in and Becky is not happy. Sasha hits Flair with a backbreaker. Sasha and Becky start to brawl again. Bianca comes back and drops Sasha with KOD on the turnbuckle. The referee calls for a no-contest.
After the match, Sasha ends up hitting Bianca with a backstabber. Becky and Sasha go back and forth until Becky hits the Manhandle slam and stands tall.
Doudrop vs Natalya – Queen's Crown Tournament Round 1 Match
Natalya slaps Doudrop to start the match. She takes Doudrop to the corner and hits more big strikes. More chest slaps and punches before Doudrop hits a big tackle. She misses a senton though and Natalya hits a dropkick to take back the control.
Natalya puts on the abdominal stretch. Doudrop elbows her legs and tosses Natalya over. She misses a cannonball and Natalya hits a discus lariat for a two-count. Natalya goes for the sharpshooter but Doudrop kicks at her face and rolls her up for the pin.
Winner – Doudrop(advances to round 2)
We see the replay of how Mansoor and Mustafa Ali lost to Cedric Alexander and Shelton Benjamin, and how Ali snapped on Mansoor. Mansoor is backstage with Kevin Patrick. Ali comes up and shouts at him for trying to be nice and that it won't cut out in WWE. Ali leaves and Mansoor tells Patrick that he will talk ot Ali later. Ali attacks Mansoor from behind and drops him.
Drew McIntyre & Big E vs The Usos
Big E starts against Jimmy and hits a big shoulder tackle. Drew tags in for more attack. Jey tags in and takes over the control. Drew counters in the corner and hits a suplex. Big E tags in gets double teamed as Jimmy hits a sidekick to his face at the apron.
The Usos keep the control with quick tags and continue to attack Big E. Jimmy puts on a headlock. Big E fights back with eelbows to the gut. Jey takes the blind tag. Big E hits Jimmy with a belly-to-belly suplex. Jey gets low-bridged to the floor. The Usos double team on Big E on the floor and sends him into the steel steps.
Big E gets dropped with a double team back body drop. Jey argues with the referee over the pin attempt. Jey hits a hip attack in the corner. Big E cuts off the next attack and drops Jey with another belly-to-belly suplex. Drew comes in with a hot tag and runs riot against Jimmy. A belly to belly suplex, and a spinebuster gets him a two-count.
Jey gets the blind tag and the Usos superkick McIntyre. Drew hits neck breaker on both the Usos. He was looking for Claymore but Big E tags himself in. Big E eats superkicks from Jey, but manages to kick out. Jey goes to the top but misses the splash.
Big E goes for the big ending but Jey counters and sends him into McIntyre at the apron. Big E hits the big ending, but Drew pulls him out of the ring. Big E and Drew start to brawl on the floor. The referee starts to count them out.
Winner – The Usos(via count-out)
After the bell, the brawl between Drew and Big E continues until the Usos take them out with suicide dives. They send both the opponents over the announce table. Big E drops Jey with a belly to belly suplex and Drew does the same to Jimmy. Big E and Drew come back to the ring and starts brawling again. Drew ends up hitting Big E with the claymore kick to close the show.