WWE RAW March 27, 2023 Results & Live Updates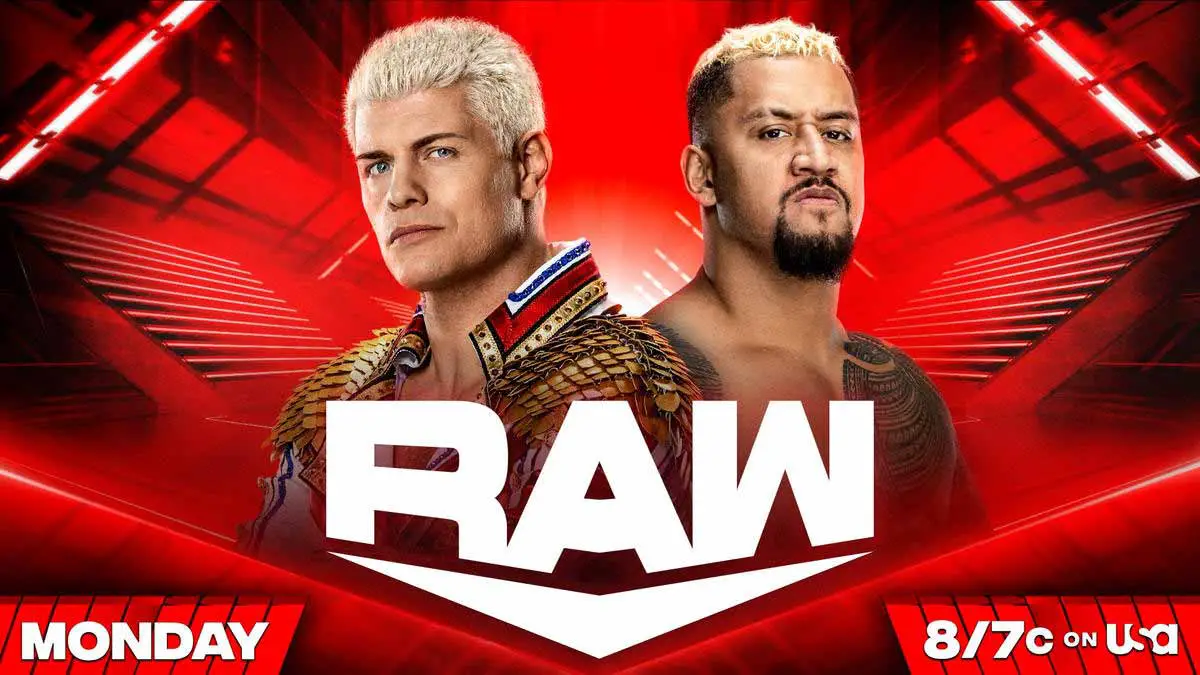 Welcome to the live results blog for WWE RAW March 27, 2023 episode, which will be the RAW's go-home episode for WWE WrestleMania 39 event and live from Footprint Center in Pheonix, AZ.
Cody Rhodes is set for a big clash against Solo Sikoa. This match comes just 6 days before his WrestleMania showdown against Roman Reigns for Undisputed WWE Universal Championship. How will Cody deal with Solo's power?
"The Beast Incarnate" Brock Lesnar and "The Nigerian Giant" Omos will take part in a weigh-in on RAW March 27 episode ahead of their match at WrestleMania 39. Becky Lynch, Lita and Trish Stratus will be coming to The Miz TV. The Viking Raiders and Alpha Academy will take on The Street Profits, Braun Strowman & Ricochet in an 8-man tag team match.
We can also expect the final team to be announced for Women's Showcase Tag Team match at WrestleMania. Also expect to hear from the likes of Bianca Belair, Seth Rollins, Bobby Lashley, Judgment Day, and others as we approach the final build-up for WrestleMania. Will Finn Balor confirm the appearance of the Demon?
Tune in below to find out as we post results from WWE Monday Night RAW March 27, 2023 episode with live updates, winners, and highlights.
RESULTS
Becky Lynch defeated Iyo Sky in a singles match via pinfall.
Seth Rollins defeated Mustafa Ali in a singles match via pinfall.
The Street Profits, Braun Strowman & Ricochet defeated The Viking Raiders & Alpha Academy in a tag team match via pinfall.
Chelsea Green & Sonya Deville defeated Mia Yim & Candice LeRae in Women's Tag Team Showcase Qualifier via pinfall.
Rey Mysterio defeated Damian Priest in a singles match via disqualification.
Gunther defeated Dolph Ziggler in a singles match via pinfall.
Cody Rhodes defeated Solo Sikoa in a singles match via pinfall.
LIVE UPDATES
The Miz TV with Becky, Lita & Trish
The Miz hypes up WrestleMania, him being the host and then turn towards bringing out his guests – Trish Stratus, and WWE Women's Tag Team Champions Lita and Becky Lynch. Becky is in his ring gear as she has a match against Iyo Sky. Miz asks her how does she feel about the need to bring in the reinforcements to deal with Damage CTRL. Becky says she is The Man, unlike Miz who is a notoriously insecure man with tiny balls.
Miz says they are not tiny but massive as confirmed by his wife. Becky says it is nice to know that Maryse did not get around much before meeting him. Becky says Damage CTRL put her out and injured her. She was not able to even pick her child for two months and then she plotted her revenge. She thought she took them out at War Games but they kept coming back like vermins. They kept coming until Lita and Trish helped her. And when some helps her, she helps them.
Bayley, Dakota Kai and Iyo Sky come out. Bayley tells Trish and Lita that they do not belong to WWE now, and only did 20 years ago. Trish retorts by saying having a tag team title on her shoulder means Lita belongs now. Bayley says this would have been one a dream match once upon a time but now it's a different kind of dream, and it is to take out the top woman of this division and two Hall of Famers in one night.
Becky interjects and says Bayley has been talking and talking and has been doing nothing. She took Dakota Kai, two-time women's tag team champio, and Iyo Sky, one of the greatest NXT Women's Champion, and has done nothing for them. Becky claims that it will all end at WrestleMania. Both teams get into each other's faces to close the segment.
Becky Lynch vs Iyo Sky
Becky starts with big punches. She throws Iyo to the corner and hits a couple of bexploders. She sets up Iyo on the ropes for a leg drop but Bayley and Dakota pull her out. Becky grabs Bayley's hair and Iyo take advantage of the distraction with a kick. Iyo sends Becky to the corner and hits double knees against the turnbuckle. Becky breaks a chinlock but Iyo hits her with a drop kick.
Iyo hits some kicks to the face. Becky gets up and starts trading punches. Becky starts to take the upper hand but Iyo hits her with an upper cut. Becky hits flying shoulder tackle off the ropes to cut her off. Becky quickly hits back elbows, punches, clotheslines and a dropkick in quick succession. Becky hits a basement slide dropkick when Iyo rolls to the floor and follows up with a suicide dive.
Becky sets her up on the ropes but Iyo gets away and hits a knee midair. Iyo blocks a bexploders. Becky ends up hitting inverted DDT to get a two-count. Iyo blocks a manhandle slam with a roll-up. She hits double stomp to the chest and gets a quick two-count to take us to the break.
Becky gets back into the match as we return. Iyo hits a German suplex. She hits a second one and bridges it to get a two-count. Becky hits back with a German suplex of her own. Becky goes to the top. Iyo runs into a boot but manages to drop Becky off the top next. Iyo hits a springboard moonsault on the floor and takes Becky back inside for a two-count.
Iyo goes to the top now but Becky gets away from Over the Moonsault. They quickly trade pin attempts before Becky hits a Manhandle slam to get the pinfall.
Winner – Becky Lynch
After the match, Lita and Trish get into the ring quickly to celebrate with Becky.
---
We get a recap of Cody Rhodes telling Solo on RAW and SmackDown last week that he is not ready. We see Solo walking backstage with The Usos and Paul Heyman.
---
We get a special video package for Asuka who is challenging for RAW Women's Championship at WrestleMania 39.
---
We see a recap of the brawl last week between Seth Rollins and Logan Paul and how Logan knocked out Rollins. Logan then had an interview where he said he would beat Rollins on his birthday on April 1.
Cathey Kelly catches up with Seth Rollins backstage for an interview. She asks Rollins about Logan getting him down with sucker punch twice now. Mustafa Ali comes in and tries to put on a positive spin on things. Ali says while Logan's crew did not know Rollins before, but now, horde of Logan fans are looking forward to see him at WrestleMania. Rollins laughs and reminds Ali about the time he was running after him when he was the United States Champion. Ali tries to get out of it but Rollins announces a match between them tonight.
Seth Rollins vs Mustafa Ali
Ali runs around a bit but Rollins keeps dodging him. Rollins cuts him off with a clothesline. He goes to stomp on Ali in the corner before Ali pulls him into the turnbuckle. Ali goes to the second rope and unloads with punches. Rollins counters and puts him into a tree of woe. Rollins hits a curbstomp on Ali's chest. He then follows up with the stomp to get the pinfall.
Winner – Seth Rollins
Rollins takes the mic and says he will finally get his hands on Logan Paul on April 1. He says Logan has a history of making a joke of himself, but in this case, Logan has made a joke of Rollins. Rollins recalls being eliminated by Logan at Royal Rumble, losing at Elimination Chamber, and punched by him twice. Rollins says it is Logan's birthday at April 1, but he will not be hearing Happy Birthday that day. Rollins asks the crowd to sing what Logan is gonna hear. The crowd starts to sing Rollins' theme song. Rollins hypes them up to close the segment.
---
Baron Corbin is backstage with WWE Official Adam Pearce, ranting against his slump. Chelsea Green comes in and asks why she is not in the WrestleMania Showcase tag team match yet. Pearce points out that she does not have a tag team partner. Green tells Pearce to stop mansplan his incompetence to her. Sonya Deville comes in and says she used to do Pearce's job better than him. Pearce cuts them off and announces a tag team qualifier for them against Candice LeRae and Mia Yim.
Lesnar & Omos Weigh-In
Corey Graves is in the ring to announce the weigh-in ceremony. Adam Pearce is with him. Omos makes his entrance with MVP. MVP takes the mic and says Brock Lesnar has imposed his will at WrestleMania in the past against the likes of Kurt Angle, Goldberg, Roman Reigns, and The Undertaker. MVP says Lesnar will not be able to suplex or F5 Omos at WrestleMania. He asks Omos to get onto the weighing scale. Omos weighs at 410 lbs. MVP says Lesnar will not be able to conquer over 400 lbs giant.
Lesnar's music hits and he comes out. Lesnar gets into the ring and suddenly starts to hit him with clotheslines. Omos refuses to go down. Lesnar finally tackles him into the corner. Lesnar picks up the weighing scale but Omos hits him with a big boot. Omos gets the scale now and Lesnar gets out of the ring to avoid a strike with it. Lesnar recovers on the floor. Omos runs his mouth and dares Lesnar to get into the ring. Lesnar paces on the floor as the segment ends.
---
We get a video package for Charlotte Flair vs Rhea Ripley match at WrestleMania. Rhea is backstage with Byron Saxton who asks her about a response to Flair's promo on SmackDown. Rhea says there is no denying Flair's legacy but she is not needed to be reminded about her being a 14-time champion. She needs to prove that she is the biggest star in this industry and she needs to beat Flair to do so.
---
Finn Balor gets a pre-recorded video. He talks about Edge wanting to be caged inside Hell in a Cell with his Demons. Balor says he does not need to summon his demons but they are are with him always.
The Viking Raiders & Alpha Academy vs The Street Profits, Braun Strowman & Ricochet
Dawkins and Gable start the match. Gable takes Dawkins down with headscissors. Dawkins hits back with a side headlock takedown. They come to a stalemate afte Gable kicks out at two-count. They run the ropes and Dawkins hits an arm drag. Gable hits back with an armdrag and gets Dawkins down with a sunset flip to get a two-count. Ricochet has taken a blind tag. Ricochet hits a headscissors on Gable.
Strowman tags in to double team with Ricochet for further beat down until Ford tags in. Ford and Gable trade armdrags now. Ford nails a big shot but Gable fires back with a big shot himself. Gable shooshes Strowman, which enrages Strowman into getting into the ring. All 8 men get into the ring to start a brawl. Only Strowman, Otis and Ivar are the only one left in the ring. Strowman hits big shots on Ivar to force him out of the ring. Otis tackles Strowman to the floor. Ford goes for a crossbody off the top but Otis catches him and hits a body slam to take us to a break.
Erik is beating up Ford as we return. The Viking Raiders work on Ford and keep him in their corner. Otis tags in and hits a clothesline on Ford. Otis runs off the ropes and hits an elbow drop. Otis shows off for Maxinne Dupri who is watching Ford hits back with a couple of kicks. Ford hits back with an enzuigiri to stagger Otis. Dawkins and Ivar get the tags.
Dawkins knocks Erik and Gable off the apron. He tackles Ivar and hits a corner splash. Erik gets in and the distraction allows Ivar to tackle Dawkins. The Vikings hit a double team move but Ricochet breaks the pin with running shooting star press. The match breaks down and everyone starts to get involved. Strowman gets the tag and hits running train on Otis, Gable and Ivar on the floor. He gets into the ring and tackles Ivar. Ricochet hits a 450 splash from Strowman's shoulders. Ford tags in and hits splash over Strowman to get the pinfall.
Winners – The Street Profits, Braun Stromwan & Ricochet
Cody Rhodes is interviewed backstage by Cathy Kelley. Cody says Solo Sikoa is undefeated just like him. But, we have to ask Paul Heyman and Roman Reigns why it's so important that Cody face their enforcer. Cody says they would reply it's important to know that Cody has earned it. Cody has no intention of letting his fire go out because not only that he has earned it, he has lived it. Solo will find out that he is not ready, and then at WrestleMania, Cody is gonna beat Roman and become the undisputed WWE Universal Champion.
---
We get a video package for WWE RAW Women's Champion Bianca Belair.
---
Austin Theory recorded a promo in an empty arena earlier tonight. He says John Cena is not able to see the future in front of his eyes. Theory says he is filming this promo in empty arena as he wants to convey that he is not doing this for WWE Universe and fans. He does this for himself. Theory says its sad to know that he would have let John go down the hero, but Cena had to make it personal. He claims that its gonna be fitting that Cena is gonna look up to him after WrestleMania. And that's not a theory, because he's gonna make Cena believe in him.
Chelsea Green & Sonya Deville vs Mia Yim & Candice LeRae
Sonya and Mia start the match. Sonya pushes Mia to the corner and taunts her. Mia hits back with elbows and tackles her. Sonya plays possum in the corner and drives her into the turnbuckle. Quick tags between Chelsea and Sonya. Mia counters a double suplex with a double neckbreaker. Candice tags in and hits a clothesline on Chelsea. Candice drops Mia on top of Chelsea but Sonya breaks the pin. Sonya sends Candice to the floor. Mia waits and hits a dropkick on Sonya to send her to the floor. Mia goes for her finisher on Chelsea but Sonya distracts her. Chelsea hits Unprettier to get the pinfall.
Winners – Chelsea Green & Sonya Deville
Paul Heyman is interviewed backstage by Cathy Kelley now. Heyman says Cody Rhodes does not fear Tribal Chief, because Cody isn't ready and he proved that when he asked about fighting Solo Sikoa six days before WrestleMania. Heyman says Solo vs Cody is not important but it's relevant because Solo is ready to weaken Cody before his match against Roman.
Heyman says Solo is here to put a beating on Cody and not allow him to be 100% for WrestleMania. While it is not dignified, Roman is ready to stoop to any depths and try to take any advantage that will keep him on top of the pile as Tribal Chief. Heyman goes at length on their plan to beat Cody. He tells Cody to be ready for the greatest moment of his life and be glorious of his defeat and be ready to acknowledge his Tribal Chief.
---
Dominik Mysterio and Damian Priest come out to the ring. Dominik takes the mic and talks about Rey attacking him on SmackDown. He says Damian Priest will beat his father tonight and then, he will humiliates him at WrestleMania. Only then, everyone will know what a failure of a father he is. We get recap of Rey and Dominik's segment from SmackDown.
Dominik then talks a bit in Spanish before asking what kind of father hits his own son and what mother lets it happen in front of her eyes. Dominik says he never say it out loud but he wishes Eddy Guerrero was his real father and that Rey never existed. Dominik finishes off by saying that his entire entire family is a disgrace to the Mysterio name and that name will be his at WrestleMania.
Damian Priest vs Rey Mysterio
Rey starts with quick punches. Priest catches him off the ropes but Rey hits a bulldog. Rey hits a seated senton and a low dropkick to trip Priest. He catches Rey's crossbody and hits a flatliner to get a two-count. Priest's big boot is ducked by Rey and Priest lands on the ropes. Damian hits a big clothesline to get a near fall. Priest puts Rey on the top rope. He goes for a chokeslam from the top but Rey fights back and hits a hurricanrana. Rey hits a dropkick to set up 619 and connects it. Rey goes to the top but Dominik trips him to cause a disqualification.
Winner – Rey Mysterio(via disqualification)
Dominik beats up Rey after the bell. Priest holds Rey after he recovers and Dominik hits more shots on Rey. Dominik was looking to unmask Rey when Legado Del Fantasma run out to make the save. Priest and Dominik get out of the ring.
---
Sami Zayn and Kevin Owens are backstage. Sami says this year has been emotional. He talks about their big break at Los Angeles where they became the team for the first time. KO hypes and says they will show everyone how good of a tag team they are when they will become the tag team champions at WrestleMania in Los Angeles.
Gunther vs Dolph Ziggler
Ziggler catches Gunther with a dropkick and then hits a DDT. Gunther hits a big shot on Ziggler and starts to punish. Gunther arches Ziggler's back over the turnbuckles. He boots Ziggler to the floor to take us to a break.
Ziggler is firing punches as we return. Ziggler hits a Fameasser to get a near fall. Gunther blocks Zig-Zag and hits a big back elbow. Gunther hits a powerbomb and The Last Symphony to get the pinfall.
Winner -Gunther
Gunther takes the mic after the break and addresses Sheamus and Drew McIntyre. He claims that they await the same fate as Ziggler at WrestleMania.
Cody Rhodes vs Solo Sikoa
Cody tries to hit a tackle but Solo no-sells it. Solo asks him to try again and cuts him off with a tackle of his own. Cody hits some punches and a kick to midsection. Solo counters with a Samoan drop. Cody rolls to the floor. He counters a whip and sends Solo into the steel steps. Cody slams Solo's leg into the ringpost. Solo counters Cody Cutter with a body slam. Solo knocks off Cody from the apron and onto the announce table.
Cody slams Solo's face into the announce table a few times. He goes for a suicide dive but Solo catches him and hits an Urinage on the announce table. He hits another Spinning Solo on the announce table to take us to a break.
Solo has a vice grip on Cody's shoulder. Cody gets to his feet and Solo hits him with a blow to the back. Solo attempts a DDT and Cody tries to counter it. Solo whips him to the corner and hits a clothesline. Solo hits some headbutts. Cody stomps on his feet and hits a suplex. Solo hits another headbutt. Cody hits a clothesline and a snap powerslam.
Cody nails a disaster kick, followed by a Cody Cutter. Cody hits Crossrhodes but does not go for a pin right away. The delay allows Solo to get his foot on the bottom rope. Cody sets him up for a moonsault but misses it. They get up at the same time. Solo hits a headbutt but Cody ducks a Samoan Spike and hits another Cody Cutter. The Usos' music hits and they get to the ringside.
Cody gets distracted and Solo hits a superkick and Spinning Solo, but Cody kicks out of the pin. The Usos can not believe it. Sami and KO run out and start to brawl with the Usos on the ramp and then go to backstage. Solo tries to counter Cody Cutter with a Samoan Spike but Cody turns it into Crossrhodes to get the pinfall.
Winner – Cody Rhodes
Cody screams towards Paul Heyman who is thinking hard about their next step. The show goes off the air with Cody hyping up the crowd.