WWE RAW Live Results & Updates- 9 December 2019
Welcome to ITN's Live Results and Updates Blog for the WWE Monday Night RAW episode of 9 December 2019 (12/9/2019).
Date- 9 December 2019
Location- Bon Secours Wellness Arena, Greenville, SC, US
Time- 8 PM EST(10 December 2019 1 AM GMT/6:30 AM IST)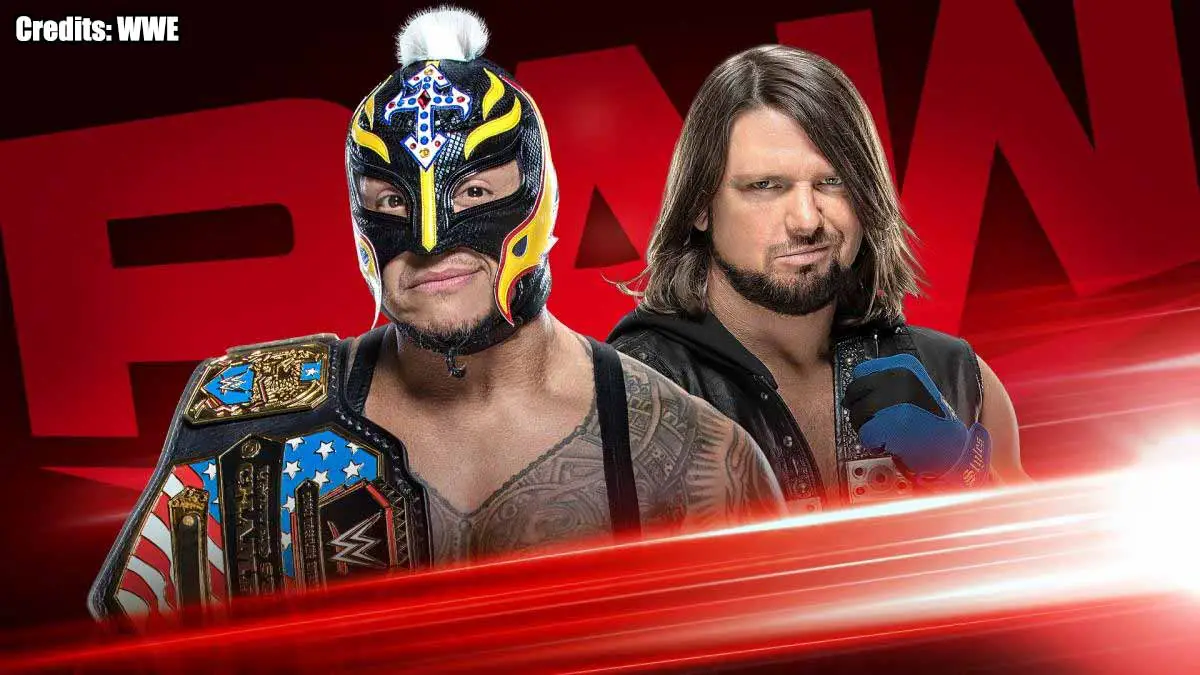 The go-home RAW edition for WWE TLC 2019, the last WWE PPV of the year, and we still do not have a single match announced from the RAW side. This gives a feeling that the event is an afterthought for WWE and that they are already looking ahead for the year 2020. With that in mind, AJ Styles is getting a rematch against Rey Mysterio for the United States Championship. And that will happen with Randy Orton lurking around Styles. Rusev and Lana will "officially divorce," whatever that means. And expect multiple matches to be announced for TLC.
We go right into the RAW theme song to open the show. After some pyro and bad camera work, we cut to Jerry Lawler in the center of the ring.
The Divorce!!
Lawler tells us how Rusev & Lana's relationship has reached the point of no return. He announces Lana to come out and she makes her way out with a lawyer. She gives some papers to Lawler and he reads out that Lana has waived off the restraining order temporarily for the divorce proceedings. Rusev makes his way to the ring and looks really happy as the crowd gets behind him.
Both Lana and Rusev takes the mic and Rusev cuts off Lana to address the crowd. Lana tells Rusev that she used to love him when others use to hate him. She also says he has turned out to be a sad person like many famous people and the Rusev Day chants got to his head. Rusev gets up from his chair and Lana shouts at her, telling him that Rusev would go to jail if he takes one more step. Rusev replies that actually it is him who needs protection and shows the video from last week where Lashley and Lana were arrested.
Lana tries to run down Rusev on the mic but gets frustrated when the crowd gets behind him. Rusev, on the other hand, is pretty happy and wants to sign the papers. He takes the pen and goes to sign the paper but Lana wants to sign the papers first. Now, they start arguing over who gets their dog. Lana eventually signs the papers and Rusev throws some tantrum which brings out Bobby Lashley.
Lashley comes out as the chants for the Rusev Day gets louder. Lashley says Rusev should sign the papers quickly and afterward he would ask Lana to marry him. Rusev tells him to take her away and he is happy with the Rusev Day. Rusev signs the papers and Lashley takes the opportunity to slam his head onto the table.
Lashley follows Rusev as he moves out of the ring where Lashley slams him into the barricade. He throws him back into the ring where Rusev turns things around with a Machcka kick and sends Lashley through the table with a belly to belly suplex. Rusev makes his way to the backstage.
Charly Caruso is with Kevin Owens backstage. She asks if he's figured out why he was attacked by AOP last week. Owens says AOP is doing dirty work for Rollins. Owens says that he was lucky he got away last week, which will be a problem for AOP now. Owens leaves the interview and goes looking for AOP. He stops when he sees Rey Mysterio. Rey lets Owens know he has his back if needed. Owens thanks him but doesn't want Rey getting involved. Rey says he won't but he has a friend who could help him and gives Owens his steel pipe instead.
Drew McIntyre vs Matt Hardy
They start with quick strikes and counters and Hardy manages to send McIntyre outside the ring with a clothesline. McIntyre pushes him into the steel chair outside the ring and takes the action back in the ring. Drew unloads on Hardy and hits a chop in the corner. Hardy dodges a shoulder tackle and slams him in the middle of the ring for two-count. Hardy goes for the backslide and somehow manages to get McIntyre in the position for one count. McIntyre hits a future shock DDT and follows with the Claymore to get the win.
Winner- Drew McIntyre
Earlier tonight, Charlotte Flair approaches Becky and tells her that they do not like each other but they also do not like the Kabuki Warriors. She wonders whether Becky wants to become Becky 2 Belts again. Becky indicated a Handicap Match against the two for tonight and would rather take them on by herself. Flair wished her good luck and walked off.
Kevin Owens is walking around backstage, looking for AOP backstage. He asks a few WWE employees and then Mojo Rawley. Mojo tries to send him in different directions and laughs at him. Owens delivers a huge slap to the face and mocks
The Viking Raiders vs The Street Profits – WWE RAW Tag Team Championship
RAW Tag Team Champions The Viking Raiders make their way into the ring. They take the mic and tells the crowd that they have been looking for warriors but for weeks they only found victims. So, they are opening the stage for anyone willing to fight them to come out for the title match. The Street Profits make their way into the ring.
Erik tries to hit a running double knee but Ford dodges it and knocks Ivar off the apron. He and Dawkins hit Erik with a double team before Montez hits a dive to Ivar. Ford comes back in and hits a huge splash on Erik but Ivar breaks up the pin. Erik counters a double team and makes the tag to Ivar. He and Ford trade cartwheels before Ivar lays him out with a spin kick for a near fall. Ford was actually mimicking Ivar the whole time.
Dawkins gets the tag and takes it to Erik and Ivar. He hits a big power slam on Ivar for a two-count. Ivar takes out both Street Profits with a handspring elbow. Erik comes back in and drills Angelo with a knee. They hit Ford with The Viking Experience for the pin and the win.
Winner- The Viking Raiders
Everyone Wants AOP
After the match is over, Erik and Ivar show The Street Profits some respect. Seth Rollins makes his way to the ring. He tells the tag teams that he has got to say something to take care off and they are welcome to be part of it. Both Street Profits and the Viking Raiders leave the ring. Rollins gets frustrated but continues on his work. He says that he has some unfinished business with AOP and calls them out. But it is Kevin Owens who comes out with the steel pipe.
KO tells Rollins that AOP is not at RAW. If they were, he would have found them because they are not that smart. KO asks Rollins when are they coming to RAW and when are 3 of them are planning to beat him down. Rollins again says that he has nothing to do with AOP when AOP is shown on the titantron, making their way into the arena.
Rollins warns Owens that AOP is about to come and attack him. He tries to convince him that he has no association with them. Owens runs him down and Rollins leaves the ring trying to prove that he has no part in this. Owens calls AOP again and they appear on the big screen instead. They speak in their native languages where Akam tells him that weapon or no weapon, they are ready for a fight. Fans give them the "What!?" treatment. Owens mocks them and just wants them to come to the ring.
The music hits and out comes Sami Zayn with Mojo Rawley instead. Sami tells us that he was able to get a managerial license that gives him some freedom to go back and forth on RAW and SmackDown. Sami also says that he is more of a liberator. Sami says Owens humiliated Mojo by slapping him and asks Owens if he will apologize to Mojo. Mojo yells at Owens to look at Sami when he's talking to him. Fans have been booing them all along.
Sami warns Mojo not to be so loud and take that tone with Owens when he has that look in his eye, and the pipe in his hands. Mojo taunts Owens some more. Owens tosses the pipe to Mojo and hits the Stunner on him when he catches it. Sami looks shocked as he exits the ring. Owens nails Mojo with the pipe several times while he's down. The segment ends as KO stands tall.
Aleister Black vs Akira Tozawa
They lock up and Tozawa applies a wristlock. He takes Black down but Black gets right up and puts him in an armbar. They continue to work technically until Black trips him with a spin kick. They run the ropes and Black hits a few arm drags. Tozawa ducks Black Mass and back up to the corner as Black sits in the ring.
Black catches a running kick and hits a series of strikes. Tozawa sends him out of the ring with a hurricanrana but when he goes for a suicide dive, Black drills him with a knee in mid-air. He rolls Tozawa back into the ring and nails him with Black Mass for the pin.
Winner- Aleister Black
Humberto Carrillo was doing an interview backstage and gets into an argument after Andrade starts shouting at him. They quarrel in Espaniol and they will face each other later tonight.
Andrade vs Humberto Carrillo
Andrade hits a dropkick as soon as the bell rings. Carrillo comes back with an arm drag before Andrade puts him down with a big backdrop for a two count. El Idolo continues to control the pace and gets a quick two count with a running kick to the face. Humberto takes him down with a crossbody and sends him out of the ring with an arm drag. Carrillo hits a moonsault from the top rope to the floor as we head to a break.
Carrillo takes down Andrade with a crossbody and follows with a standing moonsault for a near fall. Humberto takes him to the top where Andrade gets him in the tree of woe and stomps on his chest for a near fall of his own. Andrade runs for a knee strike but Carrillo moves away. Carrillo botches an Aztec press but gets a two-count. Carrillo dodges a back elbow and Andrade dodges an Enziguiri.
Andrade hits the back elbow to get two-count. Nobody is home on the moonsault but Andrade manages to hit the double knee. Carrillo reverses an Irish whip and hits a dropkick. Zelina Vega tries to distract Carrillo as she comes to the apron. Carrillo avoids a splash and Andrade pushes Vega off the apron inadvertently. Carrillo rolls Andrade and gets the three count.
Winner- Humberto Carrillo
Andrade and Vega argue after the match as Carrillo celebrates on the ramp. The commentary is dubbing this as Carrillo's biggest win on RAW. Also, this is the first time that Andrade has lost a singles match since coming to RAW in October.
Buddy Murphy vs Zack Ryder
Zack Ryder is already in the ring with Curt Hawkins. Buddy Murphy makes his way to the ring as we get the backstage promo from Aleister Black to hype their match at TLC 2019. Murphy kicks Ryder in the midsection to start. He takes Ryder to the corner and unloads. A kick on the back of the head gets him two-count. He continues to dominate in the match for some time.
Ryder turns it around and plants him face-first in the middle of the ring. He stomps onto him with his knees and sets him up in the corner for a running knee strike. Murphy moves out of the ring and kicks Curt Hawkins. Ryder hits a dropkick and brings him back into the ring. But Murphy gets the upper hand once they are back in the ring and hits a few kicks. He finishes the things off with Murphy's Law.
Winner- Buddy Murphy
Kevin Owens fins AOP's SUV in the arena. He breaks the SUV's windows with his steel pipe and manages to open the back door. He finds a man sitting on the back seat but before he could grab him, AOP attacks KO from behind. They beat down on him for some time. The hooded figure turns around and it is Seth Rollins. He throws away his hood and hits a stomp on KO. Kevin Owens is down on the floor as Rollins and AOP leave the scene.
Seth Rollins Explains!!
Rollins heads out to the ramp and cuts a promo from the entrance stage itself. He asks the fans what they want from him. The fans used to get along, used to see things eye to eye but somewhere it went wrong. Rollins goes on about doing everything right- fighting through injuries, laying it all on the line and taking the Universal Championship back from Brock Lesnar, not once but twice. Fans boo him and Rollins continues to talk about getting yelled at and spit on.
Rollins says that he told us the truth but the truth wasn't good enough. He goes on about fans believing Kevin Owens calling him a liar. He tried telling us he didn't have anything to do with AOP, and that was the truth but once again, the truth isn't good enough. Rollins goes on and says he's standing with Akam and Rezar because they understand. The music hits and AOP come out to join him on the stage. Rollins looks at them and smiles before turning to the back. AOP turn and follow him without speaking.
Becky Lynch vs The Kabuki Warriors- Handicapped Match
Asuka starts off with Becky as the bell rings. Becky rocks Asuka with a right hand and takes her to the corner. Asuka sends Becky to a corner but Becky comes back with a big suplex, sending Asuka to the floor. Sane distracts Lynch as Asuka returned to the ring and rocks her. Asuka works Lynch over and beats her down. Asuka puts boots to Lynch in the corner and follows with a running Hip Attack in the corner. Asuka with strikes and a takedown out of the corner. Asuka kicks Lynch in the back and covers for a close 2 count.
Sane in control of the match. Becky hits an elbow out of desperation but Asuka gets the tag. Becky sends her through the ropes and hits a basement dropkick. Becky takes on both women at once and gets the upper hand. She hits Kairi with a Bexploder and hits a double DDT to both women. Lynch avoids the InSane Elbow and hits Asuka with another Bexploder. Asuka puts her in the Asuka lock but Becky is able to break free and run her into the top turnbuckle.
Becky puts Asuka in her own hold but Kairi pulls her partner out of the ring. Lynch jumps right into a knee to the face from Asuka and all three women are down at ringside. Asuka hits a shining wizard for a two count. Sane gets the tag and The Kabuki Warriors hit a double team move for a close two count. Lynch blocks the InSane Elbow and plants Asuka with a side slam. She puts Kairi in the DisArmHer but Asuka saves her partner. Asuka ends up using a steel chair to get herself disqualified.
Winner- Becky Lynch(via DQ)
Asuka and Sane pull a table out from under the ring. Kairi puts Becky through the table with an InSane Elbow. Officials help Becky while The tag champs celebrate on the stage.
The OC is backstage and AJ Styles puts over Luke Gallows and Karl Anderson, saying sooner than later they will take the RAW Tag Team Titles from The Viking Raiders. And they will celebrate with the WWE United States Champion because AJ is beating Rey Mysterio tonight. AJ says if Randy Orton wants to stick his nose in OC business again, they won't just hurt Orton, they will end his career forever.
Becky Lynch is in the medical room and a medical guy is icing her shoulder. Charlotte Flair comes to check on Becky Lynch in the medical room. As she gets out of the room, The Kabuki Warriors attack her from behind and stomp on her.
Erick Rowan vs Local Talent
The bell rings and the jobber immediately runs out of the ring, grabs the pet cage and runs with it to the top of the stage. He sets the cage down and runs back to the ring as Rowan runs to the stage. The jobber is in the ring and the referee starts to count now. Rowan checks on his pet and runs back to the ring. Rowan misses a clothesline but comes right back with a crossbody.
Rowan yells at the guy and delivers a big Iron Claw slam in the middle of the ring. Rowan delivers two more Iron Claw slams as the referee yells at him and orders him to get out of the ring. Rowan goes back to the stage to check on his pet, promising that he took care of it.
Winner- Erick Rowan(via Referee Stoppage)
The Kabuki Warriors are with Charly Caruso now and they tell her something in Japanese. Charly requests them to talk in English and Asuka challenges Becky and Charlotte to challenge them for their titles on Sunday at TLC 2019.
After the break, Charlotte ends up beside Becky in the medical room. They talk to each other while not looking at each other at all. Becky asks her Charlotte if she wants to challenge Kabuki Warriors. Charlotte replies in the affirmative. Becky says let's raise the bar and make it a TLC match.
Monday After the Weekend Update
The Street Profits are there for the "Monday After the Weekend Update" segment. They confirm Becky and Charlotte vs Kabuki Warriors at TLC, in a TLC match for the Tag Team Titles. They crack jokes on Asuka's green mist before moving on to talk about The Miz vs WWE Universal Champion Bray Wyatt next. They joke that USA Network is giving The Fiend and Abby The Witch a Miz & Mrs style show. They also confirm a Tables Match between Rusev and Bobby Lashley for TLC 2019. They talk about King Baron Corbin vs Roman Reigns at TLC. They do some more comedy and promise TLC will be off the chain this Sunday but want all the smoke.
Rey Mysterio vs AJ Styles – WWE United States Championship
They lock up and Rey applies a headlock. AJ counters and puts Mysterio down for a couple of near falls. They trade roll-ups before they come to a stalemate. Styles slingshots Mysterio into the top turnbuckle a few times. AJ lays him out with a back elbow. Mysterio turns things around and hits a springboard moonsault at ringside. Anderson and Gallows make their way down the ramp and they distract Rey long enough for AJ to run him into the ring post.
AJ is still in control after the break. Mysterio tries to build some momentum but AJ hits him with a dropkick in mid-springboard for a two count. Mysterio sends him out of the ring and hits a sunset flip bomb to send him into the barricade. They start trading punches in the middle of the ring. Mysterio hits a headscissor takedown and a springboard senton. Styles drops Rey on his face just as he was starting to gain some momentum.
Mysterio hits an enziguiri but Gallows saves AJ from the 619. Rey takes out Anderson but it allows Styles to hit a big neckbreaker for a two count. AJ counters a hurricanrana but fails to hit the Styles Clash as planned. Styles hits a powerbomb followed by the Styles Clash. Randy Orton slides into the ring and then slides right back out without doing anything. Rey rolls up AJ for the pin and the win right as the show goes off the air.
Winner- Rey Mysterio(retains US Title)
RAW 9 December 2019 Quick Results
Drew McIntyre defeated Matt Hardy
The Viking Raiders defeated The Street Profits to retain RAW Tag Team Championship
Aleister Black defeated Akira Tozawa
Humberto Carrillo defeated Andrade
Buddy Murphy defeated Zack Ryder
Becky Lynch defeated The Kabuki Warriors via DQ
Erick Rowan Defeated Local Talent
Rey Mysterio defeated AJ Styles to retain the WWE United States Championship