WWE RAW May 1, 2023 Live Results, Updates, Highlights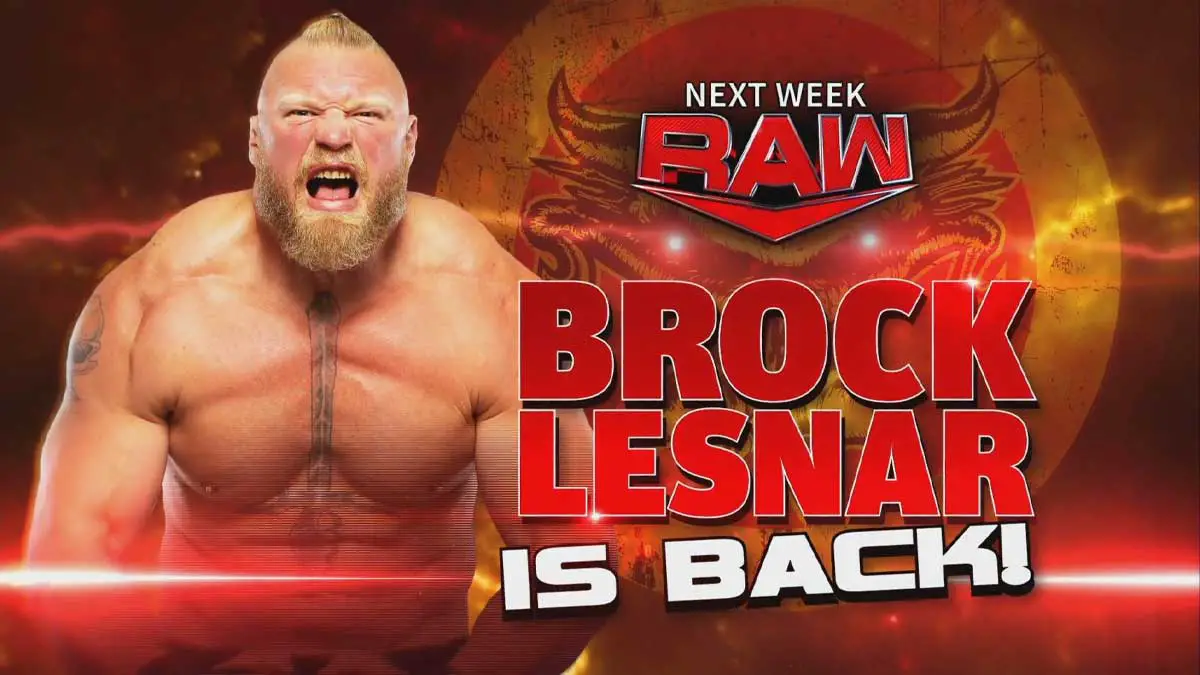 Welcome to the live results blog for WWE RAW May 1, 2023 episode which featured night 2 of Draft 2023 along with being the go-home show for Backlash 2023.
The fate of more than 30 stars was sealed on night 1 where Roman Reigns was the first pick by SmackDown while RAW held on Cody Rhodes and Becky Lynch while adding Drew McIntyre to their ranks. Seth Rollins, Rey Mysterio, Judgment Day, Rhea Ripley, and many others were still available to be draft on night 2 of the draft tonight. Which stars landed on RAW and SmackDown?
Brock Lesnar was back on RAW once again this week as his rivalry with Cody Rhodes and build up to Backlash 2023 continued. Two matches were made official as of now for the show on May 1. Judgment Day and LWO rivalry continued with a mixed tag team match. Matt Riddle faced Jey Uso in a singles match.
The Miz hosted the new red brand star Shinsuke Nakamura. The storylines between Seth Rollins and Omos were expected to continue along with United States Championship match rivalry between Austin Theory, Bobby Lashley and Bronson Reed.
Tune in below as we post results from WWE Monday Night RAW May 1, 2023 episode with live updates, winners, highlights, and complete action.
RESULTS
Bayley & Dakota Kai defeated Liv Morgan & Raquel Rodriguez in a tag team match via pinfall.
Ricochet & Braun Strowman defeated Alpha Academy(Chad Gable & Otis) in a tag team match via pinfall.
Matt Riddle defeated Jimmy Uso in a singles match via pinfall.
Omos defeated Anthony Alanis in a singles match via pinfall.
Judgment Day(Rhea Ripley, Damian Prist & Dominik Mysterio) defeated LWO(Zelina Vega, Rey Mysterio & Santos Escobar) in a mixed tag team match via pinfall.
Seth Rollins defeated Solo Sikoa in a singles match via disqualification.
LIVE UPDATES
We get a recap of night 1 of Draft. Draft continues now onto night 2.
Triple H Announces Round 1 Picks
Triple H comes out for round 1 picks just like he did at SmackDown. He says night 1 shook the foundations and it is expected to continue. He wants to set some ground rules and announces that undrafted stars can be picked by any brand later. He says as a result of Roman Reigns being drafted to SmackDown, new WWE World Heavyweight Championship will be on RAW. He also announced that Brock Lesnar is not in the draft as he renegotiated his status as a free agent. Round 1 picks are as follows:
Pick 1 – RAW selects SmackDown Women's Champion Rhea Ripley.
Pick 2- SmackDown selects United States Champion Austin Theory.
Pick 3 – RAW selects Seth Rollins.
Pick 4 – Smackdown selects Charlotte Flair.
Triple H brings out Paul Heyman and shows him the new world title. Heyman goes into the ring.
Paul Heyman Speaks
Heyman says Roman Reigns has asked him to address some things on his behalf. He starts by talking about Roman, Solo and Heyman being drafted to SmackDown. But the Usos, who did not win their tag team titles back from Sami Zayn and Kevin Owens, are not drafted. Heyman will addressed them in private. Heyman announces that Roman Reigns will be coming to SmackDown on May 12.
Heyman says one of the things he would address is the World Heavyweight Championship. The crowd boos but Heyman asks them to wonder how that beautiful thing would look around Roman Reigns, but he is not eligible to win the title. And now, children are flapping their wins, men who are clown, are looking to go for the title. Seth Rollins' music hits and he comes out. The crowd sings his theme as he makes his way into the ring.
The singing continues. Heyman is standing in the corner upset. Seth stand beside them and they exchange some expressions about the signing. Rollins asks Heyman why he is making a long face. He says Heyman should not be so grim as he was drafted to RAW and Roman does not have to run away from him and Heyman does not have to pull strings to keep Rollins away from a title match. Rollins then claims that he will win the new World title at Night of Champions.
Heyman takes a call but Rollins asks the crowd to start singing. Heyman snaps and says he is not able to hear The Tribal Chief. Heyman completes his call and tells Rollins not to meddle in the business or there will be consequences. Rollins asks the crowd how much time they think would it take for him to flatten Heyman. Solo Sikoa comes out to the ring. Heyman announces that strings are being pulled and there will be a match announced between Solo and Rollins for tonight. Rollins says strings need not to be pulled, as he accepts the match.
---
We see Cody Rhodes arriving to the arena earlier tonight. WWE Official Adam Pearce meets him and says Brock Lesnar is here and he does not want things to get out of hands once again. Cody smirks at him and leaves.
---
We see NXT stars at WWE Performance Center.
Bayley & Dakota Kai vs Liv Morgan & Raquel Rodriguez
Dakota and Liv start. Liv starts with O'Connor roll for a two-count. Dakota rolls her up for a two-count herself. Liv hits a dropkick. Dakota pulls her into the ropes. Bayley tags in and punches Liv. Liv hits her with double knees and tags in Raquel. Bayley punches Raquel after Raquel snaps the lock up to the mat. Raquel gets mad and tags in Liv. Liv and Raquel double team on Bayley to hit corner tackles and step up enzuigiri. Dakota distracts the referee to allow Bayley to take advantage and rake Liv's face. Bayley throws Liv to the floor to take us to a break.
Dakota is in control over Liv as we return. Liv fights back with a big boot on Dakota in the ring and a back elbow on Bayley on the apron. Liv drags towards Raquel but Dakota stops the tag. Liv hits a kick to Dakota and tags in Raquel. Raquel hits clotheslines and sends Dakota to the corner. Bayley puts her body on the line on a corner splash. Raquel drops Dakota in the corner before hitting a twisting splash.
Liv tags in and jumps off top of Raquel's shoulder but Dakota gets her knees up at the same time as Bayley pulls Raquel out. Raquel is tackled into the apron outside. Liv hits a codebreaker on Dakota in the ring. Bayley gets a blind tag. Liv hits Oblivion on Dakota. Bayley runs in and hits a sunset flip to get the pinfall.
Winners – Bayley & Dakota Kai
We see Brock Lesnar arriving to the show tonight. Adam Pearce tells him that he would like things under control because it is a huge night of Draft. Lesnar says good luck with that. We cut to a recap of Lesnar manhandling Cody 4 weeks back on RAW.
Draft Round 2 Picks
Booker T and Queen Sharmell are going to announce round 2 picks. Round 2 picks are as follows:
RAW selects Undisputed Tag Team Champions Kevin Owens & Sami Zayn
Smackdown Selects The Usos(Jimmy Uso and Jey Uso)
RAW selects Judgment Day(Finn Balor, Dominik & Damian Priest)
SmackDown selects LWO(Rey Mysterio, Santos Escobar, Zelina Vega, Joaquin Wilde & Cruz Del Toro)
Ricochet & Braun Strowman vs Alpha Academy(Chad Gable & Otis)
Chad Gable and Ricochet start the match. They trade arm wringer before Gable trips Ricochet. Ricochet also pulls his leg. Gable hits a dropkick. Ricochet fires back with a dropkick himself. Ricochet lands on his feet on a German suplex and hits an enzuigiri. Gable hits a German suplex on the second attempt. Otis and Strowman get the tags. Otis corners Strowman and unloads with punches. He hits a corner splash. Strowman counters with a corner splash on Otis himself. He hits punches and more shots before a body slam. Ricochet tags in and hits a senton off the top of Strowman's shoulders to get the pinfall.
Winners – Ricochet & Braun Strowman
Shawn Michaels and Adam Pearce come out to announce round 3 Draft picks. But, Brock Lesnar's music hits and he comes out. Pearce tries to talk to him as he walks down the ramp but it fell to deaf ears. Lesnar gets into the ring and takes the mic. He asks how does it feel to look at the only real cowboy in Texas. Adam Pearce brings out a team of security and tells Brock to leave otherwise his team would make him leave. Lesnar says it will require a lot more men to do so. Pearce brings out more security. Cody's music hits and and he attacks Cody from behind. Security runs into the ring and grabs Cody. Cody breaks free by security gets control of him again. Lesnar is standing on the ramp watching all this.
Draft Round 3 Picks
Shawn Michaels is at the stage to announce the picks for round 3:
RAW selects Women's Tag Team Championship Liv Morgan & Raquel Rodriguez.
SmackDown selects Asuka
RAW selects The New Day (Kofi Kingston & Xavier Woods)
SmackDown selects The Brawling Brutes (Sheamus, Ridge Holland & Butch)
---
Kevin Owens and Sami Zayn are at Gorilla Position when Matt Riddle comes in and says it is a great day as they all are drafted to RAW and will hang out all the time. Riddle makes his entrance while Owens does not look happy with hanging all the time thing. We also get the recap of Sami and KO retaining the tag team titles against The Usos. Sami and KO are also out to be in Riddle's corner. The Usos make their way out.
Matt Riddle vs Jimmy Uso
Riddle starts with punches. Jimmy distracts the referee and Jey hits Riddle with an enzuigiri. Jimmy takes the control. Kevin Owens acts hurt and Sami throws a chair to Jey before getting the referee's attention to it. The referee boots Jey off the ringside. We cut to a break.
Jimmy gets a two-count after we return from the break. Riddle makes a comeback with quick strikes. He sends Jimmy to the corner to hit running forearms. He hits an exploder suplex but Jimmy gets his knees up on a broton. Riddle slips to the floor. Jimmy nails Kevin Owens with a superkick on the floor when he is checking on Riddle. Back to the ring, Jimmy blocks Riddle's comeback attempt and hits a superkick to get a two-count.
Jimmy nails another superkick for another near fall. Jimmy exposed a turnbuckle. Sami distracts the referee and Owens slams Jimmy's face into the exposed turnbuckle. Riddle hits a jumping knee and Floating Bro to get the pinfall.
Winner – Matt Riddle
We get a video package for Iyo Sky, who challenges for RAW Women's Championship at Backlash.
---
Eric Bischoff gets out of the locker room for draft round 4. Rob Van Dam also comes out and Rick Boogs and Elias are out of the room to meet him. They do RVD sign to take us to a break.
---
Backstage, Paul Heyman is hyping Solo Sikoa in their locker room when Jimmy Uso comes in and asks why his brother was not ringside. Heyman says Solo has a task at his hand given by The Tribal Cheif. Heyman asks if Jimmy needs the room for himself to retrospection after the Usos lost tag team title match on Friday.
Draft Round 4 Picks
Eric Bischoff and Rob Van Dam come out to announce round 4. The crowd starts to chant RVD for a while. The round 4 picks are as follows:
Pick 1 – RAW picks Trish Stratus
Pick 2 – SmackDown picks Karrion Kross with Scarlett
Pick 3 – RAW picks Ronda Rousey and Shanya Baszler
Pick 4 – SmackDown picks LA Knight
Miz TV with Shinsuke Nakamura
The Miz welcomes us and gives a quick recap of the draft so far for RAW. He brings out Shinsuke Nakamura. Nakamura makes his grand entrance. Miz lists Nakamura's title wins so far and him being the royal rumble winner and asks if he is also looking to be the new World Champion now. Nakamura says hi. Miz says when Triple H was talking about a workhorse champion, he was talking about the Miz.
Miz proposes Nakamura to be his number 2 and their tag team being names as Mizsuke Nakamura. Nakamura says Miz is Chi Sai King Tama of RAW. Miz asks if it means awesome. Nakamura says it sort of is. They get the crowd chant it for a few times. Miz asks what does it translates to. Nakamura replies it means "guy with tiny balls". The crowd starts to chant "tiny balls" at Miz. Miz tries to attack Nakamura but he ducks and nails a spinning back heel kick. We cut to a break.
Omos vs Anthony Alanis
Omos pushes Alanis away. Alanis punches him and asks if he liked the taste. Omos picks him up and drops him on the turnbuckle. He hits a body slam before hitting a double handed chokeslam to get the pinfall.
Winner – Omos
Draft Round 5 Picks
Road Dogg and Molly Holly are out to the stage for round 5 picks from Draft. The picks are as below:
Pick 1 – RAW selects Braun Strowman & Ricochet
Pick 2 – SmackDown selects Shotzi
Pick 3 – RAW selects Bronson Reed
Pick 4 – SmackDown selects Pretty Deadly(Elton Prince & Kit Wilson)
All Rise for The Judgment Day!
Judgment Day make their entrance. Damian Priest starts the promo by asking everyone to rise for them as they all are drafted on RAW and Rhea Ripley was the number one draft pick tonight. Rhea hypes herself up to win her match at Backlash. Finn Balor says Priest is gonna tear apart Bad Bunny and leave his little fluffy pieces all over Puerto Rico.
Priest says he wants Bunny to listen to his words very carefully because they are chosen carefully. He says something in Spanish. Dominik Mysterio takes the mic but the crowd boos him hard. Dominik says he can't wait to see Rhea and Damian dominate at Backlash and that tonight is the last night he gets to embarrass his dad and his loser friends in the LWO before they go to hide on Smackdown.
Rey Mysterio leads Latino World Order as they come out. Rey Mysterio says he can't wait to see Zelina Vega leave Puerto Rico with the SmackDown title around her waist and to see Bad Bunny kick Priest's ass. Rey tells Dominik that next time Dominik will get hit with a hunter and not a belt.
LWO(Zelina Vega, Rey Mysterio & Santos Escobar) vs Judgment Day(Rhea Ripley, Damian Prist & Dominik Mysterio)
Rey and Dominik are about to start but Rhea takes a tag and pushes Rey away. Zelina goes for a hurricarana but Rhea blocks it and slams Zelina to the mat. Zelina manages to hit a jawbreaker. Priest tags in and Escobar comes in from the other side. Escobar hits double knees in the corner before Priest nails him with a forearm. Priest drops Rey on the apron. Escobar counters with a ripcord knee. He hits a backbreaker on Dominik. Rey tags in and hits hurricarana on the floor on Priest. He hits a suicide dive on Dominik to take us to a break.
Priest hits a clothesline in the corner. Escobar hits back with a dropkick. Dominik and Rey get the tags. Rey hits punches before hitting a hurricanrana. Rey unloads in the corner from the second rope. Rey hits a crossbody but Rhea breaks the pin. Rhea goes to attack Rey but Zelina attacks her from behind. Priest tags in but Rey sends him on the ropes. Balor distracts the referee and Dominik pulls Rey's legs.
Escobar hits a dive on Dominik. Rhea hits a dropkick on Escobar. Vega hits Rhea with a Meteora on the floor. Priest goes for a rack bomb but Mysterio slips out. Rey hits a dropkick to set up 619 but Balor takes the hit instead of Priest. Priest hits South of Heaven chokeslam to get the pinfall.
Winner – Judgment Day
Cody Rhodes is interviewed as he was leaving the arena. He says Lesnar is in his head since the night after WrestleMania. He adds that Brock got a free agent status and always gets what he wants, but that will not be the case on Saturday. He is the most decorated combat sports athlete of all time, but tonight we found out that Doomsday bleeds and that Lesnar is human. Cody says Lesnar doesn't even need to win the match but Cody has to win, because if he doesn't, the whole idea of finishing the story ceases to exist and he moves to the back of the line. Cody says he refuses to go to the back of the line ever.
---
Bianca Belair is interviewed backstage and says it does not matter whether she is on RAW or SmackDown as long as she gets the chance to represent WWE Universe. Damage CTRL come in and Bayley asks Iyo Sky is not getting interviewed. Bianca says she has always been impressed with Iyo but she was held back in Damage CTRL since her arrival to RAW. Iyo yells at her something in Japanese. Dakota tries to translate but Bianca says she and IYO understand each other.
Draft Round 6 Picks
Teddy Long and JBL are out for round 6 picks. They are as follows:
Pick 1 – RAW selects Alpha Academy(Chad Gable & Otis)
Pick 2 – SmackDown selects Rick Boogs
Pick 3 – RAW selects Katana Chance & Kayden Carter
Pick 4 – SmackDown selects Cameroon Grimes
---
Xavier Woods cuts a promo and excited about New Day's return to Raw.
Seth Rollins vs Solo Sikoa
The crowd keep singing Rollins' theme. He ducks Solo in the corner to avoid a clothesline. He does this once agian and Solo gets frustrated with all the signing from the crowd. Solo puts on a side headlock but Rollins changes direction off the ropes and rolls to the floor. Rollins plays cat and mouse and gets in quickly when Solo goes out. Solo avoids the stomp when he tries to return. Solo hits a kick to midsection, a headbutt and more quick shots. Rollins hits back with chops and punches before using a low bridge to send him to the floor. Solo runs back to cut off a suicide dive with a spinning heel kick. We cut to a break.
Rollins fights off a fireman's carry and hits an enzuigiri. Solo misses a corner splash and crash into the ringpost. Rollins hits chops and punches. He hits rolling elbow and short clotheslines. He blocks an Urinagi and hits back elbows. He hits more punches before dropping Solo with a clothesline. Solo moves to the floor and Rollins hits him with a suicide dive. He hits another dive and then the third one. Solo blocks a knee strike and hits a Samoan drop to get a two-count.
Heyman is on the call at ringside. Rollins rolls up Solo for a two-count. Rollins goes for a rolling elbow but Solo ducks it and hits Spinning Solo to get a near fall. Solo hits two more Spinning Solo before more punches. The referee separates them. Rollins moves to the floor. Solo slams Rollins into the announce table. Rollins slips away and sends Solo into the ringpost. Solo gets into the ring and Rollins nails him with a superkick. The Usos attack Rollins to cause a DQ.
Winner – Seth Rollins(via DQ)
Matt Riddle, Sami Zayn and Kevin Owens run out to make the save. The show goes off the air.