WWE RAW February 28, 2022: Results, Card, Preview, Tickets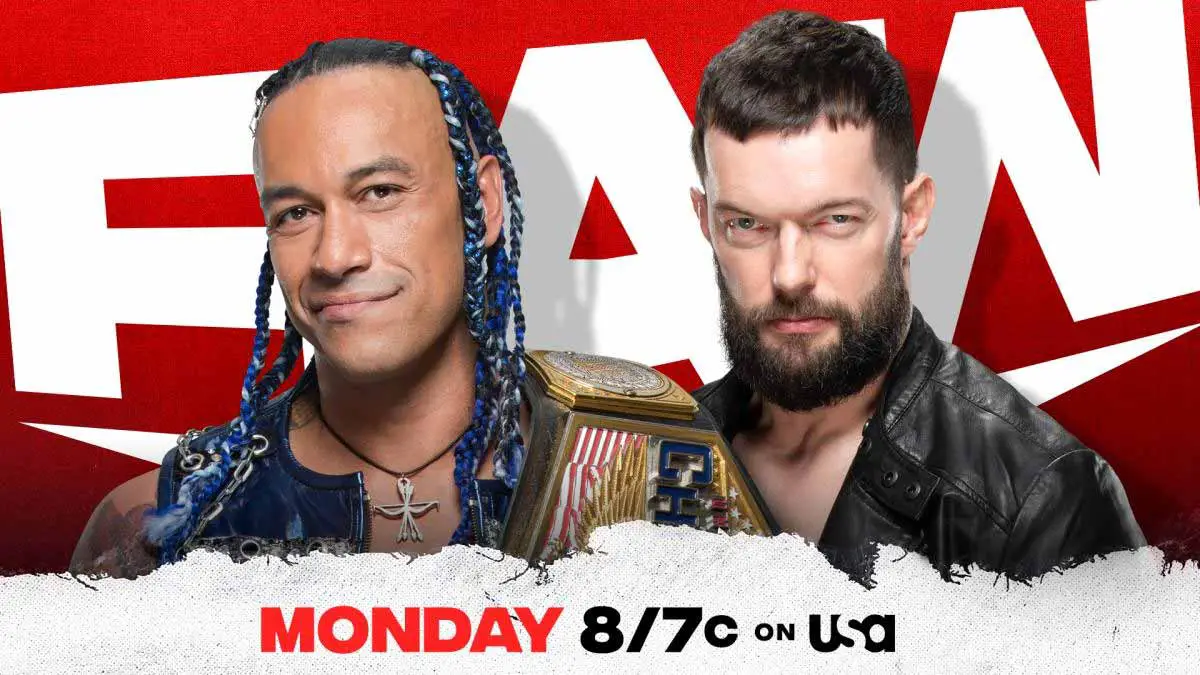 WWE RAW episode of February 28, 2022, will continue to build up towards WrestleMania 38. The show will air live from Nationwide Arena in Columbus, OH.
Damian Priest is announced to defend the United States Championship against Finn Balor. The Miz vs Mysterios rivalry will also continue as well as Becky Lynch vs Bianca Belair storyline.
Check below for the complete details on WWE Monday Night RAW episode of February 28, 2022.
Show – WWE RAW
Date – February 28, 2022
Location – Nationwide Arena, Columbus, OH
Time – 8 PM EST
Live Updates
The KO Show
Kevin Owens comes out in a cowboy hat to mock Texas. He brings out his best friend Seth Rollins. Owens says this year has been tough for both of them, and the two biggest stars not being on WrestleMania card will be a travesty. Seth says WrestleMania Gods have given them another chance. Owens says nothing will distract them from winning the RAW Tag titles and going to WrestleMania. Nothing can distract him including the people like Shawn Michaels, JBL or people of Texas. Owens crushes the cowboy hat under his feet. Rollins calms him down saying that they are not in Texas this week.
The guests for tonight are Alpha Academy. Gable says thank youuu! for bring him to the KO Show for the first time. They argue a bit about how Gable says thank youuu. Gable says a couple of as**s are trying to take away the titles. Owens retorts by saying that they are champions until next week when they win the title. Rollins says WrestleMania needs them. Gable says Owens and Rollins have weaseled their way into the match and then mocks the crowd. The crowd chants "You Suck!" at him. Gable shooshes them and points out how their chances of winning went down to 33%.
Owens says it is nothing personal, and all about the title. Gable says they both had their chance at WrestleMania and Otis and him have not even competed at WrestleMania until now. Rollins says they can face them at WrestleMania after they become champions. Gable tells Rollins to shut up and Owens & Gable get into a shoosh battle. Owens hits Gable with a stunner. A referee comes in and stops Otis from doing anything. We cut to a break.
Alpha Academy vs Kevin Owens & Seth Rollins
The match is already started. Rollins tags out to Owens. Otis whips him to the corner and hits a splash. Otis no-sells shoulder tackles. He hits a back elbow to drop Owens. Otis drops Owens again. Otis misses an elbow drop. Owens hits two sentons back to back. Rollins tags in and unloads with forearms. Rollins is sent to the apron with a back body drop and Gable grabs his leg, so that Otis can knock him off the apron. Otis sends Rollins into the barricade.
Gable tags in and hits a forearm to drop Rollins. Gable starts working on left arm before hitting a suplex. Otis comes back and hits another tackle to drop Rollins. Otis misses a Vader bomb. Owens tags in, knocks off Gable and hits a cannonball on Otis. Gable avoids a stunner but Owens hits both opponents with a senton dive. Owens hits a splash on Gable on the floor before Otis hits him with a Thesz press to take us to the break.
Otis has Owens under control as we return. Gable stomps on Owens' arm after tagging in. He puts on a knee lock. He hits a German suplex. Owens hits back with enziguiri and tags in Rollins. Rollins hits clotheslines and a slingblade. Otis is knocked-off the apron. Gable crashes into the corner. Rollins hits a falcon arrow for a two-count. Owens tags in and hits a superkick. Rollins hits a rolling elbow. Owens hits a fisherman brainbuster and Otis breaks the pin. He drops Rollins to the floor.
Otis hits a corner splash. He follows with a Vader bomb. Gable tags in to hit a splash. Rollins breaks the pin. Otis crashes into the corner. Rollins hits him with a suicide dive on the floor. Gable hits Owens with a German suplex. He misses a moonsault. Rollins tags in for double team. Rollins hits a bucklebomb, Owens hits a stunner and Rollins finishes off with a stomp to get the pin.
Winner – Seth Rollins & Kevin Owens
Omos is at Gorilla position. He cuts the interviewer in between and says he has dominated everyone since his debut at WrestleMania. Tonight, he is facing the largest man in the ring until now in T-Bar. But, he will dominate him also.
Omos vs T-Bar
Omos drops T-Bar from the apron during his entrance. T-Bar lands on the barricade. Omos brings him into the ring, but the referee says she can't start the match since T-Bar is not in right condition. Omos throws him into the corner. T-Bar gets to his feet and the bell ring. T-Bar avoids a charge in the corner. Omos knocks him off and then hits a double-handed chokeslam. Omos covers and gets the pin easily.
Winner- Omos
Doudrop and Nikki cut a promo backstage. Becky joins them and says they will do everything to walk out as the winners, just like she defeated Bianca at SummerSlam in 26 seconds. All three of them walk out as we cut to a break.
Liv and Rhea are talking at Gorilla about what is going to be their strategy. Rhea says the strategy is brutality. Bianca Belair joins them and asks to be tagged in whenever Becky is in the match as she is due a KOD. All three make their entrance.
Becky Lynch, Nikki ASH & Doudrop vs Bianca Beliar, Rhea Ripley & Liv Morgan
Liv and Becky were about to start but Becky asks Bianca to come in. Becky mocks Bianca and tags in Nikki. Liv tags in from the other side. Nikki and Liv trade waist locks. Liv hits a hurricanrana. Doudrop tags in and pushes Liv away. Liv hits her with a step-up enziguiri and tags in Bianca. Bianca goes for Doudrop but she is too big for her. Rhea comes in to join Bianca for a double suplex. Nikki and Becky are also thrown to the floor. Liv takes them out with a crossbody.
Bianca rolls up Becky for a one-count. Becky counters a suplex with a cradle for a two-count. Becky hits a kick at the chin in the corner. Becky slams Bianca into the corner. She wraps Bianca's braid in the ropes. The referee untangles it. Becky hits a leg drops on the ropes. Becky tags in Doudrop. Doudrop hits a body slam and an elbow drop. Nikki comes in and hits a snapmare. Nikki unloads on Bianca before showing off a bit. Becky tags back and kicks at Bianca. She traps her braids under her feet. Bianca knocks off
Rhea hits short clotheslines and suplex. Rhea with driving knees to the face and a low dropkick. Rhea hits riptide and doudrop breaks the pin. Nikki throws Liv to the floor and tags in. Bianca comes in from the other side and hits Nikki with Glam slam. Becky pulls Bianca out to the floor and drops her on the floor. Liv hits Becky with a suicide dive. Doudrop is cut off with a dropkick from Rhea. Nikki hits Rhea with a crossbody. Bianca comes in and drops Nikki but Becky pulls her with her braid. Bianca unloads on Becky with her braid. Becky starts screaming and leaves. Bianca hits KOD on Nikki to get the win.
Winners- Bianca Beliar, Rhea Ripley & Liv Morgan
Becky is showing off marks from braid-shots on the stage while the winners celebrate.
We get a replay of Robert Roode helping Dolph Ziggler beat Tommaso Ciampa in the #1 contender match last week on NXT 2.0. Roode comes out with Ziggler for the match.
Robert Roode vs Tommaso Ciampa
Roode starts with some punches. Ciampa kicks at him. Roode throws him to the floor. Ciampa brings him to the floor and drops him with a clothesline. Ziggler and Ciampa argue a bit. Ciampa hits elbows and punches before Roode hits him with a spinebuster. Roode throws him into the corner and hits a chop. Ciampa gets his boot up after a whip.
Ciampa hits an elbow before hitting inverted DDT for a two-count. Ciampa misses a running knee. Roode rolls him over for a two-count. Ciampa ends up knocking Ziggler from the apron. He then rolls up Roode to get the pin.
Winner- Tommaso Ciampa
After the match, Roode drops Ciampa from behind. Ziggler also joins him in the attack.
We see the recap of Reggie rolling up Dana to win the 24/7 title two weeks back and how Dana won it back by pinning Reggie while kissing him. Akira Tozawa getting refused for a kiss by Tamina is also shown. Reggie and Dana come out to the ring.
Reggie & Dana Brooke vs Akira Tozawa & Tamina
Dana and Tamina start the match. Tamina hits a knee. Dana takes her down with a hurricanrana. Dana hits a handspring splash. Tamina hits back with a back elbow and then tosses her. Tozawa tags in and hits an enziguiri on Reggie. Reggie stops the pin and hits a dropkick on Tozawa. Tamina comes in and Dana sends her to the floor with a dropkick. Reggie gets the pin on Tozawa with a sitout pin.
Winners- Dana Brooke & Reggie
After the match, Dana and Reggie celebrate and Dana kisses Reggie. Tamina also kisses Tozawa. Tozawa has lost his senses. Tamina leaves and Tozawa follows her.
Street Profits are interviewed backstage. They say beating RK-BRO tonight will be their first step back to the tag titles. They talk about how they have to save RAW from Alpha Academy.
The Mysterios are out in the ring. Rey says they have accepted Miz's challenge last week. But since they got humiliated last week, they have to give Miz what's coming to him. Dominik calls The Miz a "Hollywood Mega Dumbass." The Miz interrupts them and takes offense at Dominik's language and Logan Paul being called a fanbody.
Miz talks about his accomplishments in WWE like main event against John Cena, IC titles and more. He says the crowd are sick of the old things and they don't want the Mysterios as tag team champions again. He and Logan are bigger, better, and newer. The Hurt Business make their entrance for the match as we cut to break.
The Mysterios(Rey Mysterio & Dominik) vs Hurt Business(Cedric Alexander & Shelton Benajmin)
Rey hits a hurricanrana on Shelton. Cedric tags in and Shelton runs a misdirection so that Cedric could slam Rey on the apron. Cedric hits a snapmare takedown and puts on a chinlock. Rey comes back with back elbows. Cedric fires back and tags in Shelton. Shelton hits a bodyslam. Cedric slams Rey into the corner. Rey hits a big boot and then hits a hurricanrana. Dominik comes in and hits a crossbody on Shelton. He hits a hurricnarana on Shelton. He hits an enziguiri.
Dominik misses a moonsault. Shelton hits a spinebuster. Shelton misses a running knee in the corner. Dominik hits a tornado DDT and Cedric breaks the pin. Cedric is sent to the floor by Rey. Rey hits him with headscissors takedown. Dominik goes for a 619 but Shelton moves to the floor. Dominik drops Shelton in the ring but Miz pulls him out. Rey chases down Miz and Shelton rolls up Dominik to get the pin.
Winners- Hurt Business
RK-Bro are at Gorilla position. Riddle tells about some of the symptoms he is having since he was stomped by Rollins last week. Randy Orton says by what he has told him, he seems fine. Orton then says they should win the titles next week even if that is the last thing they ever do. They make their entrance and we go to break.
Back from commercial, we get a recap of Naomi and Sasha Banks calling their shot for the tag titles on SmackDown. Carmella and Queen Zelina Vega are hanging out backstage and chatting. They accept the challenge and I'm pretty sure Carmella threatens to have sex with Corey Graves to celebrate when they retain.
The Street Profits(Angelo Dawkins & Montez Ford) vs RK-Bro(Riddle & Randy Orton)
Ford hypes up Dawkins as he gets ready to start with Riddle. Dawkins puts on a waistlock and takes down Riddle. Dawkins hits a flying back elbow. Ford comes in and hits a dropkick. Riddle puts on a arm triangle. Riddle gets up and tags in Orton who stomps on Ford's arm and body. Riddle tags back in. Ford gets his knees up on a moonsault.
Dawkins tosses Riddle as he tags in. Dawkins hits punches. Riddle fires back and clotheslines Dawkins to the floor. Ford has taken the blind tag. Riddle hits a springboard moosault on Dawkins on the floor. Ford knocks off Orton from the apron. He hits a dive on Riddle to take us to the break.
Riddle is dropped with a clothesline as we return. Riddle hits back with a Pele kick. Orton hits clotheslines and a powerslam on Ford. Orton hits draping DDt. Dawkins and Riddle fights and gets to the floor. Ford avoids an RKO and hits a dropkick. Ford hits a splash from the top rope, but Orton rolls around to delay the pin. Ford covers. Orton tries to take his legs on the ropes, but Dawkins pushes his legs away from the ropes. Ford complete the pin.
Winners- The Street Profits
Austin Theory is backstage with Vince McMahon. He talks about how Pat McAfee has made the biggest deal in podcast history and how it is 20 years since Vince McMahon had an interview. Theory recalls how Vince McMahon ended up throwing papers to interviewer's face. He pitches accompanying Mr McMahon to the Pat McAfee Show as a backup if Pat McAfee tries to jump on him. Vince says this is not that kind of show and leaves. Theory plays with pencil and has a clever smile on his face saying may be it is that kind of show.
Damian Priest(c) vs Finn Balor – WWE United States Championship Match
Priest pushes Balor to the corner after the lock-up. Balor counters a powerslam and puts on a headlock. Some grappling before Priest sends Balor to the corner and hits a flying elbow. Priest puts on the jawlock. Balor gets to his feet but gets dropped to the mat again. Priest puts on a chinlock. Priest hits knee strikes. Balor comes back with a dropkick and stomps on Priest. Priest rolls to the floor and Balor hits a suicide dive to take us to a break.
Priest hits sidekicks. Balor fires back with chops. Balor hits a Pele kick. Balor gets his boot up in the corner. Balor hits a running eloow but Priest does not get down. Balor sweeps his leg and hits a double leg stomp. Balor hits a slingblade and shotgun dropkick. Balor misses Coupe De Grace. Priest hits a lariat. Priest hits a roundhouse kick and Chokeslam for a near fall. Priest goes the Reckoning but Balor hits an inverted DDT. Balor hits shotgun dropkick and Coupe De Grace to get the pin and the win.
Winner – Finn Balor
After the match, Balor gets the belt and celebrates. Priest takes the mic and says Balor won tonight since he has crowd behind him. Priest says he did not get the same love from the crowd throughout his reign despite busting his a** for them. Priest says he will win the title back and that love from crowd will not matter at all. Priest drops Balor with a lariat. Priest takes Balor to the floor and drops him on the table with powerbomb.
Who will face Edge at WrestleMania?
Edge is out in the ring and says he called out for a challenge at WrestleMania last week. He asks who will accept his challenge. When no one comes out, he gets enraged and asks what has happened to this place. Finally, AJ Styles' music hits and he comes out. AJ completes his entrance before telling Edge that he accepts his challenge.
Edge gets excited and tells AJ that he wanted this match for a long time. He adds that he wants the bulldog AJ, and not the tag team bitch who was playing tag team with Omos for the last one year. AJ is not happy with that barb. Edge offers a handshake and attacks AJ. AJ fights back and drops Edge with a Pele kick. AJ goes for a phenomenal forearm but Edge ducks and hits him with a low blow.
Edge goes in heel mode and starts unloading on AJ for a while. He comes to his senses a bit and gets out of the ring. But shortly afterward, he goes and picks a couple of steel chairs. Edge sets up the con-chair-to. He battles with his inner demon for a while before hitting AJ with the steel chair. Edge once again battles his thoughts before finally giving it in and slams AJ's head with a chair once again.
---
Tickets
The tickets for Monday Night RAW episode on February 28, 2022 are available at the below link. The prices range from $37 to $307.
Preview
Edge Addresses WrestleMania Match: Edge was on point last week saying that he wants another WrestleMania moment and promises that whoever ends up being his opponent, that he will make him live forever in fans' memories. What more does Edge has to say to entice the potential opponent?
United States Championship Match: Damian Priest defeated Shelton Benjamin fairly easily despite a lot of interruptions from Cedric Alexander. After that, he wanted a new challenge and Finn Balor has presented himself just as that. The pair will clash this week over United States title on RAW. Who emerges the winner?
Who Else will Go to WrestleMania? WrestleMania card is still far from being complete. There are many teases for probable matches, but who will shine bright on the Road to WrestleMania.