WWE RAW February 07, 2022: Results, Card, Preview, Tickets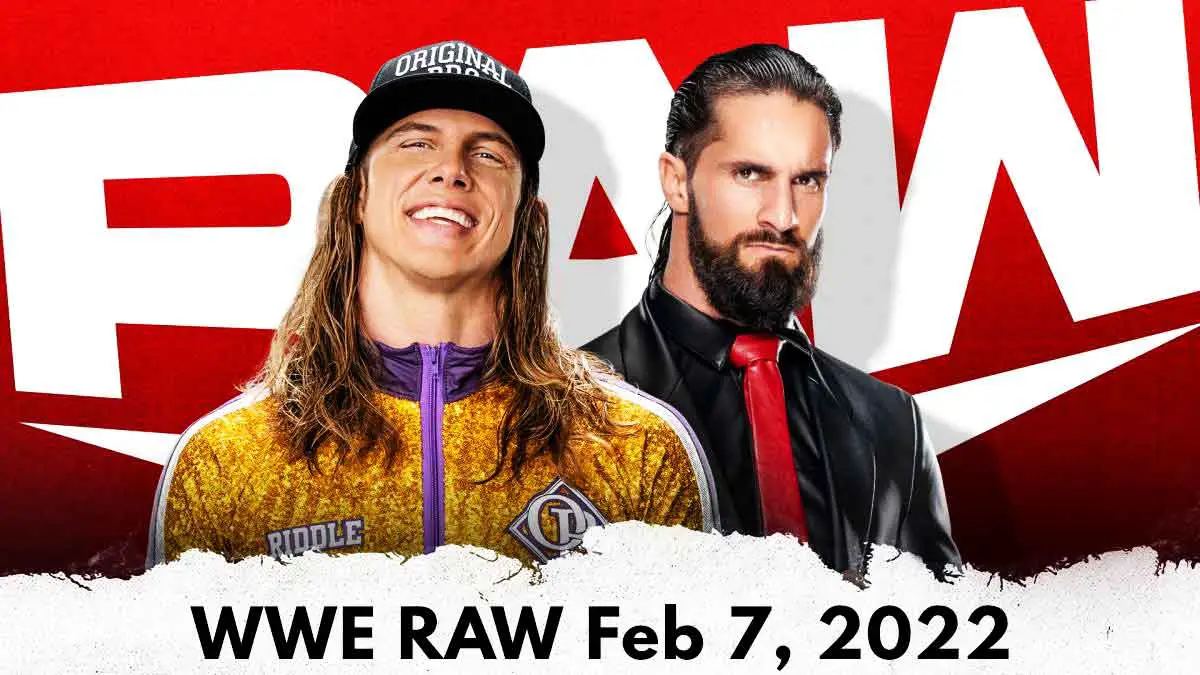 WWE RAW episode of February 7, 2022, will continue to build up towards Elimination Chamber 2022 event. This week's RAW will air from Ball Arena in Denver, Colorado.
Riddle vs Seth Rollins match is announced as two competitors from the Elimination Chamber match collide. WWE Hall of Famer Lita returns to RAW as she prepares for her match with RAW Women's Champion Becky Lynch. A quiz bowl competition is also announced between Alpha Academy and RK-Bro.
Keep reading to get complete details on WWE Monday Night RAW on February 5, 2022.
Show – WWE RAW
Date – February 07, 2022
Location – Ball Arena, Denver, CO, US
Time – 8 PM EST
Match Card & Results
Alpha Academy(Chad Gable & Otis) defeated The Street Profits(Montez Ford & Angelo Dawkins) in a tag team match via pinfall.
AJ Styles defeated Damian Priest in US Title Contenders Match via pinfall.
Dominik Mysterio defeated The Miz in a singles match via pinfall.
Bianca Belair defeated Nikki ASH in a singles match via pinfall.
Kevin Owens defeated Austin Theory in a singles match via pinfall.
Doudrop defeated Liv Morgan in a singles match via pinfall.
Riddle defeated Seth Rollins in a singles match via disqualification.
Seth Rollins & Kevin Owens defeated RK-Bro(Riddle & Randy Orton) in a tag team match via pinfall.
Live Updates
Quiz Bowl
The ring is set for the two teams there for the quiz bowl competition. Kevin Patrick is the host of the quiz. Patrick was about to explain the rules, but Gable stops him and starts to mock the crowd. He explains that correct answer will give you one point while a wrong answer will give the opposite team to steal that point.
Question 1- Which US President was the first to get a college degree? Gable gives the correct answer which is John Adam.
Question 2- How many hearts does Octopus has? Riddle answers 3, which is correct.Question 3- Who flew too close to the sun as per Mythology? Gable answers Ikarus, correct/
Question 4- A TMNT question and Riddle gives a correct answer.
Question 5- Which state is the largest among US states? Otis gives the correct answer in Texas.
Question 6- Who is the father of Hailey Baldwin? Riddle asks for a lifeline and wants to call Justin Beiber. Orton takes a guess at Alec Baldwin but it is wrong. Gable gives the corrent answer.
Question 7- Which Shakespeare play is adapted in most plays? Otis was giving the correct answer in Hamlet but Gable stops him and answers Romeo & Juliet.
Question 8- Which quarterback has the most wins in Denver's history? Orton brings in the crowd and gives the answer the correct answer. The score is at 4-4 now.
Question 9(for Alpa Academy) – How many grams are in an ounce? Gable scrambles but ends up giving the wrong answer. Orton gives the correct answer which is 28 grams.
RK-Bro wins the quiz bowl and Gable is upset. Gable starts ranting as RK-Bro goes to the back. Gable keeps asking to stop the buzzer until the Street Profits comes out. Ford and Dawkins come out and mock them for losing the quiz bowl. Gable challenges Street Profits and Ford accepts it. Otis runs down Ford as he was heading to the ring.
The Street Profits vs Alpha Academy
Gable and Ford start. Ford hits a dropkick on Otis on the apron. He drops Gable a couple of times. Gable counters with a gutwrench. They trade armdrags and Dawkins hits a dropkick. Ford comes in and gets sweeped by Otis from the apron while the referee is distracted. Ford avoids Otis' attack as he comes in. Otis runs him over with a clothesline. Otis keeps control for the next minute until he misses a running tackle in the corner.
Ford hits an enziguiri and tags in Dawkins. Dawkins runs riot against Gable with quick moves. Gable counters with a belly-to-belly suplex. Dawkins lands a big right hand and hits a swinging neckbreaker. Otis breaks the tag. Ford hits an enziguiri on him and sends him to the floor. Ford hits a suicide dive. Gable puts on the ankle lock on Dawkins and then gets the pin with a cradle.
Winner- Alpha Academy
Hometown WWE Champion
MVP is in the ring and he brings the hometown hero and WWE Champion Bobby Lashley. Bobby enters to a good ovation in his hometown. MVP tries to refute the fact that Bobby won because of Roman's interference, but argues that he did not know that and even Lesnar would have done the same that if roles were reversed. MVP then brings up how Lashley was told he has to defend title inside the Elimination Chamber.
MVP says Lesnar earned his match at WrestleMania by winning the Royal Rumble, but him trying to win the title from Lashley is pure fantasy. MVP claims that Lashley will leave Elimination Chamber as the WWE Champion. MVP gives props to other competitors in the Elimination Chamber match, but says Lashley is a monster.
Lashley takes the mic and tells Lesnar that you don't make demands from him. He asks when was the last time Lesnar defended a title on RAW. He claims that he will pin Lesnar at Elimination Chamber once again. Lashley says when Lesnar will wake up from beating at Elimination Chamber, he can go ahead to face Roman at WrestleMania.
We are in the psychiatrist's office with Alexa Bliss. The therapist asks Alexa to hand him the replica Lilly. Alexa does so but then starts crying.
AJ Styles vs Damian Priest – US Title Contender's Match
AJ start with a chop. Damian misses in the corner and AJ follows with more chops. Damian comes back with flying elbow. AJ hits a springboard forearm on the floor. He puts on a chin lock. Damian sends him to the corner and hits a backdrop. A big lariat follows. Damian puts on a shoulder stretch. He puts AJ on the top. AJ slips out of the superplex. He also avoids reckoning.
Damian avoids Styles clash but AJ hits Ushi Garoshi. Damian hits a roundhouse kick and a DDT. They trade shots in the middle of the ring. Damian hits side kick and AJ replies with Pele kick. More back and forth action. Damian cuts off Phenomenal Forearm but AJ hits it as Damian charges from the ropes.
Winner – AJ Styles
AJ celebrates his win after the match. Damian gets angry and stares down at him as the segment ends.
Kevin Owes is getting ready backstage. Seth Rollins comes to him and says he is sad and frustrated that Owens is not in the Elimination Chamber match. Owens says he never liked Adam Pearce and Sonya Deville. Owens says after he beats Austin Theory tonight, he might get into the match via some influence from Rollins. Rollins says he does not make the rule but Owens has his full support. Owens asks him if really means it, or is it just for laughs. Rollins assures him that he supports him.
The MizTV with Rey Mysterio & Dominik
The Miz asks them why is there so much hostility against him. He shows the footage from the match last week and asks them what is the problem. Rey says he used underhanded tactics to beat Dominik. Miz argues that he did not cheat but took advantage of the situation. Miz argues that he should have been in the WWE Championship Elimination Chamber match, but he did not get the opportunity and Rey did.
Miz says he is on a tear since winning the Money in the Bank briefcase. Rey says Miz cheated to win that match. Miz sasy he defeated Drew McIntyre when he was unbeatable and Rey argues that happened after Lashley's help. Miz goes on a rant and says he should have been on WWE 2K22 cover but it is Rey who is there. Maryse says she has been tremendous and Rey should learn a few things and name himself Rey Marysterio.
The crowd boos and The Miz screams "where is the respect?" Dominik has the same question exactly for Miz and asks him where is the respect for his father. Miz ends up challenging Dominik for a match tonight. Miz says Dominik is taller than Rey and wonders whether he is Eddie Guerrero's son. Rey gets agitated but Dominik keeps them apart. Dominik ends pushing Miz into chairs to send us to the first break of the night.
The Miz vs Dominik Mysterio
Miz pushes Dominik to the corner and poses. Dominik does the same to him. Dominik drops him to the ropes with a drop toe hold. He goes for the 619 but Maryse trips him. The referee boots her from the ringside. Miz argues with the referee and he gets distracted with Maryse refusing to leave. Miz drops Dominik and runs him over with a knee. He runs the ropes and Rey trips him from the floor. Miz argues with Rey and Dominik rolls him up for the pin and the win.
Winner – Dominik Mysterio
Nikki ASH vs Bianca Belair
They lockup and Biance hits a shoulder tackle. A dropkick sends Nikki ASH. Nikki trips her on the apron. Nikki unloads on Bianca in the ring now. She kicks at her knee before putting a single leg Boston Crab. Bianca turns around and kicks at Nikki. Nikki kicks at her knee again. Bianca hits a Fallaway slam. She is having trouble standing up.
Bianca hits two body slams. She misses the third one. Nikki tries to counter but Bianca rolls through and goes on to hit suplexes back-to-back for a two-count. Nikki counters with a crossbody from the top. Nikki misses in the corner and Bianca kicks at her face. Bianca hits KOD for the win.
Winner – Bianca Belair
R-Truth, Akira Tozawa and Tamina are searching for WWE 24/7 Champion Dana Brooke. Dana is hiding behind crates with Reggie. Dana thanks Reggie for all the help and says she is a good champion only because of him. Dana kisses on his cheek. Reggie asks her what all of this gesture means. Dana says that they are really good friends. They hug and then have a fleeting moment before R-Truth and others barge in. R-Truth says he will get his baby back in Montreal.
Kevin Owens vs Austin Theory
Owens ducks Theory's charge and unloads with kicks and punches in the corner. Theory comes back with a dropkick to the back of the head. They trade shots at each other. Theory whips Owens hard into the corner. Owens comes out exploding from the corner. He misses a running tackle and runs into the post. KO avoids getting slammed to the steel steps. He slams Theory into the steel steps and hits a senton on him on the floor. We cut to a break.
Owens whips Theory to the corner and hits a lariat. He hits a cannonball in the corner. Theory moves to the floor and KO hits a plancha. They fight on the top for a while before KO hits Avalanche Finlay role for a two-count. He hits a senton from the top but Theory gets her knees up. Theory rolls into a superkick and Owens quickly follows it up with a stunner to get the pin.
Winner – Kevin Owens
Randy Orton is backstage with Riddle and tells him to focus on Seth Rollins tonight instead of Elimination Chamber match and RAW Tag title match. Riddle nods before starting to talk how cool it will be to become double champion after winning both of those matches. Orton once again tells him to focus on Seth Rollins tonight.
Lita & Becky Lynch
Lita comes out to the ring and cuts a promo. Lita says she did not expect to be at RAW in Colorado two weeks back. She talks about Royal Rumble and how she got excited by going against all the top stars. However, one star was absent and that's why she came to challenge Becky Lynch. Becky comes out and says it is incredible to hear so many good things from Lita. She takes a shot at Ronda Rousey for ducking her at WrestleMania as she gets into the ring.
Becky says Lita is her teenage idol and she is internally grateful for her support in her initial days in WWE. Becky goes to say that without her support, there will be no Becky Lynch. However, for to have Becky Lynch now, there can be no Lita. Becky gets angry at Lita and says how hurtful to see Lita coming after her in the WrestleMania season. Becky says he will get rid of everyone no problem and she will have no problem in getting rid of Lita.
Lita says she has no problem in being the underdog. Lita says it is the fans that helped the punk rock dumpster diving kid like her to become a four-times champion. Lita says she did not have a title match in 15 years but the fans still support her. Becky has to take care of herself and how she feels when she walks out as five times champion. Becky teases going back before attacking Lita. She unloads on Lita for a while before leaving to the apron. Becky comes back to hit Manhandle slam but Lita counters and hits Whisper of the win and a moonsault.
Adam Pearce and Sonya Deville are backstage when Kevin Owens goes to them. He asks them if he gets in the Chamber match now that he has beaten Austin Theory. They reply that the result from qualifying match stands. Owens asks if they are really going to deprive the WWE Universe of seeing him in the Elimination Chamber. Pearce says they will and Sonya adds that he might not even make the WrestleMania card. KO gets emotional and says they can't take this away from him or the people of Texas. He goes on about his history with Dallas and how it was his first WrestleMania, his first Universal title win and so on.
Liv Morgan vs Doudrop
Doudrop slams Liv to the mat after the lock-up. Liv puts on the sleeper after piggybacking on Doudrop. Doudrop slams her to the corner. Doudrop charges at Liv in the corner but misses. Liv hits a couple of running knee strikes before Doudrop hits her with a crossbody.
We see Doudrop in control as we return from the break. Morgan hits back with kicks at the leg but gets whipped hard to the corner. Liv gets her boots up in the corner. She follows with a double jump dropkick. Liv hits an enzuigiri and a dropkick to the back. She hits a knee to the face and a springboard Codebreaker for a two-count. They tussle for control on the top. Doudrop drops Liv to the floor and hits Vader bomb for the pin.
Winner – Doudrop
The psychiatrist tells Alexa Bliss and says it was some progress on Alexa's part when she did not reacted angrily. Alexa goes to recite multiple incidents over the week where she controlled her anger despite getting wronged.
Seth Rollins vs Riddle
Rollins hits a slingblade after they run the ropes and dodge each other. Rollins is quick to get to the ropes when Riddle goes for the armbar. Rollins unloads with punches on the ropes. Riddle manages to take him to the floor. Rollins catches his penalty kick from the apron and drops him on the barricade to send us to the break.
Rollins is in control as we return. He hits a double leg stomp while Riddle was in tree of woe. Riddle hits a Pele kick to take back control. Riddle hits running forearms in the corner. A northern light suplex follows. Rollins gets his knees up on the senton. Riddle drops him to the floor and hits a penalty kick from the apron. Riddle hits a moonsault on the floor. Kevin Owens attacks Riddle to cause a DQ.
Winner – Riddle
Owens takes Riddle to the ring and hits him with a powerbomb. Randy Orton runs in and hits Owens with an RKO. Rollins gets into the ring and argues with Orton.
RK-Bro(Randy Orton & Riddle) vs Seth Rollins & Kevin Owens
Back and forth strikes to start. Orton hits a clothesline. Rollins sends him to the floor. Rollins goes to check on Owens who is on the floor on his knees. Orton drops Rollins on the announce table with a side slam. Riddle tags in and hits a senton. Owens takes the blind tag and attacks Riddle. Owens in control with clothesline and a moonsault to get a two-count.
Rollins hits him with a double ax handle after tagging in. Rollins stomps on Riddle's arm and picks on his nose. Riddle hits back with forearm strikes but Rollins cuts off his charge with a back elbow. Rollins and Owens keeps control on Riddle for a while. Rollins takes a cheap shot at Orton on the apron. Rollins misses a splash from the top. Owens tags in but Riddle fights back with stirkes and a Pele kick.
Orton gets a hot tag and drops Rollins and Owens with quick moves. Orton hits a draping DDT on Rollins. Rollins avoids the RKO and Riddle takes the tag. Riddle with big kicks on both opponents. Rollins nails a rolling elbow strike and then hits the stomp on Riddle to get the pin.
Winner – Seth Rollins & Kevin Owens
After the match, Rollins checks on Owens. They are leaving the ring now. Rollins gets out first and Orton hits Owens with an RKO from behind. Rollins realizes what happens and starts laughing. The show goes off the air.
---
Tickets
The tickets price of Monday Night Raw on February 07, 2022 ranges from $32 to $446. You can check the tickets below.
Preview
Seth Rollins vs Riddle: Monday Night Messiah Rollins will face Riddle in a singles match. Which star will take upperhand ahead of Elimination Chamber?
What does Lita have in store for Becky?: Becky Lynch accepted the challenge from Lita last week to defend her title at Elimination Chamber. Lita will return to RAW this week as the build-up for the match continues. What does the veteran have in store for Becky?
Quiz Bowl: After winning the scooter race last week against Riddle, Chad Gable has announced that the last competition between Alpha Academy and RK-Bro will be a quiz bowl. Who will turn out to be Smarted Team in between them? Gable has also made it clear that RK-Bro will not get their tag title rematch if they lose this competition.