WWE RAW November 15, 2021 Live Results & Updates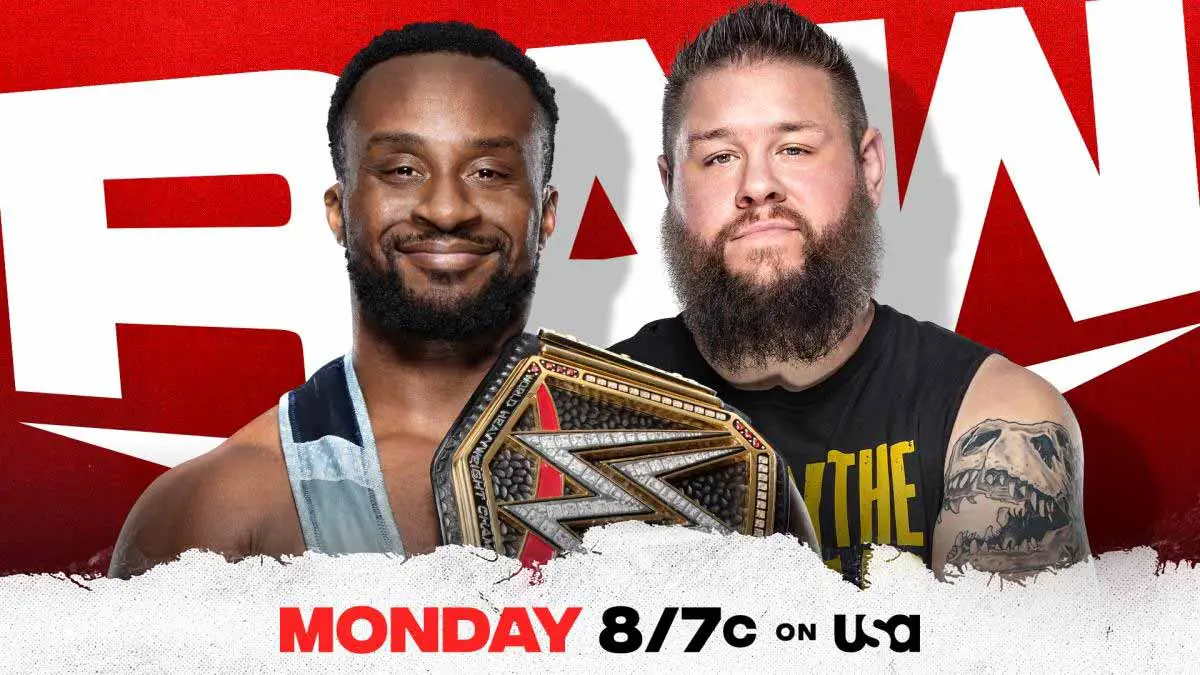 Welcome to the live blog for WWE Monday Night RAW episode of November 15, 2021, airing from Gainbridge Fieldhouse in Indianapolis, IN. This episode will serve as the go-home episode of WWE RAW for Survivor Series 2021 PPV.
WWE is advertising a segment featuring WWE Champion Big E, who will respond to the attack from Kevin Owens last week. Owens turned on Big E after his loss to Seth Rollins. No other matches or segments are announced till now, though we can expect Becky Lynch to fire some words towards Charlotte Flair, who she will face at Survivor Series.
It will also be no surprise if we see some of the stars from SmackDown jumping over to RAW for some late promotions for Survivor Series.
Join us as we bring you live results and updates from WWE RAW on November 15, 2021 with winners and highlights.
Results
Big E & Riddle defeated The Usos(Jimmy Uso & Jey Uso) in a tag team match via disqualification.
Seth Rollins & The Usos(Jimmy Uso & Jey Uso) defeated Big E, Riddle & Randy Orton in a tag team match via pinfall.
Bianca Belair defeated Tamina in a singles match via pinfall.
The Street Profits(Montez Ford & Angelo Dawkins) defeated Alpha Academy(Otis & Chad Gable) in a tag team match with a pinfall.
Queen Zelina defeated Nikki ASH in a singles match via pinfall.
Rhea Ripley defeated Carmella in a singles match via pinfall.
Kevin Owens defeated Finn Balor in a singles match via pinfall.
AJ Styles & Omos defeated The Dirty Dawgs(Dolph Ziggler & Robert Roode) in a tag team match via pinfall.
Bobby Lashley defeated Rey Mysterio in a singles match via pinfall.
Live Updates
Big E Addresses Roman & KO
The show starts with the recap of how Kevin Owens turned on Big E last week. Big E comes out to open the show. The commentators bring up that Survivor Series match between Big E and Roman Reigns. Big E tells Roman that he has made it much more than just a Survivor Series match by attacking Xavier Woods and Kofi Kingston. He now wants a fat piece of Roman.
Big E then calls out KO and he comes out at the stage. KO says Big E's interference had gave him third straight loss in RAW. And that was after Big E questioned his integrity. He says every person judging him can go to hell. He tells Big E that he deserves everything that happens to him from here on and he will be completely responsible for all that.
Owens goes back. Big E tells him to come back but when he does not, Big E goes to follow him. The Usos attack Big E on the stage and bring him back to the ring. They beat up Big E in the ring while also calling out RKBro. Riddle runs out to make the save and forces The Usos to run to the ramp. Sonya Deville comes out and books a tag team match. Seth Rollins also makes his entrance to watch the match.
Big E & Riddle vs The Usos(Jimmy Uso & Jey Uso)
Big E starts against Jimmy and hits punches to midsection. He attacks the ribs and then drops Jimmy with a shoulder tackle. Riddle comes in and The Usos double team against him. Riddle leapfrogs in the corner and hits a big to Jey. Big E is tagged back and Jey brings him down to his knees. Jey drops Riddle from the apron. Big E hits belly to belly suplex on Jey.
He also throws Jimmy over the ropes with a belly to belly. Rollins was taking shots at Big E on the commentary and Big E throws Jimmy into Rollins. Rollins avoids that attack but then enters the ring to attack Big E and the referee calls for DQ.
Winner – Big E & Riddle
After the match, Rollins and The Usos beat up Big E and Riddle. Randy Orton runs out to make the save.
Big E, Riddle & Randy Orton vs Seth Rollins & The Usos(Jimmy Uso & Jey Uso)
Orton and Rollins are going at it as we return. Orton helps Riddle to hit a moonsault on Rollins. Riddle puts on an armbar before tagging back Orton quickly. Riddle comes back and Rollins starts to unload with punches. The Usos take over control of Riddle and keep him grounded. Riddle tries to fight back with punches but Jimmy avoids a big move. He drops Orton from the apron before Riddle nails him with a dropkick.
Big E gets the rag and hits Belly to belly suplexes on both Usos. He also drops Rollins from the apron. He hits the splash on Jimmy. Jimmy hits him with an enziguiri before Big E fires back with an enziguiri. Big E hits bit blows to the chest. He hits a splash on the apron.
Orton hits an uppercut as we return from the break. Rollins hits him with an enziguiri. Jey Uso is keeping Orton under a headlock. Orton hits him with a sideslam. Riddle and Orton come in with tags. Riddle rocks Rollins and Jimmy with quick moves. Jey breaks a pin on Rollins. After few seconds of chaos, Rollins hits Riddle with a rolling elbow and gets the pin with a surprise pin attempt.
Winners – Seth Rollins & The Usos
Bianca says Doudrop wanted to be in Survivor Series team. She give Doudrop props for her wrestling ability and calls her out for a match tonight. Tamina comes from behind and tells Bianca that she is her business tonight. Bianca says she was hoping for Doudrop but she would face her.
Bianca Belair vs Tamina
They start back and forth with punches to each other. Tamina puts on a chinlock. Bianca gets to her feet but gets run over with an elbow strike. Tamina hits an elbow drops to get a two-count. Bianca boots her in the corner and then hits a dropkick. A leapfrog in the other corner and a spinbuster gets Bianca a two-count.
Tamina hits a superkick and goes to the top. Bianca brings her down and Tamina gets her knees up on the springboard moonsault. Tamina stops the Jaded and Bianca stops Samoan drop. Bianca hits KOD to get the pin.
Winner- Bianca Belair
Doudrop comes out to the stage. She says Bianca must be exhausted after the match, so, she will not take her advantage. But on Sunday, she will be looking for her.
Alpha Academy(Otis & Chad Gable) vs The Street Profits(Montez Ford & Angelo Dawkins)
Dawkins drops Gable with a shoulder tackle after hte initial back and forth. Dawkins tosses Gable with suplex and backdrop before tagging in Ford who nails a dropkick. Gable puts Ford in a choke. Ford comes back with a backdrop and hits another dropkick. Dawkins tags in and hits a standing splash to get a two-count.
Gable tags in Otis who drops Dawkins with double ax handle. Otis hits a headbutt and then nails a big punch to the ribs. Gable saves Otis from an attack in the corner. Ford hits Gable with a suicide dive. Otis runs over Ford and Dawkins with clotheslines.
Otis hits a splash on Dawkins' knee as we return. Gable tags in and works on the leg. Dawkins drops Gable and Ford and Otis tag in. Ford unloads with chops and punches. Otis hypes up and hits him with a powerslam. They go for the double team finisher but Dawkins grabs Otis' leg. Dawkins counters Otis' charge on the floor to send him into the barricade. Ford hits the splash on Gable to get the win.
Winner- The Street Profits(Montez Ford & Angelo Dawkins)
Queen Zelina Vega vs Nikki ASH
Nikki hits a crossbody after initial back and forth. She fights back form the apron and rolls up Vega for a two-count. Vega sends her to the corner and kicks at her. Nikki hits a knee to the face for another pin attempt. Vega puts on a headlock now. Nikki gets to her feet, runs the ropes and dropkicks at Vega's knee. Nikki with another low dropkick.
Nikki unloads in the corner before hitting a Michinoku Driver for another two-count. Nikki goes to the top but Vega joins her. Nikki sends Vega to the mat. Carmella runs a distraction and Vega knocks Nikki's leg out. Vega hits Code Red for the pin.
Winner- Queen Zelina Vega
Carmela vs Rhea Ripley
Rhea gets angry and goes to take a shot. Carmella gets her hands up and Rhea then goes to nail big slap on her back. Rhea drops Carmella and then hits a low dropkick. She gets a two-count with a bridging German suplex. Carmella hits a superkick to get a two-count of her own. Rhea rocks her with a headbutt and hits riptide to get the win.
Winner- Rhea Ripley
Zelina takes the mic and mocks Nikki to be the friend of the winner. The boos get louder and Zelina shouts at the crowd. Zelina says Nikki will be at home with loser while Carmella will lead Team RAW to Survivor Series win.
Finn Balor vs Kevin Owens
They come to stalemate after locking up. Owens then unloads on Balor with keeps him grounded for a while. Balor hits a jawbreaker. Owens fires back with hammerblows. Balor rolls through a sunset flip and hits a dropkick. Balor avoids powerbomb on the floor but KO attacks his leg. Owens hits a spinning side slam for a two-count.
Owens in control for a while before Balor fights back in the corner. Balor with a double leg takedown and dropkick. He nails a suicide dive as we cut to a break.
Owens hits a rolling senton from the top. Balor drops KO with a slingblade and a stomp. Owens hits tilt-a-whirl side slam to get a two-count. Balor avoids Stunner and hits slingblade. Owens cuts off his charge with a superkick. Balor blocks the powerbomb on the apron and hits a back body drop.
Owens drops on the floor and Balor nails him with a shotgun dropkick, sending him into the barricade. Owens avoids Coupe de Grace and hits pop-up powerbomb for a nearfall. Balor gets his knees up on the senton and hits another dropkick. Balor goes to the top but Owens brings him down and hits stunner for the win.
Winner- Kevin Owens
AJ Styles & Omos vs Dirty Dawgs(Dolph Ziggler & Robert Roode)
Omos rocks Roode with a clothesline. He continues to manhandle Roode as AJ instructs him from outside. Omos drops Roode in his corner and asks Ziggler to tag in. Ziggler jumps on his back and gets tossed easily. Omos runs over Ziggler with a tackle. He sends Ziggler high in the air and drops him. AJ tags in and hits the phenomenal forearm for the win.
Winner- AJ Styles & Omos
Bobby Lashley vs Rey Mysterio
Rey avoids the early onslaught and hits a dropkick. Lashley hits a big boot and then drops him with a spinebuster. Dominik runs a distraction and Rey sends Lashley to the floor. Lashley catches him midair and goes to ram him into the ring post. Rey avoids the attack and hits a dropkick and a sliding splash on the floor. Lashley catches him and drops him into the barricade to take us to the break.
Lashley slams Rey into the corner as we return. He hits a few clotheslines in the corner next. Rey fights back but Lashley drops him with dominator. Rey is tossed to the floor now. Lashley drives him into the ringpost. Back to the ring, Lashley hits a running shoulder tackle in the corner. He hits a delayed vertical suplex next.
Rey avoids a charge in the corner and drops Lashley to the ropes. Lashley charges again and Rey once again drops him to the ropes and hits 619. Rey hits a diving headbutt and goes for the pin. Lashley picks him up and puts on the Hurt lock to get the submission.
Winner – Bobby Lashley
After the match, Dominik comes into the ring to check on Rey while Lashley exits. Adam Pearce comes out and announces that he is removing Rey Mysterio from Team RAW from Survivor Series. Austin Theory attacks Dominik and drops him with ACL. Pearce gets impressed by Theory and puts him in the Survivor Series team.