WWE NXT Results March 21, 2023, Live Updates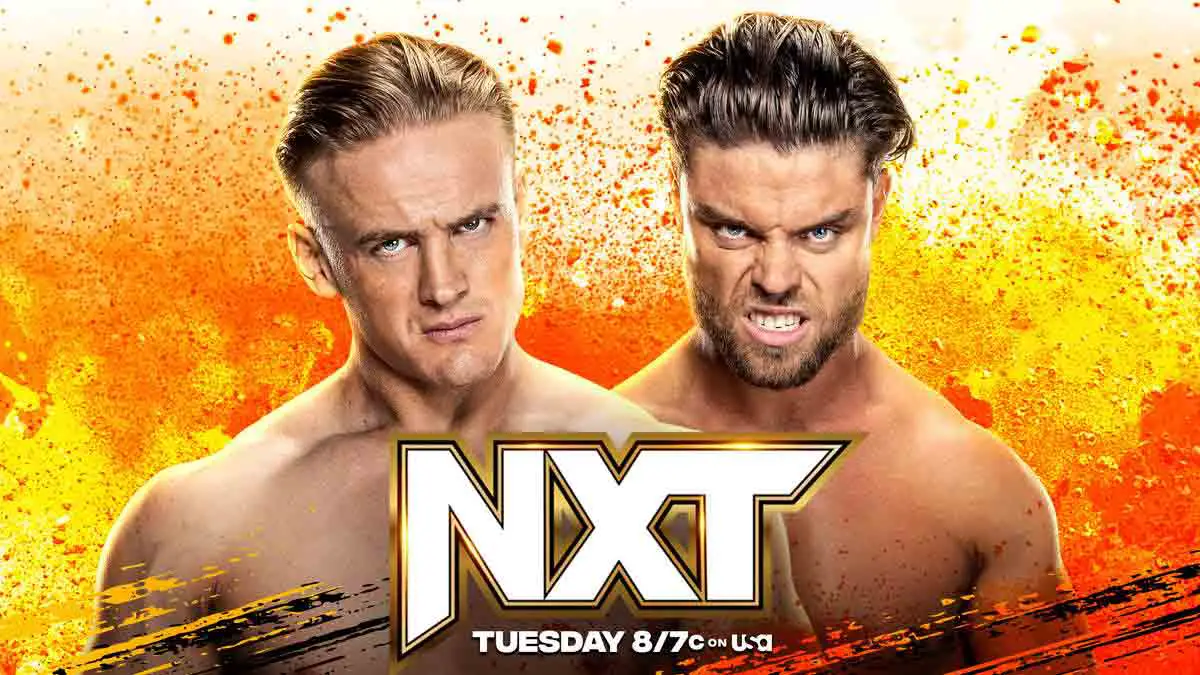 Welcome to the live results blog for WWE NXT March 21, 2023 episode which will be live from WWE Performance Center once again.
With just two more episodes to go for Stand & Deliver 2023, things will pick up steam. Two qualifier are set for NXT Women's Championship Ladder match. Tiffany Stratton takes on Indi Hartwell in the one qualifier while Lyra Valkyrie takes on Wendy Choo in the other qualifier.
Ilja Dragunov and JD McDonagh's rivalry will reach an important stage as they clash in a singles match. There is also a debate scheduled between Chase U and Schism. While Chase U might have their intellect on their side, Schism will be armed with mind games. Which side will prevail?
How will the storyline between Bron Breakker and Carmelo Hayes proceed? Things have been harmoneous between them so far. Will that continue? Tune in below as we post results from WWE NXT March 21, 2023 episode with live updates, winners and highlights.
RESULTS
Tiffany Stratton defeated Indi Hartwell in Women's Championship Match Qualifier via pinfall.
Ilja Dragunov vs JD McDonagh ended in a double disqualification.
Lyra Valkyrie defeated Ivy Nile in Women's Championship Match Qualifier via pinfall.
Pretty Deadly(Kit Wilson & Elton Prince) vs Bron Breakker & Carmelo Hayes
LIVE UPDATES
The show opens with a recap of Grayson Waller attacking Johnny Gargano outside his home.
Hosts of Stand & Deliver
Pretty Deadly come out to the ring. They say, as the host of Stand & Deliver, they have expunged last week's segment from the archives where they were put through the table. They start to talk about outfits for Stand & Deliver. They mock Carmelo Hayes and Bron Breakker's outfits last week. Hayes' music hits and he comes out with Trick Williams. Williams ends up challenging Pretty Deadly for a tag team match.
They reply that they would accept it if Hayes puts his title shot at Stand & Deliver match on the line. Williams accepts the challenge saying that Hayes' partner will be Bron Breakker. Pretty Deadly attack Williams and Hayes. Breakker runs out to make the save and throws Pretty Deadly out to the floor. Breakker picks up Hayes and says he will not let anything happen to him until Stand & Deliver.
After the break, Hayes and Williams are backstage and Hayes says they do not need Breakker's help to deal with Pretty Deadly. Williams says Hayes needs to know how Breakker moves and works. Hayes agrees with the thinking.
Tiffany Stratton vs Indi Hartwell – Women's Championship Match Qualifier
Indi starts with a takedown and works on Stratton's shoulder. Stratton replies with a boot from the corner and a clothesline. Indi hits back with short clotheslines. Stratton hits a snap suplex to get a two-count. Blow to the back and whip to the corner before a handspring splash in the corner from Stratton. Indi brings her down. They end up on the apron and Tiffany yanks Indi off the apron to take us to a break.
Stratton is in control after the break. Indi hits back with a jawbreaker. Stratton sends her on the ropes and hits a hip attempt. She hits a double stomp after blocking another attack from Indi. Stratton leaps over with a moonsault to avoid an attack in the corner. Indi then tackles her. They trade some shots before Indi takes over with some quick kicks.
Stratton hits a powerslam to get a two-count. Stratton misses a springboard senton and Indi hits a spinebuster for a two-count. Stratton counters in the corner and hits a double jump moonsault to get the pinfall.
Winner – Tiffany Stratton
Gallus Boys are in a club playing snooker. The Creed Brothers interrupt them and play snooker with them. They end up losing badly but say 8-ball was never their style and they are more of Darts guys. Creed Brothers win the Darts game. They tell Gallus to give them a title shot at Stand & Deliver as a tie breaker. Gallus Boys agree. They come out of the club and Tony D'Angelo and Channing Lorenzo are waiting for them outside. They also ask for a title shot at Stand & Deliver. All 3 teams get back into the club to discuss business.
Stand & Deliver Spots
Wes Lee is in the ring now to talk about his open challenge. Lee says when he won the North American title at Halloween Havoc, that was his first chance. Now, he wants to give anyone the exact same opportunity that he got. And he wants to prove it to the man in the mirror that he deserves to be North American Champion.
Dragon Lee interrupts Wes Lee when he starts to talk about spot at Stand & Deliver. The crowd is pretty excited seeing Dragon Lee. Dragon Lee says he loves chaos and wants to be part of the 5-way match at Stand & Deliver. The champ says he wants to have a match against Dragon Lee, and so, he gets the first spot. JD McDonagh comes out and talks about Lee vs Lee nepotism.
Wes says Ilja Dragunov will tear him apart actually. JD says Wes is lucky that he is not after North American title and they can watch him tear down Ilja Dragunov. Dragunov makes his entrance.
---
NXT Anonymous posted another vidoe where we see Indi Hartwell kicking things around backstage in frustration of losing her match against Stratton. Zoey Stark mocks her.
We cut to an interview with Gigi Dolin who wishes a quick recovery for Roxanne Perez. Stratton interrupts her and says she had a Tiffany Ephiphany that she would win the title by tippy topping to the top.
Ilja Dragunov vs JD McDonagh
They start with quick punches before some big boots. Dragunov drops JD with a pump kick and hits some blows to the back. JD hits back with a clothesline and chops. He hits a suplex before Dragunov counters an arm wringer. Dragunov misses a few strikes before hitting chops and slaps to bring down JD.
They trade slaps in the middle of the ring. Dragunov hits two German suplexes. JD blocks the third one but Dragunov comes off the ropes to hit a clothesline. A knee drop from the second rope follows. JD hits him with elbow and a chop on the top rope before hitting throwing him off the top. Dragunov is down on the floor as we cut to a break.
We return to see Dragunov putting a leg lock on JD. JD reaches the ropes to break it. A bit of back and forth. JD hits a headbutt and Dragunov replies with an enzuigiri. He hits some big chops before hitting a back elbow. Dragunov hits rapid-fire chops before hitting a back suplex. JD hits a powerbomb to get a two-count before a trio of German suplex. Dragunov hits a roundhouse kick to his face.
JD counters a charge with a submission attempt. Dragunov blocks it and hits some forearms. They get to the floor and JD tackles Dragunov into Dragon Lee, who was sitting near the commentary table to watch the match. JD then throws Dragunov into Lee once again. Lee then starts hitting JD and Dragunov for a three way brawl to cause a DQ.
Result – Double DQ
Wes Lee hits them with a senton. They continue to brawl as the segment ends.
---
We cut to Bron Breakker backstage when Carmelo Hayes comes in and tells him that he does not need his help. Breakker says he wants the best Carmelo Hayes at Stand & Deliver and he does not want two clowns to screw that up. Breakker also says Williams is always up to something.
---
After the break, Wes Lee is interviewed backstage. Lee says JD is in face for the past two weeks. So, JD McDonagh gets the second spot while Ilja Dragunov gets the third spot for being one of the Europe's best. Axiom comes in asking for the final spot but Lee says there will be Battle Royal next week to find the last opponent.
Gargano Wants Unsanctioned
Johnny Gargano's music hits but it is Javier Bernal who comes out spoofing Gargano. Bernal goes on to mock Gargano and he is to blame taking his spot at Stand & Deliver. Gargano's music hits once again and he comes out this time. Gargano clotheslines Bernal and throws him around outside the ring before throwing him over the barricade. He takes the mic and says his match against Waller will be an unsanctioned match since Waller wanted to make things personal.
Gargano has a contract in hand and wants Waller to sign it. Waller appears on the big screen and tells Gargano to hand that contract to Vic Joseph. Waller says he will sign that contract next week, but Gargano has to be banned from the building next week at NXT. Gargano agrees and hands the contract down to Joseph. Bernal come back into the ring and Gargano nails him with a superkick.
---
We get a video package for Eddy Thorpe who will be coming to NXT next week.
---
Ivy Nile is interviewed backstage and says Tatum Paxley was the one she trusted after a long time. She adds that it was Paxley who was allowed to do her own thing, so, it was a contradiction when Paxley said they were never a team.
---
We get a video package for Hank Walker's journey in NXT so far from being a security guard to a wrestler and his Football stint prior to NXT. We also see his storyline with Drew Gulak and Charlie Dempsey. After the video, we cut to Gulak and Dempsey. Dempsey says Walker lacks a killer instinct. Gulak says a teacher can do only so much.
Ivy Nile vs Lyra Valkyrie – Women's Championship Match Qualifier
Lyra stars with takedown and tries for a pin. Nile grabs hold of her shoulder and gets a takedown. More back and forth until Nile goes for an armbar. She kicks at Lyra's arm before Lyra hits a kick. They trade some body kicks and end up knocking each other with a roundhouse kick at the same time. Nile hits a tilt-a-whirl slam. Lyra hits back with a series of kicks. Nile blocks a suplex and hits one herself. Nile hits a single leg dropkick before going for a choke. Lyra uses the ropes to roll over to hit a German suplex. Lyra hits a spinning back heel kick to get the pinfall.
Winner – Lyra Valkyrie
Alba Fyre and Isla Dawn attack Fallon Henley backstage and ask her where her partner is. Her partner Kiana James runs to make the save. As Fyre and Dawn run away, James tells Henley that she can't tell Brooks about her transgressions.
---
Wes Lee is asked who is gonna win the Battle Royal next week. He replies that it is hard to predict. Jinder Mahal, Dijak and Daba Kato come in one by one and stake their claims.
Schism vs Chase U – The Great Debate
Two sides are sitting on either side as Blake Howard plays moderator. Rip Fowler and Duke Hudson are asked about their views on Inclusion. Fowler says together has been a founding principles of Schism. He adds that Ava presented Hudson with a mask and welcomed him in with open arms. Hudson give a half hearted reply saying his university gives everyone an opportunity and a sense of belonging.
Ava and Thea are asked about how their university make them feel safe. Ava says Chase U gives a false sense of security while Schism provides an invisible wall around them. Thea gives a passionate speech saying Schism brainwash you into believing in safety while actually being hazardous to mind and soul.
Joe Gacy and Andre Chase are asked about the prepardness of their students. As Chase starts to answer, Gacy cuts him off and says its students have already demonstrated Chase U's prepardness. Tyler Bate, who was in the crowd, comes in and wants to take part in the debate. He goes against Jagger Reid and asked about his experience with the group. Bate goes on to give a long answer.
Two groups face off now. Andre Chase challenges Schism for a mixed tag team match with Tyler Bate on their side. Gacy says there is nothing in the match for Schism as they have already beaten them in a tag team match and a singles match. Gacy starts to leave but Hudson puts on the school on the line in the match. Gacy agrees for the match.
---
We cut back to the club where Gallus, The Creed Brothers, Tony D'Angelo and Stacks are down after being spent. Wolfgang proposes a 3-way tag team match for Stand & Deliver.
Pretty Deadly(Kit Wilson & Elton Prince) vs Bron Breakker & Carmelo Hayes
Pretty Deadly try to rush their opponents but they were alert to the danger. Hayes and Wilson start and Wilson hits a clothesline. Hayes hits back with dropkicks and armdrags. Wilson takes Hayes to the corner and tags in Prince for double team in the corner. They try to send Hayes into the steel steps but Breakker says he will not let them ruin Stand and Deliver.
Pretty Deadly take Hayes back to the ring and keep control. Hayes reverses it with a kick. Wilson hits a flapjack. Prince tags in and knocks Breakker off the apron. Breakker comes in and double team to send Pretty Deadly to the floor. We cut to a break.
Wilson is in control against Breakker as we return. Breakker ducks in the corner and tags in Hayes. Hayes hits a springboard move on Prince. Wilson grabs him but hits pulls him in with a suplex. Pretty Deadly are able to double team and hit a DDT. Wilson drops Hayes with back elbows. Pretty Deadly keep control for a while. Hayes starts to fight back against Prince but Prince drops him with a back elbow.
Hayes hits forearm shots before hitting an enzuigiri. Breakker and Wilson tag in. Breakker unleashes a series of suplexes on both opponents before running tackle on Wilson. Breakker hits another German suplex on Wilson. He hits a bulldog from the second rope to get a two-count. Hayes comes in to block Prince. Breakker almost ends up colliding with Hayes. Hayes hits double knees on Wilson before Breakker hits a spear. Hayes tags in and hits leg drop to get the pinfall.
Winners – Bron Breakker & Carmelo Hayes
Breakker and Hayes stand tall after the match. Hayes hands Breakker the NXT title as the show goes off the air.