WWE NXT October 11, 2022 Live Results- Breakker, Fyre in Action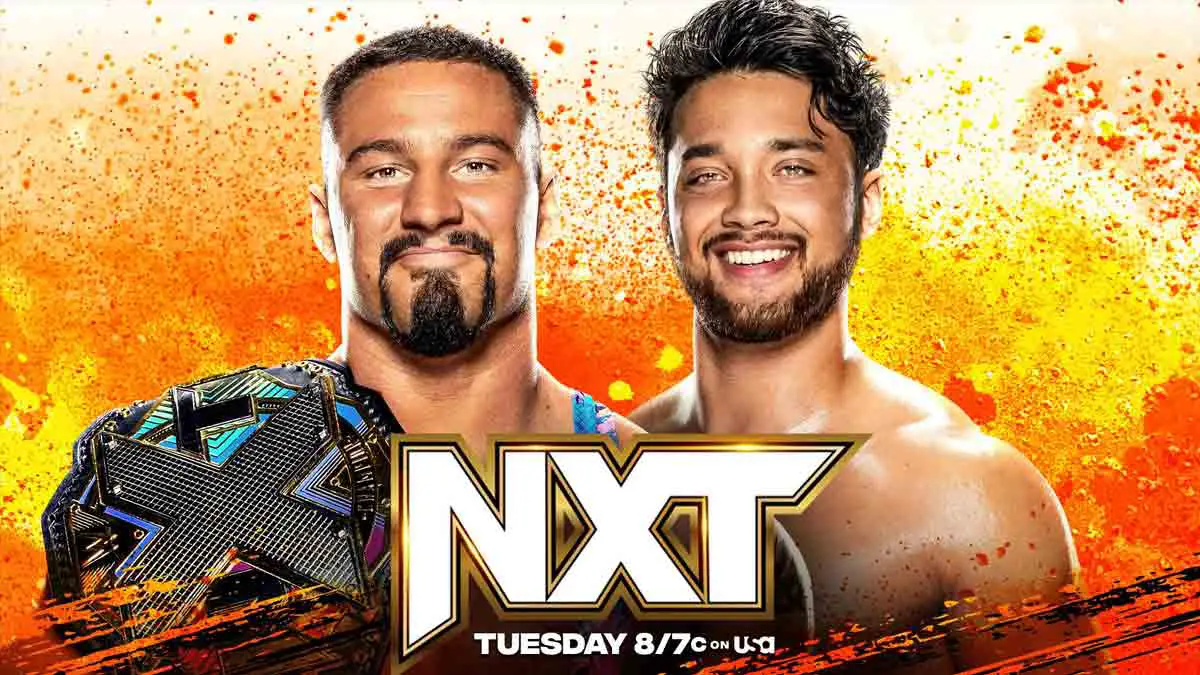 WWE NXT episode of October 11, 2022, will continue the storylines and buildup for Halloween Havoc 2022 event.
4 matches are announced in advance. Bron Breakker will try to shut up Javier Bernal who questioned Breakker's brain. Alba Fyre will continue her crusade against Toxic Attraction as she faces Jacy Jayne. Nathan Frazer and Axiom will complete their trilogy where a spot in North American title ladder match is also on the line. Wes Lee will face Channing Lorenzo in another singles match.
Diamond Mine's rivalry with Damon Kemp will also continue as well as Joe Gacy's mind games with Cameron Grimes. Tune in as we post results live from WWE NXT October 11, 2022, with winners, highlights, and videos.
Live Updates
Bron Breakker vs Javier Bernal
JD McDonagh accompanies Bernal on his way out and is on the commentary during the match. Breakker starts by slamming Bernal to the mat a few times. The referee breaks them up. Breakker puts on an arm wrench. Bernal reverses it. Breakker drops him with a big lariat. Bernal hits a kick as Breakker was down for a back body drop. Bernal hits some quick punches. Breakker hulks up. He hits flying shoulder tackles before hitting a spinebuster. Bernal tries to fight back but Breakker hits a powerslam to get the pin.
Winner – Bron Breakker
After the match, McDonagh gets into the ring while Ilja Dragunov also comes out for a three-way face-off. McDonagh hits a headbutt on Dragunov to start a brawl. Breakker and McDonagh trade punches. Dragunov goes for Torpedo on McDonagh, but he gets away and Dragunov catches Breakker with Torpedo.
---
Alba Fyre gets a video promo against Toxic Attraction.
Axiom vs Nathan Frazer – Qualifier for North American Title Ladder Match
They start with front chancery. Axiom puts on a side headlock. Frazer comes out of it. They run the ropes and Axiom catches his leg to pull him down mid air. Frazer drops him in reply but Axiom gets up quickly. The counters continue and they come to a stalemate once again. Frazer drops Axiom's arm on the ropes. Axiom goes the same to Frazer. Frazer hits a leg drop on the turnbuckle to take us to a break.
Frazer puts on a Boston Crab. Axiom rolls him over to break the hold. Axiom hits a sliding German suplex and a flying crossbody to get a close two-count. Frazer sends him to the floor and hits dumbell drop. Frazer gets into the ring first. Axiom beats the countdown at last second. Frazer catches him with a leg drop from the top. Axiom counters with an arm triangle. Frazer tries to break free but Axiom changes the submission move.
Frazer goes for a springboard move but Axiom catches him with an enzuigiri mid-air. Axiom hits a moonsault on the floor. Back to the ring, Frazer counters with a superplex. Axiom puts him in a rear naked choke. Frazer gets up on his feet and Axiom has to let go. Frazer hits a dropkick and both men are down. They trade punches while on their knees. Next, they trade superkicks. More counters follow before Frazer gets three counts with rana pin.
Winner – Nathan Frazer
Ilja Dragunov is in the parking as he was going out. McKenzie Mitchell catches up with him. Grayson Waller rolls in and runs his mouth saying that Dragunov is running away. Dragunov tells him that he won't go out now as they will have a match tonight.
---
Valentina Feroz asks Sanga to be in his corner as Yulisa Leon is injured. Sanga says he is always there for her. Indi Hartwell does not take it well.
---
Apollo Crews gets a pre-recorded promo for his vision. We see his next vision for Halloween Havoc which has Chuckie. He tells Graywon Waller that he will force his perspective on him at Halloween Havoc.
Valentina Feroz vs Indi Hartwell
Hartwell pushes Feroz to the ropes as they lock up. Feroz escapes to the floor. She gets dropped with body slams as she returns. Hartwell puts on a chinlock as she keeps Feroz on the mat. Veer comes out and whispers something to Sanga. Sanga seems surprised and feels a bit conflicted as he follows Veer to the back. Feroz fights back. Indi puts him in another submission before Feroz counters with an armbar. Feroz hits a dropkick and a jawbreaker. Feroz now realizes that Sanga has left. She hits a Meteora and dropkick. Indi comes back with a superplex to get the pin.
Winner – Indi Hatwell
Pretty Deadly are on the top platform as they congratulate Hartwell for the win. They say they are just here to watch three teams beat up each other.
---
Cora Jade is interviewed backstage about her opponent of choice for Roxanne Perez. She gets pissed off when she get to know that Perez will be at SmackDown this week to pick an opponent for her. She goes away to make some phone calls and asks McKenzie Mitchell if she has Ronda Rousey's phone number.
Malik Blade & Edris Enofe vs Josh Briggs & Brooks Jensen vs The Dyad(Rip Fowler & Jagger Reid) – #1 Contender for NXT Tag Team Championship
Joe Gacy is in The Dyad's corner. Blade, Jensen and Fowler start the match. Blade and Jensen corner Fowler before Blade takes a shot at Jensen. Jensen hits back and brings in Briggs for some double team on both legal men. Enofe hits Briggs with a dropkick on the apron. Fowler drops him and tags in Reid for double-team. The Dyad work together on Blade. Blade trips Fowler with a leg sweep and hits a knee drop. Enofe tags in for double team on Fowler. Briggs throws both teams out of the ring one by one. He throws Reid on other opponents. Jensen hits a rope walk moonsault to take them out. We cut to a break.
The Dyad is in control ass we return. They go for double superplex on Enofe. Jensen comes in and drops them also. Briggs gets the tag and run riot against all four opponents. Jensen comes back for some double-team work. Blade breaks their momentum. He hits a blockbuster on Jensen and pushes Briggs to the floor. Enofe hits a leg drop on Jensen. Briggs pushes Enofe to break the pin on Jensen. Everyone in the match takes turns to hit big moves. Enofe and Blade hit Briggs with double Codebreaker.
Enofe hits a suicide dive on Briggs and Jensen. Blade hits a dive on The Dyad. Dyad send Enofe to the floor. Cameron Grimes hits Joe Gacy with Cave In on the floor. He pulls out Fowler as the Dyad was going for their finisher. Enofe rolls up Reid with a sunset flip to get the pin and the win.
Winner – Edris Enofe & Malik Blade
Gigi Dolin & Jacy Jayne are getting interviewed backstage. They say they will send Alba Fyre back to Middle Earth.
---
Kiana James is talking to someone on the call. Chase U's blueprint is on the board and she says the land itself is worth much more than the school. She ensures the other person on the call that this could be first of her big acquisitions and they can do more business together in the future. She also mentions that she will face of Chase U students tonight in the ring.
Alba Fyre vs Jacy Jayne
Jayne misses a pump knee before they trade pin attempts. Fyre nails a clothesline. They trade forearm shots. Jayne hits a knee. Fyre trips Jayne with a low kick. Gigi Dolin tries to run an interference and Jayne capitalizes on it by nailing a big forearm. She hits a back splash and a handspring splash to get a two-count. Fyre gets her on her shoulders before planting her face-first into the mat. Jayne comes back with a neckbreaker. Fyre hits a Death Valley driver. Gigi pulls Jayne out of the ring. Fure hits them with a suicide dive. Gigi runs a distraction when she goes for Gory bomb. Fyre drops Gigi off the apron. She nails a big shot before hitting Gory bomb to get the pin.
Winner – Alba Fyre
Sonya Deville was sitting in the crowd in a hoodie. She pulls Fyre face into the stand. She continues to attack Fyre ringside and Dolin and Jayne join her. They put Fyre through the announce table with a triple powerbomb.
---
The Schism attack a cameraman backstage. Joe Gacy cuts a promo for Cameron Grimes with his face right into the camera. Gacy says Grimes has to face the whole Schism three-on-one next week. And he knows that Grimes will fight until he takes his last gasp.
---
We get a video package from Zoey Stark and Nikkita Lyons praising each other and their chemistry.
---
Hunk Walker and his secutiry team are with Quincy Elliot. Walker tells Quincy that he will have his back next week when he takes on Xyon Quinn.
Wes Lee vs Channing "Stacks" Lorenzo
Stacks tries to go after Lee's leg right after the bell. He completes a takedown. Lee hits him with headscissors a couple of times before a dropkick. Lee gets a two-count with a crucifix. Stacks tries to trip him into the turnbuckle, but Lee holds his ground. Stacks naisl him with a punch and hits dragon screw leg on the rope. He hits a chop block and continues to work on Lee's leg. A kneebreaker from Stacks before he puts on figure four. Lee breaks it with a punch. He hits more strikes as they get back to their feets. He sends Stacks to the corner for an European uppercut. His knees give up and Stacks hits a Argentine Neckbreaker. Stacks goes to the top. Wes Lee brings him down and hits tornillo to get the pin.
Winner – Wes Lee
Trick Williams attacks Wes Lee. Carmelo Hayes joins him. Oro Mensah runs out and drops both Williams and Hayes. Williams pulls Hayes out of the ring. Lee hits them with a suicide dive. Mensah and Lee stand tall in the ring.
---
Sonya Deville is with Jacy Jayne and Gigi Dolin backstage when McKenzie rolls in to talk to them. She says Mandy Rose is still her best friends. If Fyre thought that she would get away with kidnapping Rose, she was wrong. Rose tells McKenzie to relay a message to Fyre. Sonya will be waiting for her next week, but if she shows up, she will not make it to Halloween Havoc.
---
We see Ivy Nile bringing out Roderick Strong on a wheel chair in the hospital. The Creed Brothers are there to see Strong. They promise Strong that Damon Kemp will pay for it. Strong apologizes for bringing Damon Kemp into Diamond Mine. Strong wants Creed to win at Halloween Havoc.
Thea Hail vs Kiana James
The bell rings but Robert Stone interrupts before the action could start. He says he should be celebrating Von Wagner getting into Halloween Havoc, but the world is laughing at him due to Thea Hail. Stone says he will ruin Hail's night. Hail hits her with back body drop and throws him out. Kiana James slams Hail's face into the mat with a move resembling a Blockbuster. She gets the pin easily.
Winner – Kiana James
Tony D'Angelo is on crutches backstage as he comes to talk to Stacks. Tony says Stacks lost to Lee tonight. He told him to get off the apron few weeks ago. Tony tells him that his actions will have consequences as he will in a match next week. Stacks tries to know who his opponent will be. Tony tells him that he will know only when music hits.
---
Robert Stone is hobbling backstage. Von Wagner asks him to cut his s–t and wants him to focus on ladder match at Halloween Havoc.
---
Cameron Grimes is backstage for an interview and hints that he might bring in someone from main roster to help him out against The Schism next week.
---
Cora Jade jumps in as Grimes left. She says if Roxanne Perez wants to go to Smackdown, Rhea Ripley just asked her to come to RAW.
Ilja Dragunov vs Grayson Waller
They lock up to start. Waller pushes Dragunov to the ropes but misses a big swing. Dragunov takes him down and puts on a front headlock. He takes down Waller once again before putting on an arm wrench. Waller takes a shot at his arm and puts the arm wrench back. Dragunov hits a big chop and a senton. He follows up with a rising knee strike in the corner before putting a waistlock. Waller takes a cheap shot after a break on the ropes. Waller hits a leg lariat and shows off a bit as we cut to a break.
Dragunov counters with a roll-up as we return. He hits a spinning kick and a big shot to Waller's back. Dragunov hits a big punch. Waller fires back but then eats a big knee. Dragunov hits a powerslam. Waller takes a shot to rake his face. Waller hits a spinning kick and an elbow drop. Waller nails some elbow shots on his neck. Waller hits a low dropkick to trip him. Waller puts on a choke with bodyscissors. Dragunov breaks free but Waller drops him on the ropes. There is a spin wheel on the stage and Waller gets spooked by it. Dragunov hits a series of suplexes as Waller returns to the ring. Dragunov hits the torpedo to get the pin.
Winner – Ilja Dragunov
JD McDonagh comes out to applaud Dragunov as he celebrates his win. The show goes off the air.