NXT Results 25 May 2021: Kross vs Balor II & More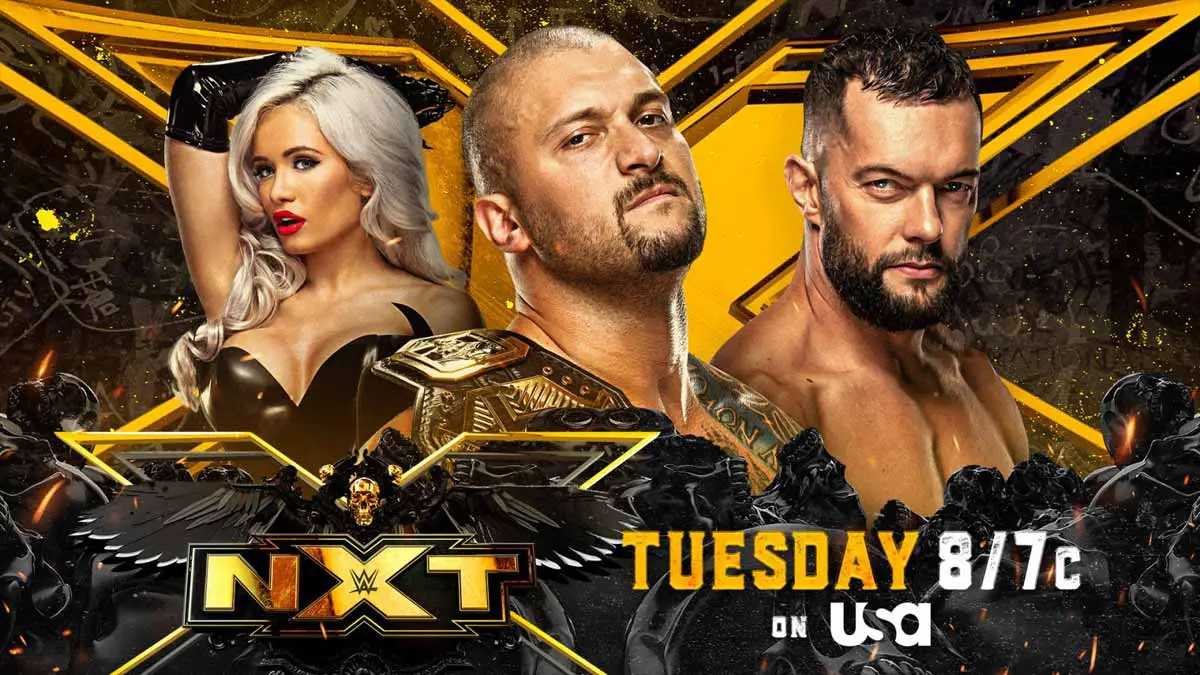 WWE NXT episode of 25 May 2021 is advertising Kross vs Balor II in the main event along with Franky Monet's in-ring debut, Million Dollar Face-off and many other matches. Join us as we bring you the live results and updates from WWE NXT 25 May 2021 episode.
Event Name – WWE NXT
Date – 25 May 2021
Location – Capitol Wrestling Center, Orlando, FL, US
Time – 8 PM EST(26 May 2021 12 AM GMT/5:30 AM IST)
Advertised Line-up
WWE NXT 25 May 2021 Quick Results
Ember Moon & Shotzi Blackheart defeated Dakota Kai & Raquel Gonzalez in a tag team match via pinfall.
Pete Dunne defeated Bobby Fish in a singles match via pinfall.
Mercedez Martinez defeated Zayda Ramier in a singles match via pinfall.
Franky Monet defeated Cora Jade in a singles match via pinfall.
Karrion Kross vs Finn Balor – NXT Championship Match
---
The show starts with the trailer for Kross vs Balor II. We cut to the arena and the commentary team goes through the line-up for the night. The entrances for the first match start.
Ember Moon & Shotzi Blackheart vs Dakota Kai & Raquel Gonzalez
Blackheart jumps on Raquel's back and Raquel slams her down. Shotzi goes for double knees but Raquel shoves her away. Moon tags in and fails to get a takedown. Moon runs the ropes and manages to get two-count in multiple pin attempts. Raquel slams Moon down. Quick tag in and out for Dakota Kai. Raquel beats down Shotzi in the corner. Kai tags in and misses double knees in the corner. Shotzi tags in. Quick back and forth between Kai and Shotzi.
Shotzi takes the control back in the corner and hits a hip attack on the ropes. Moon and Shotzi with more co-ordinated attack now. Shotzi hits a powerbomb before putting on the sharpshooter. Kai struggles to reach the ropes and Raquel has to pull her to the ropes. Raquel tags in and hits a few elbow drops as we go the break.
Moon and Raquel tag in as we return. Moon hits a dropkick and decks her a few times. Moon hits another dropkick and then backstabber on Raquel. Kai runs interference and Raquel slams Moon down. Kai tags in and Moon counters to tag in Shotzi. Shotzi with back to back kicks in quick succession. She gets a two-count after hitting pump knee. Moon tags in and hoists Kai on her shoulder. Raquel comes back and saves Kai but Shotzi hits her with crossbody.
Moon puts Kai in a submission. Raquel comes back and breaks the submission. Raquel goes to hit chokeslam to Moon but Moon counters it into a stunner. Shotzi and Moon hit their double team finisher to get the pin.
Winners – Shotzi Blackheart & Ember Moon
After the match, Raquel enters the ring and attacks both opponents. Raquel takes Shotzi out to the floor and drops her over the barricade. Kai takes care of Moon in the ring.
Tomasso Ciampa and Timothy Thatcher cut a promo backstage addressing GYV. Ciampa says GYV won round 1 while they won round 2. So, there will be round 3. Timothy gets hyped and says he will break their limbs.
Bobby Fish vs Pete Dunne
Fish misses hits a knee to start and continues with big strikes until the referee calls for the break. Dunne takes advantage of the referee to hit Fish with a big right hand. Dunne starts to work on limbs. Dunne with a few kicks before he slams Fish's left arm to the mat. Dunne puts on a chinlock. Fish gets back to his feet and hits a few back elbows. He counters a takedown into an armbar now. Dunne tries to fight back but Fish keeps the lock on. Dunne hits forearms before Fish drops him on the ropes. Fish hits more big strikes which leads to Dunne going out to the floor.
Pete Dunne is in control with a single leg Boston crab as we return. Dunne with more submission work on Fish's leg. Dunne with some big boots to Fish as he hulks up. Fish slams him into the corner and kicks at his legs. Fish hits a big spinebuster before raining in more punches. Fish puts on a sleeper hold now. Dunne works on his arm and drops with double knees on it. Fish goes to the floor and hits back body drop on Dunne. Back to the ring, Fish hits a German suplex to counter another armbar.
Both men hits knees into each others' ribs. Fish gets the upper hand with knee strikes. The referee separate them. Dunne recovers to hit a GErman suplex and a big kick. Fish counters with a big upper cut after ducking a kick. Back and forth as both men try to put on submission moves. Dunne hits a bitter end to get the pin.
Winner – Pete Dunne
Dunne and Oney Lorcan attack Fish after the match and beat him down in the ring. More referees come out to get things under control. Lorcan kicks at Fish's arm one last time before going back.
Hitrow gets a pre-recorded promo.
Mercedez Martinez vs Zayda Ramier
Martinez slams Ramier down to start. Ramier counters in the corner and hits big punches. Ramier counters in the corner once again and continues to deck Martinez before hitting a dropkick. Martinez gets a big shot to take the control. She slams Ramier down before hitting a suplex. Ramier comes out of a sleeper and but Martinez hits a spinebuster. Ramier takes down Martinez with a bulldog. Martinez puts Ramier on the top and throws her across the ring. Martinez hits the air raid crash to get the win.
Winner – Mercedez Martinez
After the match, the lights go out before the red mist takes over the arena. Some chinese characters appear on the screen now to indicate Tian Sha's presence. The mist goes away now and we see Martinez's hand is marked with a hashtag(#). Martinez quickly walks to the back.
Million Dollar Face-Off
Cameron Grimes starts by asking Dibiase why he is trying to screw with him. He has not been rich always, but got this fortune recently. He says Dibiase has always been his inspiration and says how people still worked for him even after he treated them like trash since he has money. Dibiase says he sees little bit of himself in Grimes. Dibiase says it is not only about humiliating people with your money but also about in-ring performance. Dibiase says Grimes has lost his focus since becoming rich.
LA Knight's music hits and he comes out to the stage. Knight introduces himself to Dibiase and hypes himself him up. Grimes warns Knight not to enter the ring to ruin the Million Dollar Face-off. Dibiase tells him to listen what Knight has to say. Dibiase tells Knight that he could be a star as he has million dollar body. Grimes cuts him off and is frustrated that Million Dollar face off is getting interupted. Grimes turns to Dibiase and Knight drops him from behind. Knight goes out and Dibiase stands on top of Grimes now. Dibiase tells Grimes that he is never gonna get it and laughs at him. Dibiase goes out and walk to the back with LA Knight.
Indi Hartwell is looking for Dexter Lumis backstage. She is unable to find him. She runs into Everrise who are preparing for their show. Things get heated for a minute before Drake Maverick comes up and tells Indi that Dexter was last seen in the adjacent room. Indi goes inside the room and switch on the lights. We see some drawings on the wall. One has Lumis' heart stabbed, other shows a heart broken and dripping in blood and another one has heart in a dustbin. Indi is confused and runs out of there.
Franky Monet vs Cora Jade
Franky Monet makes her entrance for her first match in NXT. Her opponent is enhancement talent Cora Jade. Money takes Jade to the corner to start. They lock-up again after a stalemate. Monet slams Jade down. Jade tries to scoop her up but Monet keeps the control. Double knees and a hip attack from Monet in the corner. Monet chops on Jade's chest before hitting a big kick to the midsection. Monet with a knee to the gut and clothesline. Jade fights back now with some punches. Jade counters again to hit reverse STO. Monet hits a spear and Urinagi before hitting her finisher to get the win.
Winner – Franky Monet
GYV are backstage and tells Thatcher and Ciampa that they are done with them and want to go after the NXT Tag Team titles. They call out MSK and take some shots on them.
NXT North American Champion Bronson Reed Address Fans
Bronson Reed talks about his 14 year career journey. It was all about falling and getting back up, and this title is proof for every kid that you can grind it out and become a champion. He says good luck to anyone to take this title away from him. Legado Del Fanstasma is out as their music hits. Santos Escobar takes the mic and sarcastically praises Reed.
Escobar tells Reed that North American title represents Mexico and he is coming for it. They surround the ring and were about to attack Reed when NXT Tag Team Champions MSK run in. Legado Del Fanstasma are sent packing as they attack. MSK and Reed stand tall in the ring.
NXT Championship #1 contender match and NXT Tag Team Championship match are announced for NXT next week.
Karrion Kross(c) vs Finn Balor – NXT Championship Match
Finn Balor enters for the match and wait for Kross to enter. Karrion Kross makes his grande entrance with Scarlett. They face-off and the announcement gets the thing started. Balor goes for the headlock but Kross takes him down. Balor goes for another headlock. Kross throws him to the ropes and Balor hits a dropkick to his knees. Kross goes to the floor. Scarlett tells him to focus as we go to the break.
Balor has a lock on as we return. Kross hits a body slam. Kross beats down Balor in the corner. Kross hits a snap suplex before starting to work on Balor's feet. Kross squeezes Balor's face. Balor tries to power out of the lock but Kross keeps control wotha strikes to the knee. Balor counters to put on octopus stretch and hits a few blows on Kross' ribs. Balor continues to work on the ribs. Kross hits a headbutt and a few shoulder tackles to Balor's ribs. Kross hits a big boot to the Balor's spine before tossing him across the ring.
Kross hits another German suplex. Balor counters another German suplex to crossface. Balor with a big kick. Kross catches his knee but Balor quickly hits a stomp. Balor hits tackles in the corner into the ribs. Kross chop blocks Balor and sends him out. Balor traps Kross in the apron cloth and rans down on him. Balor hits a penalty kick as we go to another break.
They trade strikes as we return. Kross scoops Balor and slams him into the turnbuckles before hitting a running powerslam to get a two-count. Balor hits a few big chops but Kross goes for another power slam. Balor counters with the slingblade but Kross kicks out at one count only. Kross puts on the Kirifuda clutch now and Balor somehow reaches the ropes. Kross and Balor are out on the floor now. Kross slams Balor into the steel railings. Kross slams Balor into the railings again with a powerbomb before taking him back to the ring.
Balor hits a DDT, a slingblade and clothesline to send Kross out of the ring before hitting a suicide dive. Kross then drops Balor on the announce table with a side suplex. Balor catches Kross with kicks and more strikes as he enters the ring. Balor hits a stomp and shotgun drop kick in the corner. Balor misses Coupe de' Grace and Kross hits the Saito Suplex. Kross hits another Saito Suplex and waits for Balor to get up. Balor avoids the big blow and counters for a pin attempt. Balor goes for the crossface but Kross overpowers.
Balor rains down on back of his head with big punches. Balor puts on the Kirifuda clutch now. Kross gets out of it but Balor puts on the triangle lock. Kross fades out for a while before overpowering Balor into a powerbomb. Both men get to their feet and Kross hits a big clothesline. Kross hits a big forearm to Balor's neck and stomps on him vigourosly. Kross puts on a sleeper and Balor fades out. The referee calls for the bell.
Winner – Karrion Kross
Karrion Kross and Scarlett ceelbrate in the ring. Balor recovers and slips out of the ring. The show goes off the air with Kross and Scarlett in the ring.