WWE NXT Halloween Havoc 2022 Results & Live Updates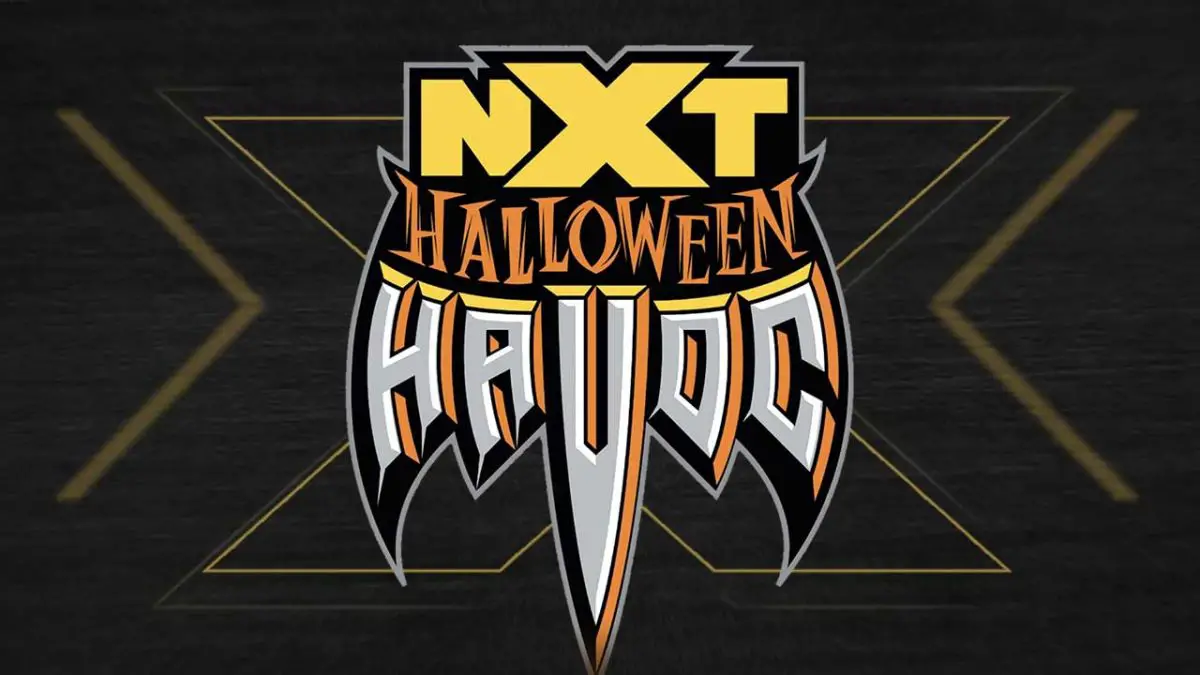 Welcome to the Live Results Blog for WWE NXT Halloween Havoc 2022 premium live event on October 22, 2022.
The Halloween special event will feature a triple threat match for NXT Championship as the main event. Bron Breakker will defend his title against Ilja Dragunov and JD MCDonagh. Mandy Rose will defend NXT Women's title against Alba Fyre. Roxanne Perez and Cora Jade will continue their rivalry in a Weapons Wild match.
A new North American Champion will crowned via Ladder match featuring Carmelo Hayes, Wes Lee, Oro Mensah, Nathan Frazer and Von Wagner. Apollo Crews and Grayson Waller will find the stipulation for their match on the spot via Spin the Wheel, Make the Deal. Finally, Julius Creed takes on Damon Kemp in an Ambulance match with Brutus Creed's NXT career on the line.
Tune in below as we post results from WWE NXT Halloween Havoc 2022 event with live updates, complete action, highlights, winners and more details.
Results
Wes Lee defeated Carmelo Hayes, Oro Mensah, Von Wagner & Nathan Frazer in a Ladder Match to win NXT North American Championship.
Apollo Crews defeated Grayson Waller in a Casket Match.
Roxanne Perez defeated Cora Jade in a Weapons Wild match via pinfall.
Julius Creed defeated Damon Kemp in an Ambulance Match.
Mandy Rose(c) defeated Alba Fyre in a singles match via pinfall to retain NXT Women's Championship.
Bron Breakker(c) defeated Ilja Dragunov & JD McDonagh in a Triple Threat Match via pinfall to retain NXT Championship.
Live Updates
A video package with Chucky opens the event who recaps the match card for the night. The hosts Quincy Elliot and Shotzi welcome us to the event.
Carmelo Hayes vs Oro Mensah vs Von Wagner vs Wes Lee vs Nathan Frazer – Ladder Match for NXT North American Championship
Lee hits a superkick on Hayes to start. Wagner beats up Mensah and Frazer in the corner. They double team on Wagner to send him to the floor. Frazer then hits a running tackle te send Mensah to the floor. Frazer hits a crossbody on Wagner on the floor. Frazer and Mensah work together to hit Hayes and Lee with a ladder. Frazer sends Hayes into a ladder with an exploder. Frazer sets up the ladder and climbs. Mensah pulls him down and hits him with a suplex. Mensah hits an overhead kick on Lee. Hayes throws a ladder on Lee's leg.
Mensah hits him with a back body drop on Hayes. Lee hits Wagner with a ladder in the corner. Wagner fights back and hits him with a suplex. Wagner drops Frazer on a ladder with a powerbomb. Hayes hits him with a bulldog. Hayes climbs to the middle of a ladder when Frazer hits him with a dropkick to knock him off. Lee hits a ladder on Frazer. Mensah sends Lee to the floor before Hayes hits a leg drop on Mensah. Frazer drops Hayes on a ladder with a Spanish fly.
Wagner hits a chokeslam on Frazer. Lee sends Wagner to the floor. Mensah was climbing the ladder but Trick Williams pulls the ladder to send him tumbling to the floor on other competitors. Mr. Stone and Williams both climb the ladder but Williams could only bring down Stone to the mat. Wagner hits a fan in front row as he tries to bring out a big ladder. Lee trips Wagner on the ladder bridged in between the barricade and apron. Frazer hits him with a splash. Lee hits a running kick on Frazer. Mensah hits a senton on Lee.
Hayes hits Mensah with a moonsault. Lee pulls out a ladder but Wagner has recovered by then. Wagner throws Lee from the ring and onto the announce table from bench press. Wagner climbs to the top and Frazer unloads on him. Wagner picks him up in a powerbomb position. Frazer's headscissors take them to the floor. Wayna and Frazer work together to take on Wagner and trap him under debris. Mensah and Frazer climb to the top of the ladder and trade punches there. Mensah drops Frazer to the mat. Hayes pulls Mensah down on a ladder.
Hayes climbs to the top but Lee hits him with a dropkick. Lee drops Hayes face-first into a ladder. They unload on each other on a ladder bridged with ropes. Lee hits Meteora on Hayes on a ladder. Lee climbs to the top and pulls down the belt to win the title.
Winner – Wes Lee
We see JD McDonagh in the locker room.
---
The lights go down as some hooded men comes out with Casket for the Casket match.
---
We get a message from Alba Fyre for Mandy Rose as she asks Rose to meet her at some place. Rose reaches that place with Gigi Dolin and Jacy Jayne. It is a haunted house. A door flows open and we hear Alba Fyre asking them to get in. Toxic Attraction split up despite Jacy's protests. Alba takes out Jacy first. Gigi finds Chucky on a tea table. Alba slams her face on the table before slamming her into the wall. Gigi fights back with anything she could find. But Alba kicks her into a freezer. Alba then finds Rose and starts unloading on her with baseball bat. Rose was about to hit her back with bat when one of the horror characters pulls her bat. Alba puts Rose in the back of her car. Alba hits Gigi and Jacy with baseball bat before taking driving off with Rose.
Grayson Waller vs Apollo Crews – Casket Match
Crews unloads with punches to start and hits a dropkick. He unloads some more in the corner before Waller hits back with a kick. Waller hits an elbow drop and pokes fun by getting up like Undertaker. Crews copies him and sends to him to the floor to hit a moonsault. Waller hits kick to trip Crews on the ramp. Crews hits him with a belly-to-belly suplex on the ramp. Crews throws Waller to the floor before hitting a missile dropkick.
Crews unloads on the announce table. Waller uses Vic Joseph's pen to poke it in Apollo's eyes. Waller takes him to the apron. Crews fights back but Waller pushes him off the second rope and into the casket. The referee is not awarding the match to Waller though. The lights goes off. Druids are bringing another casket when they come on. Crews sends Waller into the steel steps before throwing a step on him. Crews hits a suplex on the floor. Crews hits a moonsault on the floor. Back to the ring, Crews hits corner clotheslines before stomping against the turnbuckle. Crews drops Waller on his knees. He rolls Waller into the casket but Waller does not let him close the lid.
Waller slams the lid on Crews. Waller tries to close the lid with Crews inside it but Crews blocks it. They both end up inside the casket as they brawl. Crews throws him onto the floor. Crews hits a frog splash on the mat. Crews hits a superkick on the apron as they were returning. Waller comes back with a cutter. Waller mimicks Undertaker's throat pose. He was going for the tombstone pildriver but Crews turns it around to hit the piledriver himself. Waller once again blocks the lid from being closed. Crews hits him with a chokeslam to throw him in the casket and closes the lid to win the match.
Winner – Apollo Crews
Andre Chase is screaming at his students for not being able to answer a question about Halloween Havoc 1995. Duke Hudson is a new student in the class. Bodhi Hayward tells Chase that he does not trust Hudson.
---
We see Alba Fyre still driving Mandy Rose towards the Capitol Wrestling Center.
Roxanne Perez vs Cora Jade – Weapons Wild Match
Perez counters Jade's bat with a skateboard. Jade throws several things at Perez but she counter everything with her skateboard. Perez pushes Jade out of the ring with the skateboard itself. Jade goes and hides under the ring. Perez pulls her out but Jade sprays her with bugs spray. Jade slams Perez into the barricade a few times. She throws several things into the ring. Jade slams a trash can on Perez's back. She puts the can on Perez's face and kicks at it. She hits a double stomp on the trash can.
Jade beats her up with a broom and then with a broom. Perez ducks a chain and slams Jade with a rope. She unloads after jumping on Jade. She hits a European Uppercut after slamming a lid on Jade. Perez hits Jade with a pipe in the ring. She hits a Russian Leg Sweep with the pipe to get a two-count. Perez hits more European Uppercuts in the corner. Jade counters Pop Rox with a buckle bomb. Jade hits a rising knee in the corner to get a two-count. Jade goes to the top. Perez pulls her down with a superplex.
Jade runs away into the crowd and onto a platform. She hits Perez with a body slam there. Perez fights back with forearms but decides against pushing Jade off the platform. Jade pulls both them off the platform and through the tables down below. They get back to the ring. Perez counters by hitting a back body drop on chairs. She hits Pop Rox on chairs to get the pin.
Winner – Roxanne Perez
Shotzi and Quincy Elliot come out to the ring. Lash Legends comes out and she takes offense on Shotzi being the host. Elliot tells her that listening to Lash on the microphone is horrifying. Lash and Quincy argue a bit before Shotzi tells Quincy to let her fight her own battle. Shotzi hits a headbutt and drops Lash with a DDT. Lash spanks Quincy to close the segment.
---
The Scism are backstage and they say the smiley man's face will come off on Tuesday.
Julius Creed vs Damon Kemp – Ambulance Match, If Julius Creed loses, Brutus Creed will leave NXT
Julius throws some pumpkins on Kemp before hitting a missile dropkick. The bell rings and Julius hits him with a powerslam. They brawl to the ground and Julius throws Kemp into the barricade. Julius hits a butterly suplex on the floor. Julius puts Kemp into the ambulance but Kemp uses crutches to stop the door from being closed. Kemp hits Julius with crutches. He uses crutches to beat Julius for a while. Julius uses a fire extinguisher on him. Kemp drops Julius on the floor. Kemp runs over Julius with a steel step.
Kemp carries Julius to the ambulance now. Julius fights back near the ambulance. They brawl for a while. Kemp slams the ambulance door on Julius' arm. Julius kicks away at the door to avoid losing the match. They return to ringside. Julius brings a steel step into the ring. Kemp kicks him off the apron. Kemp hits an Urinage on Julius on the steel step. Kemp continues to be in control and slams Julius' face into the step. Julius pushes him into the barricade when Kemp tried to use a wheelchair on him. Julius traps Kemp in a wheelchair and drives it into the steel step. He hits several blows to the chest.
More back and forth before Kemp pushes a stretcher into Julius against the ring post. Julius throws the ring bell on Kemp. They go near the ambulance again. Kemp turns it around and puts Julius inside the ambulance. Julius gets his arm into the doorway to stop it from getting close. Julius fights back and puts Kemp through a table. He slams the steel chair on Kemp's back. He hits Kemp with the chair 11 times. Julius hits a powerbomb through the stretcher. Julius sets up a chair on Kemp's face and hits a lariat on it. He throws Kemp into the ambulance and shuts the door to win the match.
Winner – Julius Creed
The ambulance gets out of the arena and Alba Fyre's car gets in with Mandy Rose in it. Fyre brings Mandy into the arena as she continues to beat her up. Fyre slaps on Rose's chest before throwing her into the ring.
Mandy Rose(c) vs Alba Fyre – NXT Women's Championship
The bell rings and Fyre hits chops and forearms. Rose sends her into the turnbuckle. Fyre hits tornado DDT to get a two-count. Fyre kicks her away. Rose pushes Fyre off the top. Rose slams Fyre's face into the announce table. Rose hits a fallaway slam in the ring. Rose continues to work on Fyre with different attacking combinations. She chokes Fyre on the ropes next. Fyre starts to slug bck at Rose. She hits a thrust kick before dropping Rose face-first. Fyre hits a side kicks to the head. Rose hits a spinebuster to get a two-count.
Rose for double underhook but Fyre counters with a Death Valley Driver to get a two-count. She hits a Swanton bomb but Jacy Jayne pulls the referee from the ring. Fyre fights Jacy and Gigi off. She hits Gory Bomb but the referee is down. Jacy and Gigi drops Fyre on the floor. They send her back to the ring and also throw the referee into the ring. The referee counts the pin.
Winner – Mandy Rose
Bron Breakker(c) vs Ilja Dragunov vs JD McDonagh – Triple Threat Match for NXT Championship
Breakker breaks two tombstones marked as JD McDonagh and Ilja Dragunov during his entrance. The bell rings adn all three men are waiting for each other to start the action. Dragunov hits a boot on McDonagh. Breakker pulls him away and uploads on McDonagh himself. Dragunov also pulls Breakker away to unload on McDonagh. This continues for a while until they get into each others' face. McDonagh runs them over to drop them and keeps up with quick attack.
McDonagh hits a clothesline on Dragunov to drop him. He kicks at Breakker in the corner. He slams Dragunov into Breakker in the corner. McDonagh hits a suplex with a bridge to get a two-count. Dragunov hits him with chops but McDonagh drops him with forearm shot. McDonagh whips him to the corner hard. Dragunov reverses the whip but McDonagh gets to the apron. He sends Breakker back to the floor with a low bridge. He trips Dragunov before hitting him with an unique offense. Breakker returns to save Dragunov from McDonagh's finisher. Breakker hits corner splashes before hiting suplexes. McDonagh tries to roll up Breakker but gets kicked out of the ring.
Dragunov and Breakker go back and forth in the ring. Breakker hits a spinebuster to get a two-count. Dragunov blocks a suplex and puts on a sleeper hold. He jumps on Breakkers' back. McDonagh comes in and Dragunov drops him. Dragunov hits elbow shots all over McDonagh. More back-and-forth action. Dragunov sends Breakker to the corner and drops McDonagh on him. Dragunov goes to the top and hits coast-to-coast dropkick from the top. Breakker and Dragunov trade strikes in the ring until they are down to their knees. McDonagh cheers them on, drawing their attention.
McDonagh has to run away from the ring. He gets back in and gets hit with a back body drop. Breakker and Dragunov play pinball with McDonagh as they take turns to beat him up. They toss out McDonagh to the floor. Back and forth between Dragunov and Breakker before Breakker hits a clothesline. Breakker goes for a powerslam but McDonagh hits him with a headbutt to drop both opponents. McDonagh goes to the top now. Breakker meets him there. Dragunov tries to powerbomb Breakker but Breakker kicks him away. Breakker hits McDonagh with a hurricanrana from the top to send him into Dragunov.
All three trade punches. Dragunov hulks up and hits chops on both opponents. He hits a senton on McDonagh. Breakker tackles him to outside. McDonagh hits them with a dropkick, a penalty kick and a moonsault. McDonagh brings Breakker back to the ring. Breakker meets him on the top. Dragunov hits a chop block on Breakker and hits him with a powerbomb to get a two-count. McDonagh hits Dragunov with 450 to get a near fall. McDonagh hits Breakker with a brainbuster to get a near fall. Dragunov hits a series of German suplexes on McDonagh. Breakker joins in and hits both opponents with a German suplex at the same time.
Breakker goes to the top and hits a diving headbutt. Breakker hits Dragunov with powerslam but McDonagh throws him outside. McDonagh covers Dragunov but he kicks out of a near fall. Breakker comes back and unloads on McDonagh before throwing him out. Dragunov counters the spear with a running knee. Dragunov goes to the top and hits a senton. He hits torpedo but McDonagh catches the referee's arm to stop the pinfall.
Dragunov and McDonagh trade slaps. Dragunov hits a jumping knee. Both men are on the floor. Dragunov charges but McDonagh counters with a Spanish Fly on the floor. McDonagh stomps on Dragunov's ankle against the steel step. Dragunov tackles him into the announce table. Dragunov returns to the ring to fight Breakker now. They trade big shots and German suplexes. Dragunov goes for a torpedo but Breakker counters with a spear to get the pin.
Winner – Bron Breakker