WWE Crown Jewel 2021 Results: Roman vs Lesnar Live Updates, Winners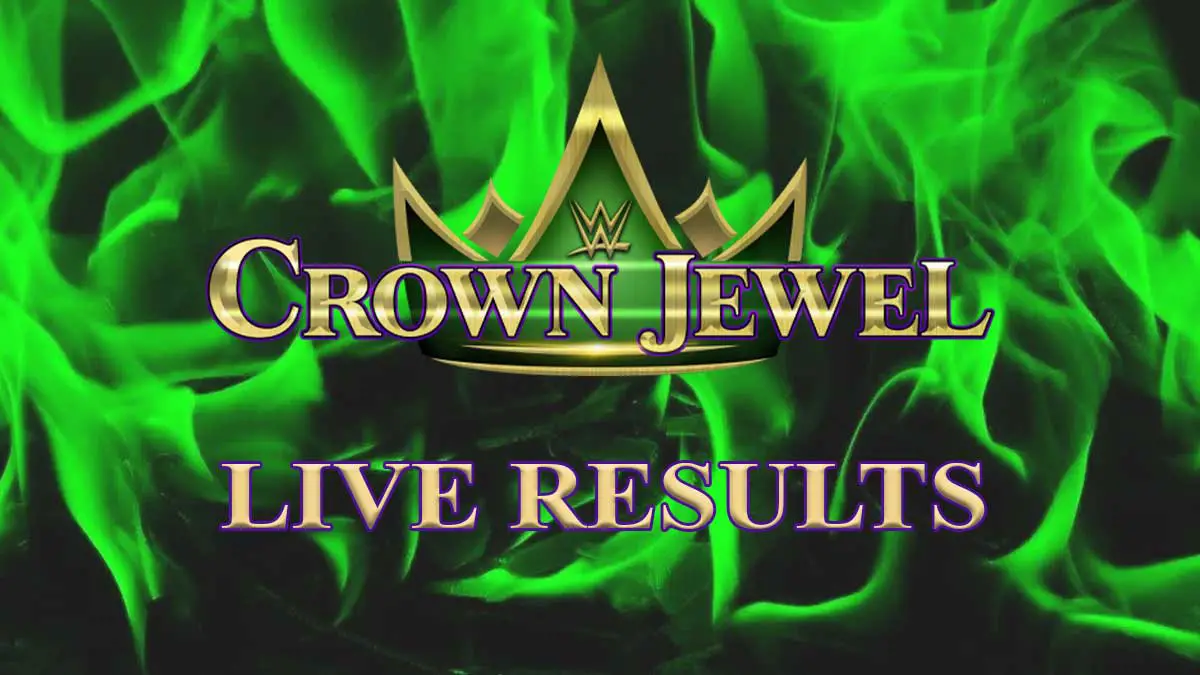 Welcome to the live blog for WWE Crown Jewel 2021 PPV which airs on 21 October 2021 from Mohammed Abdu Arena on the Boulevard. The event will kick off the Riyadh Festival while this will also be WWE's first overseas live televised event since Super Showdown 2020 at the same venue.
The promotion is leaving no stone unturned to make the match card special. They started with the finals of King of the Ring 2021 and the inaugural Queen's Crown Tournament. For the first time ever, there willl be two women's matches on the card with SmackDown Title Triple Threat match between Becky Lynch, Bianca Belair and Sasha Banks. WWE Champion Big E will also face a stiff challenge from Drew McIntyre.
If that was not enough, Brock Lesnar will return to the ring after 18 months to challenge WWE Universal Champion Roman Reigns in the main event. Seth Rollins will get his wish to face Edge in another match, but they will be inside Hell in a Cell cage. RK-Bro prepares to defend RAW Tag Team Titles against AJ Styles & Omos.
Another big name returns to the card in Goldberg and he will take on Bobby Lashley in a "No Holds Barred" match. The local boy Mansoor will face Mustafa Ali to top up the card.
Join us as we prepare to bring you the live results, updates, winners and highlights from WWE Crown Jewel 2021 PPV.
Show – WWE Crown Jewel 2021
Date – October 21, 2021
Location – Mohammed Abdu Arena on the Boulevard, Riyadh, Saudi Arabia
Time – 12 PM EST(October 21 – 4 PM GMT)
Pre-show from 11 AM EST
WWE Crown Jewel 2021 Results
The Usos(Jimmy Uso & Jey Uso) defeated Hurt Business(Cedric Alexander & Shelton Benjamin) in a tag team match.
Edge defeated Seth Rollins in a Hell in a Cell Match via pinfall.
Mansoor defeated Mustafa Ali in a singles match via pinfall.
RK-Bro(Randy Orton & Riddle)(c) defeated AJ Styles & Omos via pinfall to retain WWE RAW Tag Team Championship Match
Zelina Vega defeated Doudrop in the Queen's Crown Tournament Final Match via pinfall.
Goldberg defeated Bobby Lashley in the No Holds Barred Falls Count Anywhere Match via pinfall
Xavier Woods defeated Finn Balor in the King of the Ring Tournament Final Match via pinfall.
Big E(c) vs Drew McIntyre via pinfall to retain WWE Championship Match.
Becky Lynch(c) defeated Sasha Banks and Bianca Belair in a triple threat match via pinfall to retain WWE SmackDown Women's Championship.
Roman Reigns(c) defeated Brock Lesnar via pinfall in No Disqualification Match to retain WWE Universal Championship.
WWE Crown Jewel 2021 Live Updates
Quick Updates: Charlotte Flair is reportedly not in Saudi Arabia and there is no way that she will be added to the SmackDown title match later today. More details here.
Someone who is in Riyadh is The Undertaker. He introduced Pitbull in his concert which actually kicked off the Riyadh Season Festival. There is every chance that Undertaker's Gong rings and he comes out to just chokeslam someone.
Becky Lynch wanted SmackDown Women's title match to be the main event at Crown Jewel. Do you think it is happening?
The Kick-off pre-show is live now with the hosts Kayla Braxton, Matt Camp and Peter Rosenberg. You can catch the pre-show in the below video.
First updates from the pre-show. Roman vs Brock match is now going to be a No Disqualification match. Goldberg vs Lashley match will be a Falls Count Anywhere match along with being a No Holds Barred match.
The panel is going through the card. Doudrop claims she will win the Queen's Crown tournament in a vignette.
Kevin Patrick stops Paul Heyman backstage. Patrick asks Heyman whether he went to Lesnar with the contract on the morning of SmackDown. Heyman denies the allegations and says he will walk out with the reigning, defending WWE Universal Champion Roman Reigns.
The Usos(Jimmy Uso & Jey Uso) vs Hurt Business(Cedric Alexander & Shelton Benjamin)
Loud chants for the Usos as the bell rings. Jey starts with Cedric and takes him down with a big shoulder tackle. Jey puts on a headlock. Cedric throws him at the ropes but Jey hits a Samoan Drop. Benjamin runs a distraction to give Cedric a chance to get upper hand. Shelton tags in and pushes Jey into a corner. Cedric hits a big knee to the face to keep control.
Cedric works on the arm now. Jey tries to tag out but Cedric pulls him back. Shelton tags in and hits a shoulder breaker and a deep arm drag. Shelton also works the arm and keeps Jey away from the tag. Jey gets the chance to fight back on the top, but he is quickly put down with a spinebuster.
Jey starts to fight back with big right hands and drops Benjamin with an enziguiri. Jimmy gets the hot tag as Cedric comes from the other side. Jimmy drops Cedric with a clothesline. Benjamin is also dropped from the apron before Cedric is treated with a Samoan drop and hip attack in the corner. Cedric hits a spinning kick. Jimmy rolls up Cedric for a two-count. The kick out from Cedric sent Jimmy right into Shelton's knee. Cedric hit a brainbuster. Benjamin hits him with an Olympic slam.
Cedric hits Jey with a springboard move and Shelton hits his finisher, only for Jey to break the pin. Double superkicks to Cedric and Shelton setups the Usos splash on Cedric for the win.
Winner – The Usos(Jimmy Uso & Jey Uso)
The main show opens with a video package, where WWE is trying to sell this as historic event. Seth Rollins vs Edge match will open the show.
Seth Rollins vs Edge – Hell in a Cell Match
Hell in a Cell cage is coming down. We cut to a video package for the match. Rollins is first to come out. Edge follows him out shortly. Both men are inside the cell and the doors are locked.
Edge pushes Rollins to the corner and unloads with big right hands. Rollins hits a big boot and fires back with punches of his own. A back body drop on the ropes from Edge. Rollins comes back with a springboard knee drop. He misses Edge while going for the suicide dive and crashes into the steel walls. Edge rakes his face against the cage and then throws him into the walls a few times.
Rollins is sent into the steel steps next. Back to the ring, Edge hits a DDT to get a two-count. Edge breaks the steel bar from the steel chair. Rollins manages to snatch the bar away from him. Rollins goes Edge's eyes but he kicks him away. Rollins hits a basement slide to send Edge on the floor again.
Edge is thrown into the cage again. Edge then hits a basement slide to send Rollins into the steel walls. Edge brings Rollins back to the ring and hits a big shoulder tackle. Rollins gets hold of a steel chair and rips it up on Edge's back 5-6 times in succession.
Rollins is looking for the con-chair-to now, but Edge moves away. Edge puts on the crossface. There is no rope breaks in this match. Rollins picks up a steel bar and rakes Edge's eyes. He throws a steel chair at Edge and punches it on Edge. Rollins hits a frog splash for a near fall.
Rollins brings out a table now. Edge was going for the Kill-Switch but Rollins is the one who ends up hitting it. Rollins goes to the top but Edge pushes him on the table set up on the floor. Edge brings him back and covers for the pin, but Rollins kicks out. Edge takes the steel steps to the ring now. Edge hits Edge-o-matic on the steel steps. Edge hits a chair drop from the top rope with Rollins on the steel steps. Edge rolls over to cover Rollins, but he took a few seconds which allowed Rollins a breather to kick out.
Rollins hits the pedigree, but he is also late to cover and Edge kicks out. Rollins goes for the stomp but Edge picks him up to hit a bucklebomb. Edge quickly follows with a spear, but Rollins manages to kick out of a near fall. Edge brings out a table and a ladder to the ring. He slams Edge with the ladder.
Rollins whips Edge into the ladder and it collapses back on Edge. Rollins sets up the table in the ring now. Rollins puts Edge on the table and climbs the ladder. Edge climbs the ladder from the other side and they trade punches on top of the ladder. Edge tries to go for a superplex but Rollins hits a sunset flip powerbomb through the table. Edge kicks out of the pin though.
Rollins is irate now and goes on a superkick spree. Edge collapses in the middle of the ring. Rollins has brought out a toolbox now. He brings out a chain and wraps it around his feet. He hits a superkick to Edge with that feet. Rollins puts Edge's head on a steel chair and screams at him, "This is how a fairytale ends." Seth goes for the stomp but Edge puts the steel chair in his groin.
Edge hits penalty kick and a spear on Rollins. He then puts on the crossface and even uses a steel bar to put on the pressure. Edge pulls out of the cross face before Rollins gives up. He hits the stomp on the steel chair and gets the pin.
Winner – Edge
After the match, Edge celebrates as the cage is pulled up.
Mansoor vs Mustafa Ali
The commentators highlight that this is first time ever that two Muslims are going one-on-one in a WWE PPV. Mansoor takes down Ali in a headlock as the bell rings. Ali turns it around and works on his arm. Mansoor comes back with an armdrag takedown. Pace quickens up as Mansoor hits a standing moonsault and forces Ali to the floor with a dropkick.
Ali comes back to the ring and Mansoor drops him with a waist lock takedown. Ali hits a chop but Mansoor returns the favour right away. Ali is forced to the floor with more chops. Ali trips him on the apron and Mansoor lands hard head first. Ali puts on the Camel clutch as they return to the ring. Mansoor gets to his feet and pulls Ali up with him. Ali drives an elbow to his neck.
Mansoor fights back from a suplex but gets dropped with a DDT for a two-count. Mansoor rallies back with big strikes and a spinebuster. The referee warns him as he unloads in the corner. Ali hits a big boot but Mansoor hits a clothesline quickly after that. Mansoor's suicide dive is cut off with a dropkick. Back to the ring, Mansoor hits a belly-to-belly suplex and hits a top rope moonsault for a near fall.
Ali wraps his legs around Mansoor in search of submission. Mansoor somehow drags himself to the ropes. Ali goes to the top but misses 450 splash. Mansoor hits springboard neckbreaker to get the pin and the win.
Winner – Mansoor
After the match, Ali starts beating up Mansoor again. A hooded figure makes his entrance. He enters the ring and stands across Mansoor. This man is Saudi Arabia's Karate Silver Medalist from Tokyo Olympics Tarek Hamdi. Hamdi knocks out Ali with a karate kick. He embraces Mansoor in the middle of the ring and celebrates with him. Hamdi and Mansoor head to the back together.
RK-Bro(Randy Orton & Riddle)(c) vs AJ Styles & Omos – WWE RAW Tag Team Championship Match
AJ Styles and Omos enter for the match. They wait in the ring for their opponents. Randy Orton's music hits and he is out alone. No sign of Riddle and AJ Styles mocks Orton for this. Riddle then enters riding a camel. He heads to the ring on the camel and Orton walks beside them.
AJ starts with punches but Riddle whips him to the corner for chops. Riddle hits a corner splash and then a vicious knee strike. Orton takes over the attack. Riddle and Orton keep AJ under control for a while with quick moves. Riddle hits a gutwrench suplex. AJ slips out and tags in Omos. Omos runs over Riddle with big strikes. Riddle tags in Orton.
Orton comes off the ropes with big strikes but Omos is unaffected. Omos drops Orton with a headbutt. He drops Orton on the turnbuckle next. AJ tags in and kicks at Orton. Riddle and the crowd cheers Randy Orton and he fights back. But AJ cuts him off with a dropkick. Styles brings back Omos who picks on Orton's shoulder with a vice grip. Orton rakes his eyes and tags in Riddle. AJ comes in from the other side.
Riddle with a flurry of moves- clothesline, running elbow strike, running knee, standing moonsault and what not. But AJ kicks out of the pin. AJ and Riddle trade flurry of strikes. Orton tags back in and drops AJ with a knee. Omos is also dropped from the apron. Orton hits his signature powerslam. Omos looks to chokeslam him but Riddle grabs his legs and Orton decks him to the floor. Orton hits RKO to AJ and Riddle follows with the floating Bro for the win.
Winners – RK-Bro(Randy Orton & Riddle)(retains RAW Tag Team Championship)
SmackDown Women's Champion Becky Lynch is interviewed backstage. She gets miffed that she is asked about her loss to Sasha Banks this past week. She is also aware of the fact that she could lose the title even without getting pinned or submitted.
A vignette for Charlotte Flair. She will be at SmackDown tomorrow.
Doudrop vs Zelina Vega – Queen's Crown Tournament Final Match
Zelina Vega tries to intimidate Doudrop who is twice her size. Vega goes to kick at her legs. Doudrop fires back with punches and a headbutt. Vega drops her on the ropes but Doudrop catches her as she comes off the ropes. Vega tries to roll her over but fails to so. Doudrop drops her with double ax handles. Vega drops Doudrop to the turnbuckle and hits a tornado DDT for a two-count.
Vega puts on a chinlock. She switches to a sleeper hold but Doudrop picks her up and slams her to the corner. Doudrop hits a big clothesline next. She fires up the crowd but misses a cannonball. Vega hits double knees and drags her for the pin attempt for another two count. Doudrop hits a swinging sidewalk slam for a two-count of her own. Doudrop hits a running senton for another two-count.
Vega moves out of a splash. Vega hits the Code Red to get the pin and the win.
Winner – Zelina Vega(becomes inaugural Queen's Crown Winner)
After the win, Vega goes to the thrown set up on the stage and crowns herself.
Goldberg vs Bobby Lashley – Falls Count Anywhere Match
Lashley makes his entrance first. Goldberg's big entrance follows. Lashley is doing something to a turnbuckle while Goldberg is entering. Lashley has wrapped his hand with a steel chain. Goldberg unloads on him as the bell ring. Lashley takes him to cleaner with big punches with steel chains wrapped. Lashley then slams him into the turnbuckle. Knee strikes follows all this.
Lashley picks a steel chair and cranks it on Goldberg's back. Lashley brings in a table to the knee. Lashley works on Goldberg's knee. This is the same knee that got injured during their match at Summerslam. Goldberg gets back to his feet but Lashley brings him down with a running tackle. Lashley wraps a chair on Goldberg's knee and kicks at it.
Lashley jumps on the knee from the top rope now. Lashley goes for a spear against the table but Goldberg moves away. Lashley crashes into the table. Goldberg waits for Lashley to get up and knocks him down with a spear. Goldberg hits the jackhammer but did not go for the pin. He pulls out his gloves and throws Lashley to the floor.
Goldberg hits a spear taking Lashley through the barricade. He goes to disintegrate steel steps. He slams Lashley's face into the barricade and then on the announce table, on the way to the steel steps. He goes to smash Lashley's face with steel steps but Lashley moves away. Lashley goes up the ramp and Goldberg is just stalking him.
Shelton Benjamin and Cedric Alexander come out with kendo sticks. Goldberg just kicks them away. Both Lashley and Goldberg now has kendo sticks. Goldberg goes to crank kendo sticks on Lashley. He then spears Lashley off the stage and into a set of tables for the pin and the win.
Winner – Goldberg
Finn Balor vs Xavier Woods – King of the Ring Tournament Final Match
They bump the fists before starting. Woods twists Balor's arm, but Balor turns it around to a side headlock. Balor takes him to the mat with a takedown. Woods takes Balor down with a side Russian Leg Sweep. Balor hits a dropkick after rolling from a sunset flip.
Another chinlock from Balor. Woods hits a side suplex but Balor once again puts on a chinlock. Woods hits a few kicks to come back in the match. A senton and a dropkick to the back follows. Balor comes back with a takedown and double stomp. Balor hits chops in the corner. Woods answers back with his own chops.
Balor hits a dumbell drop. Balor follows with a slingblade. Woods cuts him off with a superkick. Woods hits chops and punches. Balor catches him with a Pele kick. Balor hits big elbow before Woods got him in inside cradle for a two-count. Woods ends up hitting a superplex next for a two-count.
Woods goes to the top and goes for the elbow drop. Balor catches him with a pinf attempt for a two-count. Balor hits dumbell drop, slingblade and shotgun dropkicks. Woods hits him enziguiri and a gutbuster. Woods goes for the elbow drop and hits it this time for the win.
Winner – Xavier Woods(Winner of King of the Ring 2021)
Woods goes and wears the crown and sits on the throne setup on the stage.
Big E(c) vs Drew McIntyre – WWE Championship Match
Big E tells McIntyre that he has not faced anyone like him. He challenges McIntyre to hit the ropes and do something. McIntyre hits a running tackle but fails to bring down Big E. They lock up again and this time McIntyre takes Big E down with a tackle and hits a arm drag. Big E hits hammer blows to the chest. McIntyre hits him with a belly-to-belly suplex on the floor.
Drew hits some chops. Big E fights back with big right hands. McIntyre takes him down with side Russian leg sweep. McIntyre puts on an arm and shoulder stretch. McIntyre hits a spinebuster to get a two-count. Big E comes back with belly-to-belly suplexes. He goes for the boom drop but McIntyre cuts him off with belly-to-belly suplex. McIntyre hits a neckbreaker next.
Big E hits one more belly-to-belly suplex and a running splash for a two-count. McIntyre counters Big Ending and then hits a Michinoku Driver for a near fall. McIntyre looks disappointed that it was not a three-count. Big E ducks a clothesline from the top and hits Urinage in the corner.
Drew hits Glasgow kiss headbutt. Big E gets him into backslide for a two-count. Drew hits futureshock DDT. Drew goes for the Claymore but Big E turns it into a powerbomb and puts on the stretch mufler submission. Drew struggles but turns over the submission move. Big E hits Big Ending but McIntyre kicks out.
Big E tries to go for the avalanche Big Ending but Drew turns it into a bulldog from the top for another near fall. Big E ducks the Claymore. He waits for Drew to get back and goes for the spear but Drew catches him with Claymore. Drew covers quickly but Big E kicks out.
Drew goes for the Big Ending, but Big E avoids it and hits Big Ending for the second time to get the win.
Winner- Big E(retains WWE Championship)
Becky Lynch(c) vs Bianca Belair vs Sasha Banks – WWE SmackDown Women's Championship Triple Threat Match
Bianca decks Becky but gets locked by Sasha. Bianca catches Sasha's crossbody and she knocks out Becky with Sasha. Sasha is thrown away with a fallaway slam before Becky is knocked to the floor. Bianca takes Sasha up with one arm and drops her to the mat. Becky pulls Bianca to the floor and sends her into the barricade.
Sasha and Becky go back and forth in the ring. Sasha throws Becky into Bianca at the apron. Sasha with a backstabber and a meteora to get a two-count. Bianca comes in and stops the bank statement. Bianca kicks at Sasha. Becky monkey flips Sasha into Bianca, who catches Sasha with a powerbomb. Bianca throws Becky into the corner. She had Sasha on her shoulders when Becky hits her with a missile dropkick.
Becky hits a neckbreaker next. Becky with more kicks and cuts off Bianca's move with a bulldog. Becky decks Sasha in the gut and hits a leg drop from the second rope. Becky kicks at both women. She hits Bexploders to both of them. She tells them to give up as this is her title, and that she is the history maker.
Sasha and Bianca catch Becky's dropkick and send her to the turnbuckle. Sasha and Bianca trade pin attempts. Banks with an arm drag and Belair with a shoulder tackle. Bianca hits a dropkick next. Sasha avoids a suplex and hits three amigos suplex. Sasha kicks at Becky before going to the top but misses the frog splash. Sasha attacks Becky now. Bianca cuts her off and throws her out.
Becky hits a dropkick in the corner and gets a two-count with a sunset flip. Bianca hits a spinebuster. Becky avoids KOD but gets hit with gutbuster. Sasha comes in and stops Bianca from hitting a suplex, but Bianca kicks at her and hits Becky with a suplex. She misses a moonsault though. Sasha puts Bianca in the bank statement and Becky puts on the disarmer at the same time.
Sasha decks Becky. This starts a sequence between Sasha and Becky. Becky hits a kick in the corner but Sasha hits her with double knees. Bianca takes both of them down to get a near fall on Becky. Sasha htis a knee to her jaw. Sasha hits her with a few knee strikes. Bianca puts her in a pin attempt and Becky had to break it. After some more back and forth, Becky hits Manhandle Slam on Sasha, but Bianca breaks the pin.
Becky and Bianca tussle now. Sasha kicks Becky to the floor from the apron. Bianca avoids some of her moves before Becky takes them both out with a dives. Becky takes Bianca to the ring and hits a swinging neckbreaker and goes for the disarmer. Sasha comes into the ring and Becky puts both of them in disarmer. Bianca powers up and takes both opponents to her shoulders.
Bianca ends up hitting Becky with KOD. Sasha tries to steal the pin but Becky puts Sasha in an inside cradle and holds onto the ropes to get the pin.
Winner- Becky Lynch(retains SmackDown Women's Title)
Roman Reigns(c) vs Brock Lesnar – No Disqualification Match for WWE Universal Championship
Roman Reigns makes his entrance. He is only accompanied by Paul Heyman. No Usos. Lesnar makes his entrance next.
Roman gets Lesnar to the corner and the referee stops them to a stalemate. Lesnar unloads with hammer blows to the back. He goes for the suplex but Roman decks him with upper cuts. Lesnar with a takedown but Roman avoids a suplex again. Lesnar picks him up and slams him in the corner. Lesnar finally hits a German suplex.
Lesnar puts Roman in the corner and hits shoulder blocks. Roman slips out and trips Lesnar. Lesnar gets sent to the ringpost. Lesnar hoists Roman to his shoulder but Roman avoids any big move. Lesnar sends Roman back to the ring and Roman catches him with a superman punch on the apron. Roman hits a plancha on Lesnar, driving him into the barricade.
Roman hits a spear but Lesnar kicks out. Roman hits back-to-back Superman punches, but Lesnar drags himself up. Roman goes for the spear but Lesnar jumps over to avoid it. Roman crashes to the corner but Lesnar is also down in exhaustion. Lesnar hits start the German suplex machine. Lesnar is also exhausted though.
Brock hits F5 but Roman kicks out. Lesnar takes his time to get his breath back. He goes for another F5 but Roman puts him in the gulotine choke. Roman puts his weight on Lesnar but Lesnar counters with a big spinebuster.
Lesnar hits another F5 but it knocks out the referee. Lesnar covers but the referee is down. Lesnar is seething in anger and throws the referee away. Roman hits him with a spear.
Paul Heyman throws the Universal title belt into the ring and says you know what to do with it. Lesnar and Roman do tug of war with it and Lesnar is able to snatch it away. Usos come out and hits Lesnar with double superkicks. Roman knocks over Lesnar with the title belt and covers him. A new referee runs in and count to three.
Winner – Roman Reigns(retains Universal Championship)
Roman goes to the stage after the win with the Usos and Paul Heyman. He celebrates his win briefly and head to the back. Lesnar recovers in the ring and looks down in anger. The show goes off the air.