Who Will Face WWE Champion Drew McIntye at WWE TLC 2020?
WWE Announced a six men competition to identify Drew McIntyre's next challenger.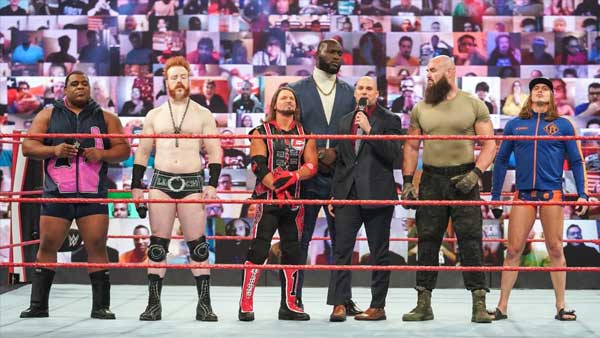 RAW Men's team got their reward for sweeping Team SmackDown in the traditional Survivor Series match by getting a chance to become the #1 contender for WWE Championship. Well, everyone from Team RAW except Braun Strowman.
This week's RAW opened with all 5 members of Team RAW- AJ Styles, Sheamus, Matt Riddle, Keith Lee and Braun Strowman in the ring. They went one by one to presented their case to WWE official Adam Pearce on why they should be next in line for a title shot against WWE Champion Drew McIntyre.
This led to a bit of quarreling between the RAW superstars with Riddle even mocking Sheamus with a nickname "Fireface." As Pearce went last to Strowman, Strowman took the offense to the phrase – "Last, but not the Least." Strowman went on and pushed Pearce down.
Pearce later revealed in a backstage interview that Strowman was escorted out of the building. WWE United States Champion Bobby Lashley and Randy Orton intimidated Pearce into getting into the set up to identify the new #1 contender.
Three matches took place at RAW tonight, the winner of those will face in a triple threat match next week. Matt Riddle defeated Sheamus via sidepress pin to win a well-fought match. Keith Lee got the win over Bobby Lashley after MVP decided to get involved in the match.
Randy Orton suffered an upset in the attempt to win the title when the Fiend made his presence know. Lights went out a couple of times and Fiend's familiar screams & laughs took over the arena. AJ Styles took the advantage of this the second time and hit Orton with the Phenomenal Forearm to get the win.
Matt Riddle, Keith Lee and AJ Styles will now face-off on the 30th November edition of RAW to identify the new #1 contender. It is not announced as of now when this new contender will get his title shot, but we can safely assume that this match will take place at WWE Tables, Ladders & Chairs 2020.