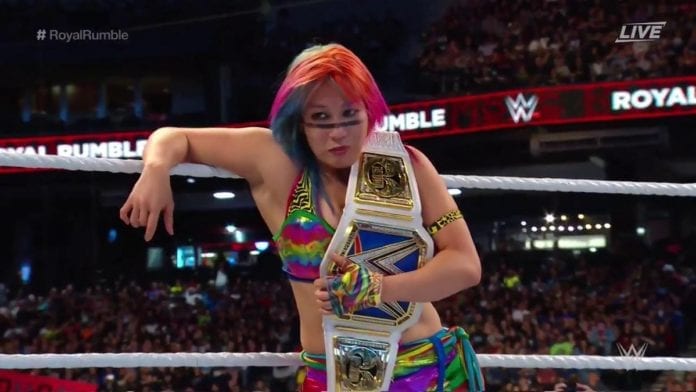 For 3rd week in a row, it's being asked- Where is Asuka? Why is WWE forgetting her in their setup for RAW Women's Wrestle Mania setup? She just forced Becky to submit and now she is not even mentioned during the show!! Why?
Well, there are several factors involved which are forcing WWE to not present Asuka for now. During the grand set up for Elimination Chamber Match for the inaugural Women's Tag Team Championship, they have put all the women wrestlers from the SmackDown roster into the match(Apart from the two- Lana and Zelina Vega who are acting as managers for other men wrestlers). So who will Asuka get engaged with? Her next opponent will be competing for the Tag Team championship and their Road to Wrestle Mania story will start after Elimination Chamber.
Then there is factor that Asuka just beat Becky at a big event in Royal Rumble. She was niether the heel or the face in that storyline!! She was just a solid opponent who got the opportunity to win the title when Ronda threw both Becky and Charlotte from the ladder. But the crowd won't be considering it and they might boo her since she beat Becky. So, in her next storyline, if she is going to a face, it would not be good for her. In these three weeks, the heat is now transfered to the McMahons and Charlotte and Asuka can start afresh in her next storyline.
One more possibility is that some star from RAW will be challenging Asuka next. If both Charlotte and Becky are going to be involved with Ronda on RAW, it is difficult to see any other women star to face Asuka at Wrestle Mania. the best option would be between Sonya Deville and Carmella but WWE might go ahead and let someone from RAW come in. Natalya has already teased such storyline on Twitter. The problem however, as per WWE's perspective, was that too many superstars would have been seen inter-crossing the brands. Becky and Charlotte are already doing that on RAW. Now for Natalya or someone else coming from RAW to SmackDown might be detrimental to the brand bifurcation of WWE.
So, all in all, WWE has not forgotten Asuka but just given her some break before she can roll on with full steam till Wrestle Mania.