Velveteen Dream Retains North American Title at TakeOver 25
The Velveteen Dream has retained the NXT North American Championship after beating Tyler Breeze at NXT TakeOver: XXV(25) in Bridgeport.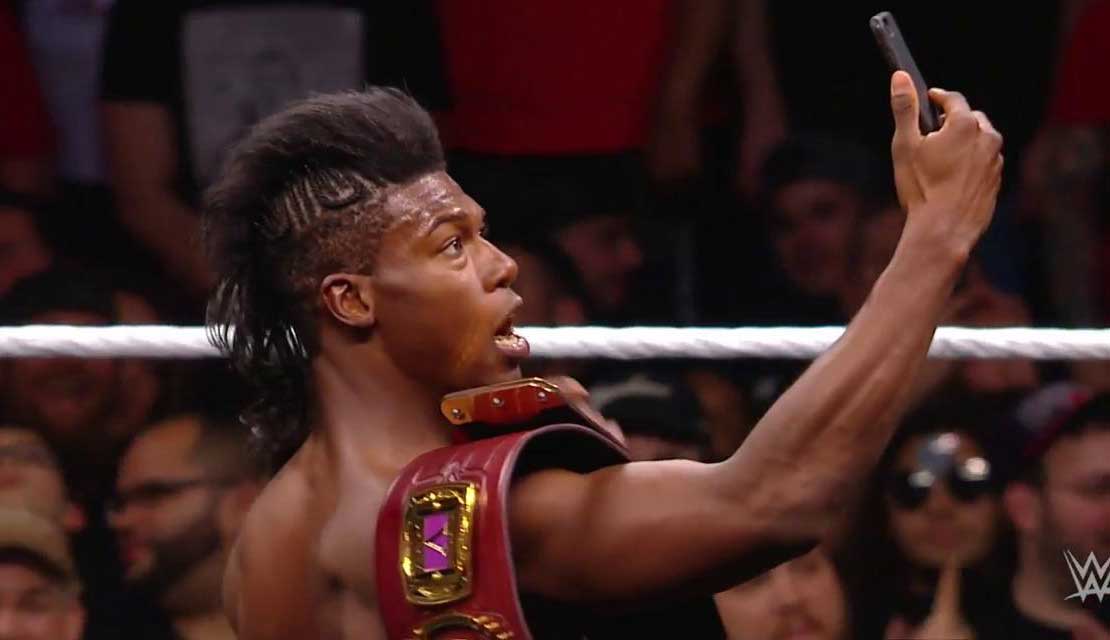 Storyline
This is an 'out of nowhere' feud. Velveteen Dream did not have any credible challenger after his feud with Matt Riddle was dropped and Dominick Dijakovic got injured. The Prince Pretty was not getting TV time in the main roster anyway but will definitely add some star power to the Takeover card. He came in last week to call Dream's character a knock-off of his own and ended the segment by decking him.
Match Description
Dream throws his gloves on Breeze, who applauds him sarcastically. It starts off with a back and forth but Breeze takes the first shot, hits a backbreaker and sends Dream out of the ring. His suicide dive attempt is cut off by Dream who hits a double ax handle and a moonsault in quick succession. Dream goes to the top but Breeze rolls out of the ring. Breeze takes him down from the top and slams his leg on the ring post before hitting a crossbody splash. He goes for another dive off the apron but Dream cuts him off. Breeze quickly comes back and puts Dream into the calf crusher.
Dream reaches the ropes to force the break. Breeze starts to work on the leg before sending Dream out with a dropkick. As he goes out, Dream counters with a superkick and comes back into the ring for a breather. As the referee counts down, Dream goes to the outside and slams Breeze into the announce table. He picks Breeze's phone and starts using the front camera. 
Breeze nails a Supermodel kick but Velveteen responds with a Dream Driver for two. Prince Pretty sticks him with two more Supermodel Kicks for another close count. Dream counters the Unprettier and hits the DreamDT for yet another near fall. Breeze pops up and blasts Dream with a knee to the face out of nowhere. They get in position for a Tombstone and reverse it a few times. Dream suckers him into missing a dropkick and hits Breeze with his own Unprettier for two. 
Breeze-blocks the Purple Rainmaker Elbow with his knees. He traps Dream's head against the turnbuckle and hits a Supermodel Kick followed by an Unprettier. Dream manages to kick out somehow. Breeze kicks out of a roll-up and hits the Beauty Shot. Dream rolls out of the ring to avoid being pinned. Breeze stops the ref from counting Dream out so he can still win the title. Velveteen runs in and hits the Dream Valley Driver and the Purple Rainmaker Elbow for the pin and the win.
Winner- The Velveteen Dream
RESPECT. @VelveteenWWE & @MmmGorgeous both deserve the spotlight. #NXTTakeOver pic.twitter.com/Dn3SaqT0EV

— WWE (@WWE) June 2, 2019