Veer Mahan on Comfort with Jinder Mahal, Moment with Undertaker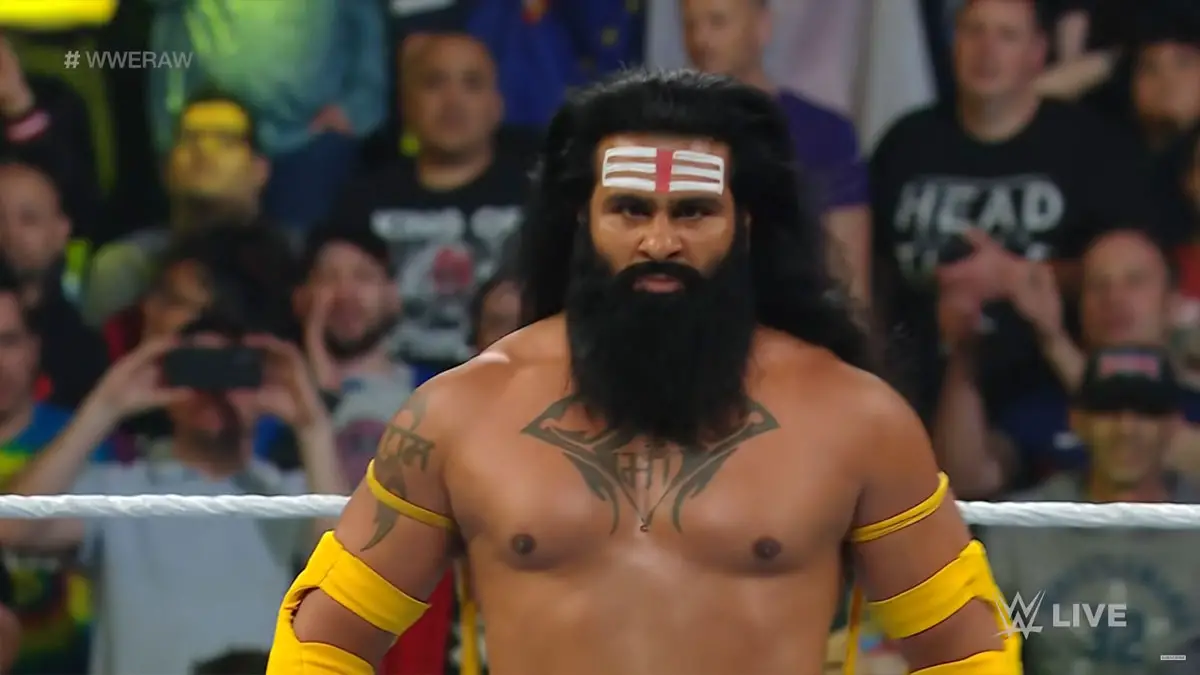 Veer Mahan got interviewed by Sony Sports Network after his re-debut on Monday Night RAW last month.
During the interview, he talked about his transformation from Rinku Singh to Veer Mahaan, getting to represent Indian Culture in WWE and Jinder Mahal being a great guide upon his arrival to RAW.
Veer was first asked about his re-debut on RAW and how he felt about the reaction from fans. He replied that he felt the crowd's energy transform into his own and was quite glad about returning to the screen after 6 months.
It feels great. It does not feel like it was me alone who joined RAW, but 1.4 billion Indians, plus the fans all around the world have joined with me. I know we have waited for 5-6 months. But, I think the wait was worth it. It was worth it for me. It was worth it for all the fans around the world. We are seeing that energy. I felt the energy transformed, just as soon as I got my entrance, from them to me and I was able to give them back what they have been waiting for so long.
Veer was next asked about his feeling for being a WWE superstar. Former Million Dollar Arm winner that WWE has given the Indian fans a superstar who they can finally route for. He is also thankful for WWE to allow him to wear his dhoti as ring gear and apply tripund(three lines) on his forehead while performing in the ring.
I am grateful for WWE to allow me to be express and represent the 1.4 billion people back in India, allowing me to represent my tradition and culture. That's massive. I don't think there is any other platform that allows you to express the culture and tradition. I am able to wear the ring gear that I have grew up seeing my grandfather and father wear, Dhoti, and I am able to perform in it. When I was a kid, I use to go to the temple and apply the tripund on my forehead. I am able to apply that here also. So, I am forever grateful for that to WWE Universe.
The discussion then went towards his transformation leading up to his debut at RAW after WrestleMania episode. Veer told us that he got ample time to practice and work on himself to be ready for the return.
Past 6 months, every single day I use to think about what can I do to get better, what can I do to be prepared for when the time comes. And obviously, that was the biggest moment. It was not the first first, because I have been through this situation before where I have been waiting for something for so long. And I left like that has made me super strong mentally and physically. Because it gave me so much time to get better at things that I needed in the ring, I didn't know who am I going to face. That's why I would continue my practice in Performance Center. I was able to practice all my moves. I started doing all my meal prep to know exactly what I am putting into my body so when the right time comes, I am able to perform and I am able to get what fans are looking for. It was all worth it and I am looking to continue on all the same things.
Veer was then asked about the difference between his characters of Rinku and Veer. Veer is of the opinion that Rinku was a nice guy, but Veer is a dominant warrior.
Rinku is more of a nice and down to earth. Veer Mahaan is totally different. When the tripund is on, he sees himself as a big Indian Warrior that is going to dominate anyone that he faces in the ring. We are talking about a totally different animal. When tripund is on, it's game time.
Upon his arrival at RAW last year, Veer was paired with former WWE Champion Jinder Mahal and Shanky. Veer was asked about his work with Jinder Mahal during the interview and how did The Modern Day Maharaja help him on RAW. Veer told us that Jinder was very helpful in changing from NXT to RAW and having more understanding of the pro-wrestling business.
Being with Jinder Mahal was very very helpful for me. Going from NXT locker room to RAW, it was a big jump in a very short period of time. But having Jinder Mahal aside, it helped me a lot to transform on many things as far as understanding the business even better, to ring skill. Being with him just made me more comfortable, because sometimes, going from NXT to RAW is totally different platform, totally different work. By having Mahal there, I was getting the answer to my every question very easily. Someone to talk to and someone to ask as much questions as I had in my mind. And Jinder was there to give me all of my answers. I am very grateful to Jinder Mahal showing me the path. He has been there, done it.
He was later asked about the most memorable moment in his short WWE career so far. Veer mentioned that meeting Undertaker just before RAW debut has been his most memorable moment so far.
Before my debut, I ran into Undertaker. I had a few call sessions with Undertaker at Performance Center. And it was great to see Undertaker backstage when I was getting ready for my debut. He goes, "Man, are you ready for this?" I said, "Yes, sir. Now, you are here and I am ready to go." That was one of the most memorable moment.
Veer also added that having fans back and a packed stadium at WrestleMania was also an emotional moment for him.
Past two years, we had COVID-19 lockdown. Fans are the biggest thing in our business. Without fans, we are absolutely nothing. Then to see them at WrestleMania… entire stadium was packed with our fans. It was an emotional moment for me as well because I remember when I was in NXT and we were doing the tapings, there were no fans in entire building. I felt my own heartbeat. I kind of relate to, coming from professional sports, I have always known that fans are a massive thing for what we do. But, this had made me appreciate them even more. We exchange energy so much. It was great to see them.
If you use any quotes from this article, please credit Sony Sports India with an h/t to this article.