Edge Turns Heel as Daniel Bryan Added to WrestleMania Match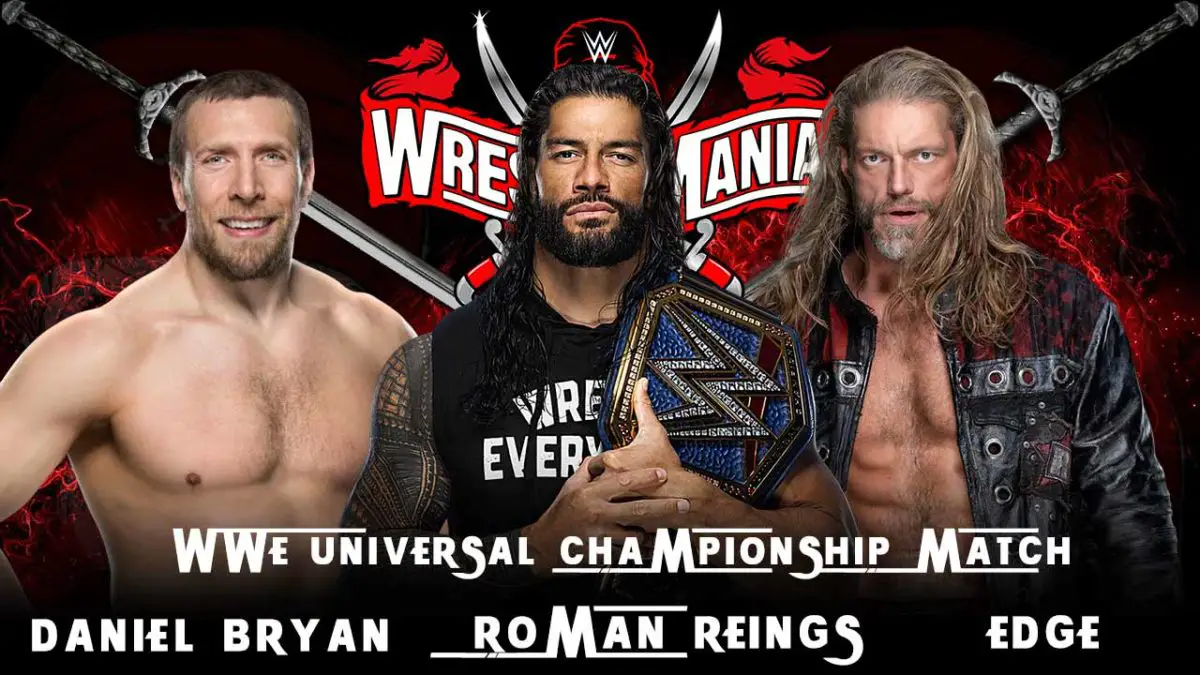 WWE has turned WWE Universal Championship match at WrestleMania into a triple threat match between Roman Reigns, Edge and Daniel Bryan.
The Storyline So Far
Edge earlier won the men's Royal Rumble match and hence got a world title shot at WrestleMania. He decided to face Universal Champion Roman Reigns to fix their match for WrestleMania 37.
Daniel Bryan won the #1 contender match at Elimination Chamber PPV but lost to Roman Reigns in a match that took place just after the Elimination Chamber match. He later earned another title shot at Fastlane after defeating Jey Uso in a steel cage match at SmackDown earlier this month.
Edge also got involved in the match at Fastlane after becoming a special enforcer. He also affected the result of the match when he attacked both Roman and Bryan with a steel chair as Bryan had Roman tapped out with the Yes Lock. Bryan lost the match as Roman covered Bryan to get the pin after Edge's attack.
Bryan Asks For Another Title Shot
Daniel Bryan opened this week's SmackDown and asked for another title match against Roman Reigns since it was clear he has Roman tap out. WWE Official Adam Pearce told him that a title match could not be sacntioned so close to WrestleMania. Bryan even proposed to face the winner of the match between Edge & Roman provided they face-off on the night 1 of the show.
Edge came out and ridiculed Bryan for trying to get inserted into the WrestleMania match. This led to a brawl between Bryan and Edge. During the show, Adam Pearce was forced to decide on the situation by Roman Reigns & his entourage, Edge and even Daniel Bryan.
In the final segment of the show, Adam Pearce revealed that WWE management has decided to add Daniel Bryan in the Universal Championship match at WrestleMania to make it a triple threat.
Edge Turned Heel
The announcement was followed by another brawl; this time between Roman, Edge and Bryan. Edge ended up standing tall as he rained down on Bryan and Roman with a steel chair and even attempted the chair-con-to. Both Bryan and Roman were able to avoid chair-con-to but it was clear that Edge has turned heel. (Check the complete heel and face turn list of 2021 here).
Edge showed the traits of a heel turn at Fastlane itself with the attack on Bryan and Roman. He was earlier frustrated that the promised tag team match between him & Bryan vs Roman & Jey Uso was scrapped. He also continuously accused Bryan of trying to stop him from achieving his dream of one more WrestleMania main event match.
The Universal Championship triple threat match will main event the night two of WrestleMania 37 on 11 April 2021. Keep following this space for the regular updates on the show.