Undertaker (Exclusive) Interview With Sony India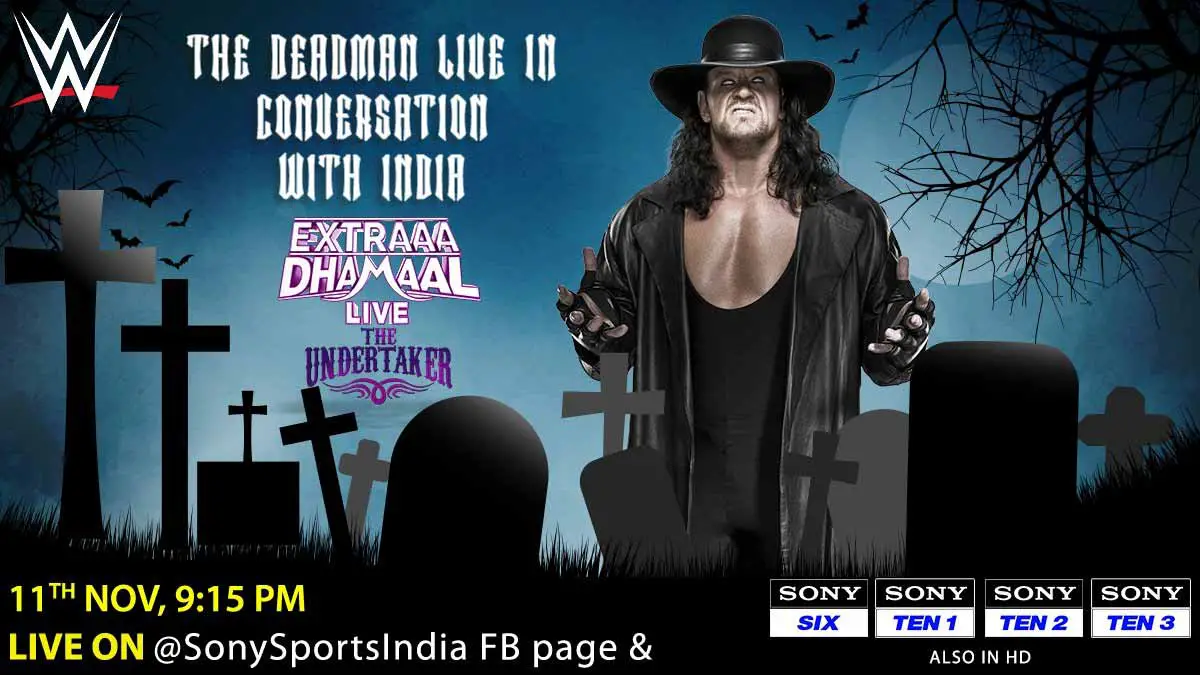 The Undertaker appeared live with Sony Sports India, WWE's Official India Broadcast Network, via Facebook and its TV channels. He talked about his character development over the years, WrestleMania streak, his entrance, his match against AJ Styles at WrestleMania 36 and labeled Shawn Michaels as the greatest in-ring wrestler.
Undertaker on Dealing with COVID-19
The first thing discussed in the interview was the ongoing COVID-19 pandemic and Undertaker mentioned that usually when he is not wrestling, it's easy for him to be alone. But the COVID-19 forced distancing and isolations were difficult for him also.
Undertaker on His Career & Post-Farewell Plans
The Deadman was then asked about how he kept on going for 30 years. To which Taker replied that interacting with the fans in different parts of the world motivated him to keep himself relevant for them.
When asked about whether he has anything left to achieve in WWE and future ambitions, The Phenom said that he does not want to tarnish his image and disappoint the fans by not performing to a certain level that everybody expects of him. He also mentioned how his next aim is, whatever he has learned over time, to give it back to the future superstars.
Undertaker on Switching from Basketball to Pro-Wrestling
The discussion then steered towards how Mark Calaway switched career from Basketball to pro-wrestling and how his Father reacted to this decision. Taker said it took him a while to convince his father, but once he was convinced, his father became his biggest supported and fan.
Undertaker on What WCW Told Him
As we know, WWE was not Mark Calaway's first major wrestling promotion that he worked with. He was in WCW for a while and worked as the character "Mean Mark" Callous. Taker revealed how WCW did not think that he could become a big star.
The Undertaker also discussed briefly about the camaderie with WWE Chairman Vince McMahon.
The Undertaker on Work on His Character & Entrance
At this point, Indian Movie star Rana Daggubati joined the interview and said how The Undertaker has been an inspiration since childhood. Rana then asked Undertaker about how he got into his role and transitioned from Mark Calaway to The Undertaker. Taker replied he liked the character a lot when Vince McMahon presented it to him for the very first time.
Rana then talked about Taker's iconic entrance and asked him the process that he went through each time. The reply was that a lot depended on the ongoing storyline at the time, although the general theme was the one of death and gloom.
Undertaker on Mental Preparation for Different Kind of Matches
Rana then asked about how he used to prepare for different kinds of matches, whether it was the Buried Alive match in 1996, the first-ever Coffin match in 1992, or the first-ever Hell in a Cell match in 1997, and what kind of mental preparation he used to do. Undertaker said that one has to be totally invested in the storyline and the atmosphere that is created during such matches and that he tries to teach the same thing to the young guys also.
Undertaker on Shifting to American Badass Character
Before departing, Rana told Undertaker that out of the different versions of his character, the American Badass is the his favorite. Taker then revealed that it became important for him to change the character to freshen himself.
Undertaker on Paul Bearer's Support
The Deadman described Paul Bearer, his manager in the first half of his career, as more of a sidekick than a manager and massively credited him for the developments in his characted in the early days.
Undertaker on Attitude Era
The Attitude Era of WWE was one of best times for the company. Taker was asked about various stars during that era like Stone Cold, The Rock and others and how did that change WWE. Taker talked how such a depth of talent raised everyone up and how everyone was reaching for the top during that time.
Undertaker on His WrestleMania Streak
Undertaker's undefeated WrestleMania streak is considered one of the most iconic things in sports. The Phenom was asked about exactly when the streak came into notice. He revealed that it was not until WrestleMania XVIII when someone told him that he is undefeated at WrestleMania and after he defeated Ric Flair on the event, he signaled to 10 and 0.
Undertaker was then asked about what was going on in his head when the streak ended at WrestleMania 30 in 2014 with a defeat against Brock Lesnar. He joked that there was not much going on in his head due to the concussion he suffered during that match.
Undertaker Labels Shawn Michaels As the Greatest In-Ring Performer
The Deadman also mentioned that his match against Shawn Michaels at WrestleMania 25 as the finest moment among all of his WrestleMania matches.
Undertaker on Boneyard Match Against AJ Styles
You can check the complete interview here. If you are using the quote from this article, please h/t to itnwwe.com or this url.