The First Elimination Chamber Match – Survivor Series 2002: Recap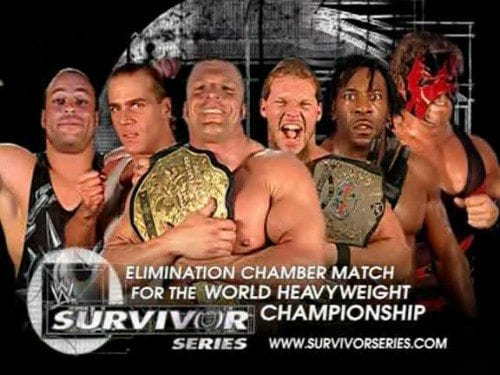 2002 was the year of major changes for WWE. First of all, they changed their name from WWF to WWE and then did their first ever brand extension by splitting half of their roster to SmackDown. WCW stars were getting integrated into the company while The Rock and Steve Austin were about to go away from the company and were replaced by new stars. Then they introduced the concept of Elimination Chamber match for the Survivor Series which was to be held at Madison Square Garden in New York. WWE had so much confidence on the idea that it replaced the traditional Survivor Series match on the card. Just for the second time in its history, Survivor Series did not have the traditional Survivor Series match on its card. For the next few years, a yearly Elimination Chamber match took place on different PPV events and ultimately became an important part of 'Road to Wrestle Mania' and No Way Out PPV event.
The original idea from Triple H was presented by Eric Bischoff on 21 October 2002 episode of RAW. The structure was to be made completely of steel with 4 chambers/pods of plexiglass enclosed in the 4 corners. Two wrestlers will start the match with another wrestler to be added to the match in every 5 minutes. Eliminations can happen with a pinfall or a submission. Presenting the concept for the first time, Bischoff stated that he wanted a RAW main event at Survivor Series which he wanted to be better than SmackDown's Hell in a Cell main event at No Mercy. He explained that the Elimination Chamber would be a combination of WWE Royal Rumble's countdown timer, Survivor Series' elimination process and the enclosed cage format from WCW's War Games matches.
The Storyline
WWE created an elobrate storyline for this match. Such extensive work is never done for setting up the Elimination Chamber match since then. The storyline is as follows:
When Shawn Michaels returned to WWE after 4 years at Vengeance in 2002, Triple H offered to reform their Degeneration X stable only to turn on him. They faced off at Summer Slam earlier that year in an Unsanctioned Street Fight. After the match, Triple H struck Michaels with his sledgehammer twice, forcing Michaels to be carried away on a stretcher.
Triple H was later awarded the World Heavyweight Championship in the form of the old WCW Championship belt which he would defend against Ric Flair on the same day. Ric Flair would later align with Triple H.
Rob Van Dam, the Intercontinental Champion at the time, became the no. 1 contender to challenge Triple H for the title at Unforgiven. However, he lost his IC title to Chris Jericho due to Triple H's interference in the match. At Unforgiven, Rob Van Dam would lose to Triple H with Ric Flair hitting him a sledgehammer this time.
On 30th September edition of RAW, Kane won the Intercontinental Title from Chris Jericho despite the interference from Triple H and Ric Flair. Triple H and Kane were booked for No Mercy event with both Kane's Intercontinental Championship and Triple H's World Heavyweight Championship at stake.
Kane was also the World Tag Team Champion at the time with the Hurricane. On 7th October episode of RAW, Hurricane was attacked prior to his the Tag Team championship match by Triple H and Ric Flair. Kane singlehandedly won the 4 team Tables, Ladders and Chairs match to retain the title. However, the following week, Kane and Hurricane lost the Tag Team Title to Chris Jericho and Christian. Triple H also defeated Kane at No Mercy and unified the Intercontinental Title with his World Heavyweight Championship.
On September 23 edition of Raw, Jericho defeated Goldust to retain the Intercontinental Championship. On October 7 edition of Raw, Jericho attacked Booker T after his match against Big Show. On October 14 episode of Raw, Booker retaliated by attacking Jericho before Jericho and Christian's World Tag Team Championship match against Kane and The Hurricane. Jericho and Christian then won the Tag Team Title match against Booker T and Goldust at No Mercy.
On October 28 episode of Raw, Bischoff announced the Elimination Chamber match with six superstars: Triple H, Chris Jericho, Booker T, Rob Van Dam, Kane and Shawn Michaels. Later on the same episode, when World Champion Triple H took on Kane in a Casket match, Shawn Michaels emerged from the casket and assaulted Triple H which helped Kane to put Triple H in the casket and win the match. On next episode of Raw, Booker T and Kane defeated Triple H and Jericho in a tag team match after Michaels interfered again.
The Match
Rob Van Dam and Triple H started the match with RVD taking the control after initial moves. After sending Hunter onto the steel outside the ring with a back body drop, RVD smashed Hunter's face into the steel chains of the chamber for him to start bleeding. He hit Hunter with Rolling Thunder and jump of the top rope while he was still on the steel floor. Even after Jericho came in, RVD was able to continue his domination until the two heels combined to overpower him. Booker T entered at no. 4 and brought some parity in the match. Hunter was down after an Axe kick from Booker when RVD tried a frog splash from the top of the Chamber Pod. But he landed awkwardly with his knee crushing the throat of Triple H in one of the most famous botched moves. Hunter suffered a crushed larynx but yet was able to work another 20 minutes in the match.
Booker hit a missile dropkick on RVD to eliminate him. Booker T and Jericho brawled for a while until Kane came in at no. 5 to take down both of them. Kane then thrashed Jericho into the Chamber Glass. Kane hit a chokeslam on Booker followed by the Lonsault from Jericho to eliminate him. Kane then sent Jericho out of the ring into the steel for him to start bleeding. Michaels came in at no. 6 to hit a flying forearm on Kane. Kane hit three chokeslams on Shawn Michaels, Hunter and Jericho but was later taken down with a low blow from Hunter, a superkick and finally a Lionsault from Jericho to be eliminated.
Hunter and Jericho then worked together on Michals smashing him to the cage repeatedly till he started bleeding. Michaels made a brief comeback but Hunter hit him with a DDT. Jericho and Hunter then started brawling. Jericho countered a pedigree to lock Hunter into the Walls of Jericho submission when Michaels connected a Sweet Chin Music to eliminate him. Michals and Hunter pushed each other to limits, smashed each other through pods and steel, drenched in blood. Michaels hit an elbow drop from the top but Hunter caught his boot when he went for the Sweet Chin Music and hit a Pedigree. Hunter, too tired to move, covered Michaels late for two count. Then it was Michaels turn to counter Pedigree with a back body drop and hit SCM to win the match.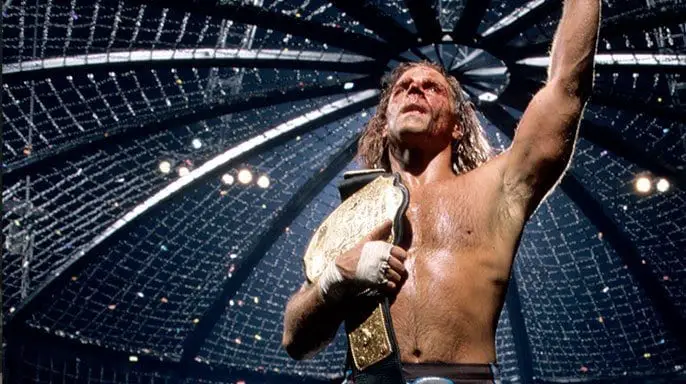 This was only the second match for Michaels after his comeback earlier that year and he got a standing ovation at the Madison Square Garden. This match is considered as the best Elimination Chamber match. A very physical match with some very good spots and was not at all stale or boring despite being the longest EC match till date. This format got the best possible start with the best possible match in front of the best possible crowd at Maddison Square Garden. Probably the only blemish on this match is that this was the last time Michaels won the World Championship.