WWE SmackDown Live Results & Updates- 8 November 2019
Welcome to ITN's Live Results & Updates blog for the WWE Friday Night SmackDown episode of 8 November 2019 (11/8/2019).
Date- 8 November 2019
Location- Manchester Arena, Manchester, UK
Telecast Timing- 8 PM EST(9 November 2019 1 AM GMT/6:30 AM IST)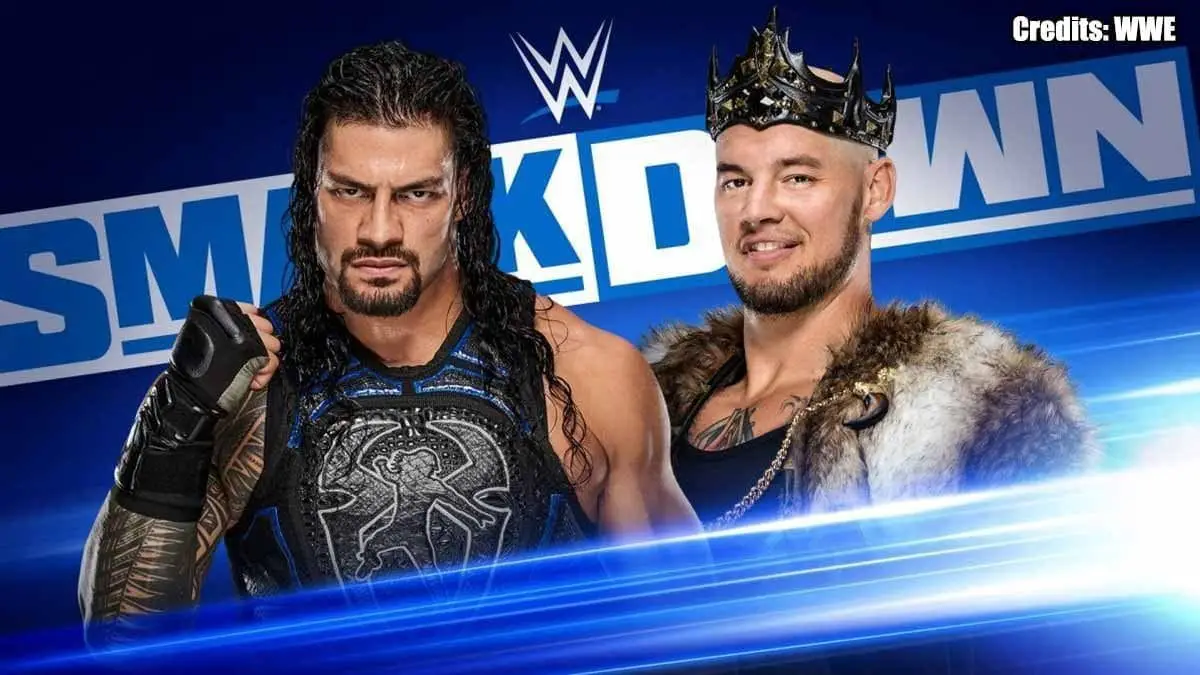 The show opens with the highlights from the NXT invasion last week. We go to the SmackDown theme song before the Pyro opens the show. Michael Cole and Corey Graves welcome us.
King Corbin
Baron Corbin comes out to open the show and the crowd is booing him. He starts by talking about how Survivor Series is going to be Smackdown vs RAW vs NXT. The crowd starts chanting NXT and Corbin tells us that the blame for audience siding with NXT goes to the locker room leader Roman Reigns. Corbin lists all Roman's achievements and the crowd starts clapping. The new King rants on the crowd and then on Roman, saying his testicles have shrunk, his Shield buddies have abandoned him and he now takes more time in meeting with the kids and with her family. As per Corbin, Roman does not consider WWE Universe his family now. Corbin says Reigns isn't man enough to come and face him in the ring. He promises to beat him in the main event tonight.
Big E and Kofi are running around backstage. Kayla Braxton catches them and asks about their title match against The Revival and whether they have any advice for Xavier Woods at home. Big E advises Woods to take his dumps in time and Kofi tells him that he is not in prison. Kofi puts over The Revival but assures that they will win the title for Woods. Big E then jokes that if they won't win the title tonight, how will they be able to match Charlotte Flair's record.
The Revival vs The New Day – WWE SmackDown Tag Team Championship Match
Kofi starts with some roll-ups before Wilder decks him. The Revival takes Kofi to the corner but he fights back and tags in Big E. The New Day with a quick double team moves to get a near fall. Dash counters a few moves and comes down hard on his knee. We go to a break as the referee checks on him.
It turns out that Wilder was faking the injury. He now has control over Big E. Big E turns things around and hits a belly to belly suplex. Dawson and Kingston get the tag and Kofi goes wild. He sends both members of The Revival out of the ring and takes them out with a dive. Kofi hits a crossbody from the top rope. He misses Trouble in Paradise when Wilder helps Dawson avoid it.
The Revival hits a superplex and splash combo but Big E breaks up the pin. Kofi hits the SOS to Wilder for two. Big E gets the tag but Dawson and Wilder double team to hit him with a Tornado DDT. They hit a German suplex and uppercut combo for a near fall. Kofi gets the bling tag and Big E holds Wilder so Kofi can hit Trouble in Paradise on him. Kofi with the lateral press gets the win and the New Day are once again the Tag Team Champions.
Winner- The New Day(New SmackDown Tag Team Champions)
We see Roman Reigns arriving to the building. Shorty G stops him and warns him about what Baron Corbin said earlier.
Backstage, Sami Zayn stops Daniel Bryan and says Bryan would've defeated WWE NXT Champion Adam Cole last Friday if he would have joined him and Shinsuke Nakamura. Sami goes on about how he can help Bryan, his career, and his family and if Bryan does not believe him, just ask Cesaro and Nakamura what he's done for them. Sami says Cesaro and Nakamura will be in tag team action tonight. He invites Bryan to join him at ringside to watch the match.
Imperium Strikes!!
Heavy Machinery is out for a match but they are suddenly attacked by Imperium from NXT UK – WWE UK Champion WALTER, Marcel Barthel, Fabian Aichner and Alexander Wolfe. They dominate Tucker and Otis until The New Day, Apollo Crews, Ali, and Shorty G come out to make the save. Imperium retreats to the crowd and talks some trash while exiting.
Kayla Braxton is backstage with Sasha Banks and SmackDown Women's Champion Bayley. She brings up last week's attack by NXT Women's Champion Shayna Baszler. Bayley replies that Baszler trying to be relevant and Sasha & Bayley goes on about how they built NXT. Sasha also brings up how she will also dominate Nikki Cross tonight.
Shinsuke Nakamura & Cesaro vs Ali and Shorty G
Daniel Bryan is at the ringside to watch this match from the stage. Cesaro decks Gable with an uppercut to start. Nakamura comes in shortly afterwards to continue the assault. Shorty locks in an armbar over the top rope and does not break it until the full five-count from the referee. Things are turned around once again. Gable leaps for a tag but Cesaro catches him takes him to his corner.
Gable eventually makes the tag and Ali hits Cesaro with a few high-flying moves. Gable sends Nakamura out of the ring with a belly to belly suplex. Cesaro hits a huge backbreaker for a two count. Ali blocks the Kinshasa with a superkick while Gable prevents Zayn from interfering. Cesaro takes advantage of the distraction with a cheap shot. Nakamura hits Kinshasa and gets the win.
Winner- Shinsuke Nakamura & Cesaro
Sasha Banks vs Nikki Cross
Sasha takes control to start the match and backs Cross to the corner. She hits a snap suplex for a one-count. The crowd is chanting for Bayley for some reason. She is on commentary. Banks keep the control until Nikki Cross hits a head-scissor takedown. Nikki follows with a crossbody and gets two-count. She sends Sasha out of the ring and hits another crossbody from the apron. She goes after Bayley and beats her down. Bayley pulls her off the apron on her way back while Sasha distracts the referee.
As we return, Sasha gets a near fall. Cross hits a tornado DDT but is too tired to cover her opponent. She tries to build up some momentum with a running forearm. She climbs to the top turnbuckle for a crossbody but Banks rolls through. Sasha uses a nice jackknife cover for a two count. Sasha locks in the Bank Statement for the submission victory.
Winner- Sasha Banks
Bayley runs in the ring to attack Cross after the match. NXT Women's Champion Shayna Baszler rushes the ring and attacks Bayley. "NXT!" chants going on. Baszler slams Bayley and makes her exit with her title. Banks now comes in the ring to check on Baszler as the crowd continues chanting for NXT.
Sami Zayn is backstage, talking to Daniel Bryan and trying to get him over to his side. He says Cesaro and Shinsuke Nakamura were a little upset about it, but he told them that Bryan needed a little more time. The lights go out and come back again soon like it was a glitch. Sami tells Bryan to just say something when the lights go out again. They come on but this time there is the red light. WWE Universal Champion "The Fiend" Bray Wyatt is behind Bryan. Sami quickly runs off and Bryan turns around. Wyatt brings Bryan down with the Mandible Claw and laughs the whole time.
Tyson Fury and Braun Strowman
Tyson Fury comes out to a rapturous response from his hometown crowd. Fury plays to the crowd some and talks about traveling around the world and some of the fights he's been in, including Braun Strowman in Saudi Arabia. Fury says there's nothing like home and this is where he calls home. Fury plugs his next fight with Deontay Wilder in February and says he will finish it because he doesn't like unfinished business. Speaking of unfinished business, that's why he's here tonight because he has someone with a certain WWE Superstar.
Strowman comes out to confront Fury but to his surprise, Fury puts him over and says it was one of the toughest fights of his life. They shake hands and Fury suggests they should be a tag team the next time they are in the ring together. Braun says nobody would be dumb enough to fight them, which brings out The B-Team. Axel says they are stupid enough to fight them and Bo takes the mic and says the B in B-Team stands for "Fearless." Strowman knocks them off the apron before running around the ring to take them out like a Mack truck.
Fire and Desire vs Dana Brooke and Carmella
The winners of this match will join Sasha on the SmackDown Survivor Series team. Sonya and Carmella kick things off. Deville takes her down by the waist a few times. She levels Carmella with a clothesline but The Princess of Staten Island comes back with a headscissor takedown. Rose and Deville corner her and uses quick tags to keep her isolated and on the defensive. Rose picks her up for a fallaway slam to get a two count.
Carmella counters a double suplex but Sonya nails her with a roundhouse to get a near fall. Brooke gets the hot tag and hits Deville with a running bulldog and a splash for two. Dana flips off the apron and dropkicks Deville into the steel steps. She climbs to the top rope and hits a senton bomb for the pin and the win.
Winner- Carmella & Dana Brooke
King Corbin vs Roman Reigns
The Big Dog knocks Corbin over the top rope to the floor. He beats The King all around the ring and the match hasn't even started yet. The ref calls for the bell when Roman brings him back in. The King hits some mounted punches in the corner but Reigns trips him so he hits the turnbuckle. Dolph Ziggler and Robert Roode come down but Reigns takes them out before they can interfere. Corbin plants him with Deep Six for a two count.
Corbin nails Reigns with a stiff right hand. Ziggler and Roode attack Reigns while the ref has his back turned. The King takes The Big Down with a clothesline for a two count. Roman fights out of a half nelson and they trade punches. The King hits a palm to the throat but Reigns runs him over with a clothesline. Corbin hits a chokeslam for a close two count. Reigns gets to his feet and hit a few right hands. He scores a two count with a leaping clothesline. Ziggler and Roode try to interfere but Reigns takes them out with Superman Punch and Spear. Corbin takes advantage and hits End of Days for the pin and the win.
Winner- King Baron Corbin
SmackDown 8 November 2019 Quick Results
The New Day defeated The Revival to become the new SmackDown Tag Team Champions
Shinsuke Nakamura & Cesaro defeated Ali & Shorty G
Sasha Banks defeated Nikki Cross
Carmella and Dana Brooke defeated Mandy Rose and Sonya Deville to earn spots on the SmackDown women's Survivor Series team
King Baron Corbin defeated Roman Reigns in the main event
SmackDown Results Chronology