WWE SmackDown Live Results and Updates- 27 August 2019
Welcome to the Live Results and Updates Blog from WWE SmackDown episode of 27 August 2019 (8/27/2019).
Location- Raising Cane's River Center, Baton Rouge, LA, US
Time- 8 PM EST(28 August 2019 12 AM GMT/5:30 AM IST)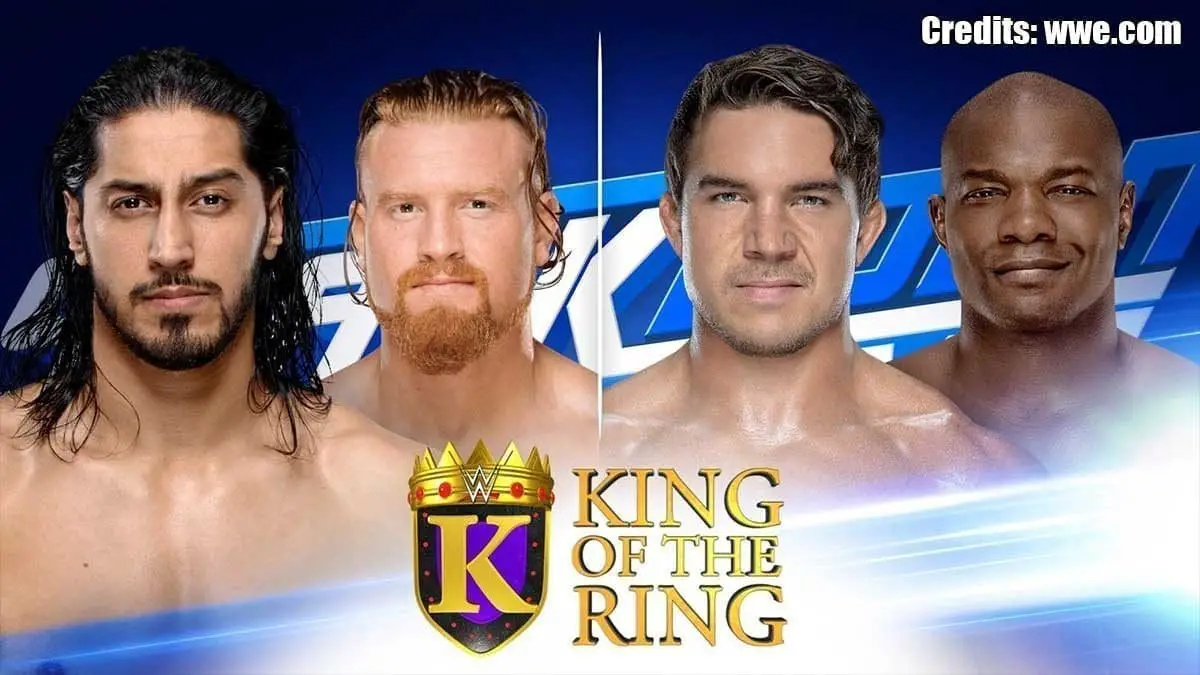 The King of the Ring Tournament will hold the final two matches of its first-round with Buddy Murphy vs Ali and Chad Gable vs Shelton Benjamin matches. The story around Roman Reigns' attacks will continue as Daniel Bryan now demand an apology from him. WWE is advertising the below segments for the show(check the complete preview in the below link).
Buddy Murphy vs (Mustafa) Ali – King of the Ring Round 1 Match
Chad Gable vs Shelton Benjamin – King of the Ring Round 1 Match
Daniel Bryan & Erick Rowan demand an apology from Roman Reigns
How will Charlotte Flair respond to Bayley's defiance?
Will Randy Orton have an answer for Kofi Kingston's surprise attack?
---
Orton makes it Personal with Kofi
WWE Champion Kofi Kingston comes out to open the show. He will face Randy Orton at Clash of Champions in the rematch for WWE Championship. Kofi takes the mic and says Orton likes to slither around the ring and call him stupid, but who got their ass knocked out last week? Orton took it to a whole new level by making it personal and bringing his family into it, and by siding with The Revival. Kofi goes on and hypes the rematch at Clash of Champions. Kofi says he gets to prove to Orton that he was wrong about Kofi all those years ago when he said Kofi wasn't ready.
Randy Orton interrupts on the big screen, calling Kofi stupid over and over and over. Orton says there's nothing he'd love to do than to show everyone how stupid Kofi is, but he's going to wait until Clash of Champions. In the meantime, Orton has something to show Kofi. He was sitting in his hotel earlier thinking of ways to make Kofi stupid, when someone slid a letter under his door. Orton reads the letter from someone begging Orton to stop hurting Kofi, because Orton is mean and it makes the fan cry himself to sleep every night. He keeps reading and reveals the letter came from one of Kofi's sons. Orton mocks Kofi and says he's staying in the same hotel Kofi's family is and he can simply go pay him a visit.
Kofi exits the ring and runs to the back. The camera cuts backstage and we see Kofi and Orton brawling in the Gorilla Position. Kofi gets the upper hand and beats Orton on top of a table as officials try to pull them apart. Kofi pounds on Orton some more but Orton turns it around. Orton drops Kofi on the floor with a DDT from a table. Orton calls Kofi stupid several times as he's backed out of the room. Officials check on Kofi, who is face-down and laid out.
Back from the break and Kayla Braxton is backstage outside of the trainer's room with SmackDown Tag Team Champion Big E, who will be facing Randy Orton later tonight. Big E promises Kofi will be good to compete at Clash of Champions, but he can't say the same for Orton after their match tonight.
Ali defeated Buddy Murphy in King of the Ring Round 1 Match
They shake hands to start and go at it. Ali takes it to the corner with a big chop. They run the ropes and show each other up. Ali takes Murphy down with a scissors. Murphy goes to the floor. Ali runs the ropes but Murphy runs back in and meets him with a big shot, dropping him for a 2 count. We go to commercial with Murphy in control and Ali holding his jaw.
Ali slingshot Murphy into the turnbuckle. He follows up with a popup dropkick. He kicks Murphy in the face and hits a suicide dive to take him down at ringside. Buddy lifts Ali up and throws him right out of the ring so he can hit his own dive over the top rope to the floor. He rolls Ali back into the ring and ends up eating a superkick. Ali hits a reverse hurricanrana for a close two count.
Please Switch to the next page for more updates and results!!