WWE SmackDown Live Results and Updates- 30 July 2019
Welcome to the Live Results and Updates Blog from WWE SmackDown episode of 30 July 2019 (7/30/2019).
Location- Fed Ex Forum, Memphis, TN, US
Time- 8 PM EST(31 July 2019 12 AM GMT/5:30 AM IST)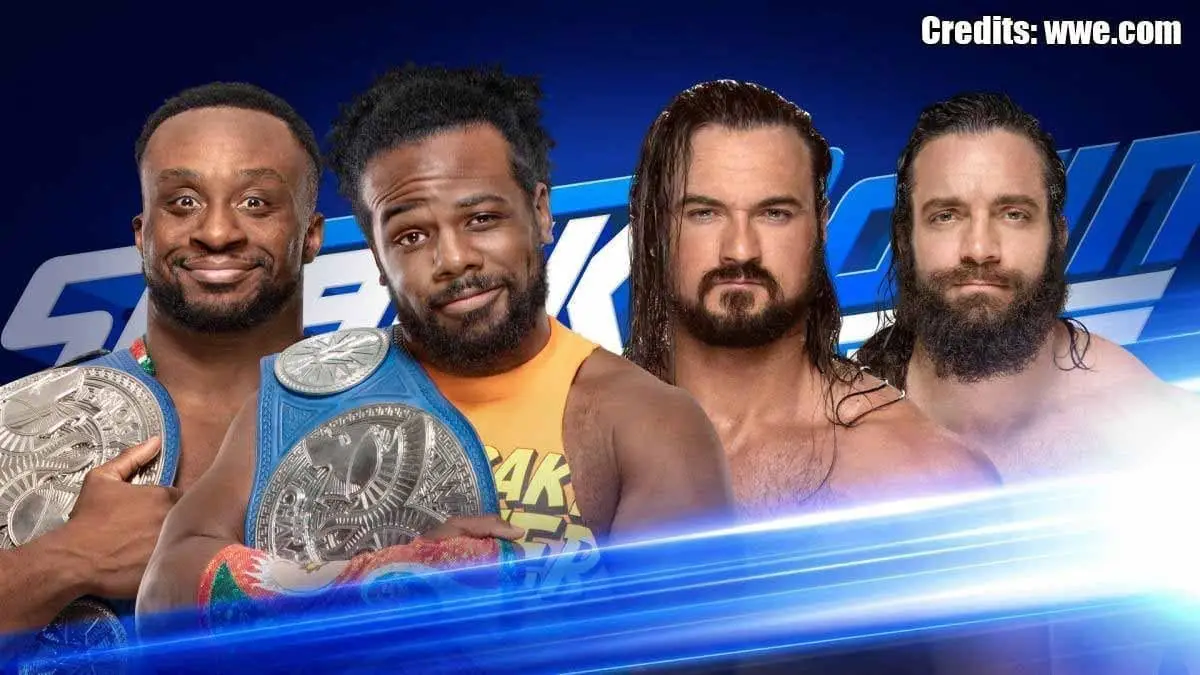 WWE is advertising the below segments and matches for the show (for more info, check the preview below).
Randy Orton to address Kofi Kingston before their SummerSlam match
New Day(Xavier Woods & Big E) vs Drew McIntyre & Elias
Finn Balor vs Dolph Ziggler
Trish Stratus to return with Jerry Lawler's King's Court
SmackDown opens with a pre-recorded video from Shane McMahon, filmed on his phone. Shane announces that he will not be on tonight's show and blames Kevin Owens for it. He is working on himself now and he feels so good and he is ready to go. Shane says Owens' career will be over at SummerSlam and then the announcer will hand him the mic, and he will admit to Shane being the better man in front of the world, and then he will quit.
The commentary team takes over and run through the lineup for the night. Daniel Bryan will finally make his career-altering announcement tonight, Kofi Kingston vs AJ Styles and a King's Court segment with WWE Hall of Famers Trish Stratus and Jerry Lawler. Roman Reigns will be here to make his SummerSlam challenge.
Kevin Owens is Sad for Shane McMahon
Kevin Owens starts off by telling people not to be distressed. He jokes that Shane McMahon isn't here tonight and they will get through it together and are going to be ok. He pretends to cry and then puts on a poker face, telling him that it's great news because maybe the talent can actually shine. He starts berating him once again and tells him that he won't quit at SummerSlam because he won't lose. He says that Shane will know without a shadow of a doubt that he doesn't belong in the ring with people like him. It is not Shane's ring, it is not his show but it is the Kevin Owens Show.
He drops the mic and was about to leave when Drew McIntyre's music hits. He heads out and tells KO that they have a match tonight. Owens seems to be fine with it but McIntyre takes a cheap shot. He assaults him and sends him over the commentators' table and says that he better get prepared because that match is now.
Kevin Owens defeated Drew McIntyre
Owens runs at McIntyre as the bell rings and they trade punches. Drew gets the first meaningful attack with a shoulder tackle and stomps KO in the corner. McIntyre gets a near fall with a belly to belly suplex before he locks Owens in a submission. McIntyre continues to be in control of the match with stiff strikes. KO fight back with a series of kicks and also side-steps McIntyre's charge against the post. He and hits the cannonball in the corner for a two-count. He hits a frog splash for another near fall as we head to a break.
Kevin Owens headbutts McIntyre off the turnbuckle and then lands a senton to get a near fall. Drew counters the Stunner and hits the Glasgow Kiss. He hits a swinging side slam for another near fall. McIntyre gets ready for the Claymore kick but runs into a superkick from Owens. Owens hits another superkick and hits the pop up powerbomb to get a near fall.
KO goes to the top but McIntyre meets him there and takes things under control. McIntyre hits White Noise from the second turnbuckle for another near fall. The Scottish Psychopath puts brings Owens onto an announce table. Owens hits a Stunner on the table. They get back into the ring and Owens hits another superkick and Stunner for the win.
Dolph Ziggler meets Kayla Braxton for an interview backstage and gets angry over locker room being angry with him. He reminds how awful the matches from WWE legends had recently, name dropping Goldberg and Shawn Michaels. He also reminds how Rollins lost his focus a bit and got demolished by Brock Lesnar. He then takes a shot at the Miz saying that he is not even the best wrestler in his home as he feels more afraid from Maryse. He also warns Finn Balor.
Please switch to the next page for more results and updates!!