WWE SmackDown Matches & Preview- 8 November 2019- In Manchester!
Check out the preview and matches announced for the WWE Friday Night SmackDown episode of 8 November 2019 (11/8/2019).
Date- 8 November 2019
Location- Manchester Arena, Manchester, UK
Taping Timing- 1 PM EST/6 PM GMT/11:30 PM IST)
Telecast Timing- 8 PM EST(9 November 2019 1 AM GMT/6:30 AM IST)
The SmackDown roster will finally get back to TV after most of them missed it last week due to travel issues in Saudi Arabia. However, they are once again in a foreign land with the European tour. The show will be taped 7 hours prior to the US timing in Manchester, England and we will be available with the spoilers also.
Roman Reigns vs Baron Corbin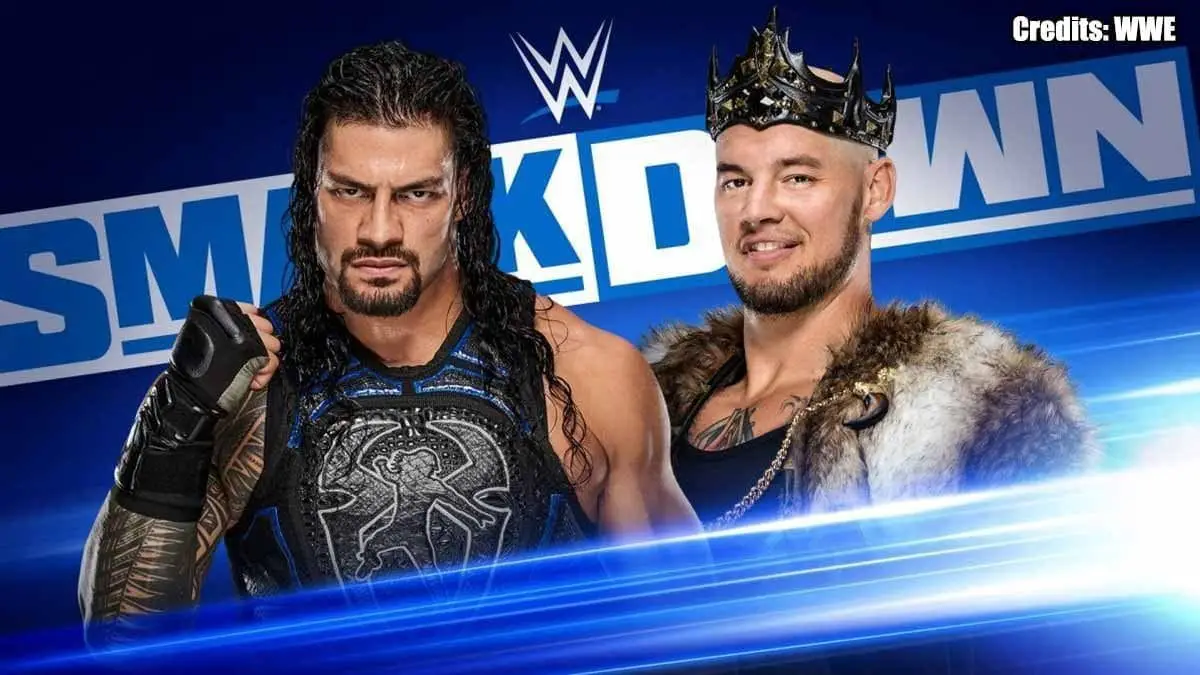 This match was supposed to take place last week but will now be taking place in Manchester. Corbin and Roman's beef started last year when Corbin was the acting RAW General Manager and Roman was the WWE Universal Champion. They faced off two times in three weeks with Roman winning every time. They have already worked many tag team matches since Roman's return in February but will be battling after a long time in a singles match. The match was actually set at the WWE Backstage preview episode where King Corbin attacked Roman during an interview.
Nikki Cross vs Sasha Banks
Nikki Cross has been in a rivalry with WWE SmackDown Women's Champion Bayley since she was drafted to SmackDown last month. She became the number #1 contender for the title but lost the title match last week to Bayley. Although, it seems that the story is not ending there. Cross is now announced to face Bayley's best friend and another new SmackDown recruitment, Sasha Banks. This will be Banks' first match since her defeat to RAW Women's Champion Becky Lynch. Banks' was reportedly injured at the match and has only appeared either at ringside or at the commentary table since then.
The Revival(c) vs The New Day – WWE SmackDown Tag Team Championship
Another match that was announced last week itself but did not take place. Since the first announcement of this match, New Day has got a win over the current champs when Kofi pinned Dawson in the Tag Team Turmoil match at Crown Jewel. Will the same thing repeat itself or are we heading towards a storyline where Kofi is doomed?
Tyson Fury in his Hometown!!
Tyson Fury first appeared at SmackDown's premiere to start a storyline with Braun Strowman. He later defeated Strowman at Crown Jewel 2019 in what was believed to be a one-off match with WWE. However, as WWE is heading to his hometown, Fury is once again set to appear at SmackDown. WWE is teasing another altercation between Braun Strowman and Tyson Fury. Also speculated is the appearance of another boxer in the undefeated IBF Featherweight Champion Josh Warrington. But it is not clear whether he will be appearing on the TV or not!!