WWE SmackDown Live Results 25 October 2019- Crown Jewel Go Home
Welcome to ITN's Live Results and Updates blog for the WWE Friday Night SmackDown episode of 25 October 2019.
Date- 25 October 2019
Time- 8 PM EST(26 October 2019 12 AM GMT/5:30 AM IST)
Location- Sprint Center, Kansas City, MO, US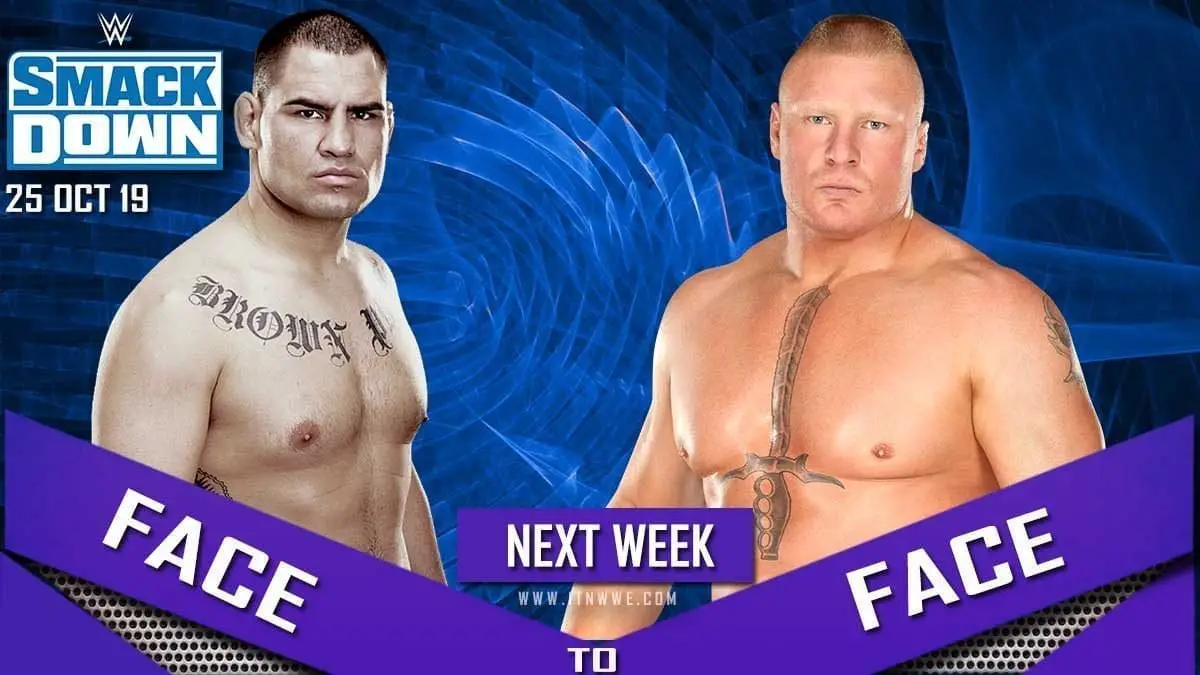 The go-home episode of Friday Night SmackDown for WWE Crown Jewel 2019 and the big guns are coming out once again. Brock Lesnar and Cain Velasquez will come face to face. The Miz will once again have the honor of hosting Ric Flair and Hulk Hogan and whole lot of WWE Superstars for the Miz TV. But the fans might be more excited for the return of Firefly Fun House. For more information on the show, please check the preview below.
Miz TV with Team Hulk Hogan and Team Ric Flair
Everyone is already in the ring for the Miz TV segment. As Miz points out that this is the most high profile Miz TV of all time. Miz introduces both Hulk Hogan and Ric Flair before running down the team lineups. Hogan does his "What's you gonna do" bit. Flair mentions four horsemen in his reply and tells Hogan that it will be just like a match between them.
Hogan puts over all of his teammates, highlighting their qualities. Sami Zayn takes over from Flair's side and takes a shot at Shorty G. G replies that he has embraced who he is and he is proud to be in Team Hogan. Ali joins him and takes shot at Sami saying that he has stopped competing in the ring. Corbin tells Roman that he will let everyone down as usual and asks him to bow down. Roman tells him to shut up and points out that he is not a king and his cape and throne are stupid.
Hogan asks if they can give the audience a preview of what is gonna go down at Crown Jewel. Zayn calms everyone down and the heels leave the ring. Hulk Hogan announces a 6 men tag match for the main event tonight but Zayn pulls himself out of the match due to a "neck injury" and tells us that Cesaro will compete in his place. Cesaro comes out and invokes a brawl. The heels get an advantage for a short time while before Roman and the team make them run away.
The New Day(Kofi Kingston & Big E) vs Robert Roode & Dolph Ziggler
We see Kofi and Big E on a video call with Xavier Woods, who is injured right now. After the break, both teams enter. Ziggler and Kofi start the match. Kofi dodges Ziggler's charge a couple of times and hits an armdrag. He Pele kicks him in the corner. But as he goes to the top, Roode interferes and Ziggler sends him down to the floor with a superkick. We go to break.
Big E gets the hot tag just as we return. He hits Dolph with a few belly to belly suplexes and clotheslines Roode out of the ring when he comes in. Kingston tags in and Big E back body drops him over the top rope into Ziggler. Roode takes Big E down with a spinebuster but Kofi replies him with an ax handle. Ziggler rolls up Kofi for the win out of nowhere.
Winners- Robert Roode and Dolph Ziggler